There's more to Hainanese food than just Hainanese Chicken Rice. Not only is much of Singaporean hawker fare influenced by Hainanese flavours, the origins of these dishes reflect Singapore's rich cultural diversity and multi-ethnic make-up.
During the British occupation of Singapore, many Hainanese people emigrated from mainland China and eventually found themselves in the employ of British colonial officials and affluent Peranakan merchants. It was here that their cooking began to be influenced by the cuisines of various cultures.
For example, working in Peranakan homes exposed Hainanese cooks to Malay and Peranakan cooking techniques and ingredients such as the rempah (spice paste which forms the foundation of many dishes including curry), while those working for the British eventually learnt how to cook Western-style dishes such as Pork Chop. This is how some of the much-loved Hainanese dishes, namely Hainanese Pork Chop and Hainanese Curry Rice, came about!
From Hainanese-Western food to lor mee (noodles in a thick braised gravy), you'll find a smorgasbord of Hainanese food all over Singapore. We spotlight five popular Hainanese eateries in the east of Singapore – from the acclaimed Tian Tian Chicken Rice branch at Bedok to specially curated Hainanese dishes at The Hainan Story Chapter Two in Jewel Changi Airport – for a delicious food adventure!
Fill up on authentic Hainanese-Western food at Jacob's Café
• 5 Changi Village Road, #01-2049
• Sunday, Monday, Wednesday & Thursday: 10.30am to 10.30pm
• Friday & Saturday: 10.30am to 11pm
• Closed on Tuesday
Located in the Changi Village food enclave, Jacob's Café has been a popular fixture in the Hainanese-Western food scene since 2000! Not only are the owners Hainanese, their dishes are also created by the owner's mother who used to cook in one of Singapore's former British military camps.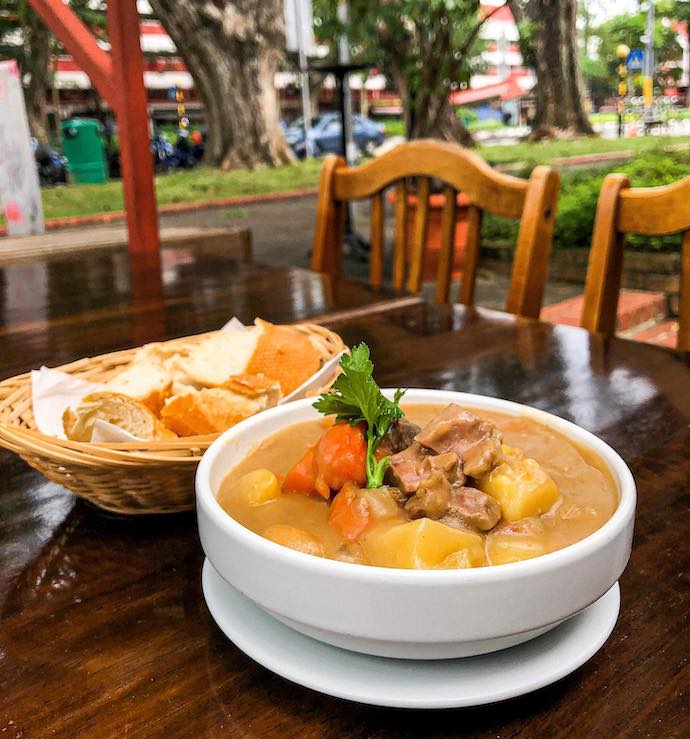 Signature must-tries include the Hainanese Mutton Stew, Beef Stew, Pork Chop and Hainanese Braised Pork Knuckles. The Hainanese Mutton Stew is served with traditional Hainanese ingredients such as tofu puffs, bamboo shoots, wolfberries and black fungus. Enjoy the tender mutton chunks with a helping of the homemade chili, which packs a punch!
Braised with earthy shiitake mushrooms and chestnuts, the Hainanese Braised Pork Knuckles is served with a bowl of rice. The pork is fall-off-the-bone tender, and the juicy shiitake mushrooms are a burst of flavour as they have soaked up all that flavourful, herbal broth.
Enjoy acclaimed chicken rice at Tian Tian Hainanese Chicken Rice (Bedok branch)
• 12 Jalan Pari Burong
• Tuesday to Sunday: 11am to 9pm
• Closed on Mondays

Most foodies would be familiar with Tian Tian's mouth-watering Hainanese Chicken Rice. Its main outlet at Maxwell Food Centre was even awarded the coveted Michelin Bib Gourmand – it's just that good! If you've been hankering for its silky-smooth chicken, flavourful rice and fragrant chili, fret not, for Tian Tian has an outlet right here in the east of Singapore.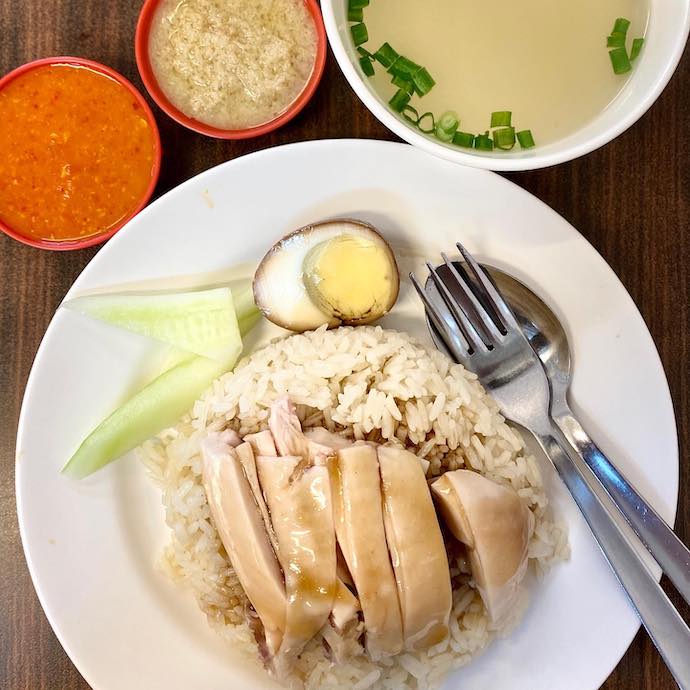 What sets Tian Tian apart from other run-of-the-mill chicken rice stalls is its rice, which is boiled in chicken stock for that extra depth of flavour. If you're not convinced, take renowned late celebrity chef Anthony Bourdain's word for it – he said that Tian Tian's rice is so fragrant that it can be eaten on its own!
Feast on Hainanese favourites and more at The Hainan Story Chapter Two
• #B2-201/202 Jewel Changi Airport
• Open daily from 8am to 10pm

For a complete Hainanese meal with main courses and desserts, head for The Hainan Story Chapter Two. The Jewel outlet brings together all the favourite Hainanese foods – from Hainanese chicken rice to Hainanese-style lor mee (noodles in a thick braised gravy) – as well as an impressive selection of pastries, desserts and cakes.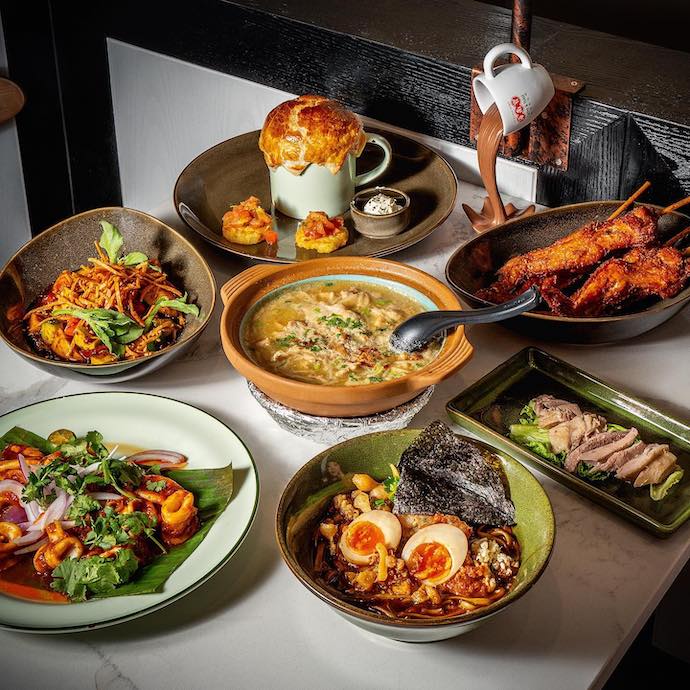 The 218 Hainan Lor Mee stall takes Hainanese-style lor mee to the next level. Alongside traditional braised egg and ngoh hiang (fried five-spice meat rolls), the lor mee is elevated with a side helping of fried black pork cutlet, Jiaji white braised duck or grilled saba fish. A must-try if you're looking for a unique version of Hainanese lor mee.
End your meal on a sweet note with the Cream Horns. These come in popular local flavours such as Kopi Gao (strong local coffee) and Teh Tarik ("pulled" milk tea), which, in typical Singaporean Hainanese fashion, marries the best of western dessert and local flavours! Those who are craving for something quintessentially Hainanese can go for the Traditional Hainanese Yibua (Hainanese steamed dumpling dessert), stuffed with ginger, shredded coconut and gula melaka (palm sugar). The flavours are guaranteed to take locals back to their childhood days!
Tuck into a Hainanese smorgasbord at Jin Wee Restaurant
• 928 East Coast Road
• Thursday to Tuesday: 9am to 9pm
• Closed on Wednesdays
This unassuming, family-owned Hainanese coffee shop has been dishing out delectable Hainanese dishes since the 1960s. When you first enter the coffee shop, you might notice a large earthenware pot at the front of the restaurant – what's inside is the restaurant's signature dish! Its Jiao Hua Chicken (Beggar's Chicken) is slow cooked with charcoal in the large pot for hours, locking in the chicken's flavours and juices. The final product is succulently tender chicken and an intensely flavourful, umami-packed gravy infused with chicken flavour.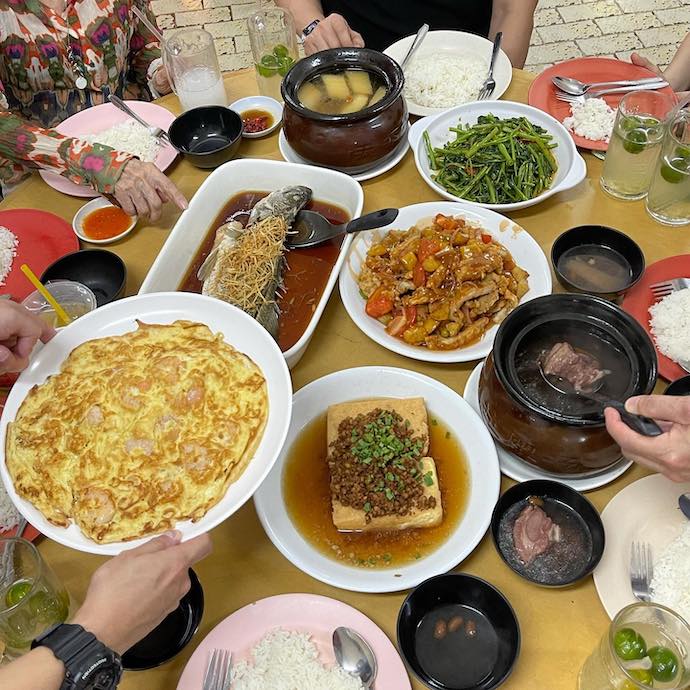 Located along East Coast Road, this Hainanese eatery attracts snaking queues during dinnertime, so make reservations or come early to avoid disappointment!
Dine in vintage style at British Hainan
• 75 Carpmael Road
• Wednesday to Sunday: 11am to 3pm & 6pm to 10pm
• Closed on Tuesdays

Looking to take a trip down memory lane? British Hainan is your go-to place. Not only does this outlet serve traditional Hainanese food, it boasts an impressive interior decked out with vintage furniture and trinkets, some of which date back to the British colonial era!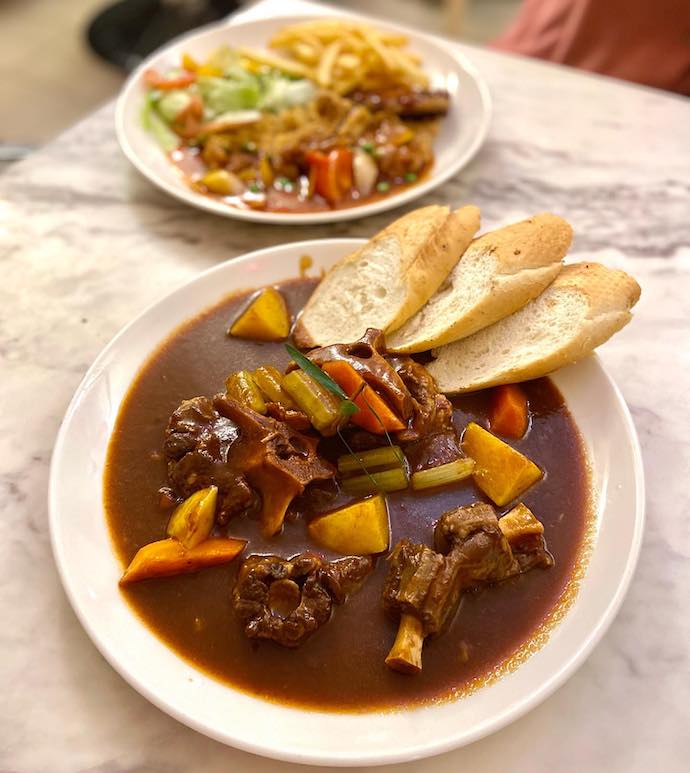 Its much raved-about Traditional Hainanese Oxtail Stew comes with a generous helping of oxtail chunks, potatoes, carrots and a side of toasted baguette. The meat is so tender that you'll barely have to use your knife to cut through it and the gravy is rich with a hint of natural sweetness. What's even more impressive is that British Hainan does not use MSG in any of its dishes, which further attests to its authenticity and culinary skills. 
This article has been adapted from Now Boarding by Changi Airport's "6 Hainanese food joints in the East of Singapore to check out"