Singapore has plenty of attractions which offer engaging activities to satisfy every member of the family. There's no time to be bored at these awesome attractions!
6 Bayfront Avenue
Nearest MRT Station: Bayfront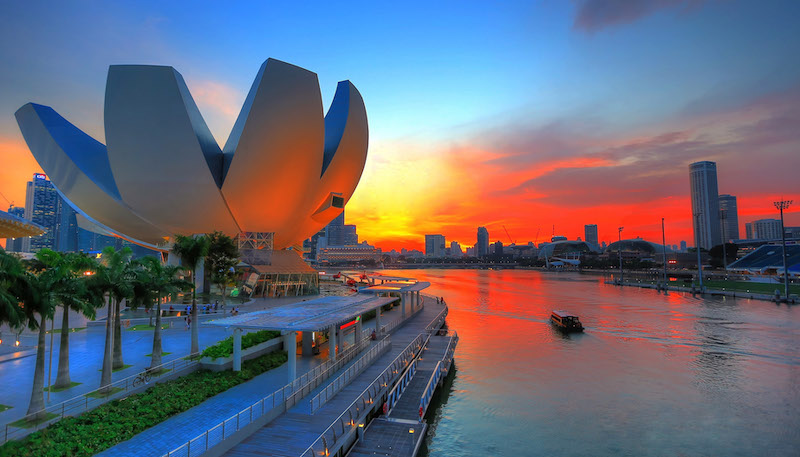 Discover fascinating aspects of art, science, design, architecture, technology and culture through world-class exhibits from the most renowned collections in the world at this striking lotus-inspired Museum. The Museum has 21 gallery spaces, spanning close to 5,000 sq m, which have staged the works of some of the world's best known artists including Leonardo da Vinci, Salvador Dalí, Andy Warhol, Vincent Van Gogh and M.C. Escher, as well as acclaimed photographer Annie Leibowitz and the late fashion designer Karl Lagerfeld.
8 Sentosa Gateway (located within Adventure Cove Waterpark, Resorts World Sentosa)
Nearest MRT Station: HarbourFront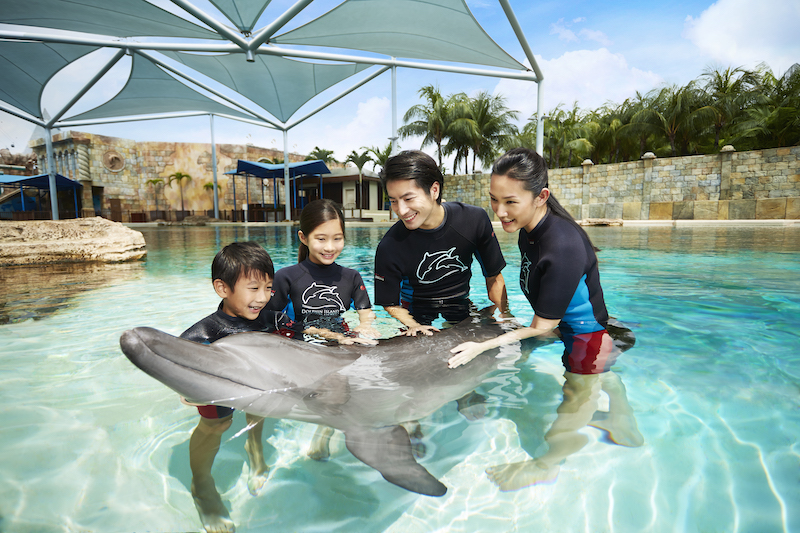 Swim, interact and enjoy magical moments with the friendly Indo-Pacific bottlenose dolphins at Dolphin Island. The attraction has a range of programmes where you can get up close to the fascinating marine mammals. Dolphin Observer lets you enjoy all the dolphin action and find out everything you want to know about dolphin behaviour from your poolside seat. Dolphin Encounter lets kids under 4 years old interact with dolphins without getting wet, while Dolphin Discovery lets you enjoy a close interaction with the marine animals in shallow waters. In Dolphin Adventure, you get into deeper waters and can experience the euphoria that comes from a dolphin propelling you through the water on a bodyboard.
18 Marina Gardens Drive
Nearest MRT Station: Bayfront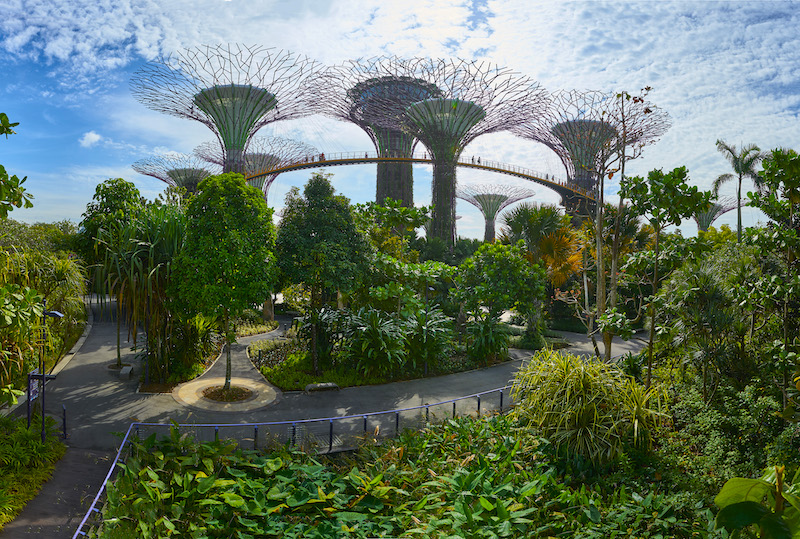 Discover unique flowers, plants and trees from around the world at this award-winning horticultural destination which spans over 101 hectares of reclaimed land. Explore the Gardens and be sure to check out key attractions like the two cooled conservatories, Cloud Forest and The Flower Dome, the amazing Supertrees, the 22m-high OCBC Skyway, Floral Fantasy, The Sun Pavilion, and Dragonfly and Kingfisher Lakes. Those with kids will want to bring them to the Far East Organization Children's Garden for a splashing good time and an educational forest adventure.
3 Lim Chu Kang Lane 4
Nearest MRT Stations: Kranji (take the Kranji Countryside Express Bus from Kranji MRT Station) and Choa Chu Kang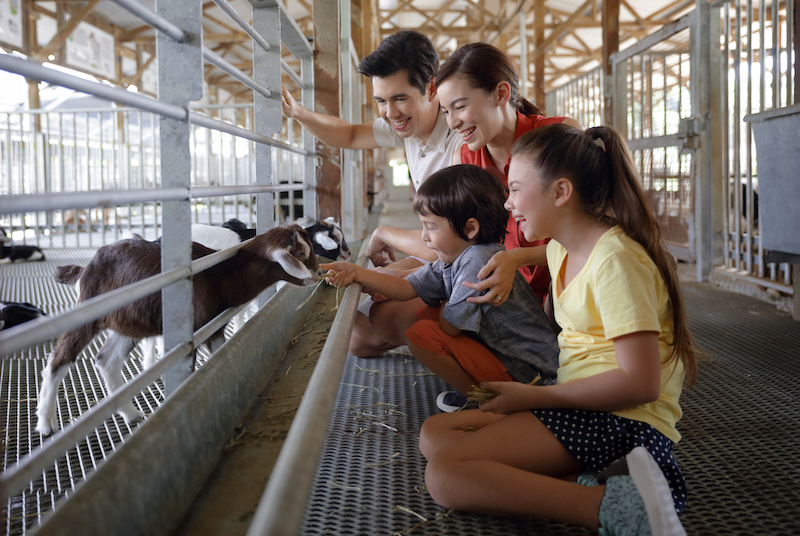 Watch goats being milked at Singapore's only goat farm which was set up in 1988. The milking session runs from 9am to 10.30am daily (except Tuesdays when the farm is closed). You can walk around the farm to observe the goats lazing around in their barns. Buy some alfalfa hay and get a hands-on experience feeding the goats. For an interactive session with the farmer and to learn more about the farm's history as well as understand the milking process, sign up for the educational farm tour which also comes with a bottle of fresh goat milk and a cotton bag souvenir.
26 Sentosa Gateway, #01-38/39
Nearest MRT Station: HarbourFront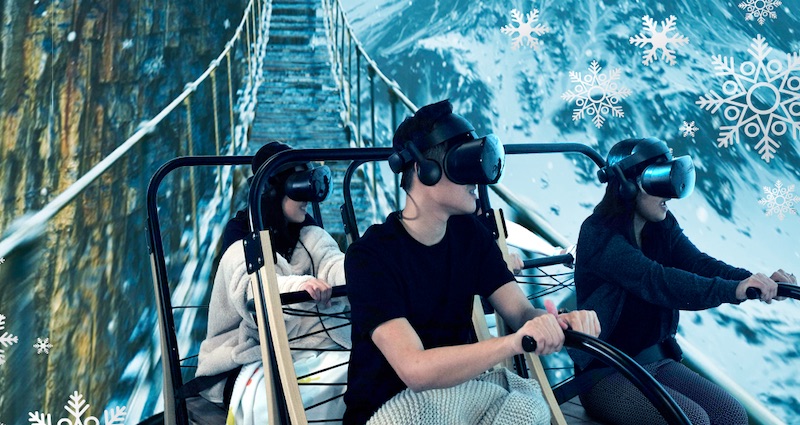 One of Southeast Asia's biggest VR theme parks, HeadRock VR offers thrilling virtual reality experiences where you can raft across extremely strong currents, fire at enemies while precariously balancing off the edge of a high-rise building and brace yourself against a stormy blizzard that threatens to blow you away. Choose from 11 exciting games such as Extreme Train, Flying Dive, Robin Hood, Storm Blizzard and Zombie Busters in three coloured zones that represent different intensity levels.
78 Airport Boulevard
Nearest MRT Station: Changi Airport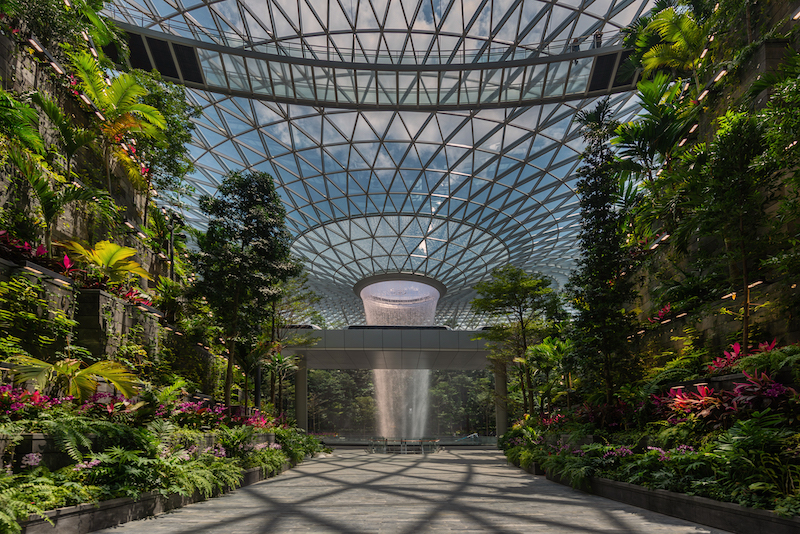 Changi Airport's new dome-shaped complex offers a multi-faceted experience for both kids and adults. Its star attraction is the 40m HSBC Rain Vortex, the world's tallest indoor waterfall, which is surrounded by the four-storey Shiseido Forest Valley, a lush garden with two cobblestoned walking trails punctuated by cascading waterfalls and mist clouds. The 135,700sqm, 10-storey complex is home to over 280 stores and food and beverage outlets. On the top floor is the Canopy Park, a playground with mazes, bouncing nets, Discovery Slides, a Canopy Bridge, Topiary Walk and Petal Garden. The Changi Experience Studio on Level 4 offers a journey of fun and discovery through the virtual world of Changi Airport with interactive games, projection experiences, immersive shows and gallery exhibits. Catch a movie at the Shaw Theatres which has 11 screens including an IMAX theatre.
Jurong Bird Park
*(The Bird Park has closed and will reopen as Bird Paradise in Mandai Wildlife Reserve in the second quarter of 2023)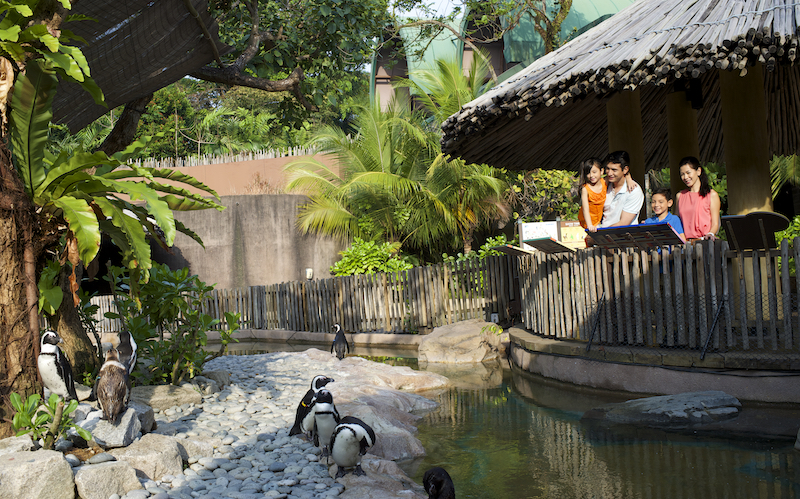 Check out pretty and rare birds at Singapore's first wildlife park and Asia's largest bird park, a haven for more than 3,500 birds across 400 species. Highlights include its large and immersive walk-in aviaries such as Lory Loft, Jungle Jewels and Waterfall Aviary, and exhibits like Penguin Coast, Pelican Cove and Flamingo Lake.
11 Neo Tiew Lane 2
Nearest MRT Station: Kranji (take the Kranji Countryside Express Bus from Kranji MRT Station)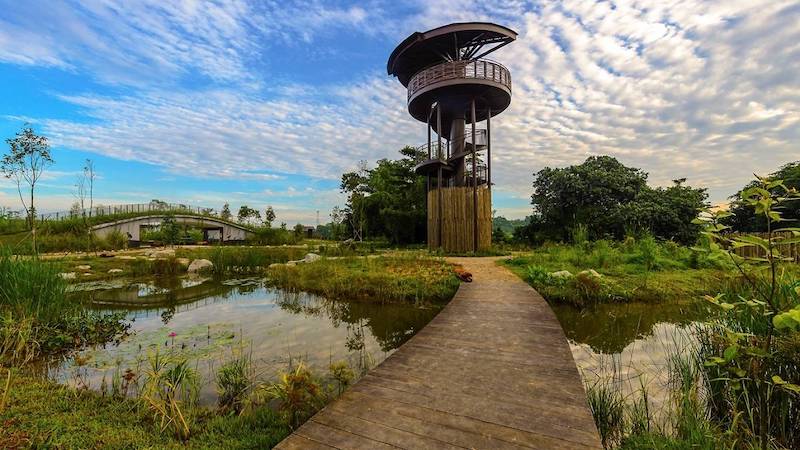 Birding fans and nature lovers will want to check out this 56.8-hectare freshwater marshland, one of the country's largest freshwater marshes. It is home to over 170 species of birds, 54 species of butterflies and 33 species of dragonflies. Walk along Neo Tiew Woods and look out for woodpeckers and monitor lizards. If you're lucky, you may spot a changeable hawk eagle or white-bellied sea eagle perching on one of the tall trees. At the Marsh Station, visit one of the bird hides to observe shy marsh birds such as the purple swamphen and common moorhen. Climb to the top of Raptor Tower for a panoramic view of Kranji Marshes and Kranji Reservoir. To learn more about the marshland and the species which are living in its marsh, woodland and grass habitats, sign up for the free guided 3km walk, held monthly on a Saturday from 4.30pm to 6.30pm.
Merlion Park
1 Fullerton Road
Nearest MRT Station: Raffles Place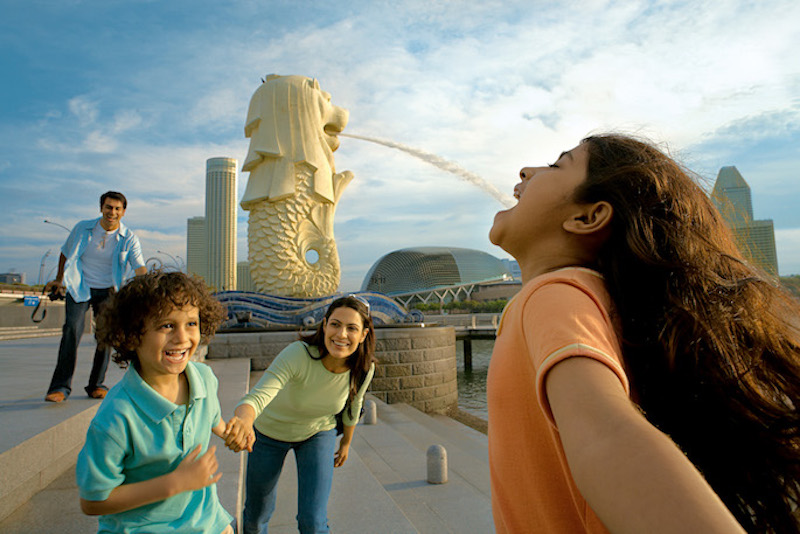 Meet the half-lion, half-fish Merlion spouting water from its mouth at the waterfront Merlion Park. The majestic statue of the mythical creature is one of Singapore's most famous icons. It weighs 70 tonnes and stands at 8.6 m high. The Merlion body was built from cement fondue, its skin from porcelain plates and its eyes from small red teacups. Take photos with both Merlion statues (parent and cub), enjoy sweeping views of Marina Bay and hop onto an electric bumboat to explore attractions along the Singapore River.
80 Mandai Lake Road
Nearest MRT Station: Khatib (take the Mandai Shuttle from Khatib MRT Station)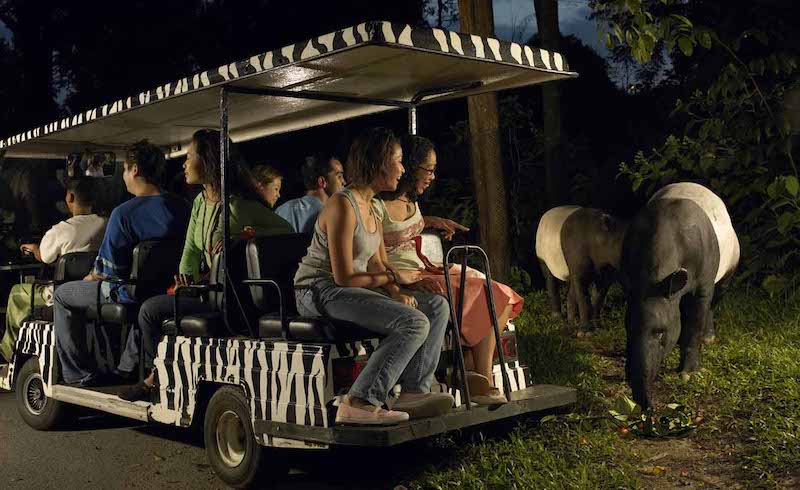 The world's first safari park for nocturnal animals, Night Safari is home to almost 900 animals across 100 species. Highlights include East Lodge Trail, Creatures of the Night Show and An Evening in the Wild where you go on a guided tram ride through a spectacular rainforest before enjoying a four-course dinner in Singapore's first tipi tent.
80 Mandai Lake Road
Nearest MRT Station: Khatib (take the Mandai Shuttle from Khatib MRT Station)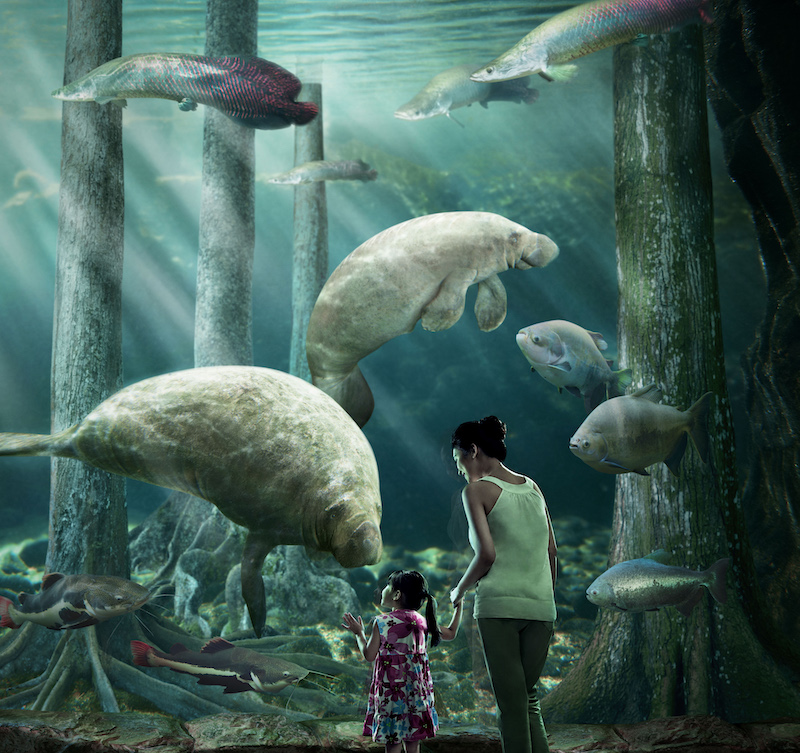 Learn all about the flora and fauna of river habitats at Asia's first and only river-themed wildlife park. The 12-hectare park houses 400 plant species and over 7,500 aquatic and terrestrial animals representing 240 species, including one of the world's largest collections of freshwater animals. Highlights include the Amazon Flooded Forest, Amazon River Quest and Giant Panda Forest.
15 Science Centre Road
Nearest MRT Station: Jurong East
Discover how science can be fun at one of the world's foremost science museums that has an exhibition space dedicated to the exploration of topics in science and technology. The centre houses an Omni-Theatre, Singapore's first five-storey dome-shaped theatre where movie characters come within "arm's length" for an unforgettable cinematic experience. At KidsSTOP, kids between 18 months and 8 years old can imagine, experience, discover and dream through fun hands-on activities in various thematic zones including Built Environment, Flight and Space and Four Seasons. A sure hit with kids is the The Big Dream Climber, a 9m climbing structure which has hanging doors, flying fish, giant gears and more.
39 Artillery Avenue
Nearest MRT Station: HarbourFront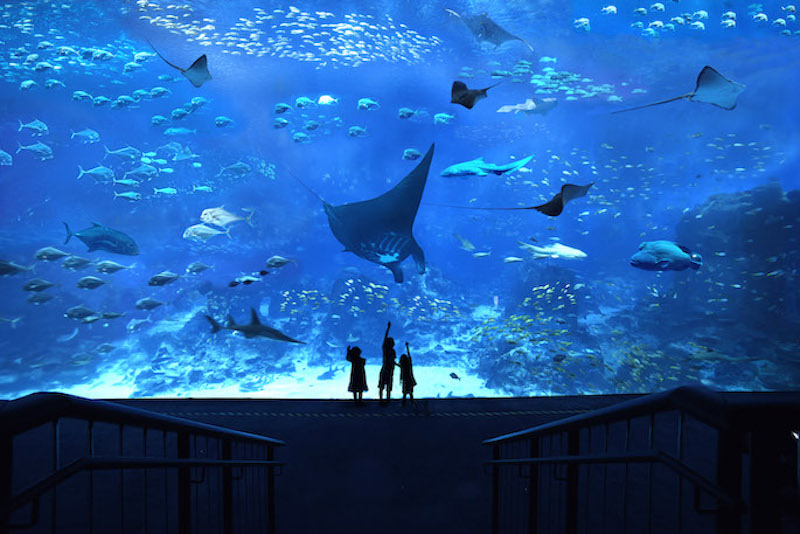 A world of fun and adventure awaits you at Singapore's island resort. It has themed attractions, cafes and restaurants, beachfront bars, award-winning spas, white sandy beaches, lush secondary rainforest, resort accommodation and twin 18-hole golf courses. Popular attractions include Adventure Cove Waterpark, Butterfly Park & Insect Kingdom, iFly Singapore, Madame Tussauds Singapore, Mega Adventure Singapore, S.E.A. Aquarium, Sentosa 4D AdventureLand, Skyline Luge Sentosa, Skypark Sentosa by AJ Hackett, Trick Eye Museum Singapore, Universal Studios Singapore and Wings of Time.
1 Cluny Road
Nearest MRT Station: Botanic Gardens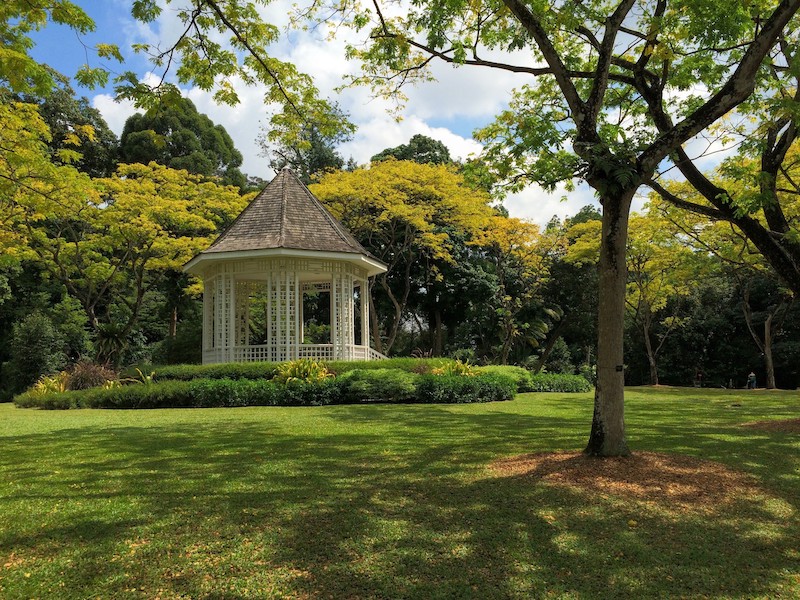 Put on your walking shoes, fill up your water bottle and explore nature at Singapore's first UNESCO World Heritage Site and the first and only tropical botanic garden on the UNESCO's World Heritage List. Established in 1859, the 82-hectare Gardens features an array of botanical and horticultural attractions with a rich history and a plant collection of worldwide significance. Discover freshwater forest wetland and lowland rainforest habitats, see giant and wild fruit trees, and spot birds and butterflies at The Learning Forest, the Gardens' new extension. Kids will love exploring the Jacob Ballas Children's Gardens which has nature play areas, a farm, an orchard, a suspension bridge and a forest with streams, ponds and tree houses.
30 Raffles Avenue
Nearest MRT Station: Promenade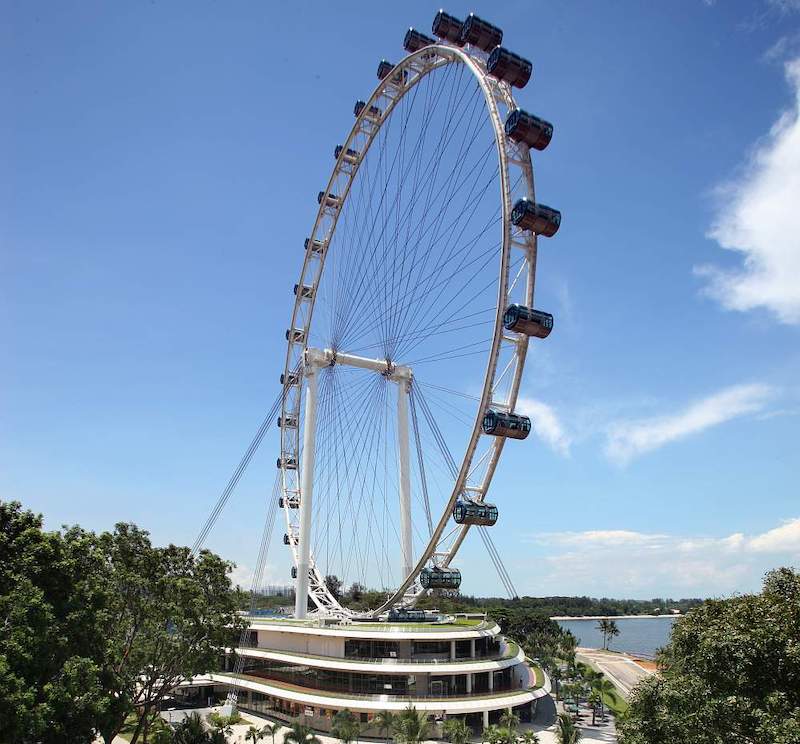 Enjoy panoramic views of Marina Bay, the city and beyond from Asia's largest giant observation wheel. Standing at 165m – the height of a 42-storey building – this $240 million wheel has 28 capsules. Each air-conditioned capsule is the size of a city bus and each one can carry up to 28 passengers. You can walk around the capsule and will not feel any movement or vibration during the 30-minute ride. More than just a ride, Singapore Flyer is also a shopping, dining and activity destination which houses eateries and stalls serving up local coffee, tea and kaya toast, freshly made gelato and Indian cuisine, a souvenir shop, a whimsical art exhibition, an award-winning flight simulator and a bike rental operator.
80 Mandai Lake Road
Nearest MRT Station: Khatib (take the Mandai Shuttle from Khatib MRT Station)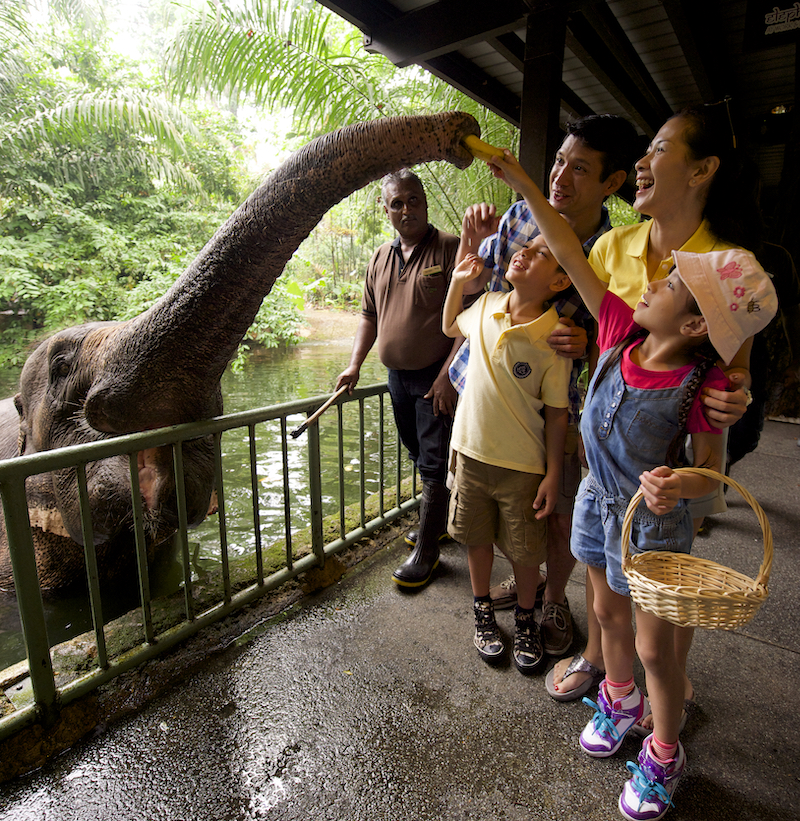 See animals in their natural habitats at the award-winning zoo. It has more than 2,400 animals from over 300 species housed in open, natural enclosures. Highlights include Rainforest KidzWorld, Reptile Garden, Splash Safari Show, Rainforest Fights Back Show, Elephant Presentation, Wild Discoverer Tour and Feed The Animals. Don't miss Rainforest Lumina, Southeast Asia's first multimedia night walk on the wild side, where an enchanted world of lights, virtual animals and immersive play awaits.
510 Upper Jurong Road
Nearest MRT Station: Joo Koon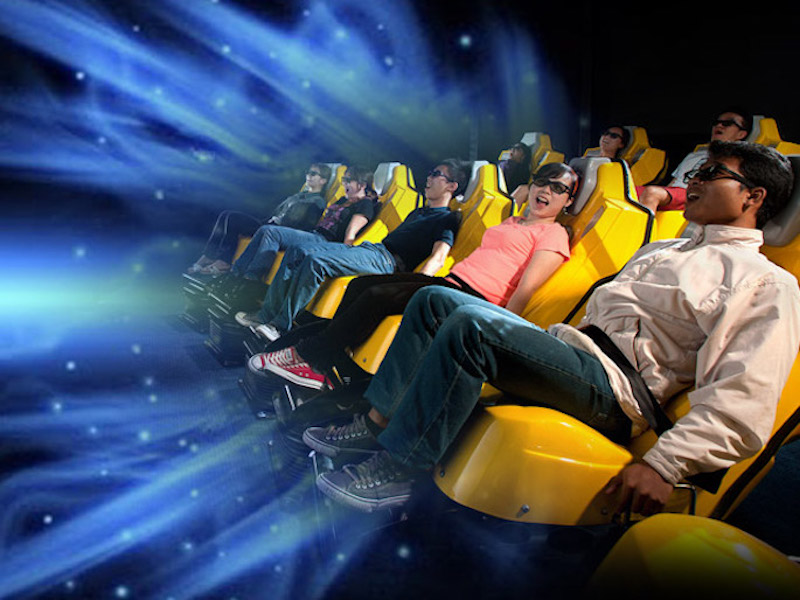 Learn more about Singapore in a fun and interactive way at this edutainment centre. Walk through the Gateway, So Singapore Theatre, Singapore Works and Singapore Way exhibits to discover what makes Singapore unique and get insights into the country's challenges, dreams and aspirations. Experience a thrilling 4D simulator ride at the state-of-the-art XD Theatre and enjoy a cinematic and realistic sensory experience at iWERKS Theatre, Singapore's largest flat-screen theatre featuring 2D and 3D giant screen movies. You can also rent a pedal boat for a leisure ride around the Centre's Discovery Lake on weekends and experience the thrills, spills and splatters of Crossfire Paintball at Singapore's first multi-tiered Paintball Arena.
1 Pasir Ris Close
Nearest MRT Station: Pasir Ris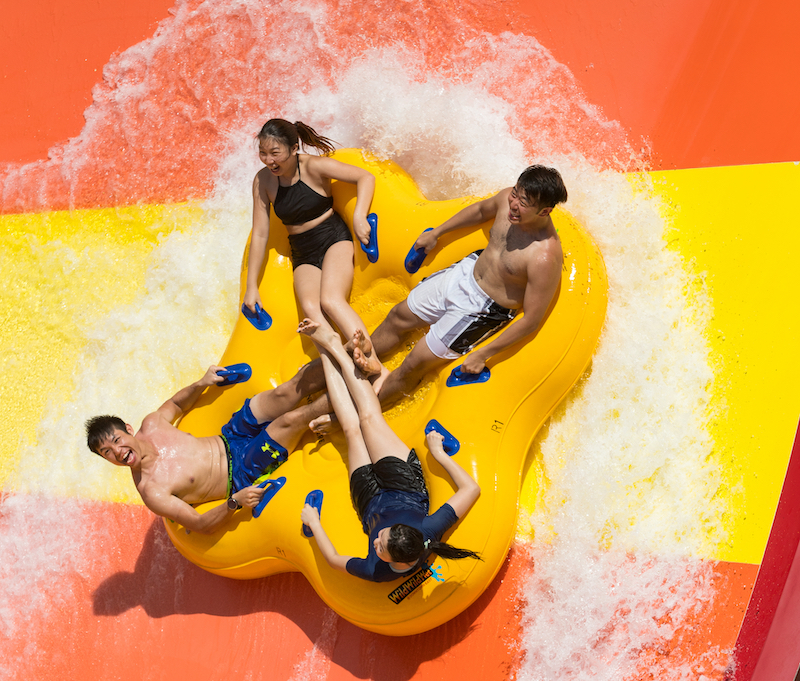 Feel the adrenaline rush as you zoom down thrilling waterslides at this water park. Home to 16 rides and attractions – from exhilarating high-speed rides to relaxing and gentle ones – it has something fun for everyone. Popular rides include Free Fall, Kraken Racers, Royal Flush, Slide Up, Torpedo, Ular-Lah and Vortex. The little ones can have a splashing good time at Kidz Zone, Professor's Playground, Splash Play and Yippee!.