Singapore is known as a bustling metropolis nestled in lush tropical greenery and green spaces, and no other hotel in the country epitomises its "City in a Garden" vision more than Shangri-La Hotel, Singapore, the first Shangri-La Hotel in the world.
The hotel, which turned 50 on 23 April, is surrounded by over 60,000sqm of landscaped gardens that house some 133,000 ornamental flowering trees, fruit trees, aquatic plants, tropical flowers and Asian herbs from 110 botanical varieties.
It comes as no surprise then that the hotel has its own orchid hybrid – Dendrobium by Shangri-La Singapore – which debuted in 2006, growing in a garden close to the swimming pool.
Beyond its lush gardens, the hotel is also renowned for its exclusive and luxurious 17-storey Valley Wing, the accommodation of choice for heads of state, government officials, VIPs and discerning luxury travellers. The elegant Valley Wing has 105 rooms and 26 suites that offer personalised butler service, and are accessible by a private driveway and lifts. There's also a private lounge and dining space exclusively for guests.
To enjoy a luxe staycation and experience the hotel's legendary hospitality, book the Valley Wing Indulgence Staycation package which starts from $598++ a night. The staycation package is eligible for SingapoRediscovers Vouchers redemption.

Besides a luxurious room, the staycation package also includes a 90-minute massage experience for two at Chi, The Spa; breakfast; afternoon tea; evening canapes and cocktails; unlimited wine, champagne, juice, coffee and tea; 24-hour butler service; and in-room butler drawn bubble bath with rose petals.
Here's how you can live it up during your Valley Wing Indulgence Staycation at the hotel.
Luxuriate in the elegant, spacious Deluxe Suite
At 110sqm, the Valley Wing Deluxe Suite offers plenty of room for all-out relaxation. Decked out in elegant furnishings, complete with resplendent chandeliers and gold-framed paintings, the suite houses a bedroom, a living room, two bathrooms, a minibar and a cocktail bar.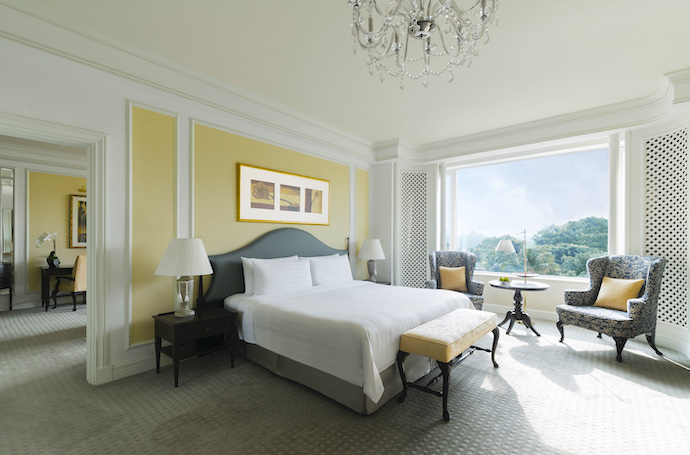 Welcome gifts come in the form of fruits, chocolates and cookies to be enjoyed with a cup of tea or Nespresso coffee.
The spacious en suite bathroom sports marble-clad surfaces and floors, his-and-her sinks, a bathtub, a walk-in shower, a standalone bidet and bath products from Acqua di Parma.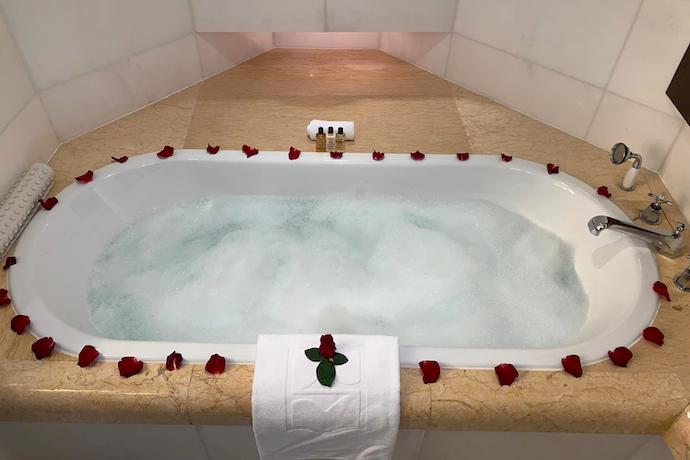 When you're ready for a relaxing soak, ask your butler to draw you a rose petal bubble bath. It takes about 10 mins to prepare the warm bath.
Eat, Drink & Be Merry
One of the perks of the Valley Wing Indulgence package is being able to enjoy unlimited Champagne, wines, spirits, cocktails, mocktails, juices, soft drinks, coffee and tea from 11am to 10.30pm daily at the Valley Wing Lounge.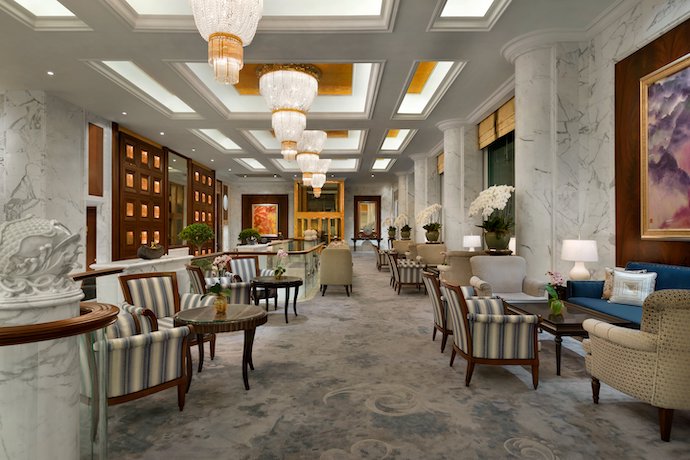 Afternoon tea is served from 2pm to 5pm at the Valley Wing Lounge while canapes and cocktails can be enjoyed at the Champagne Bar from 5pm to 7pm.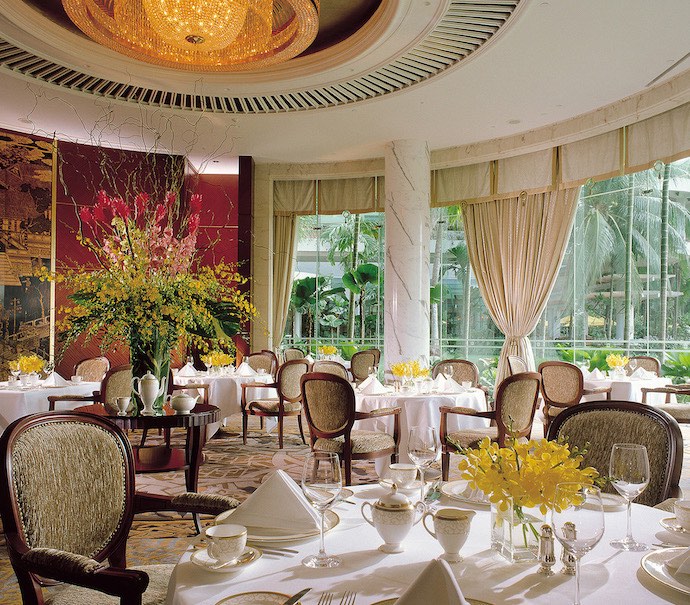 Breakfast can be enjoyed in the elegant Summit Room, served from 7am to 10.30am on weekdays and till 11am on weekends. Tuck into a selection of local favourites like Nasi Lemak, Fish Congee and Prata, as well as Western staples such as Eggs Benedict, Steak & Eggs and Waffles. Alternatively, you can enjoy an a la carte buffet breakfast at The Line at the Tower Wing from 6am to 10.30am daily.
Rejuvenate with a massage at Chi, The Spa
What's a staycation without some head-to-toe pampering? Relax, unwind and rejuvenate at Chi, The Spa, which takes its name from "chi" or "qi", the universal life force that governs well-being and personal vitality according to traditional Chinese medicine and philosophy.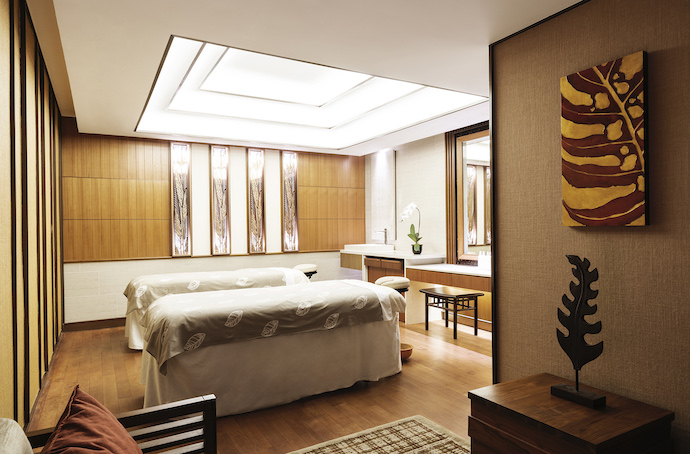 The spa offers four types of full body massages:
• Deep Tissue – Recommended for active folks who want a therapeutic massage that  employ firm pressure and slow, deep strokes to reach the inner layers of muscle and fascia to release tension and loosen knots
• Signature Asian Blend – A medium to firm pressure massage which combines different Asian massage techniques such as the stimulating pressure points of the Thai, Balinese and Malay massage strokes, and traditional Chinese techniques that balance the body's energy flow
• Relax Aroma – A light to medium pressure massage featuring long, gliding strokes to relax and energise joints and muscles, as well improve circulation and flexibility
• Healing Himalayan Hot Salt Stone – Heated natural salt stone crystals are used to ease muscle tension, improve blood circulation, alleviate pain and promote relaxation. Recommended for those looking to improve the quality of their sleep.
As for massage oils, there are four essential oil blends to choose from: Mandarin (warming and invigorating), Oolong (energising and balancing), Ore (clove and ylang-ylang to uplift the spirit) and Sun (vanilla and sandalwood to calm the senses).
Explore the hotel's lush gardens
A showpiece of plant life, the hotel's manicured gardens are idyllic green spaces to connect with nature. Put on your walking shoes and stroll through the sprawling gardens surrounding the Tower, Garden and Valley Wings.
Look out for majestic royal palms, tall coconut palms, towering banyan trees, ficus trees, heliconia and ginger plots, and fruit trees including durian, mango, cherry, rambutan and ciku. Over at the Display Garden is an unusual flora collection of blue gingers and lobster claws, as well as a 39-year-old African tulip tree, while an old Abiu tree planted by the late American singer John Denver flourishes in the peaceful surroundings of the Pavilion Garden.
Another green haven is the Garden Wing Atrium, home to tumbling waterfalls, ponds filled with Japanese koi and a three-storey rock garden where palms, ferns and colourful exotic plants thrive. Next to the gym is another waterfall and pond teeming with Japanese koi in luminous hues of red and gold. Don't miss the koi-feeding session – a sight to behold – at 9.30am and 5.30pm daily.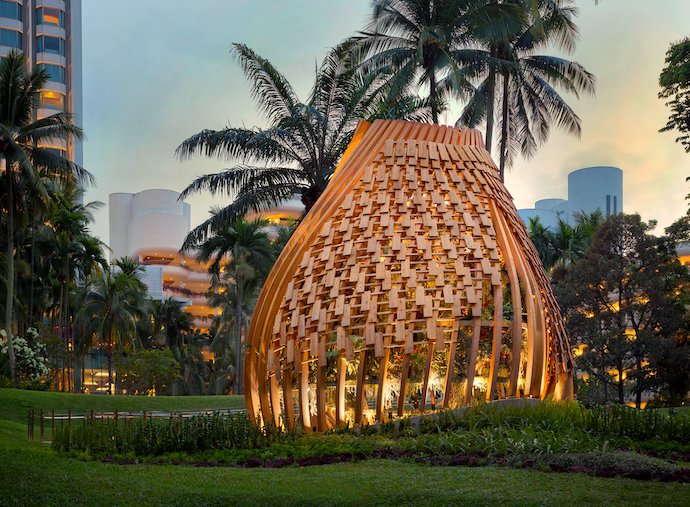 A must-visit for orchid lovers is The Orchid, a striking 7m-tall, open-air wooden greenhouse unveiled in June 2016 to showcase the beauty of orchid species like Renanthera Kalsom, Oncidium Gower Ramsey and Vanda Fuchs Delight. Shaped like a flower bud, the Orchid can also be booked for an intimate dinner, complete with your very own chef and waiter.