Whether you're catching up with loved ones or friends, celebrating a special occasion or craving for a nourishing soupy meal with plenty of ingredients, a hotpot, steamboat, shabu shabu or mookata is always a good idea.
Here are 15 places (listed in alphabetical order) to get your fill. Oh, and try not to wear white.
Jewel Changi Airport, KINEX, nex, The Centrepoint, The Star Vista, VivoCity, Westgate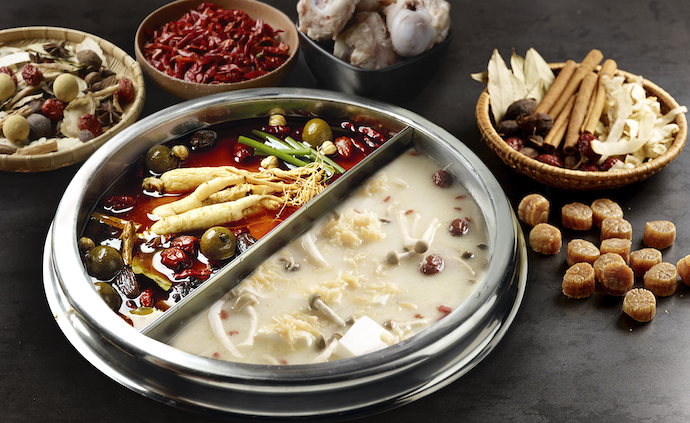 Opened in 2014, this is the first hotpot restaurant tailored for women of all ages, with its emphasis on beauty collagen broth and female-centric décor. All outlets have a kid's playground stocked with toys and there's even a staff trained in balloon sculpting to entertain the kids.
Choose from six nourishing soup bases such as the popular Signature Beauty Collagen Broth, the unique Cooling Coconut Broth and the meat-free Longevity Wild Pine Mushroom Broth. All meatballs, meat paste and dumplings are handmade, and there are 20 condiments and accompanying sauces.
If you're a fan of its piquant Shrimp Broth, the popular base makes a comeback from 6 July to 31 August 2020.
Clarke Quay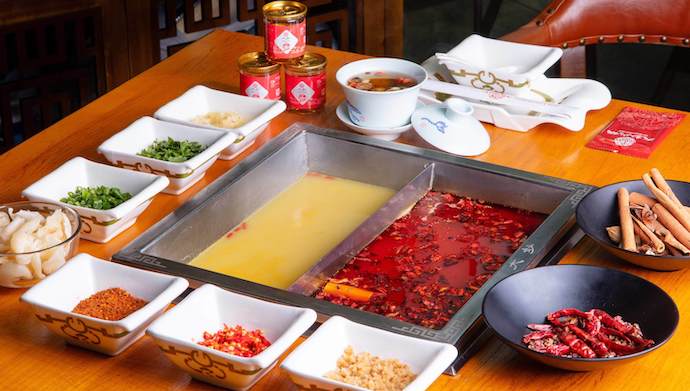 Come to this Sichuan hotpot chain from Chengdu for its traditional Special Spicy mala soup, made with pure grapeseed oil from Chengdu. Ask for the soup's spiciness level to be adjusted to local standards if the Sichuan level is too fiery for your taste buds. Other soup bases include Tomato, Mushroom, Slow-cooked Bone Broth and Beauty Collagen.
To keep diners entertained at dinnertime from 7.30pm daily, there are cultural acts such as the long spout tea pouring performance which incorporates martial art moves and the mysterious Sichuan bian lian (face-changing) opera.
191B New Bridge Road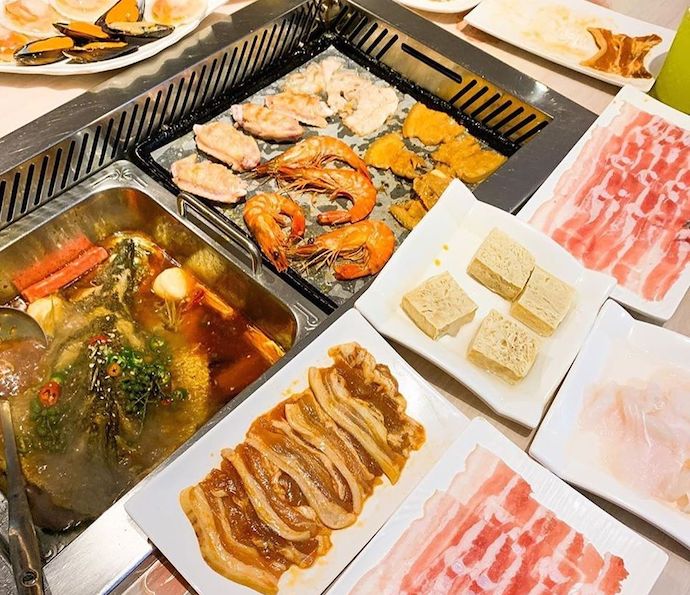 Those who can't decide between having BBQ or hotpot can enjoy both at this eatery which prides itself as being Singapore's first roast fish, BBQ and hotpot buffet restaurant.
It offers seven soup bases (Mala Spicy, Mushroom, Tomato, Fish Head, Pork-bone, Pickled Cabbage and Kimchi), and the BBQ and hotpot buffet features over 60 items. Add on the roast fish which is prepared in four savoury ways – Mala, Pickled Cabbage, Spicy and Fermented Soy Beans.
If all that is not enough, there are seafood and chicken platters in three sizes from its a la carte menu.
Suntec City, The Clementi Mall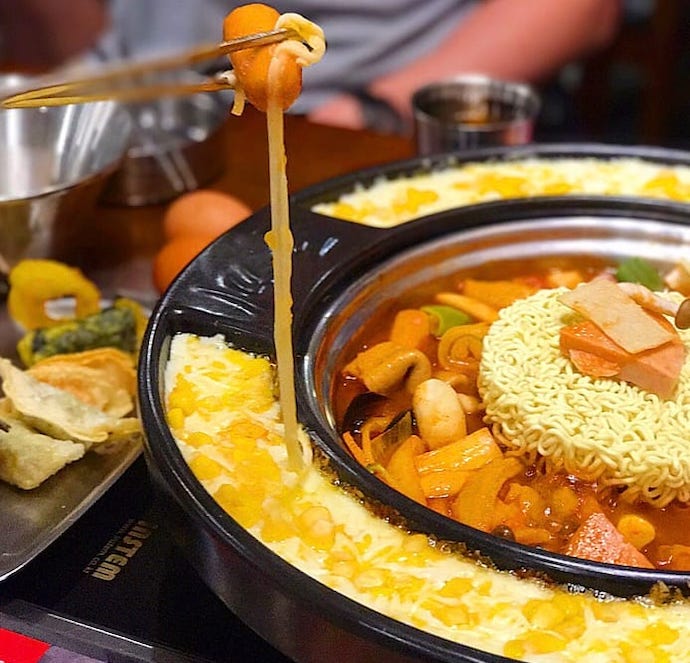 At Dooki, which means "two meals" in Korean, you start with Korean tteokbokki or topokki (stir-fried rice cakes) hotpot as your first meal before moving on to kimchi fried rice.
Choose from six types of topokki, air flown from Korea, along with ingredients such as fish cake, chicken, seafood, tempura and ramyeon (Korean instant noodles), and sauce (in varying degrees of spiciness) for the hotpot from the buffet table. Mix all the items (including the sauces) into the soup base and let them cook. Cheese lovers may want to add the Double Cheese Ring around the hotpot to dip everything that's cooked in cheese!
For the second meal, add rice, kimchi, seaweed and sweet corn to the remaining liquid in the hotpot, mix them all up and what you'll get is your own version of kimchi fried rice. End on a sweet note with bingsu (shaved ice dessert).
Cross Street Exchange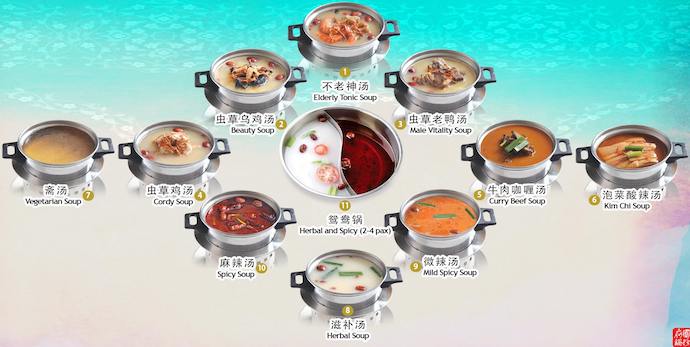 Fans flock to this 15-year-old eatery for its premium Sliced Special Beef and unlimited servings of freshly steamed xiao long bao. Instead of communal hotpots, each diner gets a personal hotpot, which makes perfect sense during these times.
It offers three hotpot options (set meal, a la carte and a la carte buffet), 10 soup bases which include unique offerings such as Curry Beef Soup, Male Vitality Soup, Cordy Soup and Elderly Tonic Soup, plus over 60 ingredients for the hotpot.

313@somerset, Bedok Mall, Century Square, Clarke Quay, IMM, Marina Square, Paya Lebar Quarter, Plaza Singapura, Royal Square, Sun Plaza, The Seletar Mall, VivoCity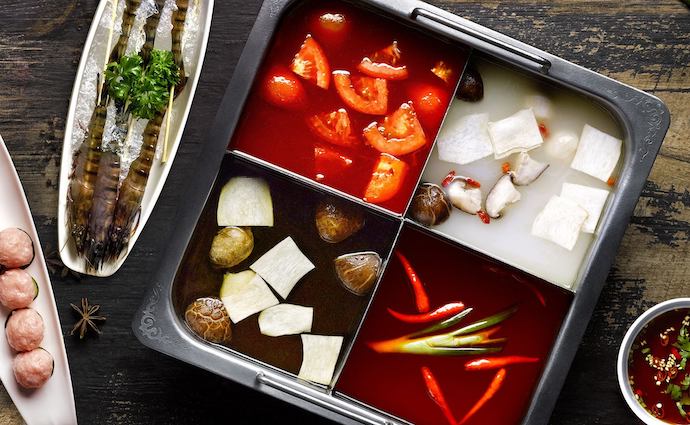 Opened in Singapore in 2012, this Sichuan hotpot chain is famous for its outstanding customer service. For those queuing to get into its restaurants, it offers free wifi, free gel manicure services, free snacks like popcorn and ice cream, as well as games, puzzles and quizzes where participants can win a free side dish if they solve the challenges correctly. There's also a well-stocked playroom to keep the kids entertained.
If it's your birthday, you'll get a free fruit platter, while seniors get longevity buns. Other thoughtful freebies include ziplock bags to keep your mobile phones clean, hair ties for ladies, aprons to protect your clothes from sauce splashes and yes, even prawn peeling services.
There are eight soup bases to choose from including its popular Tomato Soup, Mushroom Soup, Sichuan Spicy and Local Laksa.
Burlington Square, 8 Sago Street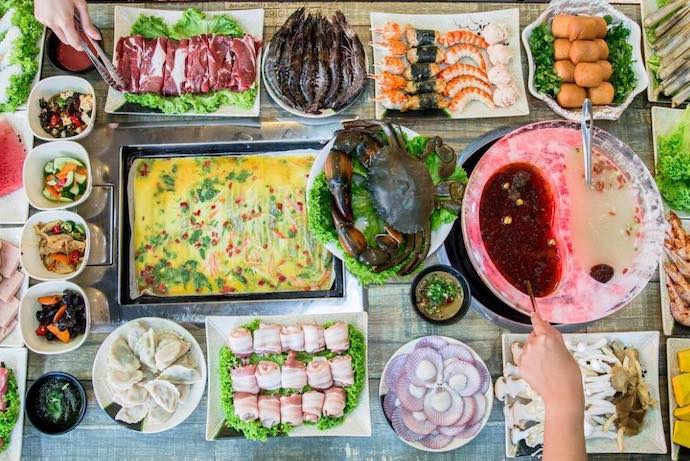 There's no chance of your hair or clothes being tainted with smoke or hotpot vapour at this place as smokeless grills are used for BBQ and steamboat. Instead of metal hotpots, the restaurant uses illuminated clear crystal pots, widely used in China, which help to prevent scalds and burns.
It offers a 5-in-1 buffet featuring hotpot, BBQ, skewers, bubble tea and grilled fish. Feast on 15 types of seafood, 21 types of marinated and shabu shabu meat, eight types of noodles, crispy skewers laced with special sauce, mala or sour spicy grilled fish, cooked food, cold dishes and 11 types of bubble tea. Seafood and meat can be cooked teppanyaki-style or in Prawn Broth or Collagen Soup, and spiced up with over 30 condiments.
Great World, ION Orchard, 111 Somerset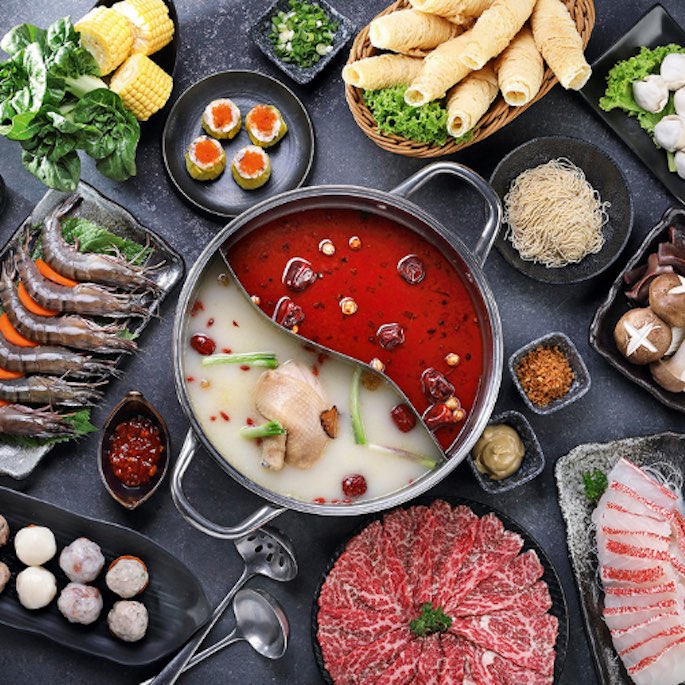 The Imperial Treasure Group is known for its fine Chinese cuisine and its steamboat restaurants echo the same ethos by offering premium ingredients such as choice cuts of meat, fresh seafood and handmade meatballs, along with 10 made-from-scratch soup bases which include house specialities like Spicy Sichuan Soup, Ginseng Chicken Soup, Imperial Drunken Chicken Soup and Authentic Pomfret Soup, and unique offerings such as Satay Flavoured Soup and Century Egg, and Parsley Soup.
A must for meatball fans is the Four Treasure Ball Platter which combines prawn, cuttlefish, pork and canton dace fish balls, all handmade daily.
One Fullerton, Orchard Gateway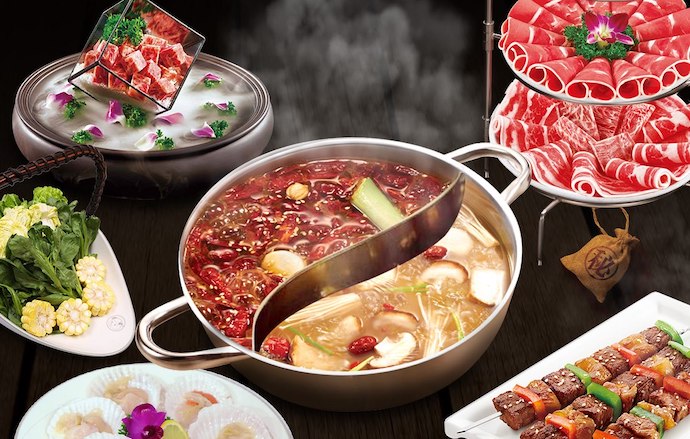 Love lamb? Then make a beeline for this Inner Mongolian-style hotpot eatery which, as its name suggests, specialises in lamb dishes. Signature items include Mongolian Style Roasted Lamb Shank or Leg, Lamb Kebab, Lamb Skewers, grilled spicy Lamb Heart, Lamb Rolls and 3-Tier Lamb Platter. It also serves quality beef such as Australian Sirloin Beef Cubes and Premium Wagyu Marbled Beef.
It offers four soup bases and its bestseller is the Signature White Soup, brewed with nourishing Chinese herbs and spices such as ginger, red dates, wolfberries and tsaoko (black cardamom).
Sun Plaza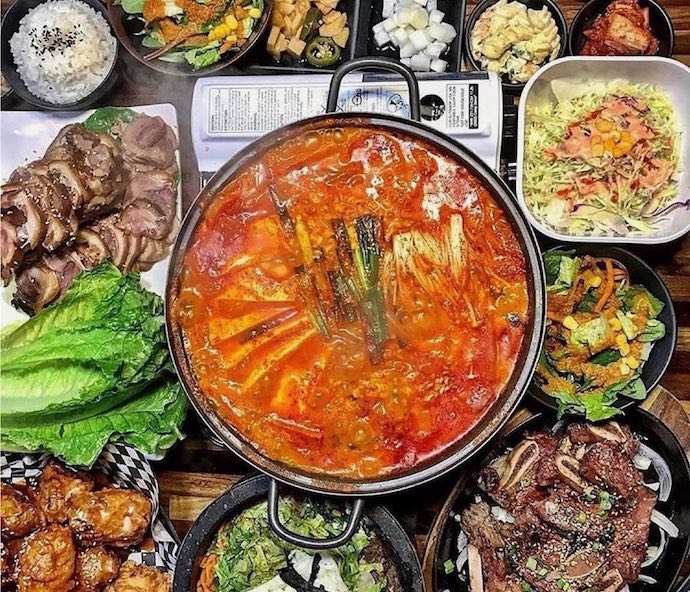 This place prides itself as being the first in Singapore to offer an international steamboat, BBQ and mookata buffet at affordable prices, starting from $12.90++. Kids below the height of 0.8m eat for free.
There are nine soup choices including Chicken Herbal, Laksa, Mala, Miso, Sukiyaki, Tom Yum and Tonkotsu. Besides a wide range of meat, seafood, vegetables and noodles, it also offers over 30 cooked dishes such as fried chicken wings, braised pork belly, Korean pancake and japchae (Korean glass noodles). A must for cheese lovers is the bowl of thick and gooey cheese for dipping.
Bedok Point, Chinatown Point, City Square Mall, Compass One, Eastpoint Mall, Hougang One, Icon Village, JCube, Junction 10, KINEX, Orchard Central, Sembawang Shopping Centre, The Star Vista, Tiong Bahru Plaza, West Coast Plaza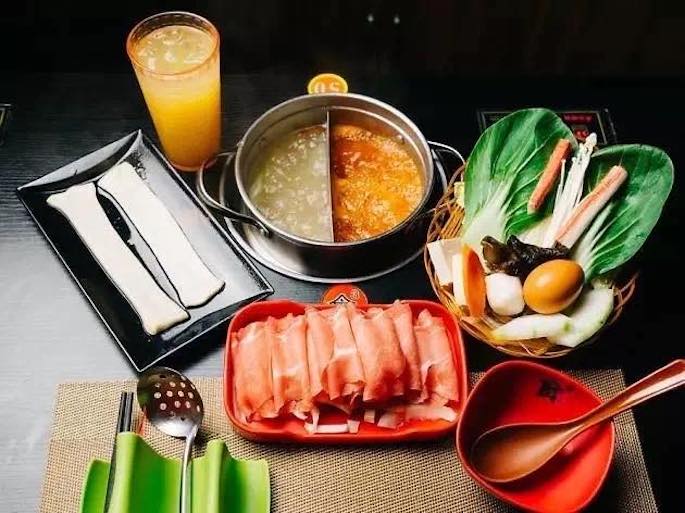 This Taiwanese-style steamboat restaurant chain from Beijing is known for its wallet-friendly prices, with a set meal starting from $9.90++. Colourful soft toys, which are given out free to diners during special promotions, line the walls, while star lamps with smiley faces hang from the ceiling of each outlet.
It offers six soup bases – Specialty Mala Soup, Beauty Collagen Chicken, Tonic Chicken Soup, Nourishing Fish, Tasty Mushroom Soup and Pickled Vegetable Soup – accompanied by a wide selection of hotpot ingredients such as pork, chicken, beef, lamb, seafood, vegetables, yong tau foo, noodles and mushrooms.
Bugis+, Bukit Panjang Plaza, Heartland Mall Kovan, Kallang Wave Mall, Marina Square, Plaza Singapura, Safra Toa Payoh, Tampines Mall, VivoCity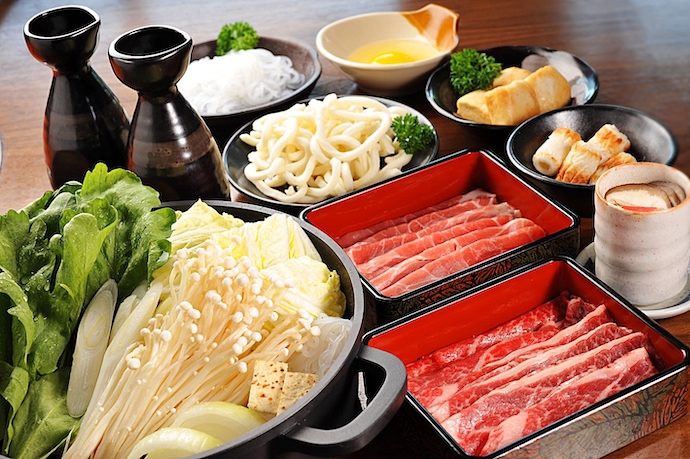 Known for its all-you-can-eat sukiyaki and shabu shabu buffet, the restaurant's Premium buffet offers unlimited servings of premium meats such as wagyu beef, Iberico pork, Duroc pork collar, half-shell scallops, salmon and black mussels. The Regular buffet offers free flow of beef short plate, beef cube role, pork and chicken. There is also a variety of meatballs including lobster, shiitake, cuttlefish and chicken cheese to savour.
There are five soup bases to choose from – Shabu Shabu (classic kelp and kombu broth), Sukiyaki (bonito stock with soy sauce), Butaniku (pork-based soup) and Kimuchi (kimchi with spicy miso) and its most popular Tonyu Miso (Japanese miso and soy milk).
Chinatown Point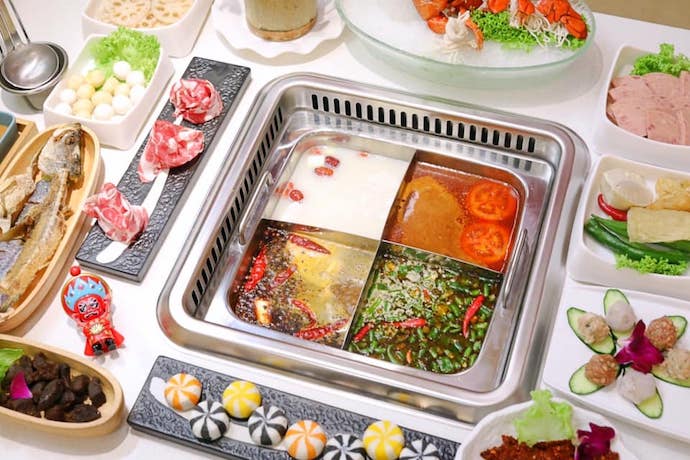 Savour Sichuan and Cantonese flavours in a hotpot at this eatery which is opened by Chengdu Restaurant. It offers both large shared pots and individual pots to enjoy unique broths such as Chengdu Green Pepper Broth, Sichuan Spicy Broth, Collagen Nourishing Pork Bone Soup, Fish Soup Broth with Fresh Milk, Umami Mushroom Broth and Pumpkin Millet Soup.
Must-trys are its unique ingredients and dishes such as Lobster Noodle, Magical Growing Mushrooms, Shrimp Skewers, Seafood Balls Lollipop, Spicy Marinated Beef, Sliced Chicken with Green Peppers, Spanish Iberico Black Pork Collar, Braised Beef Short Ribs and Fried Spice Beef. End your meal with the refreshing Ice Jelly with Milk Tea, which makes the perfect palate cleanser.

6 Lorong Telok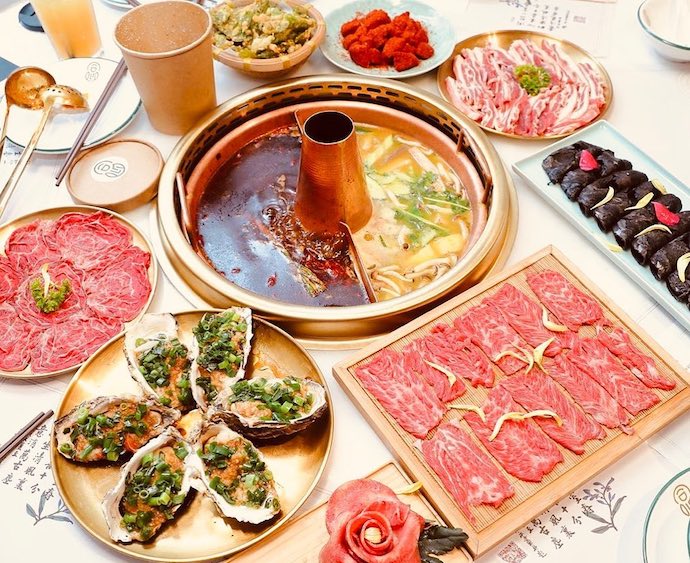 You won't find the usual tomato, mushroom or mala soup bases that are meant to cook raw hotpot ingredients here. Instead, the restaurant's soups such as Stewed Marinated Beef with Spicy Soup, Pickled Chinese Cabbage with Pork Rib Soup, Tomato with Oxtail Soup, Catfish with Spicy Soup and Fish with Pickled Cabbage Soup arrive at the table brimming with ingredients. The soups' spicy and sour notes can be adjusted to suit your taste buds.
For hotpot toppings, it offers a wide range of meat such as Japanese Wagyu, Angus Beef, Premium Eight Second Beef, Beef Tongue, Japanese Black Pork, New Zealand Premium Mutton, Black-Bone Chicken Slice, Boneless Duck Foot, Duck Tongue and Frog, seafood such as Abalone, Codfish, Fan Scallop, Japanese Mussel and Marinated Shrimp Paste, unique vegetables such as Gracilaria and Pea Sprout, and novel beancurd creations such as Vince Tofu and Fish Tofu.
Clarke Quay, Orchard Gateway, West Coast Plaza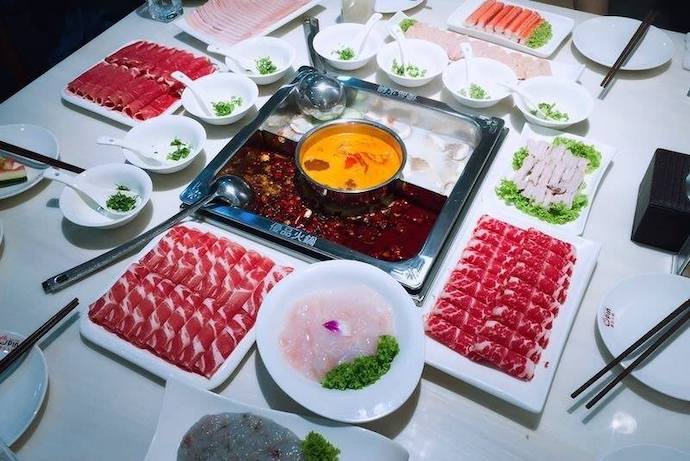 Known for its quality ingredients, attentive service and affordable prices, this eatery offers 11 soup bases which include Signature Tomato Soup, Sichuan Spicy Soup, Gingko Pork Belly Pot, Sichuan Boiled Fish Pot, Sweet Corn Rib Pot, Tom Yum Pot and Butter Soup Pot. Diners can savour up to three different soups at the table, thanks to its special three-compartment hotpot.
It offers a selection of not-your-usual hotpot meat like Chestnut-Fed Pork Belly or Collar, American Wagyu Beef, Mutton Slices, Fresh Ox Tongue, Fresh Duck Tongue, Black Pork, Braised Pork Intestine and Pig Brain, as well as handmade meatballs and dumplings such as Sweet Corn Pork Balls, Cheese Beef Balls, Handmade Mushroom Balls, Handmade Shrimp Balls, Mashed Shrimp, Fish Roe Moji, Pork and Celery Dumplings, and Fresh Meat and Chinese Chives Dumplings.