Singapore may be small but there's no shortage of exciting things to do together with your family and friends on the island. The city-state is bursting at the seams with thrilling adventures, enriching cultural experiences, lush green discoveries, historical finds, delicious eats and more.
Whether it's your first or 10th trip, there'll always be something new, exciting and unique to see and do in the Lion City.
Scroll down and read our pick of the 10 top activities that will keep you more than entertained this month.
Zoom down thrilling water slides at Adventure Cove Waterpark
Resorts World Sentosa
Opening hours: 10am to 5pm
BUY Adventure Cove Water open-dated ticket

A full day of splashing fun in the sun awaits at Adventure Cove Waterpark. Feel the adrenaline rush as you zoom down thrilling water slides, the stars of the aquatic adventure park.
Have a blast at Riptide Rocket, Southeast Asia's first hydro-magnetic coaster which combines powerful climbs, plunging drops, terrifying twists and tight turns like an intense rollercoaster on water.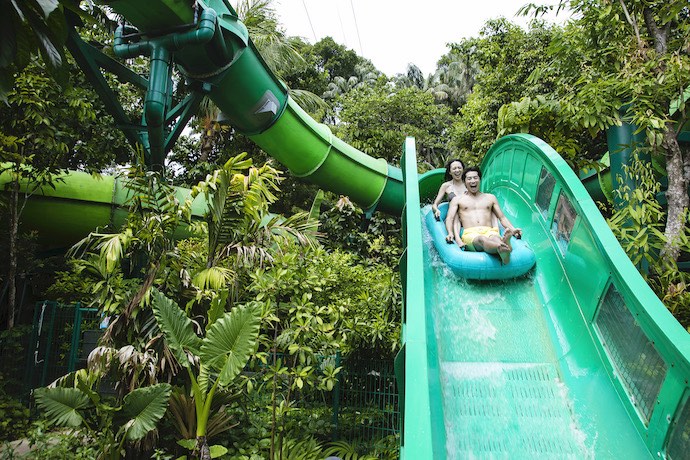 Grab a racer mat to slide down the Dueling Racer; careen down an unpredictable passage of swirls and slaloms on the Tidal Twister; experience riding a water tornado in the dark on the Pipeline Plunge; power through revolutions, twists, turns and dips on the Whirlpool Washout; and get funnelled into an oscillating tube ride down the Spiral Washout.
Take a break from sliding to drift on the Adventure River, snorkel with 20,000 tropical fish over a colourful Rainbow Reef, cross the tight rope at Splashworks, get wet and wild at the Big Bucket Treehouse or just chill out at the Bluwater Bay wave pool.
Jump head first or hurtle towards the beach at Skypark Sentosa by AJ Hackett
Siloso Beach, Sentosa
Opening hours: • Monday to Friday – 1.30pm to 7pm • Saturday & Sunday – 12.30pm to 7pm
BUY Skybridge ticket with FREE ice cream
Take a deep breath, then take the plunge from Singapore's first bungy tower on Sentosa's Siloso Beach. You can choose to have your head dipped in the 3.5m-deep pool of water at the bottom or stay dry.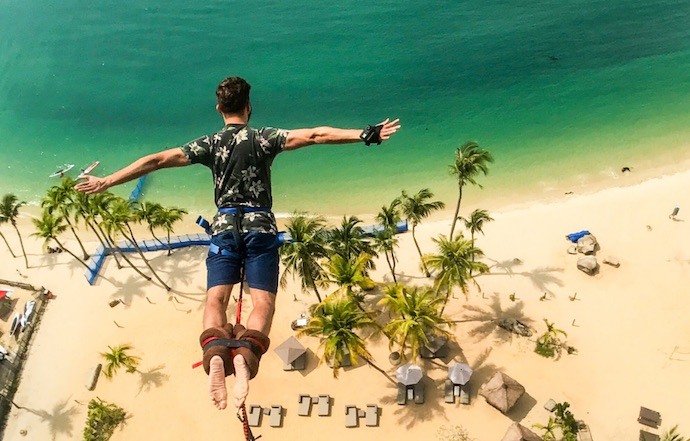 For more adrenaline-fuelled fun, fly through the air from 45m above ground on the Giant Swing strapped facing down before being dropped down at speeds of up to 120km/h.
After this, walking on the 47m-high, 40m-long glass-panelled Skybridge will be a walk in the park. Standing over the transparent floor sections without letting your knees go wobbly or leaning over the Glass Cube that juts out at the side should be easy peasy.
See cutting-edge digital art installations at ArtScience Museum
Marina Bay Sands
Opening hours: 10am to 7pm daily (last entry at 6pm)
BUY Future World + Digital Light Canvas (direct entry) promo ticket
Get set for a visual feast filled with high-tech, immersive art installations at Future World: Where Art Meets Science at the stunning lotus-shaped ArtScience Museum.
Created by award-winning Japanese art collective teamLab, Future World will take you on an interactive journey of lights, digital art and magic.
Walk through the City in A Garden zone for an immersive and mesmerising journey which takes inspiration from Singapore. Encounter nature by walking through the waterfall and flower fields before discovering the hidden yet familiar urban structures found in the cities.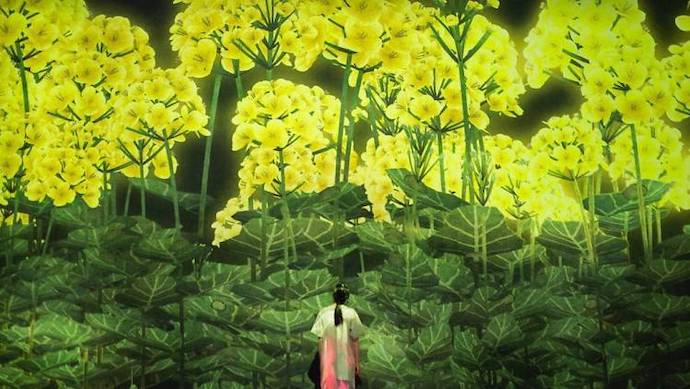 At the Space zone, be spellbound by the beauty and magnitude of the cosmos, and watch your actions forge the shape of a monumental digital universe.
Don't leave without checking out Digital Light Canvas at The Shoppes at Marina Bay Sands, (#B2-50, next to Rasapura Masters food court). Watch shoals of fish gather in the ocean beneath you as crystals light up overhead or paint calligraphic art with your feet while flowers blossom in your wake.
Check out amazing artefacts that explore Asia's artistic heritage at Asian Civilisations Museum
1 Empress Place
Opening hours: 10am to 7pm daily (till 9pm on Friday)
BUY Permanent Galleries ticket  

See Asia through the lens of Singapore at Asian Civilisations Museum (ACM), the country's national museum of Asian antiquities and decorative art. Housed in the historic Empress Place Building, ACM has 13 permanent galleries.
Galleries on the first floor tell the story of trade and maritime silk routes. At the Khoo Teck Puat Gallery, marvel at pieces of sunken treasure from the Tang Shipwreck collection, and see treasure that was buried and found right under the soil at Empress Place at the Singapore Archaeology Gallery. Over at the Maritime Trade Gallery are porcelain, paintings, furniture and highly desired objects made in China, Japan and Southeast Asia for export to the world.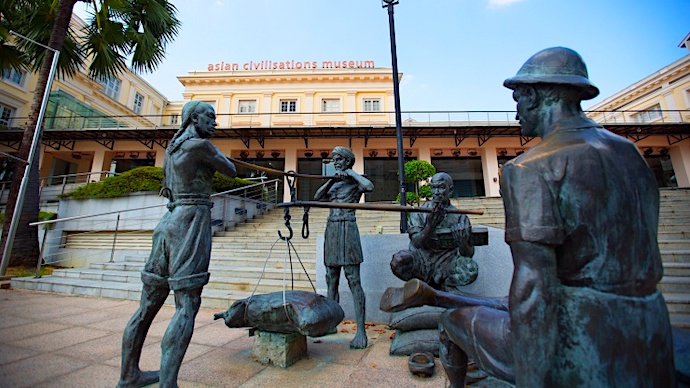 Second floor galleries presents systems of faith and belief, their origins in Asia, their spread across the continent by land and sea, as well as their localisation each step of the way.
Third-floor galleries are focused on decorative art and are collectively themed Materials and Design. The Fashion & Textiles, Jewellery, and Ceramics Galleries celebrate the Asian aesthetic and craftsmanship through objects that illuminate global, regional and local exchanges.
Experience the magic of technology and discover what makes the airport tick at Changi Experience Studio
Jewel Changi Airport, Level 4
Opening hours: • Monday to Friday – 11am to 8pm • Saturday, Sunday & public holidays – 10am to 8pm (last admission at 7pm)
BUY Changi Experience Studio adult/child/senior promo ticket
Discover what goes on behind the scenes on a daily basis at Changi Airport in a fun and interactive way at this first-of-its-kind digital experience attraction.
Experience the Amazing Runway, an adrenaline-pumping runway race for up to 10 players that's based on a race held in 2009 between a Porsche 911 GT3 Carrera Cup car and a Boeing 747 aircraft.
At the Arena interactive game zone, try your hand at "working" as an aviation screening officer, a taxi coordinator and a trolley handler.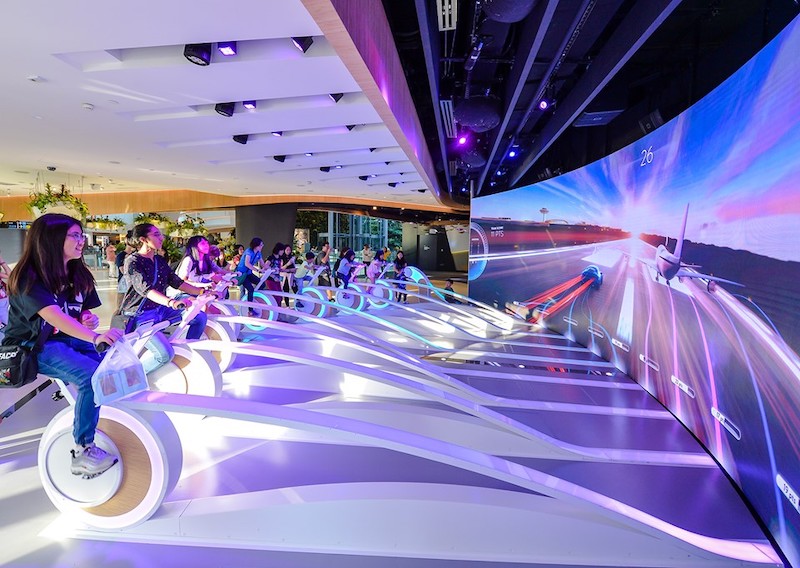 Featuring butterflies and lily pads, the enchanting Garden of Harmony is where you can make music by moving your arms.
There's also the Sky Deck where you'll find yourself amidst an intertwining web of global radar flight paths, with an interactive 360-degree display installation and over 40 screens to reveal the airport's foreign flight routes.
Discover the wonders of nature at Gardens by the Bay
Opening hours:
• Flower Dome & Cloud Forest – 9am to 9pm daily (last admission at 8.30pm)
• Floral Fantasy
– Monday to Friday 10am to 7pm (last admission at 6.30pm)
– Saturday, Sunday & public holidays 10am to 8pm (last admission at 7.30pm)
BUY Flower Dome & Cloud Forest Non-Resident adult/child ticket
BUY Floral Fantasy Non-Resident adult/child promo ticket
Discover unique flowers, plants and trees from around the world at this award-winning horticultural destination which spans over 101 hectares of reclaimed land.
Take your time to explore the Gardens and its key attractions like the two cooled conservatories Cloud Forest and The Flower Dome, the captivating Supertrees, the 22m-high OCBC Skyway, The Sun Pavilion, and Dragonfly and Kingfisher Lakes.
Parents, bring your kids to the Far East Organization Children's Garden for a splashing good time and an educational forest adventure.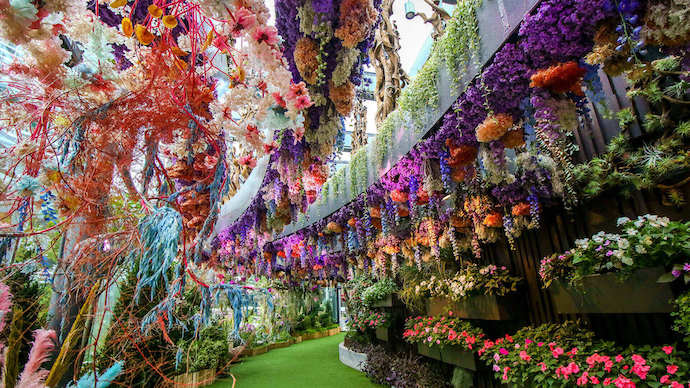 For a magical escape among suspended bouquets and creative floral arrangements, make your way to Floral Fantasy, a stone's throw from Bayfront MRT station. Explore diverse garden landscapes that segue into each other through a meandering space. Along the way, stop by a vivarium populated by tiny poison dart frogs in a gamut of stunning hues.
Make your flying dreams come true at iFly Singapore
Siloso Beach Walk, Sentosa
Opening hours: • Wednesday – 11am to 10pm • Rest of the days – 9am to 10pm (last flight at 9.30pm)
BUY Off-Peak or Normal Non-Resident The Challenge (2 dives) adult ticket
Always wanted to skydive but have the fear of heights? At iFly Singapore, you can experience the thrill of skydiving without having to jump or plunge from an aeroplane. Best of all, you wouldn't need to worry about bad weather or turbulence!
Spanning 16.5ft wide and 56.5ft tall, iFly Singapore is the only wind tunnel with an 18ft tall acrylic glass wall that offers captivating views of South China Sea and Siloso Beach. With its huge size and wide range of air speeds, the air-conditioned wind tunnel enables you to perform a variety of movements with ease such as freeflying and four- or eight-way formation skydiving.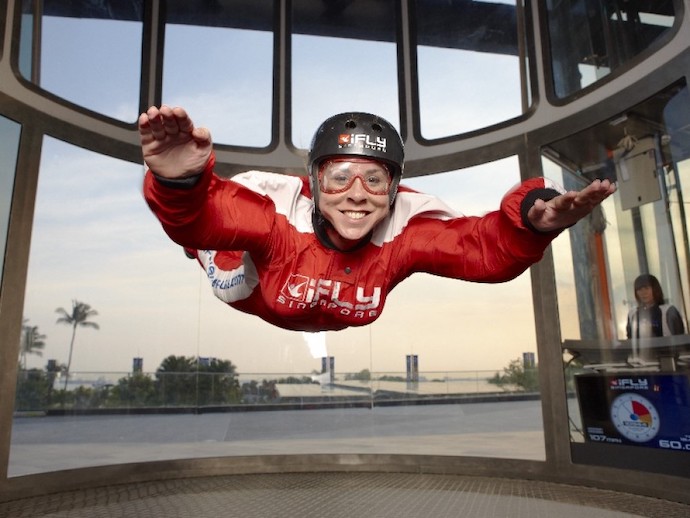 Flight gear is provided along with professional training and experienced guidance from the International Bodyflight Association certified instructors.
Take in magnificient 3600 views of Singapore's skyline at SkyPark Observation Deck
Marina Bay Sands Hotel, Tower 3, Level 57
Opening hours: 11am to 9pm daily
BUY Adult/child/senior tourist ticket 
If you're looking for the city's best skyline views, the SkyPark Observation Deck, perched 200m in the air, is the place to be.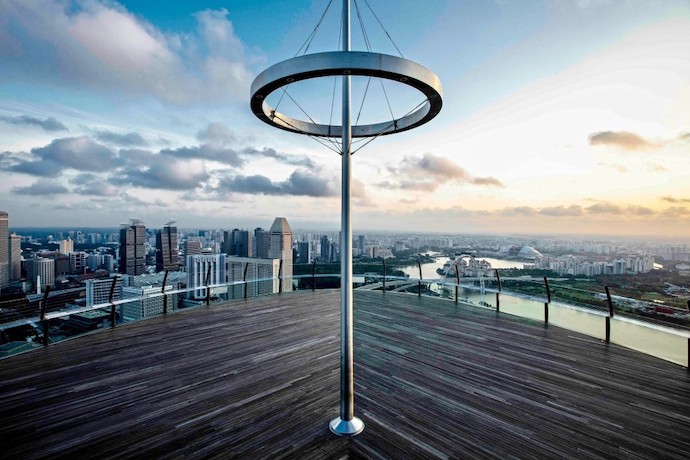 The deck offers a spectacular bird's-eye view of the city – from the skyscrapers of the Central Business District and the Supertree structures of Gardens by the Bay to the iconic durian-shaped domes of the Esplanade and the shophouses along Singapore River.In the evening, you can catch a glimpse of Spectra – A Light & Water Show, a free nightly outdoor extravaganza displayed over the water at the Event Plaza. Watch the dazzling lasers beam overhead and fountain jets appear over the water at the promenade.
Get up close to animals at Singapore Zoo, Rivers Wonders, Night Safari & Jurong Bird Park
Singapore Zoo, River Wonders and Night Safari – Mandai Lake Road
Jurong Bird Park – 2 Jurong Hill
Opening hours:
• Singapore Zoo – 8.30am to 6pm daily (last entry at 5pm)
• River Wonders – 10am to 7pm daily (last entry at 6pm)
• Night Safari – 6.30pm to midnight daily (last entry at 11.15pm)
• Jurong Bird Park – 8.30am to 6pm Thursday to Sunday until 2 November; from 3 November open daily (last entry at 5pm)
BUY Non-resident Singapore Zoo adult/child ticket (includes tram service)
BUY Non-resident River Wonders adult/child ticket
BUY Non-resident Night Safari open-dated adult/child ticket
BUY Non-resident Jurong Bird Park adult/child ticket (includes tram service)
Singapore Zoo
Singapore Zoo is world-famous for its "open concept", where animals live and roam freely in spacious and landscaped environments which simulate that of their natural habitats. The 26ha zoo is home to more than 4,200 animals from over 300 species.
Catch engaging shows like Splash Safari, Animal Friends and Rainforest Fights Back Show that feature a range of talented animals, accompanied by their keepers, such as sea lion, dogs and snakes.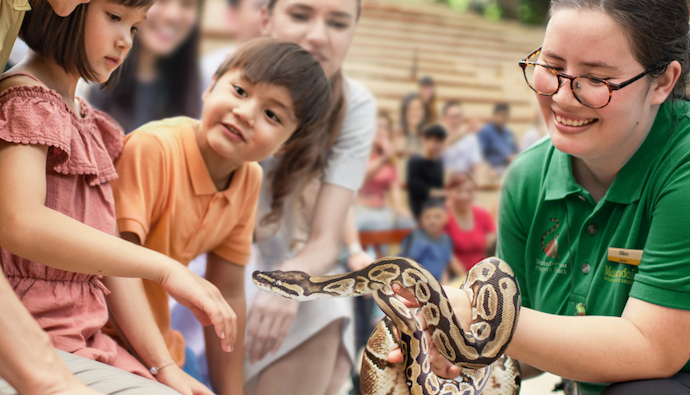 Get up close to elephants, giraffes, goats, white rhinos and giant tortoises and let them eat out of your hand during their feeding sessions. See the animals when they are most active and hear fascinating stories about them from their keepers.
River Wonders
Nestled between Singapore Zoo and Night Safari, Asia's first and only river-themed wildlife park houses over 11,000 aquatic and terrestrial animals representing 260 species.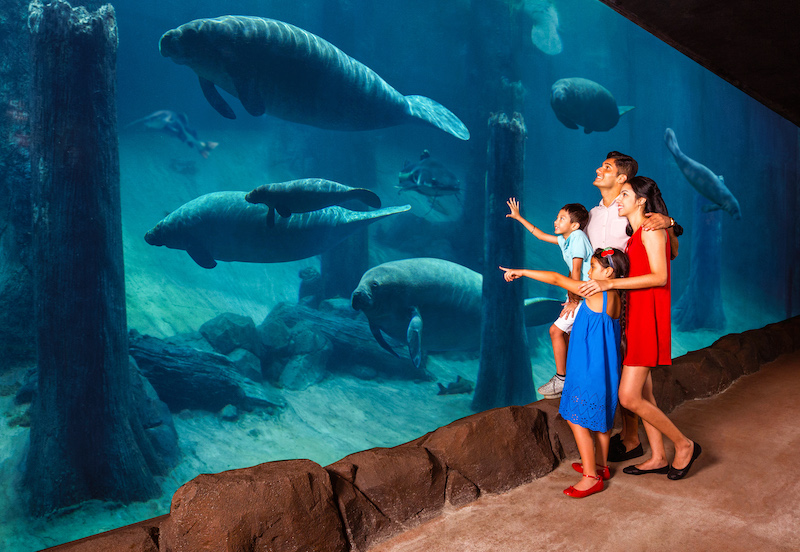 See animals like arapaima, black-finned pacu, electric eel and manatee swim gracefully amongst giant trees in Amazon Flooded Forest, the world's largest freshwater aquarium. Meet Singapore's resident giant pandas Kai Kai and Jia Jia and their first-born Le Le at the Giant Panda Forest. Hop on the Amazon River Quest to see animals that live along the edges of the Amazon River or join the Wildlife Tours to learn how the animals are cared for and get the opportunity to feed some of them.
Night Safari
Walk on the wild side at night at the world's first nocturnal wildlife park. Whether you're exploring by tram or on foot, get set for a wild night!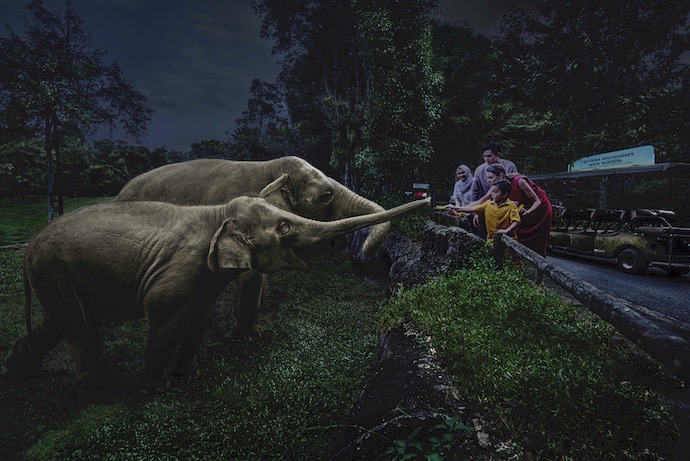 Catch the Creatures of the Night show where otters, binturongs, civets, hyena and African serval display their natural talents and unique skills. Go on a Safari Adventure Tour led by an expert guide and hear insider stories about the animals, or join the weekend Keeper Talk to see the big cats in action during their snack time and hear interesting quirks about the animals from their keepers.
Jurong Bird Park
Asia's largest bird paradise and one of the world's most famous bird sanctuaries is the nesting place of thousands of birds including turacos, king penguins, Bali mynas, Philippine eagles and lorikeets.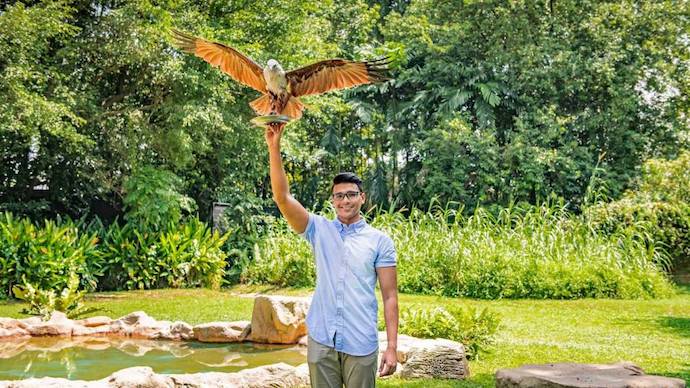 At the High Flyers Show, witness the natural talents, breathtaking plumage and sharp-as-claws IQ of free-flying birds like parrots, hornbills and macaws. Grab a tray of fish and hand-feed the adorable African penguins at Penguin Coast; a cup of mealworms to feed the African birds at African Treetop; or some nectar to feed the lories at Lory Loft.
Get set for loads of fun, thrills and entertainment at Universal Studios Singapore
Resorts World Sentosa
Opening hours: 11am to 6pm Wednesday to Sunday (closed on Monday & Tuesday)
BUY Open-dated standard ticket
It's easy to spend an entire day (or two) at the first and only Universal Studios theme park in Southeast Asia. With so many rides, shows and attractions spread across six-themed zones, the fun and adventure go on and on and on!
Thrill seekers can head straight for Battlestar Galactica: HUMAN vs. CYLON, the world's tallest duelling roller coasters; TRANSFORMERS The Ride: The Ultimate 3D Battle to become a freedom fighter in the ultimate 3D battle against the forces of evil; and Revenge of the Mummy, a high-speed roller coaster which features heart-pounding special effects and unexpected twists at every turn in total darkness.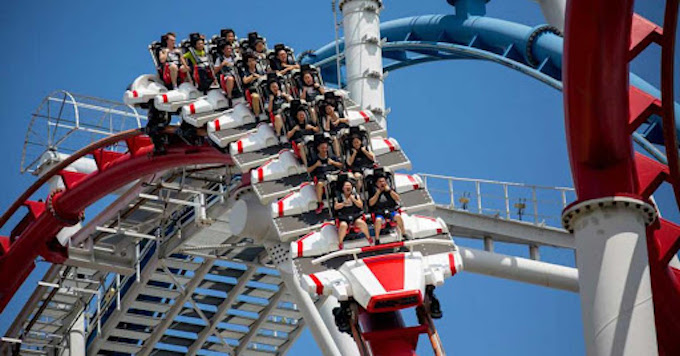 Family-friendly rides include Sesame Street Spaghetti Space Chase, the world's first Puss in Boots' Giant Journey roller coaster and Treasure Hunters.
There are also opportunities to catch your favourite movie characters up-close such as Shrek and Princess Fiona; Gru and the Minions; Optimus Prime and Megatron; Sesame Street's beloved Elmo and Oscar the Grouch; and Kung Fu Panda's Po and Master Tigress at meet-and-greet sessions.