The bustling neighbourhoods of Katong and Joo Chiat (Singapore's first designated Heritage Town) in the eastern part of Singapore are the best places to immerse in Peranakan (Straits Chinese) culture and heritage.
The area is home to old-world coffeeshops, cool cafes, fab restaurants, hip boutiques, speciality stores, colourful street art, well-preserved heritage shophouses and multi-coloured conserved terrace houses.
Offering a cosy base to explore the vibrant neighbourhoods at your own pace is Hotel Indigo Singapore Katong, located next to i12 Katong Mall on East Coast Road.
The 131-room boutique hotel pays tribute to the rich Peranakan heritage in its design theme, weaving the history and culture of its vicinity in its guestrooms, public spaces, food and beverage offerings, amenities and services.
The hotel recently reopened and is offering a special Opening Deal, valid for bookings and stays from now till 30 November. Enjoy 10% off Best Flexible Rate. Package includes a two-course meal at Baba Chews Bar & Eatery for two persons (worth $60++).
We spotlight four ways to experience the rustic charms of the Katong and Joo Chiat neighbourhoods, and soak up the culture of babas and nyonyas at the heritage-rich hotel.
Admire Peranakan artefacts and motifs in the hotel lobby
The hotel's Peranakan-inspired theme, the handiwork of renowned architects Ong & Ong and eco.id Architects and Design Consultancy, first shows up in the lobby through decorative tiles, eclectic furniture and vibrant hues that are often found in a Peranakan home.
Check out the feature wall at the reception which bears a collage of Peranakan ceramic patterns and the colourful pop-art renditions of stacked water or preserved food jars with dragon motifs near the lifts. The lift indicators are inspired by wall lanterns that traditionally adorn the doorways of Peranakan homes.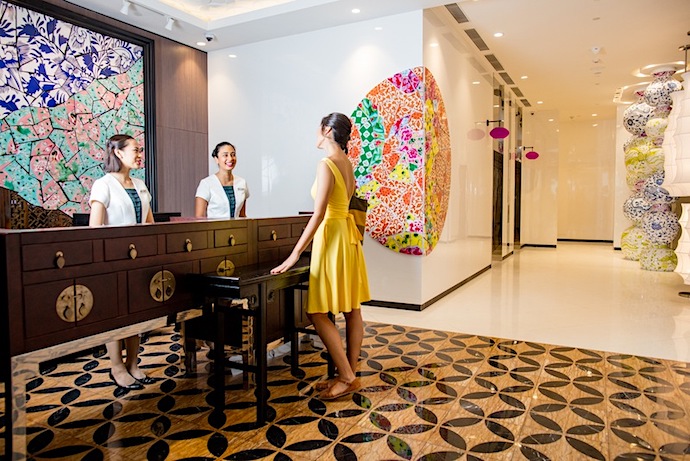 Resembling the living room of a Peranakan home, the glass-walled Pavilion, where you can enjoy your welcome drink of tea or iced latte, is decorated with furniture pieces that are inspired by crocheted doilies and quilted mats that Peranakan grandmothers used to carefully craft.
The Pavilion also houses a pop-up "mama" stall (small convenience stall usually found in housing estates) displaying local snacks and souvenirs, some of which can be found in guestrooms.
From time to time, the area in front of the standing folding screens plays host to exhibitions or collaborations with local partners to showcase Peranakan culture, history, art and lifestyle.
Unwind in rooms mirrored after traditional Peranakan homes
Guestrooms are fashioned after the structure and flow of a Peranakan home which are longer and narrower in design. The living area sports a carrom board (carrom coins are provided upon request so you can actually play carrom on it!) that doubles up as a coffee tabletop, a vibrant red batik-print sofa and a minibar modelled after traditional display cabinets.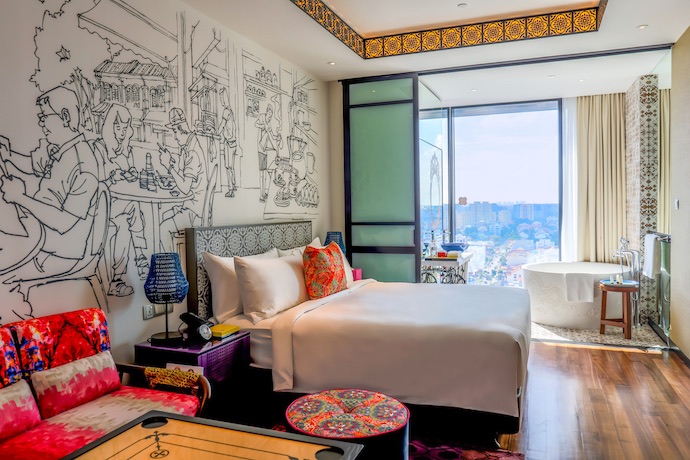 Beds are adorned with batik printed cushions and headboards with Peranakan motifs, set against a striking wall mural by local artist and illustrator Don Low. Telling the story of traditional foods, culture and lifestyle that has shaped Katong and Joo Chiat, Low's sketches feature scenes of the coffee man brewing kopi in a local coffee shop and hawkers selling local favourites like bak kwa (Chinese-style barbecued pork slices), bak zhang (rice dumplings) and durian.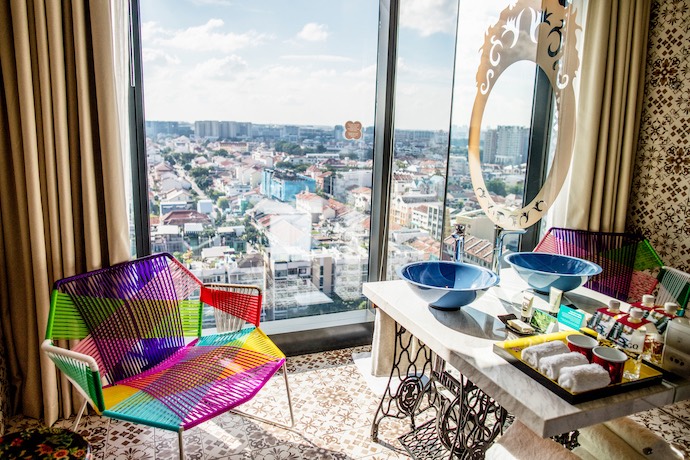 Laced with characteristic Peranakan tiles, the bathroom is furnished with a vanity table propped up by a Singer sewing machine base and stocked with toiletries from Biology Smart Skincare; an old-fashioned spitoon-cum-dustbin; and a rainbow retro-style patio chair for foot soaks in an enamel basin, complete with the classic Good Morning towel. If you prefer a full-body soak, book a Premier Room with Bath which features an impressive dragon embossed bathtub.
More nostalgic touches come in the form of a decorative pair of red clogs and old-school childhood treats like White Rabbit and Hudson's sweets in the minibar, which also stocks Bacha coffee (and also Nespresso coffee for Premier Room guests) and TWG teas to be sipped from rooster-motif cups. The minibar is also home to a pair of beautiful kamchengs (covered jars primarily used as food vessels for weddings and birthdays) and a Peranakan plate adorned with motifs of pink peony blossoms and phoenix.
Savour Straits-Chinese fare with a modern flair and Western favourites at Baba Chews Bar & Eatery
Housed within the former Joo Chiat Police Station, Baba Chews takes its name from the honorific for a Peranakan male, baba, and the surname of Chew Joo Chiat, a wealthy Chinese landowner and philanthropist who was known as the "King of Katong" in the early 20th century.
Peranakan influences show up in the restaurant's printed tiles that surround its bar, herringbone-styled wooden flooring, beaded slipper-inspired peony artwork, tin panelled ceiling and chairs bedecked with orange-coloured Peranakan-inspired designs.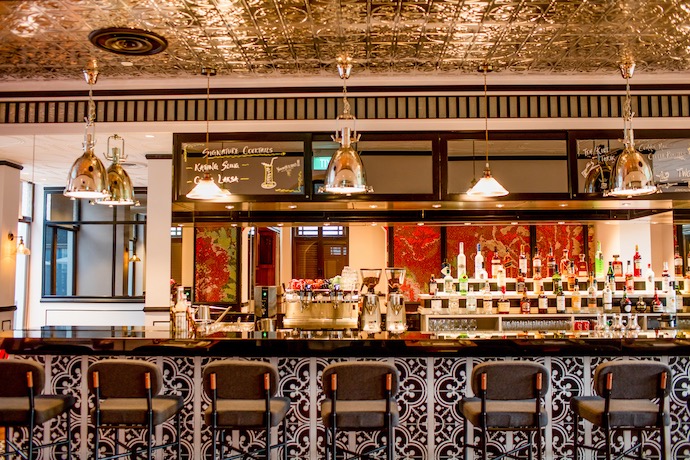 The all-day dining restaurant serves classic Peranakan dishes like Ayam Buah Keluak, Kueh Pie Tee, Crab & Bakwan Kepiting, Chap Chye and Nyonya Fried Rice alongside local favourites with a modern spin such as Kopi 'C' Spare Ribs, Beef Short Ribs Rendang, Chilli Crab Pita, Nyonya Yakitori Satay, Ikan Laksa Satay and Rendang Pita.
There are also Western offerings like Truffle Fries, Caesar Salad, Calamari, French Cheese Platter, Angus Beef Cubes, Quesadilla, East Coast Wagyu Burger, Chicken Lasagne and Fish & Chips.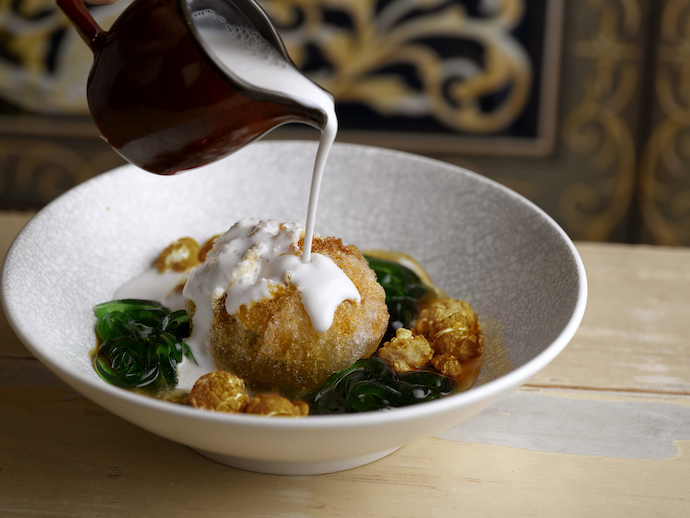 End on a sweet note with Our Style Chendol, a popular local iced dessert but not as you know it! Offering a twist on the traditional, Baba Chews serves its chendol with chopsticks so you can pick up the longer-than-usual homemade pandan jelly noodles. Drenched in gula Melaka and topped with coconut cream, the ball of ice sits on a bed of red bean mousse and is surrounded by gula Melaka popcorn for a delightful crunch.
Soak up upbeat neighbourhood vibes during Sunday Brunch at Hotel Indigo Garden
Kick-start your Sunday with a laid-back, free-flow brunch experience at the breezy outdoor area next to Baba Chews. If you have fur kids, bring them along to this pet-friendly brunch.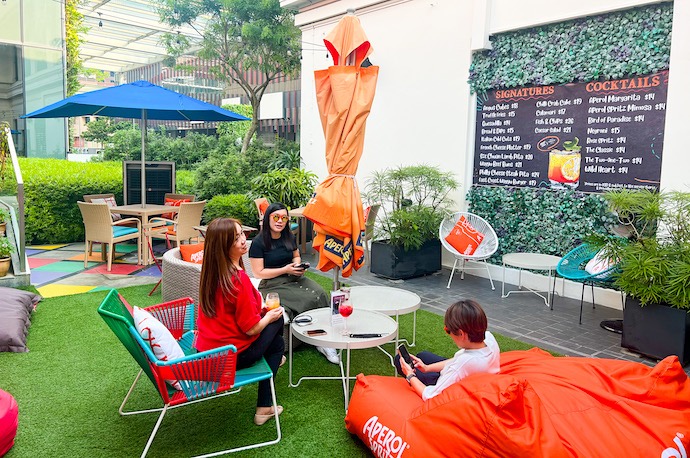 Grab a seat at one of the colourful deck chairs or park yourself on a bean bag and sip on house wines or handcrafted cocktails by Aperol Spritz like The Classic, The Two-One-Two or the well-loved Aperol Spritz Mimosa for a bubbly good time.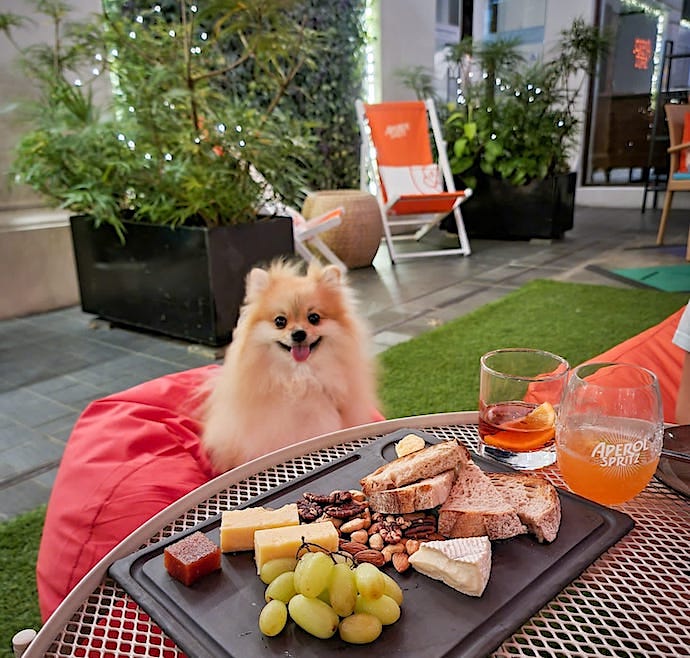 Nibble on moreish bites such as Truffle Fries, Calamari, French Cheeses, Italian Cold Cuts, Angus Cubes, Chilli Crab Cake and Philly Cheese Steak Pita.
The Sunday Brunch is available every second and fourth Sunday of the month from 11.30am to 2.30pm.