There's simply so much to do and love about Vietnam, a stunning destination full of history and character. Truth is, one trip can only cover so many attractions. Of course, you can always return again to cover more bases – who says you have to stop at one visit?
But if it's your first visit, we hope our itinerary, which covers key destinations like capital city Hanoi and populous Ho Chi Minh City, will help you narrow down some great spots to add to your own.
Day 1: Feast, shop and sightsee in Hanoi
At this point, you've probably landed at Hanoi's Noi Bai International Airport. Founded over 1,000 years ago, Vietnam's charming capital city is where the old meets new. Its preserved colonial buildings will transport you back in time while its watering holes and rooftop bars boast of its vibrant nightlife scene.
Start off by fuelling up at the Old Quarter, one of Hanoi's famous lively streets located in the Hoan Kiem district. This is right in the heart of Hanoi – a tourist hotspot filled with rows of street shops selling souvenirs as well as Vietnamese cuisine.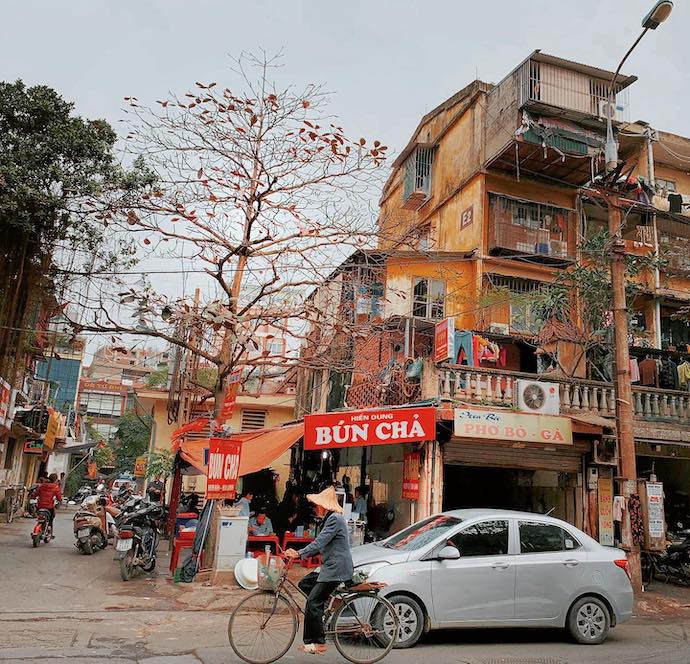 When hunger strikes, go for some beloved street specialities such as pho or banh mi. For the latter, head for Pate Banh Mi, an open-air roadside stall located right on the corner of 11th Street. For just 20,000 VND (~ S$1.20), you'll get a delicious toasted baguette stuffed full of fatty BBQ pork and fresh vegetables topped with spicy chilli sauce. Grab a plastic stool and order an iced cold beer for only 10,000 VND (S$0.60) to wash it all down.
For some light shopping after your meal, check out Dong Xuan Market, Hanoi's largest indoor market which offers fresh produce as well as wholesale fashion and accessories on the upper levels.
Round off your day with a quiet walk at Hoan Kiem Lake. A well-loved area, by both the old and young, this is where you'll find locals exercising and getting some fresh air. Best of all, it's a picturesque destination with pagoda-like stone gateways that make scenic backdrops for your photos.
With most tourist attractions of Hanoi centred around the Old Quarter, some recommended accommodations nearby include Hanoi La Siesta Hotel Trendy, Tirant Hotel and Luna Heaven Room. To get around, taxis may be your cheapest and best bet. Alternatively, rent a motorbike for about S$10 a day if you have a licence.
Day 2: Get acquainted with Vietnam's culture and history
Start your day with a hearty Vietnamese breakfast along the rows of stalls at the Old Quarter. Check out Pho Bat Dan, a stall that has been around since the 1960s. It is known for its aromatic Beef Pho (50,000-70,000 VND, ~S$3 to S$4.20), made with rich bone marrow. Its broth is famously sweet, all thanks to beef bones that have been carefully stewed for hours. Expect long queues, though the wait will most definitely be worth it!
After breakfast, head to Ho Chi Minh Museum. Vietnam's most famous museum, it houses collections of national treasures and artefacts which provide a better understanding of what helped shape Vietnam into the country it is today.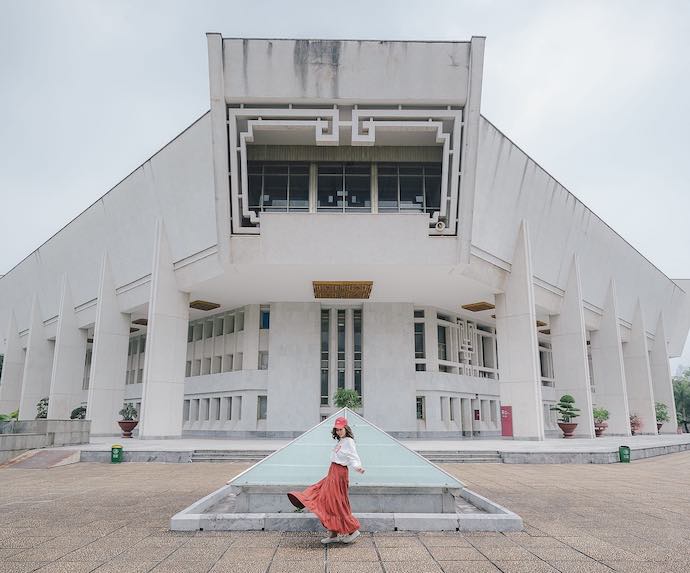 Just a short car ride away is Hoa Lo Prison Museum. Considering that this place was used by French colonists to hold up to 2,000 political prisoners during the Vietnam War, you'll get fascinating insights into the country's history. Having said that, such a historical trip can be rather heavy as it points to the harsh realities of war. Be prepared to pass through old prison cells and see gruesome relics like the French guillotine, for instance, which was once used to execute Vietnamese revolutionaries.
If you're in town between Friday and Sunday, be sure to check out the Hanoi Weekend Night Market to enjoy some roadside street food and night shopping.
Day 3: Take a day trip to Halong Bay
Take a 4-hour bus ride to Halong Bay, a UNESCO World Heritage Site that's famous for its impressive limestone karsts, and some 2,000 islands and islets.
If adventure is your middle name, this is the place to go kayaking and cave-hopping. If not, explore the area on a day cruise from Halong City.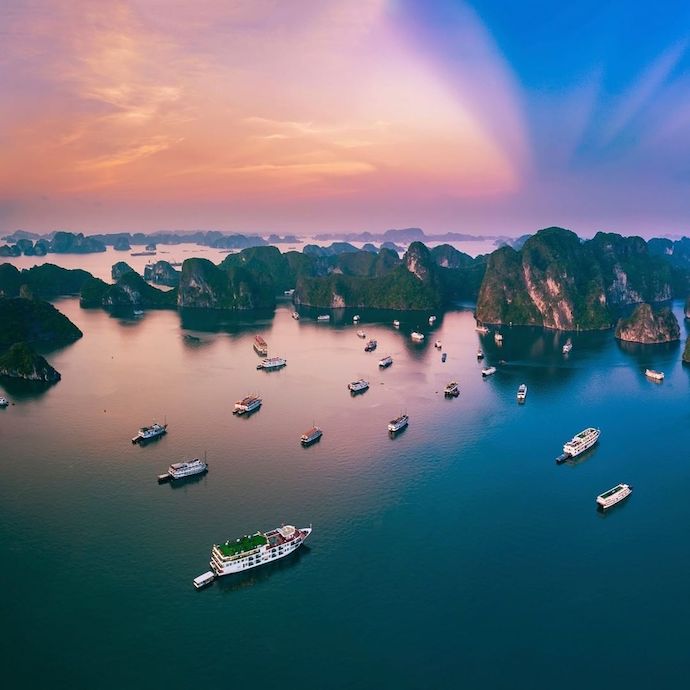 A typical day tour takes you through amazing attractions like the Ba Hang Fishing Village, a rustic floating village that is home to approximately 50 families who live in 5m² to 10m² floating houses and rely on fishing for their daily income.
You'll also pass by Sung Sot Cave, a stunning cave that houses over 100,000-year-old stalagmites and stalactites (icicle and rock-shaped deposits). Pass through narrow passageways and be greeted with the work of mother nature, particularly high ceilings of interesting rock formations that resemble animals.
Day 4: Venture out to Da Nang Beach for more stunning nature
To make the best out of your travels to Vietnam, consider heading to Da Nang Beach. In the interest of time though, it is best to fly there (the flight is about 80 minutes compared to 16 hours by car and 18 hours by train). A domestic flight via VietJet Air or Vietnam Airlines typically costs between S$140 to S$250.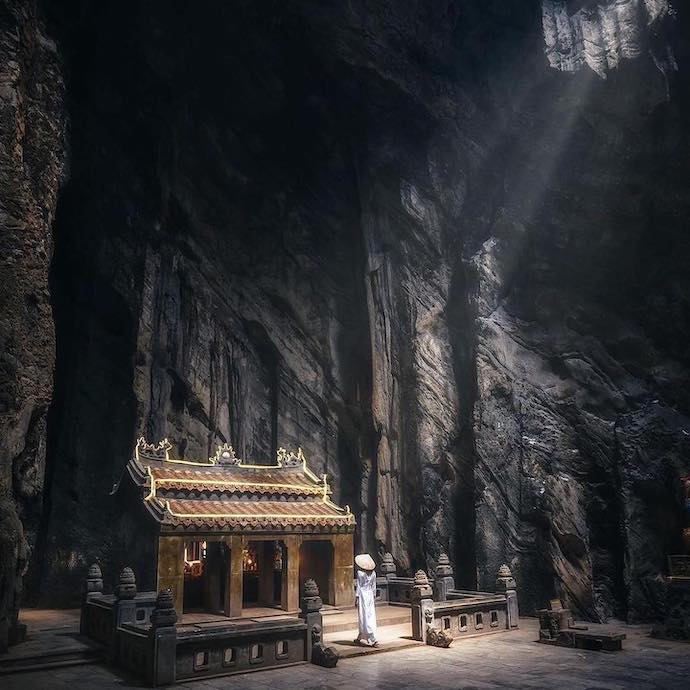 This coastal city is most known for its sandy beaches, Buddhist sanctuaries and pagoda temples, as well as the famed Marble Mountains. Set aside two hours to explore the mountains and be sure to wear comfortable shoes as you'll be walking uphill for a fair bit. The entrance fee to these mountains is currently priced at 40,000 VND (~S$2.40).
For a more laidback activity, visit My Khe Beach, one of Da Nang's most popular beaches, to enjoy a chill afternoon swim, beach-bumming or even some surfboarding (200,000 VND, ~S$12 rental per hour).
Day 5-6: Visit Ho Chi Minh City for more food and explorations
Commonly known as Saigon, Ho Chi Minh City is another popular city in Vietnam that should not be missed. The city is an hour plus flight from Da Nang. (Air tickets range between S$100 to S$130). After all that adventure and walking earlier on, you might want to take it easy for the next two days.
Shopaholics will want to wander through Ben Thanh Market which sells local produce and food as well as an array of souvenirs, T-shirts with witty slogans and traditional handicrafts.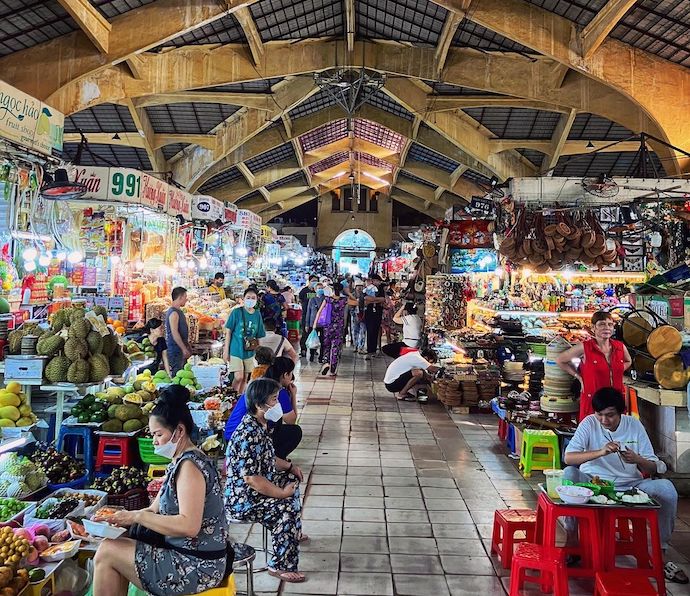 There's also 42 Nguyen Street, a quaint building and hidden gem that has been turned into a shopping centre filled with more fashion goods and accessories. You might also want to drop by Giac Lam Pagoda, the oldest temple in Ho Chi Minh City dating back to 1744. At the entrance of this historic site sits a sacred bodhi tree that was a present from a visiting monk from Sri Lanka in 1953.
For a more localised and unique experience, opt for a day tour (about nine hours long) to the Mekong Delta where you get to explore the distinctive delta landscape on a motorised river boat. A typical tour includes full transport – from hotel pick-up to the actual boat ride and drop-off. You'll cruise along stunning mazes of rivers, passing by temples, rice fields as well as iconic fishing villages with stilt houses. You'll also get to stop by areas like Tortoise Islet for a traditional Vietnamese lunch and An Khanh, a beautiful province, where you'll taste delicious seasonal fruits paired with honey tea.
Enjoy your night to the fullest at nightspots like Blanchy's Lounge and Apocalypse Now, and revel in the sizzling music and fun ambience.
Clearly, there won't be a dull moment in the colourful city of Ho Chi Minh!
Things to note when travelling in Vietnam
• Download the PC-Covid mobile app for contact tracing purposes during your stay in the country
• Face masks are required in crowded public places like airport terminals, supermarkets, bus stations and public transport vehicles
• Due to the nature of the pandemic, do visit Vietnam's official website for the latest information on Covid-19 restrictions affecting travellers
This article has been adapted from Now Boarding by Changi Airport's "6D5N: Things to do when visiting Vietnam for the first time"