Filipino food encompasses a vast array of flavours which are influenced by the country's various regions and history (notably Spanish and Chinese). Don't leave the Philippines without getting a taste of these local eats.
Adobo
The Philippines' most famous dish is made with chicken or pork stewed with oil, soy sauce, vinegar, black pepper and garlic
Afritada
Tomato-based chicken or pork stew cooked with potatoes, carrots, green peas and bell peppers
Bagnet
Pork belly boiled, then deep-fried twice
Balut
Boiled semi-developed duck embryo eaten from the shell
Beef kaldereta
Tomato-based and liver paste beef stew cooked with carrots, bell peppers, potatoes and onions.
Bibingka
Baked coconut rice cake made with rice flour, glutinous rice flour, coconut milk, margarine/butter, eggs and sugar
Binatog
Boiled white corn kernels topped with grated coconut
Bistek tagalog
Pan-fried thin beef slices marinated with soy sauce and calamansi, and topped with caramelised onions
Buko pie
Coconut custard pie
Bulalo
Soup made with beef shanks, bone marrow, cabbage, corn, carrot, potato and other vegetables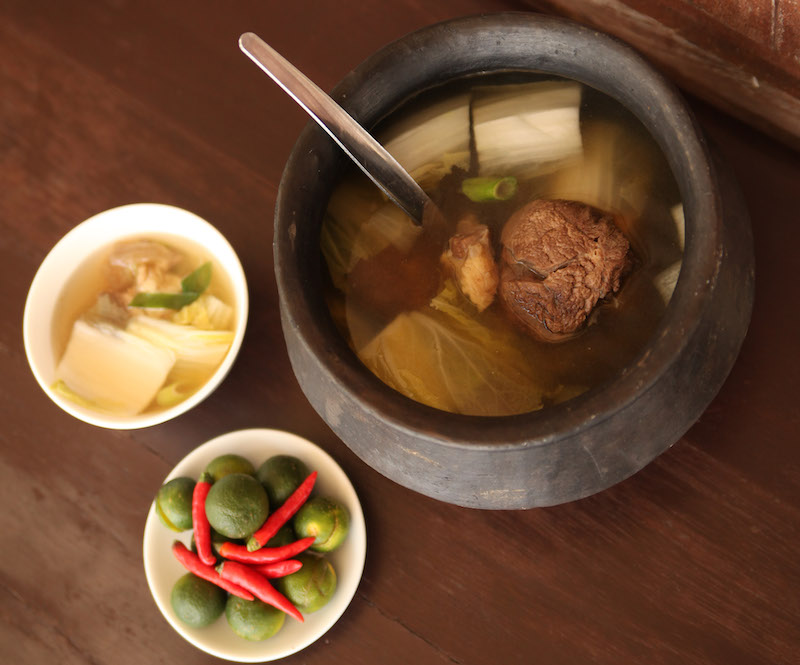 Champorado
Chocolate rice porridge
Chicharon bulaklak
Deep-fried pig messentery served with vinegar on the side
Chicken inasal
Chicken marinated in a mixture of calamansi, orange, lime, pepper, vinegar and annatto, then grilled over hot coals
Crispy pata
Deep-fried pig trotters or knuckles served with soy-vinegar sauce
Dinuguan
Pork and/or pork offal simmered in pig's blood, garlic, chilli and vinegar and served with puto or rice cakes
Filipino tamales
Ground rice and coconut milk topped with chicken, ham/pork, nuts and eggs, wrapped in banana leaves and steamed or boiled
Ginataang gulay
Pork, shrimp and vegetable stew cooked in coconut milk
Halo-halo
Shaved ice drizzled with evaporated milk, layered with red beans, coconut gel, purple yam, flan, candied fruits and a scoop of ice cream
Humba
Pork stewed with banana blossoms, fermented/salted black beans, soy sauce, brown sugar, black pepper, bay leaves, vinegar, pineapple juiceook.
Ilocos empanada
Deep-fried pastry with orange-hued rice flour dough filled with sweet or savoury fillings
Inihaw
Grilled seafood or meat served with rice and soy sauce, lime and chilli
Isaw
Barbecued pig or chicken intestines
Kare-kare
Thick stew made with oxtail, vegetables and a peanut sauce
Kinilaw
Raw fish or shrimp slices marinated in vinegar, lime, onions and chilli
Lechon
Whole roasted pig
Mechado
Beef stew cooked with pork fat, tomato sauce, onions, carrots and potatoes
Pako salad
Salad of fiddlehad ferns, tomatoes, onions and salted egg/hard boiled egg
Palabok
Thin glass noodles coated in thick shrimp sauce, topped with hard-boiled egg, fried pork rind, shrimp and squid
Pancit guisado
Rice noodles with shredded chicken, shrimp and vegetables
Pancit palabok
Noodles with thick shrimp sauce topped with minced pork, crushed chicharon/pork rinds, fried garlic, tinapa/smoked fish flakes, green onions and sliced egg
Sans rival
Layered cake made with buttercream, meringue, eggs and chopped cashews
Sinigang
Sour soup cooked with pork, shrimp or fish, vegetables and tamarind
Sisig
Pig's head, cheeks or ears chopped and boiled, and tossed with cooked chicken liver, diced onions, chili peppers and calamansi juice, served on a sizzling pan, often topped with a raw egg
Tapsilog
Cured beef or tapa, garlic fried rice and fried egg
Turon
Fried banana and jackfruit rolls