Ready for a full day of top-notch fun and adventure in Singapore? Plan a visit to Resorts World Sentosa (RWS), Singapore's first integrated resort, on Sentosa Island.
Opened in 2010, RWS offers hours of family fun at its myriad of attractions, which offers something for every age group.
We fill you in on 5 world-class attractions at RWS:
Universal Studios Singapore
It's easy to spend an entire day (or even two) at the ever-popular Universal Studios Singapore, the first and only Universal Studios theme park in Southeast Asia.
With 24 rides, shows and attractions spread across seven-themed zones, the fun and adventure go on and on and on!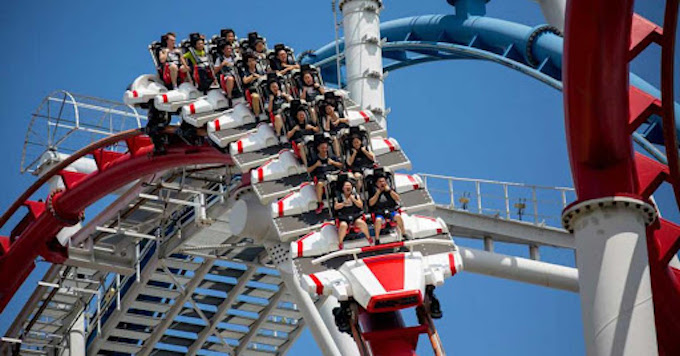 Thrill seekers can head straight for Battlestar Galactica: HUMAN vs. CYLON, the world's tallest dueling roller coasters; TRANSFORMERS The Ride: The Ultimate 3D Battle to become a freedom fighter in the ultimate 3D battle against the forces of evil; Revenge of the Mummy, a high-speed roller coaster which features heart-pounding special effects and unexpected twists at every turn in total darkness; and Jurassic Park  Rapids Adventure, a river raft ride through primeval dinosaur habitats where you will get wet and possibly soaked.
Family-friendly rides include Sesame Street Spaghetti Space Chase, the world's first Puss in Boots' Giant Journey roller coaster, Madagascar: A Crate Adventure, Canopy Flyer and Treasure Hunters.
Be entertained by exciting shows such as Shrek 4-D Adventure, Lights, Camera, Action! Hosted by Steven Spielberg and Donkey LIVE.
There are also opportunities to catch your favourite characters up-close such as Elmo from Sesame Street, the cast from Madagascar and Minions from DESPICABLE ME at meet-and-greet sessions.
S.E.A. Aquarium
Explore the marine realm of S.E.A. Aquarium, home to more than 100,000 marine animals from over 1,000 species. Come face-to-face with sharks, manta rays, goliath grouper and other magnificent marine animals.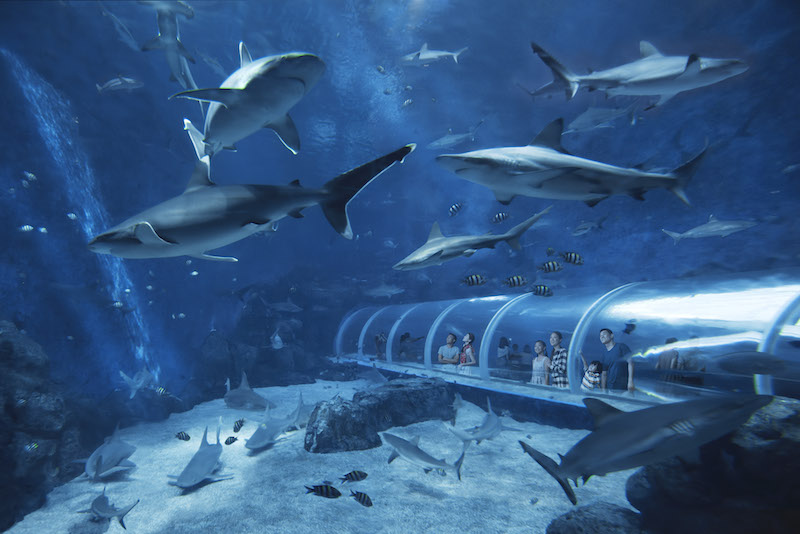 For a guided tour where you can learn fascinating facts about the marine world and its inhabitants, and get access to back-of-the-house areas, sign up for the VIP Experience.
An exciting experience awaits at the Shark Encounter in the Shark Seas habitat. Feel the intense thrill of being circled by stealthy marine predators such as hammerhead, silvertip and sandbar sharks from the safety of a customised acrylic enclosure.
Adventure Cove Waterpark
Water babies can look forward to a full day of splashing fun in the sun at Adventure Cove Waterpark.
Feel the adrenaline rush as you zoom down thrilling water slides, the stars of the aquatic adventure park.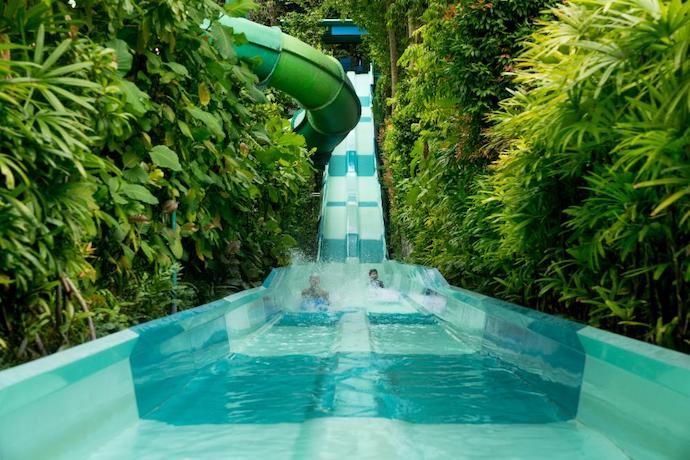 Have a blast at Riptide Rocket, Southeast Asia's first hydro-magnetic coaster which combines powerful climbs, plunging drops, terrifying twists and tight turns like an intense rollercoaster on water. Grab a racer mat to slide down the Dueling Racer; careen down an unpredictable passage of swirls and slaloms on the Tidal Twister; experience riding a water tornado in the dark on the Pipeline Plunge; power through revolutions, twists, turns and dips on the Whirlpool Washout; and get funnelled into an oscillating tube ride down the Spiral Washout.
Take a break from sliding to drift on the Adventure River, snorkel with 20,000 tropical fish over a colourful Rainbow Reef, cross the tight rope at Splashworks, get wet and wild at the Big Bucket Treehouse or just chill out at the Bluwater Bay wave pool.
Dolphin Island
Make friends with the affable Indo-Pacific bottlenose dolphins at Dolphin Island, located inside Adventure Cove Waterpark.
Learn all about the dolphins' habitats, eating habits, anatomies and migration patterns from the trainers through a range of programmes where you can meet the graceful marine mammals up close.
The Dolphin Encounter session is perfect for kids under 4 years old and those who do not want to enter the water but want to join in the action. Interact with the smart dolphins from the edge of the lagoon while a trainer shares fun facts about the marine animals.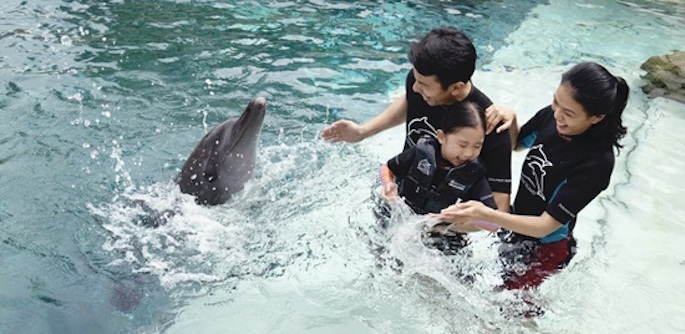 Dolphin Discovery is for those who want to get up close and personal with the dolphins in waist-deep waters. Find out just how friendly they are and learn more about their unique features like their sharp conical teeth which are not used for chewing food, but for grabbing and holding their prey.
For an action-packed experience in deeper waters and to experience a more intimate bond with the dolphins, join the Dolphin Adventure programme. A highlight of this programme is getting propelled through the water on a bodyboard by a dolphin.
Trick Eye Museum
Sit on a moon, ride on the trunk of an elephant, get trapped in an hourglass, escape a fearsome piranha and cross a rickety bridge over a waterfall at the world renowned Trick Eye Museum where 3D exhibits and an Augmented Reality add-on bring art installations and paintings to life.
Coined from the French compound word Trompe-l'oeil which means "trick of the eye", trick eye refers to an art technique that turns two-dimensional paintings into three-dimensional images through the use of optical illusions.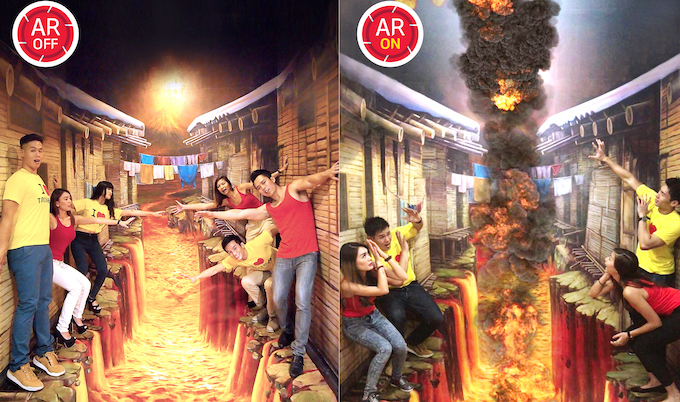 All your five senses are needed at this museum where you will be immersed in thrilling sound, light and other effects in different settings across six themed zones.
Discover hidden secrets of four-dimensional spaces in the World of Masterpieces zone, encounter thrilling sensations in the Excitement zone, overcome your fears by challenging them at the Supernatural zone, live out your childhood fantasies in the Fairy Tale zone, see magical realms of fantasy come alive right before your eyes in the Fantasy zone and experience the impossibilities of reality only in the Trick World zone.
The best thing about this museum is that you are encouraged to touch, interact and take photos of all displayed works so be sure that your camera is fully charged with plenty of memory space before your visit.