Indonesian food is known for its rich and complex flavours, with many dishes featuring spicy notes from the use of sambal, the country's ubiquitous chilli sauce or paste. Don't leave the country without sampling these mouthwatering foods.
Ayam Bakar
Chicken marinated with a mix of herbs and spices, then grilled over charcoal fire. The chicken is usually eaten with rice and sambal.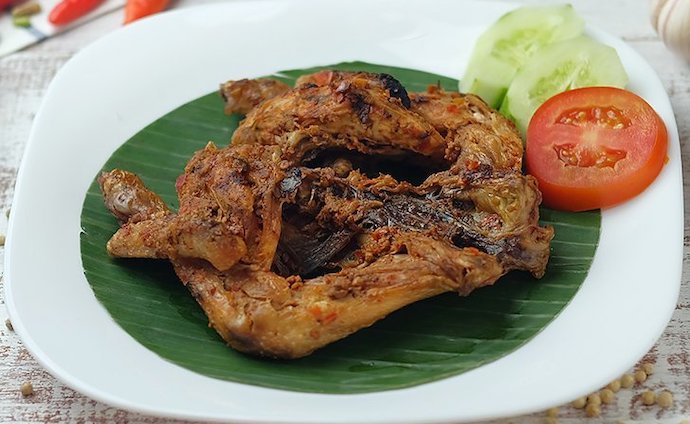 Ayam/Bebek Betutu
An iconic Balinese dish where a whole chicken (ayam) or duck (bebek) is rubbed and stuffed with a mix of herbs and spices including garlic, turmeric, shallots, ginger, lemongrass, chillies, bay leaves and kaffir lime leaves, then wrapped in banana leaves and coconut husks or banana trunk bark before being traditionally slow-cooked in a pit of embers underground for seven hours or more.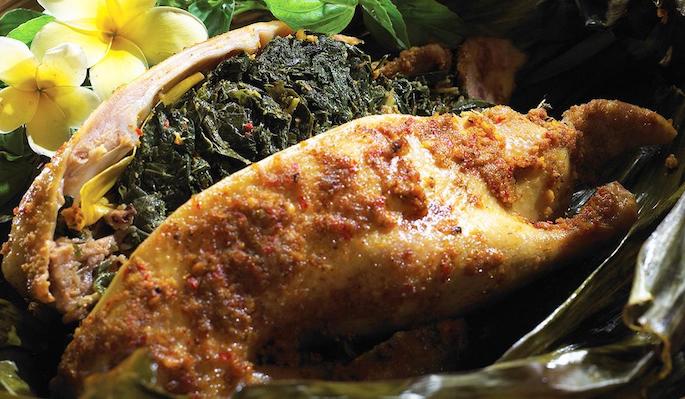 Ayam Penyet
This East Javanese dish of deep-fried chicken that is flattened or smashed ("penyet") is served with rice, sambal, cucumbers, fried beancurd and tempeh (fermented soybean cake).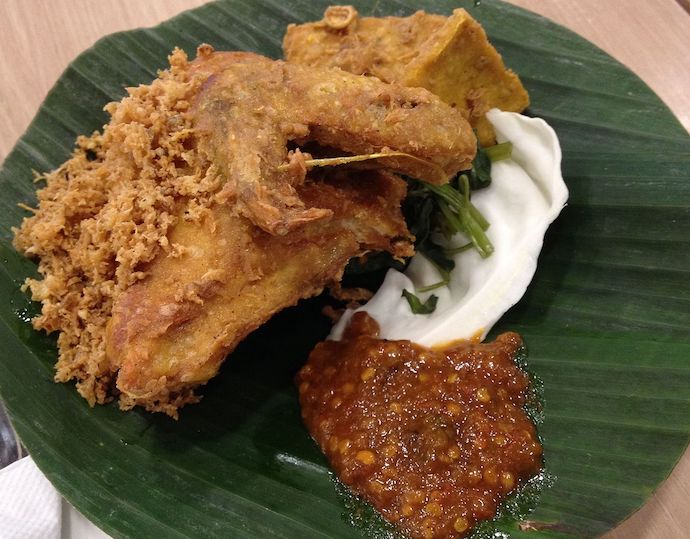 Babi Guling
One of Bali's most famous dishes, the whole suckling pig is traditionally spit-roasted. The pig is stuffed and infused with a blend of herbs and spices that include turmeric, galangal, coriander seeds, lemongrass, black pepper, ginger and garlic. The pig is carved and served with rice, pork crackling and vegetables such as long beans or cabbage.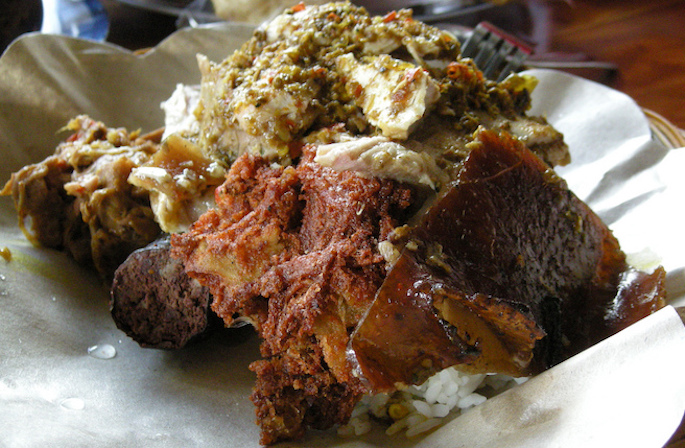 Bakmi Goreng
This classic Indonesian noodle dish has many variations. The noodles can be stir-fried with sweet and salty soy sauce with meat or seafood (or both), egg and vegetables such as carrots, cabbage, Chinese broccoli, tomatoes and onions.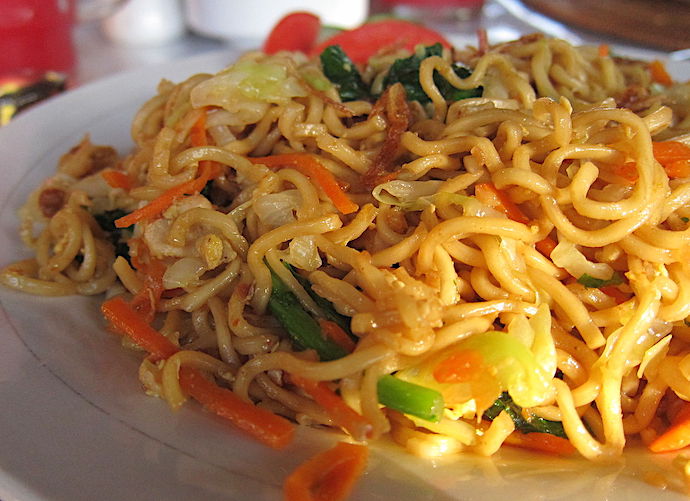 Bakso
This meatball noodle soup is one of Indonesia's most popular street foods.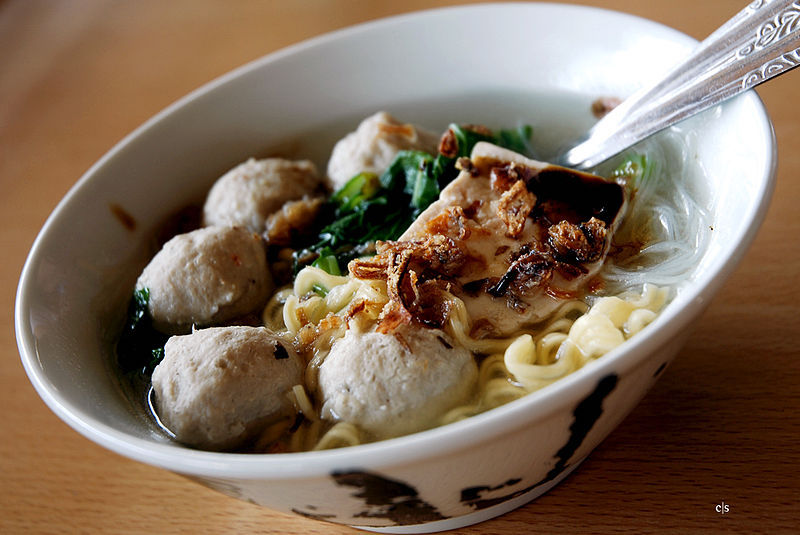 Beef Rendang
This spicy beef stew is made with beef cubes that are slow cooked in a rempah (spice paste), herbs and coconut milk, and tossed with kerisik (toasted grated coconut).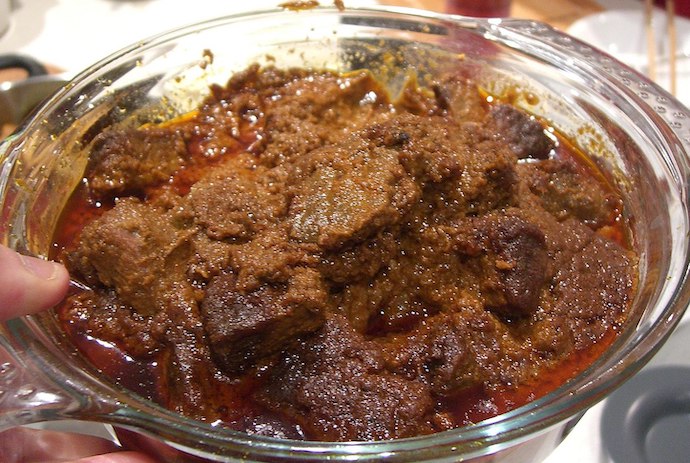 Es Campur
This mixed ice dessert is made up of an assortment of jellies, jackfruit, coconut shavings and avocado, drizzled with syrup, condensed milk and coconut milk, topped with shaved ice.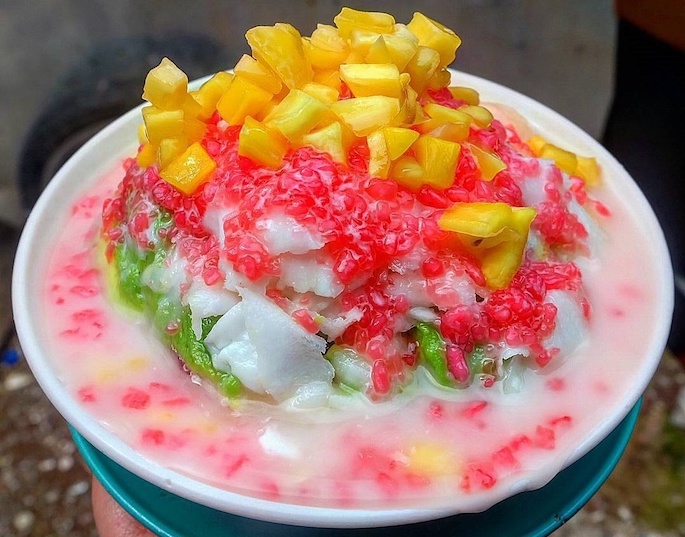 Gado-Gado
Made up of boiled potatoes, long beans, cabbage, spinach, cucumbers, bean sprouts, hard-boiled egg, tofu and tempeh, this Indonesian-style salad is served with a spicy peanut sauce and topped with prawn crackers.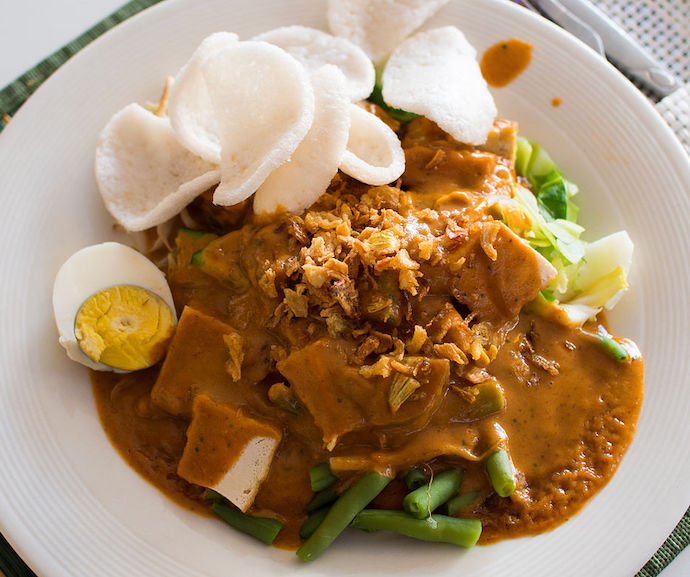 Gudeg
A signature dish from Yogyakarta in Central Java, this stew is made with young jackfruit (nangka), palm sugar, coconut milk, lemongrass, bay leaves, galangal and other spices, and usually eaten with rice, hard-boiled egg, fried chicken and crispy beef skin (krecek).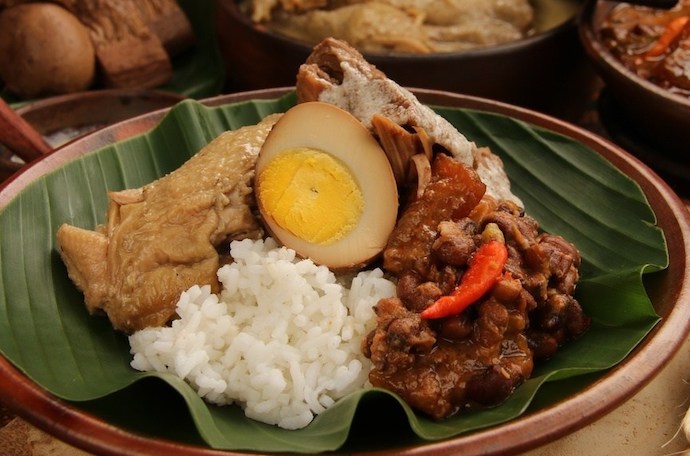 Ikan Bakar
Grilled or barbecued fish, usually served with a soy and chili-based sauce and rice.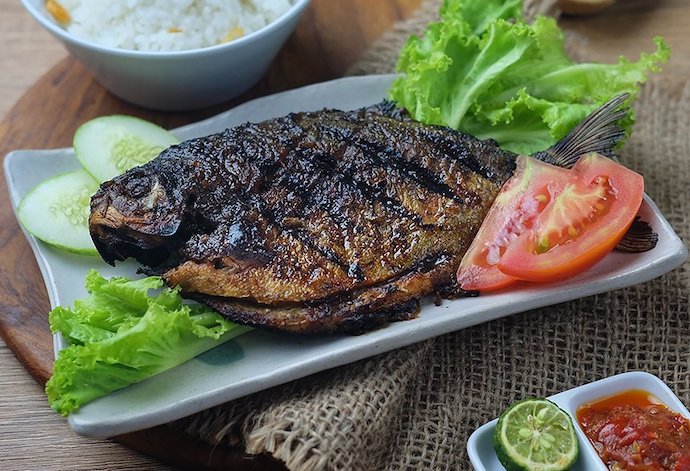 Jus Alpukat
Avocado juice or shake made with a blend of avocado and sweet condensed milk, drizzled with chocolate syrup and sometimes topped with whipped cream.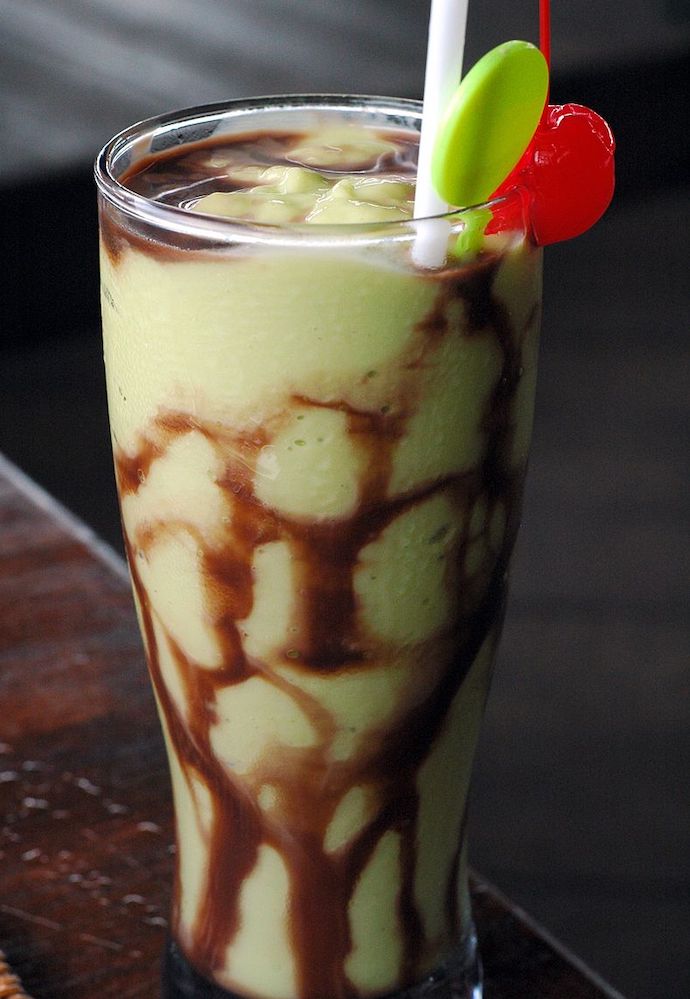 Lumpia
A speciality of Semarang, these spring rolls are usually deep fried, filled with bamboo shoots, cabbage, bean sprouts, onions, shrimp and chicken, and served with a brown dipping sauce.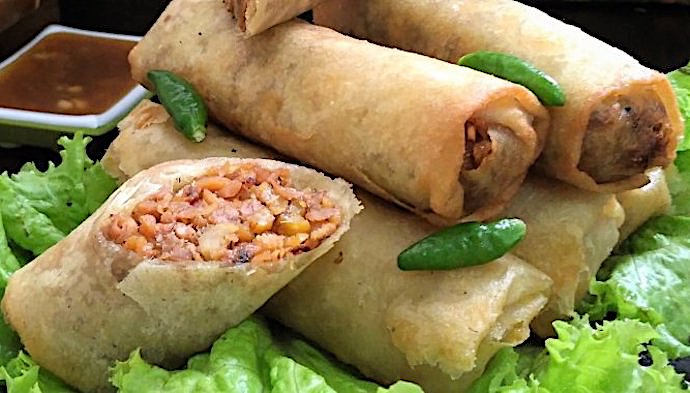 Martabak
One of Indonesia's favourite snacks, this pan-fried pancake is filled with sweet fillings such as chocolate sprinkles, condensed milk, cheese and peanuts, or savoury items like egg and minced meat.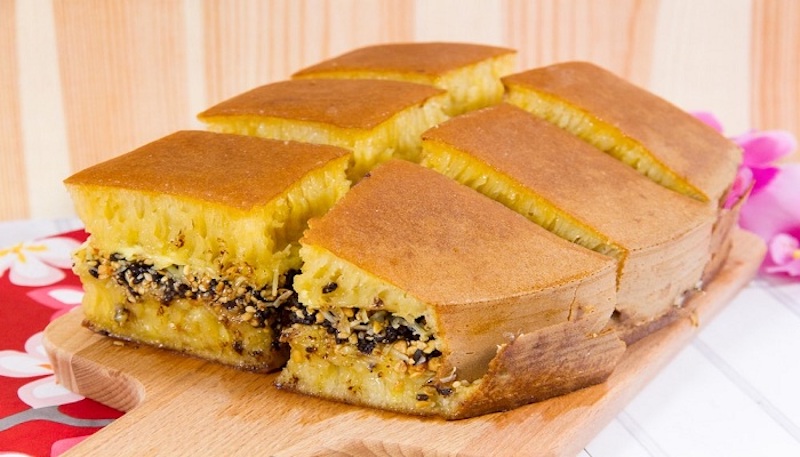 Nasi Goreng
Regarded as Indonesia's national dish, fried rice is usually cooked with kecap manis (thick, sweet soy sauce), meat, seafood or dried fish (ikan asin), and often served with cucumber slices, keropok (prawn crackers) and topped with a fried egg.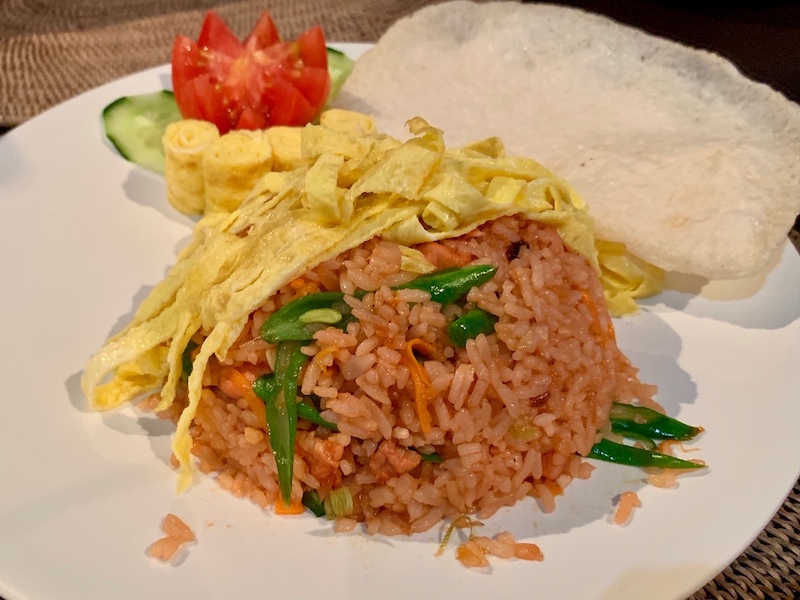 Nasi Padang
Named after its birth city Padang in West Sumatra, this is a dish of steamed rice eaten with an assortment of side dishes – from meat and seafood dishes such as rendang and fried fish to curries and vegetable dishes.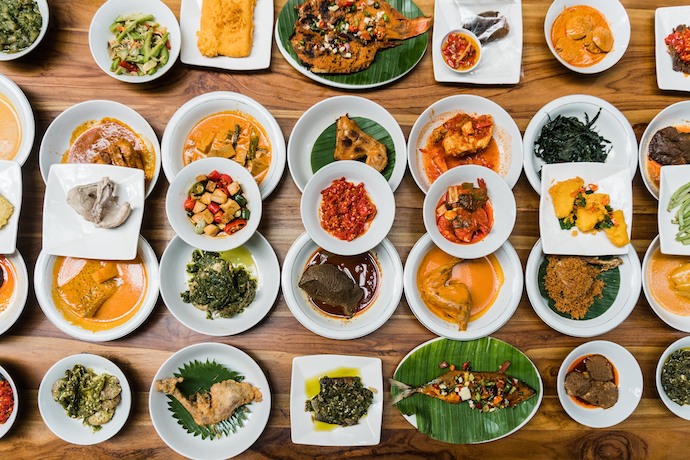 Nasi Uduk
A Betawi (Jakarta) speciality, the rice is cooked in coconut milk, lemongrass and other herbs and spices, and often served with fried chicken, omelette, fried tofu, fried tempeh, fried dried anchovies, peanuts, emping (melinjo nut) crackers, sambal and a peanut sauce.
Pecel Lele
Fried catfish
Pempek (empek-empek/mpek mpek)
A speciality of Palembang in South Sumatra, this fried fish cake is made from fish and tapioca flour and served with a sweet and sour dipping sauce called cuko which is made from brown sugar, vinegar, chilli, garlic and salt.
Pepes Ikan
Fish rubbed with a spice/herb paste, wrapped in banana leaves, then steamed or grilled
Perkedel
These fried potato patties are made with mashed potatoes and minced meat or fish. Vegetarian versions may include corn and beancurd.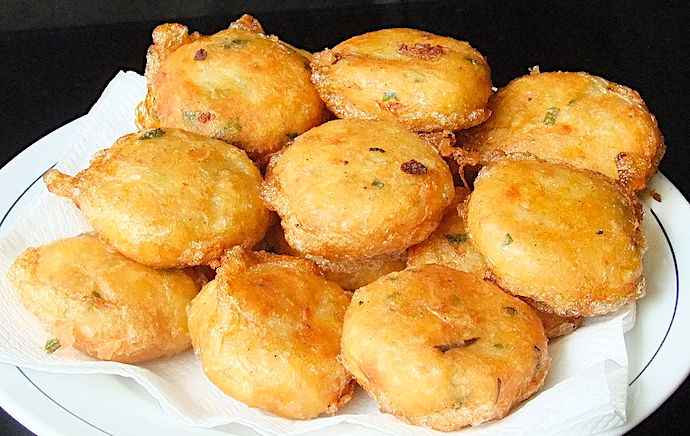 Rawon
A speciality of Surabaya in East Java, this thick beef stew is made with buah keluak (black nut – Pangium edule) which has a strong, nutty flavour and gives the stew its dark colour, along with other spices. It is normally eaten with rice, baby bean sprouts, salted egg, keropok (shrimp crackers) and sambal.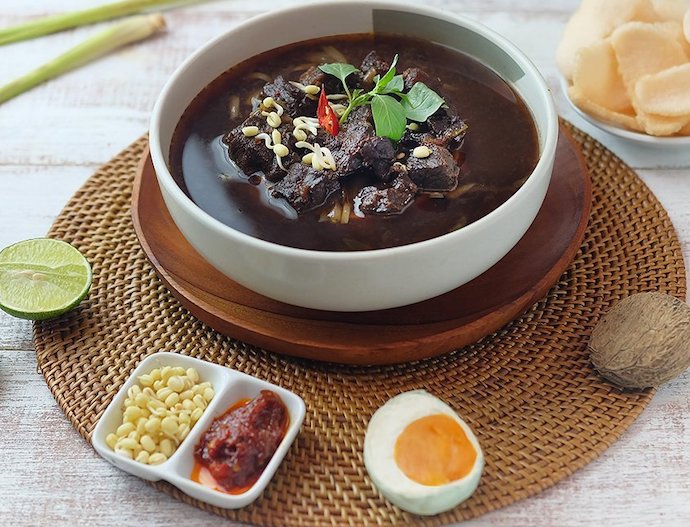 Satay
Char-grilled marinated meat (typically chicken, beef and lamb but there are also seafood and vegetarian versions) on skewers, served with a spicy peanut sauce, ketupat (rice cakes), and cuts of cucumber and onion.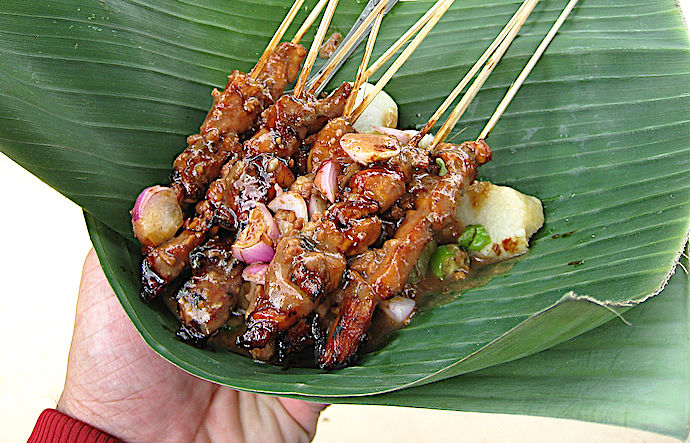 Soto Ayam
This spicy chicken soup is infused with coconut milk, turmeric, garlic and lemongrass and served with chicken pieces, bean sprouts, coriander, fried shallots and hard-boiled egg. The soup is usually served with noodles or vermicelli.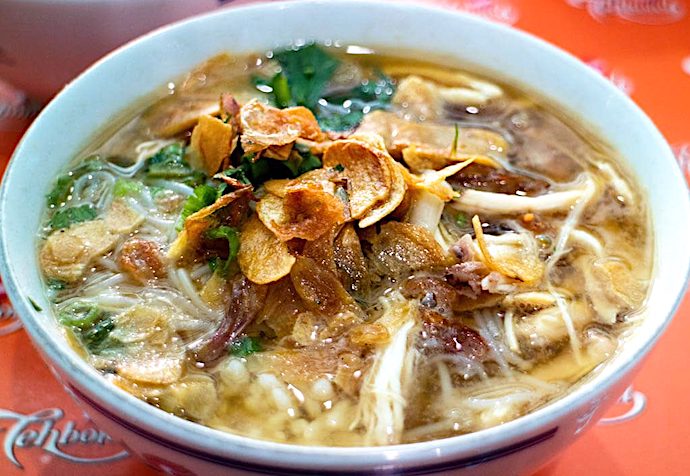 Sop Buntut
A classic Javanese dish, oxtail soup is made with beef tail, carrots, potatoes, tomatoes and spices such as nutmeg and peppercorn. The soup is traditionally served with rice, sambal, sweet soy sauce, lime wedges and emping (crackers made from belinjo nuts).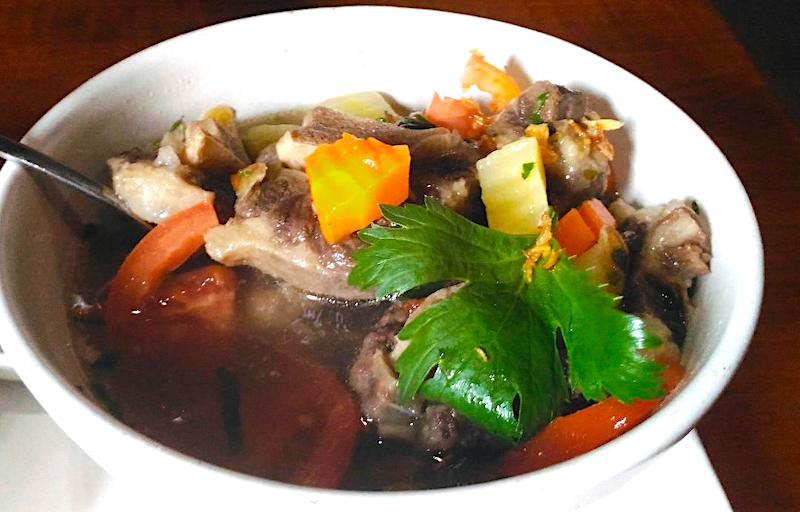 Terong Balado
This signature dish of the Minangkabau people of West Sumatra features grilled purple eggplants topped with sambal belachan (chilli sauce made with chilli peppers and shrimp paste).