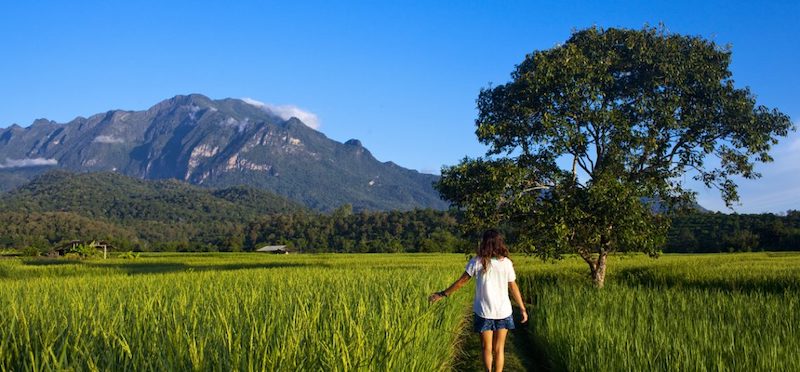 Located north of Chiang Mai, the small mountain town of Chiang Dao is also known as the "City of Stars". The moniker comes from the highest point of the town's 2,186m-high limestone mountain Doi Luang Chiang Dao which the locals believe is at the same height as the stars.
Doi Chiang Dao is the third highest peak in Chiang Mai after Doi Inthanon and Doi Pha Hom Pok.
Chiang Dao may be small in size, but the town offers visitors the chance to experience a lush tropical rainforest, impressive limestone caverns and hidden jungle waterfalls. There are also plenty of birding spots for avid birdwatchers as well as good hiking trails for outdoor enthusiasts.
Those keen on learning more about Thai culture will get the opportunity to interact with local hill tribes, explore the traditional market and even learn how to cook authentic Northern Thai food in the village.

Outdoor Adventures
Trekking In Chiang Dao National Park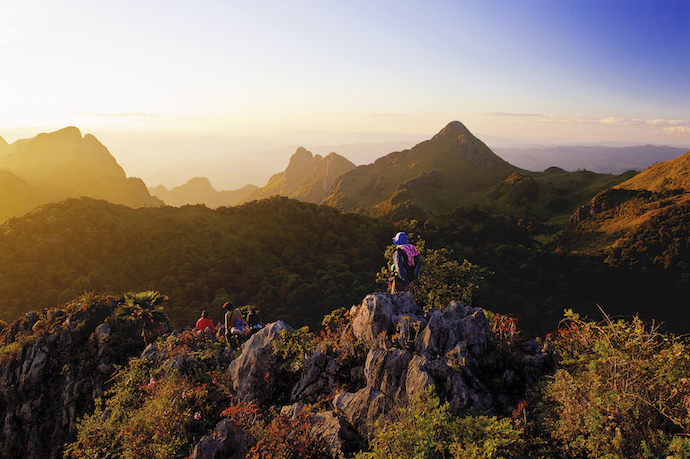 Get set for a memorable outdoor adventure at the 1,100sqkm Chiang Dao National Park, located close to the Myanmar border. Home to a large variety of tropical flora and fauna, the National Park offers a number of activities including trekking, bird-watching, caving, dipping in the hot springs and camping.
Ensure that you have a good level of fitness before embarking on a trekking adventure in Chiang Dao.
Overnight trekking is a very popular activity. There are multi-day trekking activities which can take one, two or three days depending on your destinations and preferences. However, if you want to reach the top of Doi Luang Chiang Dao, your best option is to do an overnight trip.
You can stay overnight at a hill tribe village or on a valley located halfway through your journey and experience stargazing at night and catching the sunrise the next morning.
Throughout your trekking journey, you will also be able to learn more about the culture and wildlife of the area from your experienced guide.
Water Fun At Pha Daeng National Park
Compared to other parks, Pha Daeng National Park is quite remote, and therefore, less commercial than other national parks. The entrance fee to the Park is 100 baht.
The main attraction of the Park, the Sri Sangwan Waterfall features picturesque turquoise pools that collect water falling from 50m above.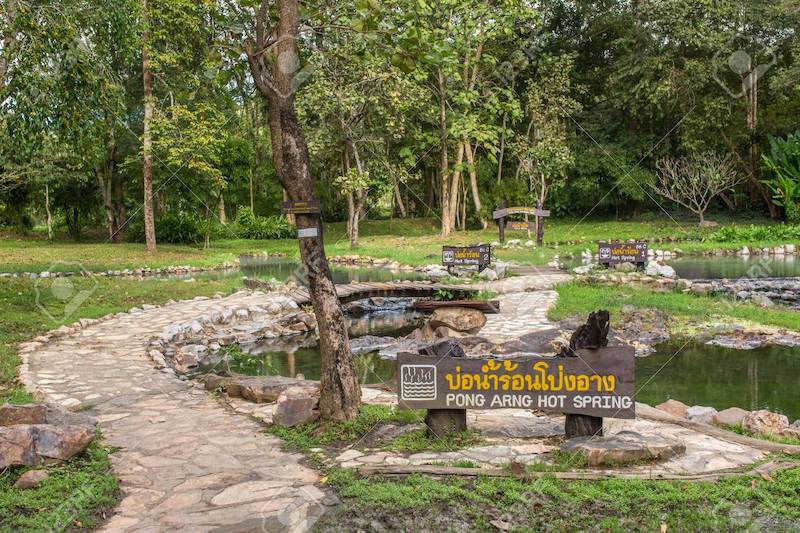 Another highlight of the Park is the Pong Arng Hot Springs, a great spot for a relaxing "hot bath". There are two crystal clear hot pools with temperatures that are similar to that of a steam room.
Exploring Caves
A must-visit site, the Chiang Dao Caves complex consists of over 100 caves which extend up to 12km inside the mountain range. Currently, only five caves are open to the public.
The caves are approximately 70km north of Chiang Mai and the entrance fee is 40 baht per person.
As the locals believe that the five caves hold mystical powers, multiple statues and Buddha images have been placed inside the caverns. Apart from being natural landmarks, the caves are also places of worship. Therefore, it's important to dress modestly or you may be asked to rent a sarong for 20 baht to cover up before entering the caves.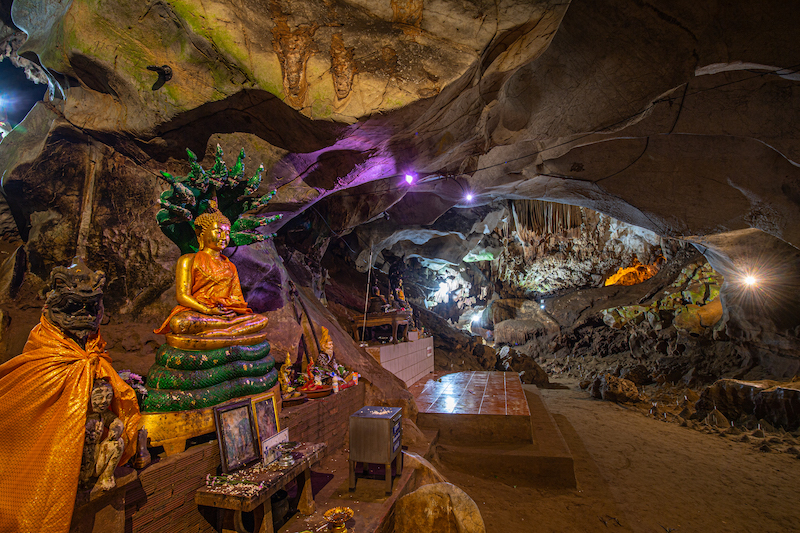 Expect to see natural formations of limestone and crystal including stalactites and stalagmites in the caves. Note that the deeper you go into the caves, the more physically challenging it may get. At some point, you may need to get down on your knees and crawl through small holes or climb up to larger caverns. However, you don't need any caving experience as all the walkways are designed for visitors.
The five caves you can visit are:
• Tham Seua Dao
• Tham Phra Nawn
• Tham Maa
• Tham Naam
• Tham Kaew
Both Tham Seua Dao and Tham Phra Nawn have electric lights which make them easier to explore on your own. The rest of the caves don't have any lighting so you will need to rent a gas lantern (100 baht) to see inside the caves.
To explore the caves safely, it's best to hire a guide as there are many deep, unmarked holes within the caves and during the rainy season, some areas of the caves may be flooded. Besides providing direction, the guide will also offer interesting information about the history of the caves. There is no fixed price for cave guides. It is customary to tip the guide according to how much you enjoyed the tour and a tip of less than 100 baht is considered rude.
Cultural Experiences
Encounters With Hill Tribes
Not too far from Chiang Dao Caves is the Padung Village, home of the Long Neck Karen hill tribe which are originally from Myanmar. The hill tribe men are usually farmers, while the women master handcrafting skills such as wood carving and weaving.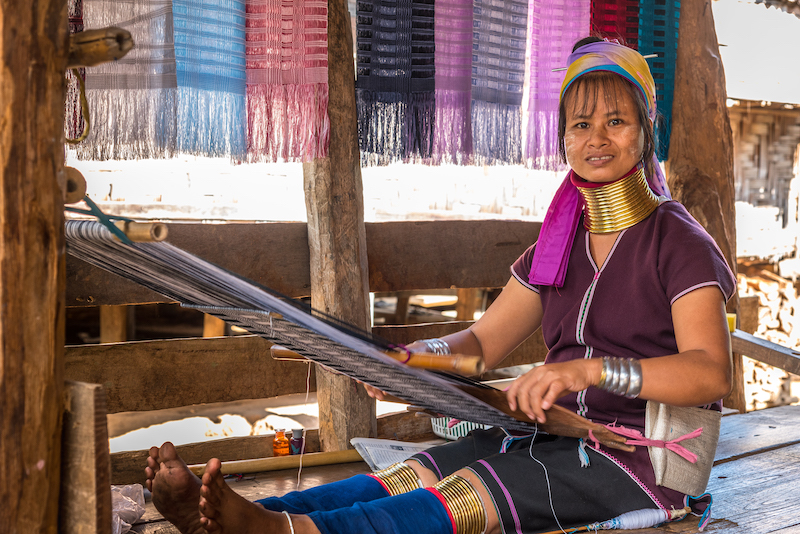 The hill tribe women are easily recognised for their elongated necks which are covered with brass rings. It is believed that the longer their neck, the more beautiful they are. The rings, which are used to protect them from tiger attacks, are also worn on the women's wrists and ankles.

Temple Explorations
A visit to Wat Tham Pha Plong and Wat Mae Kaet Noi are a must when you are in Chiang Dao.
Wat Tham Pha Plong is located in a small cave surrounded by jungle halfway to the mountain top. Climb up the 500-step naga (mythical serpents) stairways to reach the temple.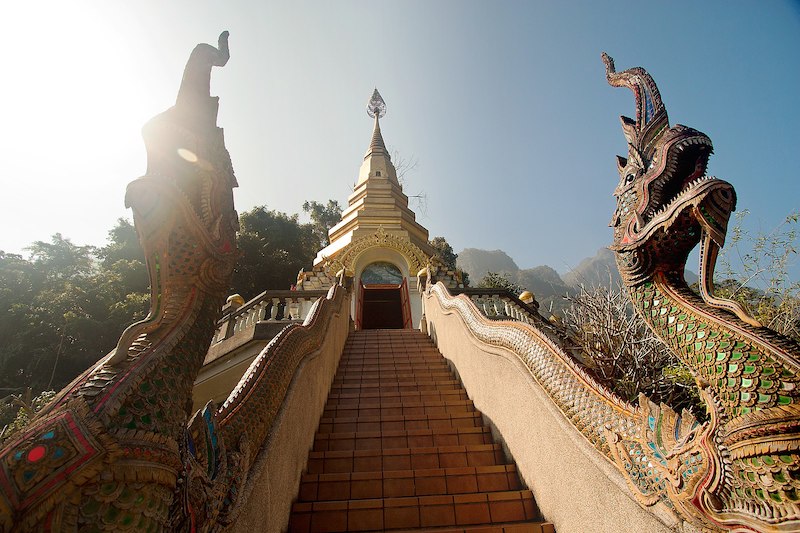 When you reach the top, you will enter a cave where you are greeted by images of Buddha and photos of Luang Poo, a respected and influential Buddhist. The temple was built to honour Luang Poo for his contribution to Buddhism.
The temple's hilltop location makes it the perfect spot for meditation. You can even arrange for an overnight stay at the temple and experience the life of a monk. The monks here speak good English and you will get an interesting peek into their daily activities and practices.
An example of a hell temple, Wat Mae Kaet Noi is often remembered for its unusual surroundings. The temple grounds are filled with grotesque statues and installations depicting torture and suffering in the underworld.
The temple was set up by a monk who wanted to show believers the consequences of bad habits and sin in modern-day Thai society such as stealing, free sex, intoxication, lying and murder.
Best Time To Visit Chiang Dao
Although Thailand has tropical weather all year round, it has cool, hot and rainy seasons.
The cool season between December to February is the best time for outdoor hikes and treks.
The hottest months are between April to June, with daytime temperatures reaching up to 40oC, while the rainy season generally runs from May to November, when high river water levels are good for water sports such as white-water rafting or kayaking.

Article adapted from Urtrip-Thailand