There is no shortage of hipster cafes and unique restaurants in Singapore. But as Singapore is also widely known as a city in a garden, that translates to plenty of naturistic spots to chill at too. Garden restaurants have sprung up all around the island, offering alfresco dining, healthy food options and plenty of natural sunlight.
If you're looking for Insta-worthy cafes in Singapore, look no further. We shine the spotlight on seven garden restaurants and cafes that are also child- and pet-friendly.
Singapore Changi Airport Terminal 2, #01-T2S-02
Opening hours: 7.30am to 10.30pm daily
linktr.ee/hubandspokecafe
Some say "East side, best side," and that could very well be true courtesy of the many offerings around Changi Airport Singapore – Hub and Spoke Cafe included. Located near Terminal 2, the cafe has floor-to-ceiling glass windows that make it appear like a glasshouse restaurant with plenty of natural sunlight streaming in.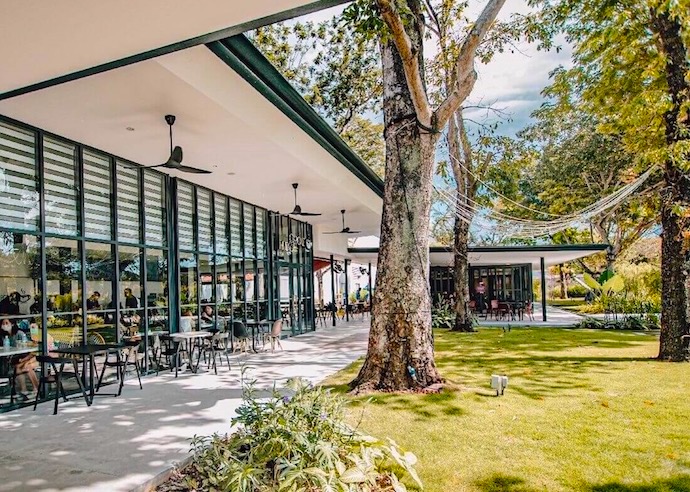 It's situated right next to an open field, where pets and kids can roam around while the adults dine. Besides accommodating outdoor seating, the cafe is also suitable for events and cosy weddings. Another perk of the cafe location is how it is a part of the Changi Airport Connector route, which means cyclists can make it a pit stop to take a breather and fuel up before putting on their cycling gear and carry on for the rest of the journey. It also has shower facilities and bicycle parking.
Menu-wise, expect classic cafe food offerings like Salmon Benedict ($13.90), Avocado Toast ($17.90), Fish & Chips ($17.90), Wagyu Beef Burger ($20.90), Truffle Crab Roll ($17.90) and a refreshing cup of Brown Sugar Milk Tea ($5.60).
E J H Corner House, Singapore Botanic Gardens (Nassim Gate Entrance)
Opening hours: Noon to 3pm, 6.30pm to 11pm, Wednesday to Sunday (closed on Monday and Tuesday)
cornerhouse.com.sg
There are gardens, and then there is the Singapore Botanic Gardens – an iconic landmark in our country's rich, cultural history. And in the thick of it all is Corner House, a One-Michelin star restaurant set in a double-storey colonial building with both indoor and outdoor seating.
Take a seat on the outdoor deck and be surrounded by tall, towering trees by your side – a setting that will offer a memorable experience of being one with nature.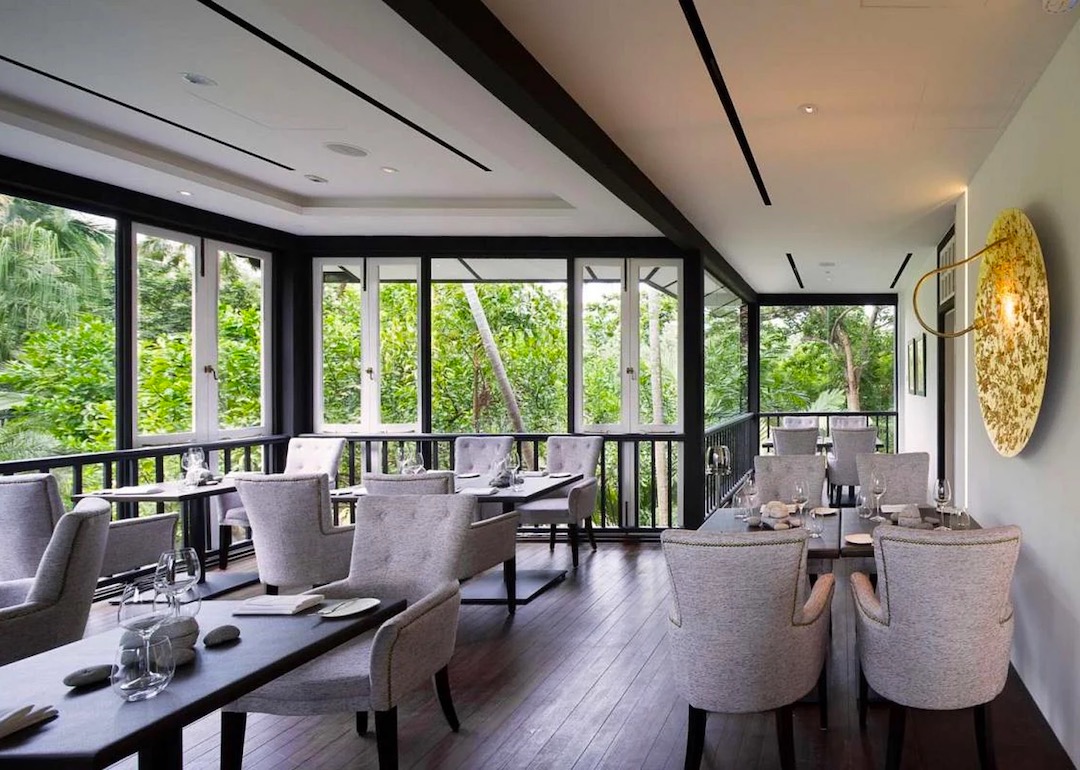 On the menu is an array of French-Asian fusion cuisine crafted by Bordeaux-born Executive Chef David Thien. Dishes change regularly, and revolve according to the seasons so no repeat visit is ever quite the same.
Besides the standard a la carte menu, diners can also try an omakase style dining experience –$128 for a four-course Discovery Lunch, $168 for a five-course Indulgence Lunch and $228 for a six-course Signature Dinner – and pair the meal with the finest selection of wines from all over the world.
#01-01, Gardens by the Bay
Opening hours: Wednesday, Thursday & Sunday – 8am to 8pm, Friday & Saturday – 8pm to 10pm (closed on Monday and Tuesday)
www.mylos.com.sg

While you get a healthy amount of Vitamin D for being outdoors, there's no denying that Singapore can get just too hot for our liking at times. That's where cafes like Mylo's come to our rescue – it provides shelter, air-con and gelato all-in-one.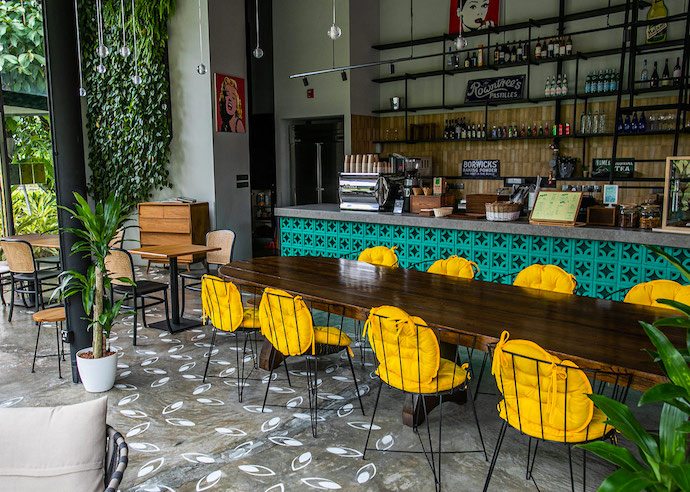 Located within Gardens by the Bay, right next to the Active Garden, the casual hipster cafe has indoor and outdoor seating you can relax at while still admiring the serenity of the gardens. Food here leans towards lighter bites such as pastries ($6), toasted panini ($12), Smoked Salmon Bagel ($12) and gelato ($6 for a single scoop). Or have a cuppa to-go – classic options include Macchiato ($5), Latte ($7), Flat White ($7) and Mocha ($7).
Since the Active Garden is adjacent, kids can explore the fitness corner and musical playground under supervision while the adults take a breather. Oh, and did we mention that it's pet-friendly too? That means your fur kids can also join in the fun!
Bishan Park 2
Opening hours: Weekdays – 9am to midnight, Weekends & public holidays – 8am to midnight
www.canopygardendining.com/location/canopy-bishan-park
Brunch is made even better at Canopy Bishan, located within Bishan-Ang Mo Kio Park. Boasting a canopy roof and green decor at every turn, especially around the alfresco dining area, the cafe is a picturesque spot for weekend catch-ups with the besties, a family meal, or even as a pit stop after walking your dog since it's also pet-friendly.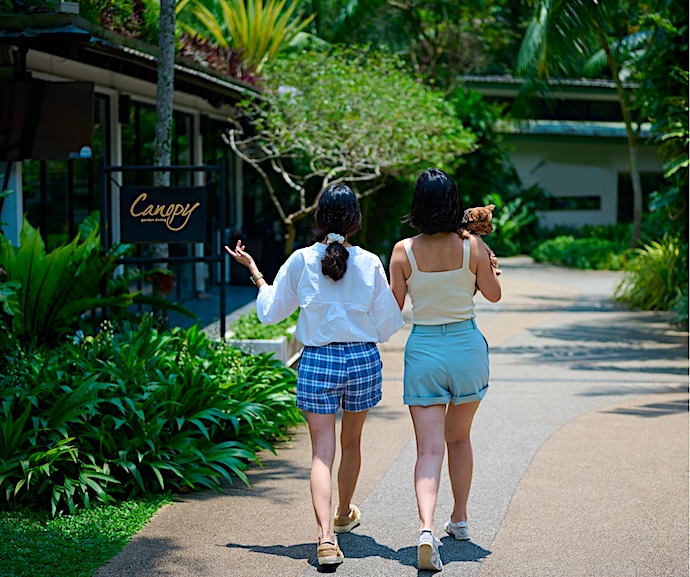 Canopy's menu features pizza, pasta, burgers, sandwiches, mains, soups and salads. Hot favourites include its Crabmeat Aglio Olio; Truffle Mushroom Pizza; Black Angus Cheeseburger with fries, cheddar, tomato, arugula, onion marmalade and truffle mayonnaise; and Pan-Seared Norwegian Salmon with mashed potatoes, seasonal vegetables and white dill sauce.
Adults can also indulge in some bubbly during Happy Hour on weekdays from noon to 8pm, and there are also liquor and house pours to cheers with friends into nightfall.
19 Baghdad Street
Opening hours: Monday to Thursday – 11.30am to 9.30pm, Friday – 11.30am to 10.30pm, Saturday – 9am to 10.30pm, Sunday – 9am to 9.30pm
www.tsgbyzeekri.com

If you're looking for halal food in Singapore and an Insta-worthy cafe, look no further than this French-inspired and Muslim-owned café. The floral-themed café's bouquets boasts colourful, eye-catching blooms at its entrance.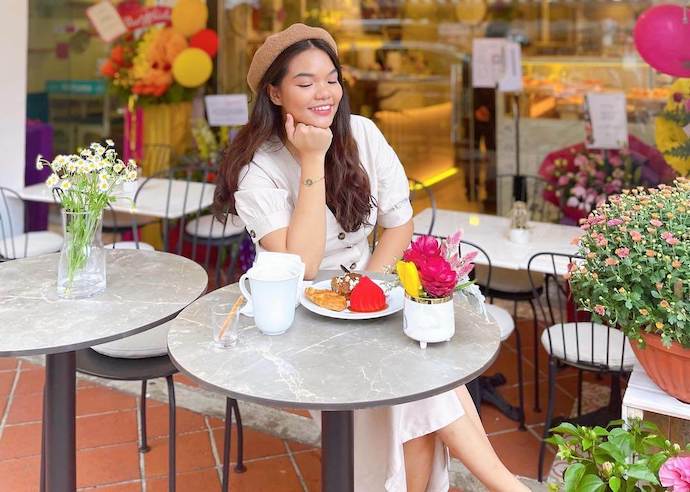 Ms Fauziah Tranchand who lived in France for a few years opened the cafe to provide the masses accessibility to authentic French food. Expect scrumptious French dishes like French Onion Soup, served with turkey bacon and mozzarella cheese croutons, Prawn and Scallop Tagliatelle, and Chicken Cordon Bleu.
High tea options are also available on weekends, and there's even an in-house florist who can assist with floral arrangements for guests to take home. Guys can consider this cafe for a first date to make a good impression with the help of food and flowers. Be sure to have your monopods ready for OOTD clicks too!
#01-09 Flower Dome at Gardens by the Bay
Opening hours: Wednesday to Friday – 11am to 10pm, Saturday & Sunday – 10am to 10pm (closed on Monday and Tuesday)
hortus.com.sg

Previously known as Pollen, Hortus serves up bright, fresh flavours of the Mediterranean in the form of vibrant salads, dips, home-baked breads, tagines, grilled seafood and meats, housemade cakes, tarts and pastries. Its indoor restaurant setting means that you get to enjoy the comfort of air conditioning while being ensconced in lush foliage while you dine.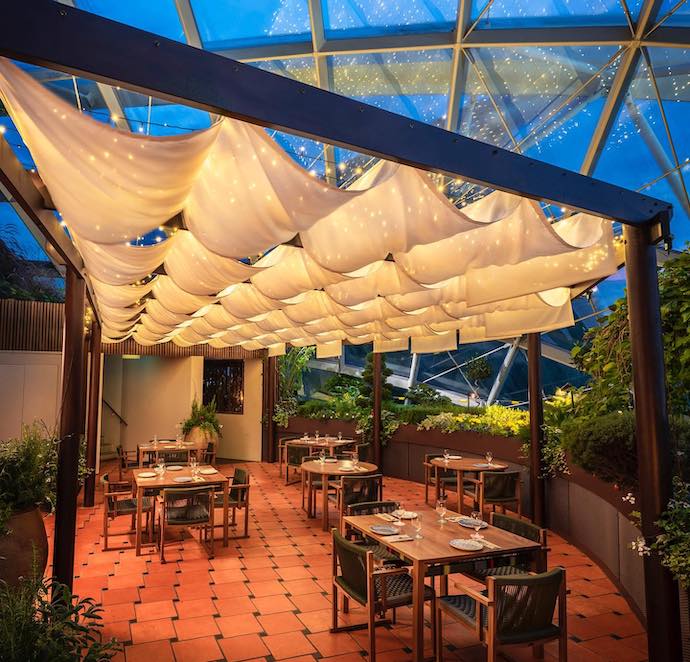 Whether it's brunch, afternoon tea or dinner, tuck into sharing platters, hearty mains and homemade desserts. A peek at its menu reveals small plates like Hummus ($11) and Taramasalata with crudities and pane carasau ($15), wood-grilled dishes like Fremantle Octopus with green harissa sauce ($32) and Spatchcock Baby Chicken with merguez spices, and large plate offerings such as Lamb Tagine cooked in sweet spices, prunes and apricots ($29) and Venus Clams with chilli, garlic, raki and parsley ($35).
From 3pm to 5pm, enjoy its Afternoon Tea ($58 per person) which offers a mix of savoury and sweet delights such as Quiche Florentine, Corn Custard with Trout Roe, Madras Curry Egg Sandwich, Raspberry and Rose Macaron, Blueberry and Vanilla Frangipane Tart, and Chocolate Hazelnut Mousse.
3 Park Lane, Level 2
Opening hours: Monday, Wednesday to Sunday, eve of and public holiday – 6pm to 10pm, Saturday & Sunday – 11.30am to 3pm
www.thesummerhouse.sg
Chances are you've seen the awe-inspiring igloo-like garden dome images on Instagram and were always curious to dine in one yourself. Well, you can do so at The Summerhouse. Each dome seats up to eight persons, providing the perfect opportunity for cosy celebrations – be it birthdays or bridal parties.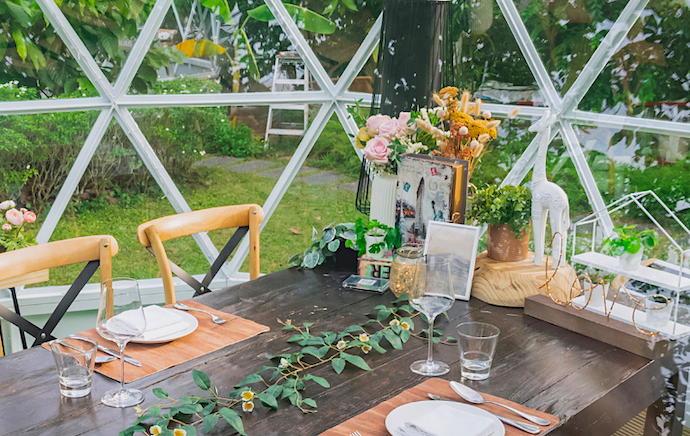 Thankfully, the dome is air-conditioned which means you can dine comfortably while still admiring the greenery around. Its Communal Brunch on weekends and public holidays is at $55 per person and features selections such as Hand-picked Fresh Mud Crab and Spring Onion Omelette and Pickled Short Rib, while its Communal Dining for dinner is at $75 per person and features dishes like Duck Leg Confit, Pan-seared Sea Bass and 100hr Wagyu Brisket.
Its Garden Domes Garden Dining Menu starts at $380 per couple and $125 for each additional guest, and includes food selections like Potato Leek Soup, Pan-Seared Black Cod, Dry Aged Angus Tenderloin and Smoke Chocolate Parfait. Its Prestige Garden Dining Menu, priced at $499 per couple and $168 for each additional guest, offers premium dishes like Pan-seared Foie Gras, Home-smoked Wagyu Ribeye, Pan-seared Turbot and Kaffir Lime Mousse.
This article is adapted from Now Boarding by Changi Airport's "7 best garden restaurants and cafes in Singapore for a view of greenery while you dine"