As social restrictions continue to ease, Singapore's nightlife scene is starting to bustle again.
What better way to spend your Friday night than by soaking up the illuminating night cityscape while having your favourite drink at a rooftop bar? Best of all, choices are aplenty for a fun night out and some of these rooftop bars also offer hearty meals along with value-for-money deals.
Drinks are always better with friends, so what are you waiting for? An exciting night at these six rooftop bars is guaranteed.
#02-02 Customs House
Opening hours: • Restaurant: Monday to Saturday – Noon to 3pm, 6pm to 10.30pm • Rooftop bar: Monday to Saturday – 5pm to 11.59pm
www.kinki.com.sg
Offering a breathtaking view of Marina Bay Sands, Kinki Restaurant + Bar's revamped space is nothing but chic and modern! Be greeted by intricate art murals on the restaurant level and cool graffiti when you head up to the rooftop bar. This place boasts a laid-back persona, with sneaker-wearing wait staff, and funky music pumping all night long.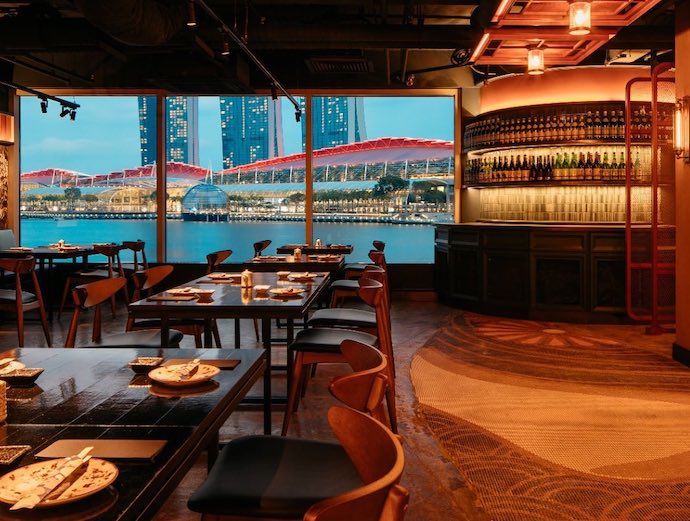 Head over to its restaurant on the second floor for a hearty meal. You'll be surprised at its bold take on Japanese cuisine. You'll even get a complimentary glass of Moet & Chandon Brut!
After your meal, head up to the rooftop bar for some tipples to end the night right. Kinki is serious about its craft and shows that through its extensive range of fascinating drinks. If your friends are with you, go for Kinki's special Rooftop Bar Set at $588++ per package, which comes with seven Kinki cocktails plus two bottles of Moet & Chandon Brut, a choice of spirit, and Partridge in a Pear Tree cocktail good for a group of five!
Level 19 OUE Bayfront
Opening hours: • Lunch: Monday to Friday – Noon-2pm • Dinner: Monday to Saturday – 5.30pm to midnight • Al Fresco Spritz Bar: Monday to Saturday – 5pm to midnight (closed on public holidays, Saturday lunches and Sundays)
www.vue.com.sg
If you're planning for a romantic night with a loved one, one Michelin star restaurant VUE will certainly impress. Perched atop OUE Bayfront, you'll be greeted by stunning vistas of Marina Bay while feasting on binchotan-grilled specialities. (Fun fact: Binchotan is hardwood charcoal produced from Holm oaks, which can be found in the forested hills of the Kii peninsula, Japan). There's also a six-course "Spring" themed omakase set, starting at $388.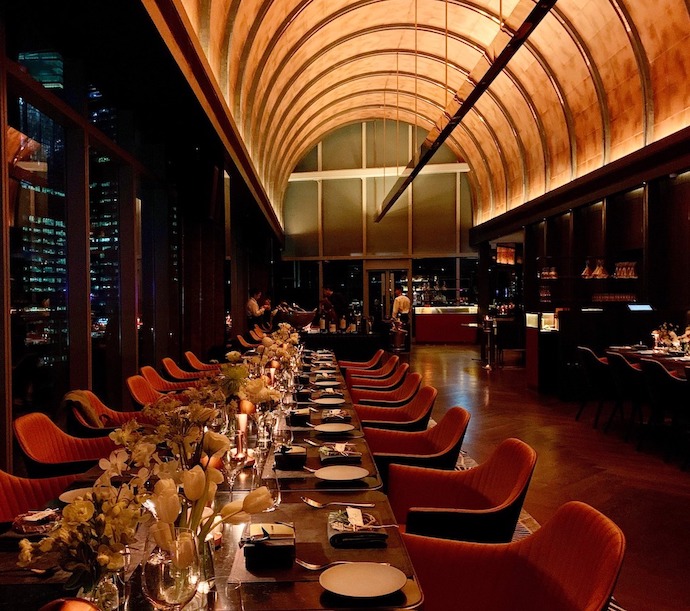 As VUE houses Singapore's first rooftop spritz bar, enjoying a spritz cocktail here is a must. A wine-based cocktail made with bitter liqueurs and sparkling soda water, spritz is usually served over ice in a wine glass, martini glass or a lowball glass with an orange wedge for garnish.
Level 39 Andaz Singapore
Opening hours: Monday to Thursday – 5pm to midnight, Friday & eve of public holidays – 5pm to 1am, Saturday – 3pm to 1am, Sunday – 3pm to midnight
www.hyatt.com/en-US/hotel/singapore/andaz-singapore/sinaz/dining
Nestled on the rooftop of Andaz Singapore, Mr Stork offers 360-degree views of the city. The alfresco drinking and dining spot has different seating options – from bar seats to private nooks. To enjoy the glorious sunset views in a cosy, intimate space, book a teepee hut which is fitted with a comfortable mattress and cushions for unwinding and relaxing.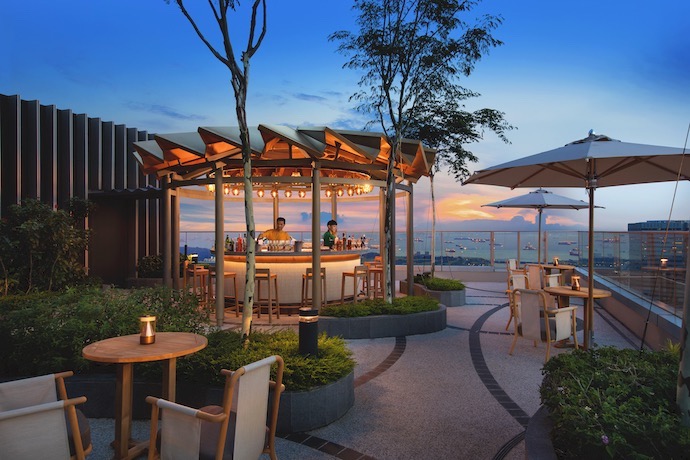 Foodwise, there's something for everyone, with prices ranging from $12 to $200. Vegetarian, vegan and gluten-free options are available.
As for drinks, you can't go wrong with its bestselling Aaliya Cocktail which pays tribute to the toddy tappers of Sri Lanka with its infusion of Ceylon arrack (alcohol distilled from the sap of coconut flower), spiced pear, coconut, passionfruit, lemon mist and bitters. Feeling adventurous? Feeling adventurous? Get Mr Stork's mixologists to concoct you a drink that will delight your taste buds.
Faber Peak Singapore, Level 2
Opening hours: Sunday to Thursday & public holidays – 4pm to 11pm, Friday, Saturday & eve of public holidays – 4pm to 2am
www.mountfaberleisure.com/restaurant/dusk-restaurant-bar/
Sitting 100m above sea level, Dusk Restaurant & Bar is a great escape from hectic city life. Kick back with drinks or enjoy a hearty dinner while soaking up breathtaking views of the sunset, the Sentosa HabourFront skyline, green vistas and the running Singapore Cable Car line in an alfresco setting.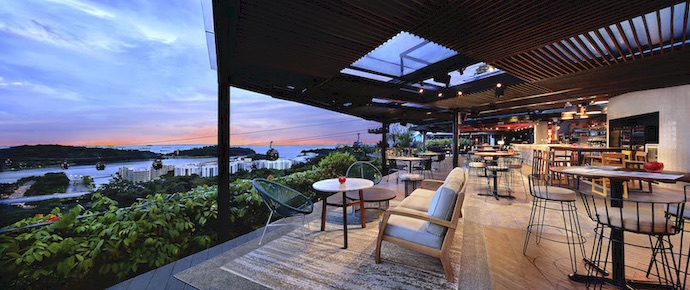 The restaurant specialises in modern European cuisines and offers a wide selection of cocktails and wines to pair with your food. Tuck into signature dishes such as Prawn Cappellini, Duck Confit, Sous Vide Beef Cheek, Côte de Boeuf and French-Cut Rack of Lamb, washed down with signature cocktails like Dusk Till Dawn Light Bulb, Dusk Till Dawn Nitro-Test Tube, Nitro-Frost Dusk Till Dawn and Nitro-Mr 42 Below. If you're lucky, you might even find yourself getting serenaded by a live band!
SO/ Singapore
Opening hours: Sunday to Thursday – 3pm to 10pm, Friday & Saturday – 3pm-midnight
https://www.so-singapore.com/wine-dine/1927-rooftop-bar/
Located on the rooftop of SO/ Singapore which houses an infinity-edged pool, sun lounges and DJ decks, 1927 Rooftop Pool and Bar exudes summertime vibes all year round. Known for its monthly pool parties, the bar boasts a projector with a 150-inch screen, party décor and more. It's the perfect place to host a large-scale event and impress your friends!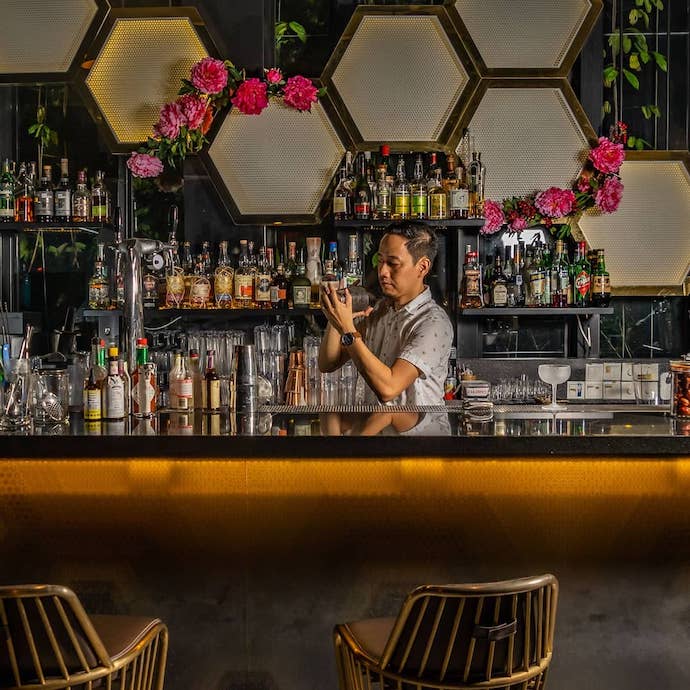 Enjoy the music from the DJ deck while sipping signature cocktails created by its mixologists. Its unique house cocktails such as Bees Knees, Hurricane, Penicillin, The Last Word and Tommy's Margarita should not be missed!
50 Tiong Bahru Road
Opening hours: Monday to Saturday – 5.30pm to midnight
www.lin.com.sg
Perched atop Link Hotel, Lin Rooftop Bar is located in the heart of Tiong Bahru. It's considered a wallet-friendly bar as its drinks are relatively cheaper than most places, with cocktails starting at $17 and premium spirits starting at $12. Don't be surprised if the resident bartender comes up to you and offers you a drink, as you might just be his new test subject, sampling his latest concoction.
The bar is known for its authentic Asian cocktails with a twist! Try a Lin original signature cocktail like Road to Ultra, Rustic Sky, Princess Lotus, Billion $ and Tipsy Pig, and get ready to experience flavours that excite, tease and satisfy your tastebuds. Alternatively, go for international classic cocktails like Singapore Sling, Waterfall and Flaming Submarine.
This article is adapted from Now Boarding by Changi Airport's "6 must-visit rooftop bars in Singapore for an enjoyable time"