It's not just all about plants at Gardens by the Bay. The Gardens has lined up a host of fun activities centred around art, play, lanterns, heritage, games, adventure and more to engage and thrill every member of the family. Whether you visit during the day or night, there's plenty to do and discover both indoors and outdoors at the Gardens.
We spotlight six fun must-dos this month.
Till 3 October
10am – 7pm
Supertree Grove
Free admission (fees for workshops apply)
www.gardensbythebay.com.sg/childrensfestival

Give your kids plenty of time to wander through the giant inflatable art sculptures of the six characters of Art-Zoo Wonder Gardens to find friends like Bruno Bear, Little Kong, Cheerful Caterpillar, Radiant Rhino Beetle, Super Speedy Snail and Lovely Ladybirds.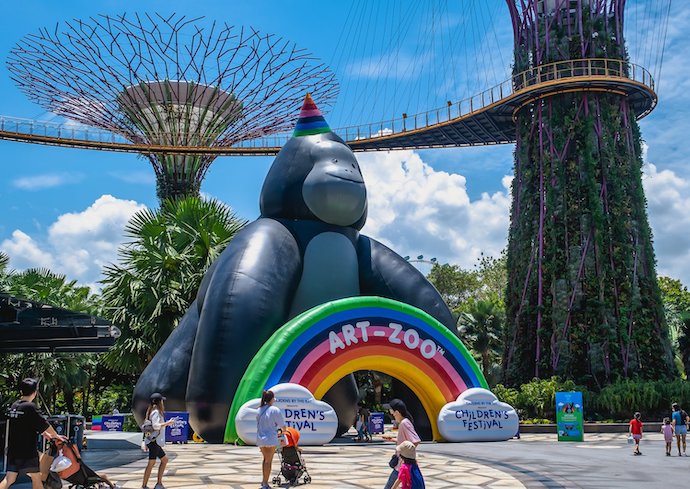 Pick up a complimentary trail booklet and discover the fun stories that the Art-Zoo friends have to share. Help your kids complete the trail activities so that they can bring home a piece of the Wonder Gardens home.
On the weekends, let the little ones join the Little Critters' Wonder Workshops where they can showcase their creativity with activities such as personalising their face mask; upcycling banners to create a face mask holder; using pre-loved fabric and buttons to create a tic-tac-toe set; discovering the wonders of shrink art; creating an insect-themed terrarium; or simply enjoying the sensory experience of making their own slime toy.
Till 3 October
Flower Dome, Cloud Forest, Outdoor Gardens
www.chihulyinbloom.com
Marvel at some 25 magnificent large-scale installations as well as more than 80 pedestal sculptures and two-dimensional works by world-renowned American multi-media artist Dale Chihuly at the Flower Dome, Cloud Forest and various Outdoor Gardens at Gardens by the Bay. The works were shipped directly from Seattle and installed at the Gardens.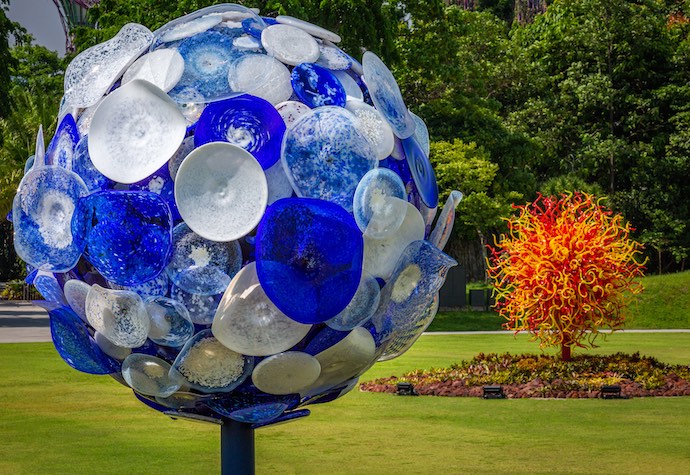 For over 50 years, Chihuly has pushed the boundaries of glass, reinventing natural and man-made environments with his experiments in light, space and form. Amazing pieces to check out include Setting Sun, Cloud Forest Persians, Ethereal Persians, Red Reeds and Float Boat & Floats.
Ongoing
9am – 9pm
Cloud Forest
www.gardensbythebay.com.sg/en/things-to-do/attractions/cloud-forest.html#highlights
Orchid lovers, make a beeline for this new orchid display which is a tribute to the Phalaenopsis orchid at Orchid Haven, a new space dedicated to orchids in Cloud Forest.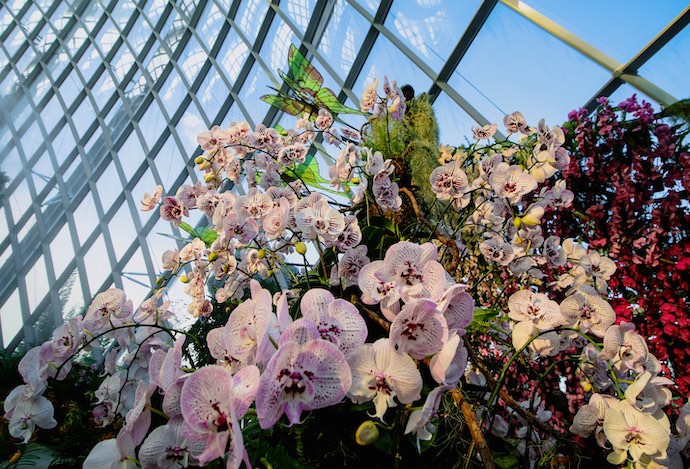 Marvel at over 800 Phalaenopsis orchids of 17 taxa showcased in a breathtaking "waterfall" of cascading blooms. A genus whose floral form resembles a moth in flight, the orchids are well-loved for their distinct and occasionally dramatic characteristics such as bright colours, peculiar patterns and markings, as well as floral mutations that result in even more stunning varieties.
15 September to 3 October
www.gardensbythebay.com.sg/midautumn
Based on the theme of "Blessings" (祈福), this year's Mid-Autumn Festival hopes to bring tidings of good health and better days ahead through beautiful lantern displays. Check out the "Sky Lanterns" set with sky lanterns "floating" up a Supertree against a scenic mountainous backdrop with animals and plants – painting a picture of longevity and prosperity. Also look out for the "Rabbits Forest" set which features adorable rabbit lanterns spreading festive cheer in the Flower Dome.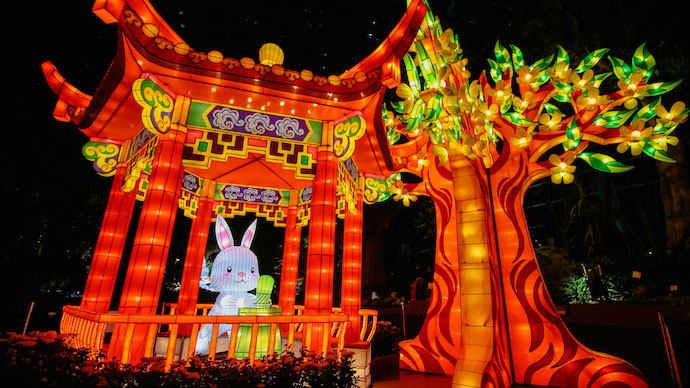 Get up close to two community lantern displays – "Colonnade of Lights" and "Origami Crane Trees". The displays are the handiwork of 33 community groups who hand-painted 1,000 round paper lanterns and folded 2,000 origami cranes penned with words of blessings. There will also be cultural performances on-site on weekends which will be live-streamed on Gardens by the Bay's Facebook.
Till 12 January 2022
Monday, Tuesday, Friday & Sunday: 10am – 9pm
Wednesday & Thursday: 10am – 7pm
Saturday: 10am – 10pm
West Lawn (next to Bayfront Plaza)
www.orientexpressexhibition.com
Don't miss the chance to see the interiors of the legendary Orient Express and learn more about its history at this pop-up exhibition. Step into two original 1930 train carriages (classified as National Treasures of France) and a 158-year-old locomotive, check out some 300 artefacts, documents and interactive displays including uniforms, shields, a pullman car, posters, porcelain and even Louis Vuitton original luggage.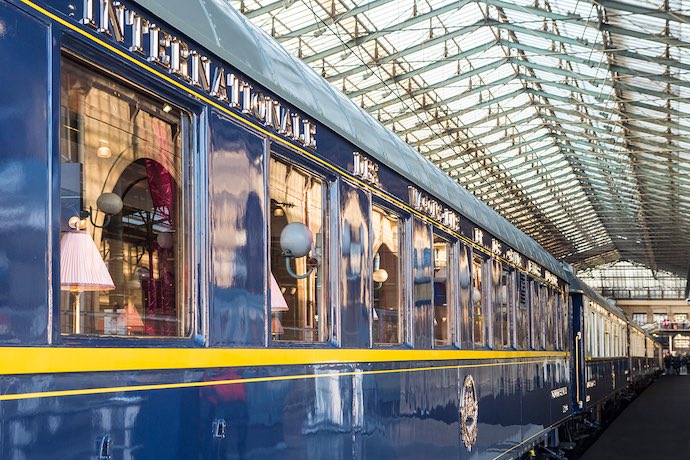 You can also enjoy a cup of joe, breakfast, lunch or dinner in the replica restaurant car, and take part in an escape room experience onboard where you get to step into the shoes of detective Hercule Poirot and solve a case!
Till 3 January
Wednesday to Monday: 10am – 9pm
Cannonball Room (beside Supertree Food Hall at Supertree Grove)
www.otahandfriends.com

Gather your family members or BFFs and take part in a game that follows the adventures of Otah the otter and his friends at Singapore's first otter-themed escapade.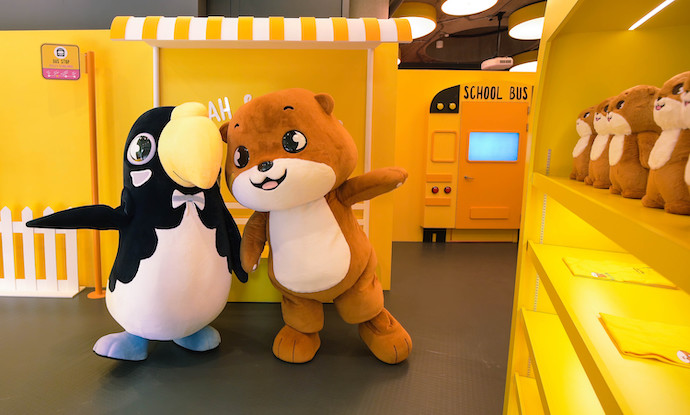 It's build-a-rocket day at Mala's Schoolhouse. Help Otah and Billy the hornbill find and assemble a life-size rocket. Find seven rocket parts and fit them into a tech-enabled rocket model. Hit the bright red button inside the launch control centre to activate your rocket launch. You'll also get to explore eight unique spaces within the school compound including a school bus and a hidden basketball court, as well as chill out and play hopscotch in the parade square.