There's no better time than now to buy local, not just to support the domestic economy in these uncertain times, but also to champion local creativity and further develop a spirit of entrepreneurship in Singapore.
When it comes to skincare brands, it may come as a surprise to many that Singapore actually boasts an incredible list of successful local labels who have made waves here and globally. These skincare brands offer unique solutions for our skin and best of all, their products are specially formulated to work effectively in our hot and humid weather.
So the next time you run out of skincare essentials, #supportlocal and restock from these five Singapore brands who have mindfully formulated products that are safe and effective for all skin types.
If you're struggling with acne just like founder Su-Mae Chia did during her teenage years, BSKIN's Anti Acne 3C Spot Treatment may be just what you need. Developed by top Korean skincare scientists, the three-prong acne treatment incorporates BSKIN's 6CORE Anti-Oxidant System – a powerful blend of potent acids and vitamins – as well as blemish-bursting actives to clear blemishes, calm inflamed skin and prevent scarring. The acne treatment is also enriched with B-Complex water (B2O), BSKIN's cutting-edge, proprietary ingredient formulated with honey, royal jelly, propolis and pollen extracts combined with pure Jeju spring water for an antimicrobial and anti-inflammatory effect.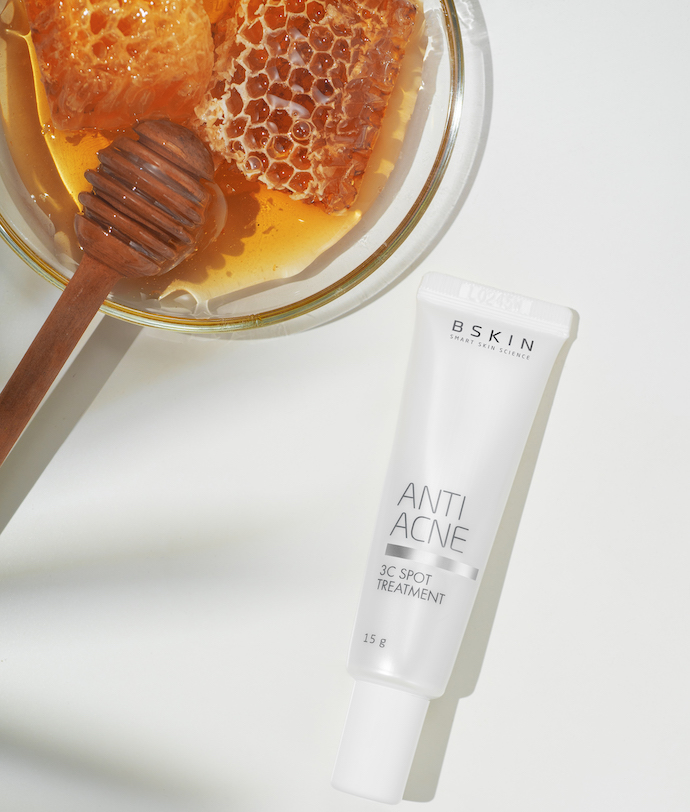 Its anti-ageing Vita Advanced Intense PAF Concentrate serum is power packed with vitamin C and is the ultimate boost for dull, sagging skin. Meanwhile, its Eye Care Multi-Tasking Power Serum, which contains clinically proven active ingredients such as Adenosine, four different peptides, Niacinamide and Sea Daffodil, as well as BSKIN's potent B2O complex, does the job of stimulating the production of collagen and elastin, inhibiting excess melanin production to prevent dark circles and pigmentation, and reducing puffiness in the eye contour area.
BSKIN's products are free from common irritants and harmful chemicals such as sulphates, mineral oil, phenoxyethanol, parabens, petrolatum and artificial fragrances.
When Charlene Sim's mum was undergoing chemotherapy for breast cancer, she took a deep dive into non-toxic skincare ingredients to determine which ones would be safe and gentle, yet efficacious for her mum. In 2018, Sim decided to launch clean beauty label Glowfully to offer innovative solutions for the skin that resonated with her belief that skincare can be simple and effective.
To ensure that her skincare essentials are safe for every family member, she created products made with proven skin-beneficial ingredients that are derived from nature such as aloe vera, tomato extract and red algae. The products also boast quick-absorbing actions, unique lightweight, jelly-like textures, skin-cooling properties and essential oil-infused scents.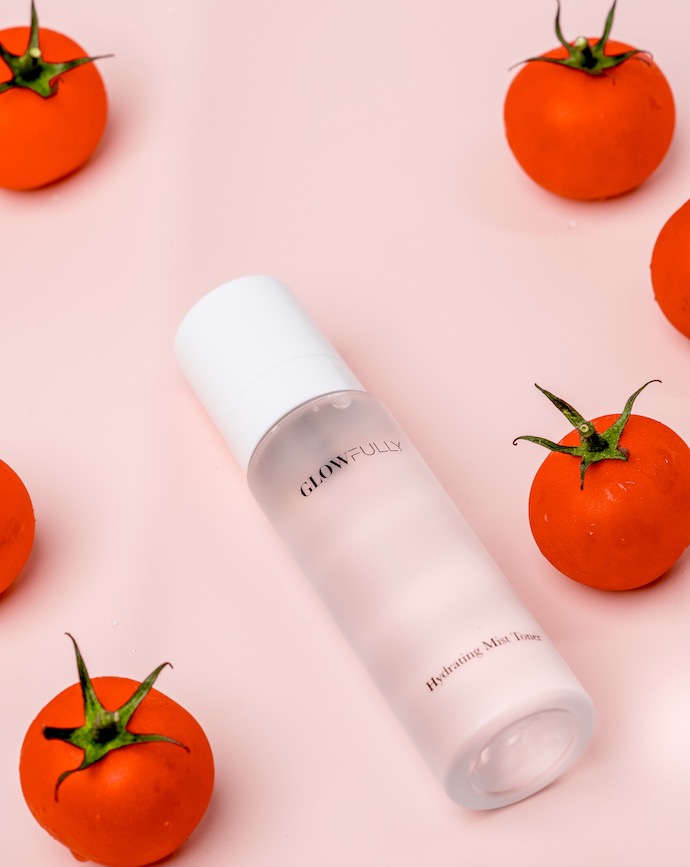 The ultimate deep hydration bomb, the Deep Sea Glow Serum is infused with a cocktail of potent active ocean minerals and seaweed extracts to lock in long-lasting hydration for a radiant and glowier complexion. Antarcticine, derived from the glaciers in Antarctica, smoothens fine lines and wrinkles, while the vitamin A-rich Velvet Horn, a species of green seaweed, contains polysaccharide and organic acids for to plump and hydrate the skin.
Specially formulated for sensitive skin, the Healing Elixir is packed with nutrients like aloe vera, chamomile extract and amino acids to refresh and soothe the skin. Another solution for those with sensitised skin is the Hydrating Mist Toner, loaded with hydrating and skin-calming ingredients such as hyaluronic acid, tomato extract and bioflavonoids to protect and soothe irritated and inflamed skin, as well as rejuvenate and revive dull skin.
Not all sheet masks are created equal and Grail's Do-It-All face mask incorporates the world's only regenerated cupro filament non-woven sheet. Manufactured in Japan, the patented Bemliese 384 fabric is made of 100 percent biodegradable cupro filaments and is extremely light and thin with an astounding absorbency rate.
Grail founder, actor Lawrence Wong of Story of Yangxi Palace fame, created a multi-tasking mask that was suitable for allergy-prone and sensitive skin like his, using organic and eco-certified botanical ingredients such as African aloe vera, Icelandic mayweed and sea grape. Besides giving the skin a deep hydrating and rejuvenating boost, the mask also stimulates the production of hyaluronic acid, collagen and elastin fibres in the dermal layers to keep the skin firm and supple.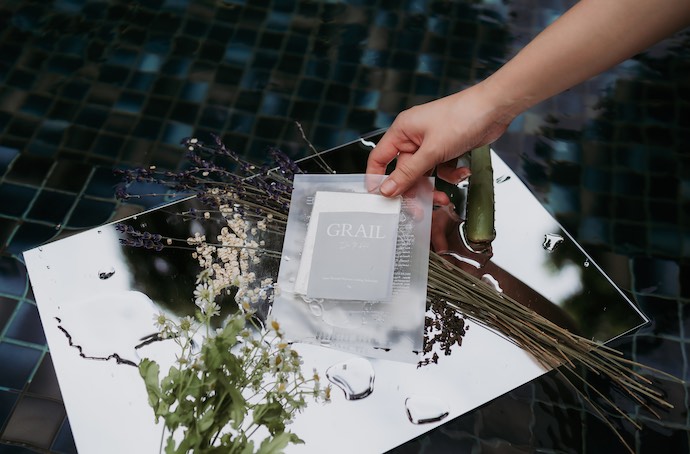 Its recently launched Got It Covered SPF 50 sunscreen, born after many clinical trials, is a mattifying 100 percent mineral formulation that features Nano Titanium Dioxide and the patented Arabian cotton plant stem cells. Intricately developed in Phyture Biotech's Plant Cell Biofactories, the stem cells boast the synergistic effect of photo-protection and photo-repairing that enhances the capacity of the skin cells' own defence mechanisms to overcome photoageing caused by solar radiation.
If you believe that less is more when it comes to skincare, Sigi Skin founder Xenia Wong shares your sentiment. Her vegan skincare line features six skin essentials that are developed with the most advanced Korean technology, powerful antioxidants and a complex blend of vitamins, minerals and bio-available emollients.
Its bestselling Morning Glow Sunscreen has a soft, light-whipped texture that blends easily into the skin without leaving a white cast – perfect for Singapore's humid weather. Made with avocado and acai extracts, and Niacinamide, the sunscreen also doubles up effectively as a lightweight moisturiser and a makeup base.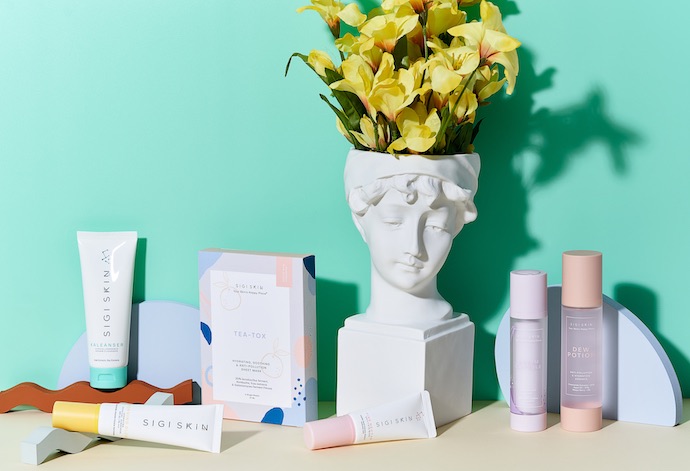 Those who are experiencing sensitised skin due to maskne can seek relief from its Tea-Tox probiotics sheet mask which is formulated to restore the skin's microbiome and luminosity, especially against pollution and environmental stressors. The ultra-nourishing mask also helps to brighten, soothe and heal the skin.
A daytime moisturiser with a difference is Idyllic Fields. The waterless moisturiser has a baby-yellow, soft souffle crème texture which sinks into the skin effortlessly, providing instant hydration and relief from irritation.
Mother-daughter duo Jo and Ashely Yong started vegan skincare label Two Halves with a commitment to help even the most sensitive and sensitised skin achieve its healthiest, most balanced and naturally beautiful state. Its skincare products are formulated in Japan-based laboratories with only the highest quality of proven, plant-based skincare actives, leaving out animal-derived ingredients, sulphates, parabens, PEGs (polyethylene glycol), mineral oil and fragrances.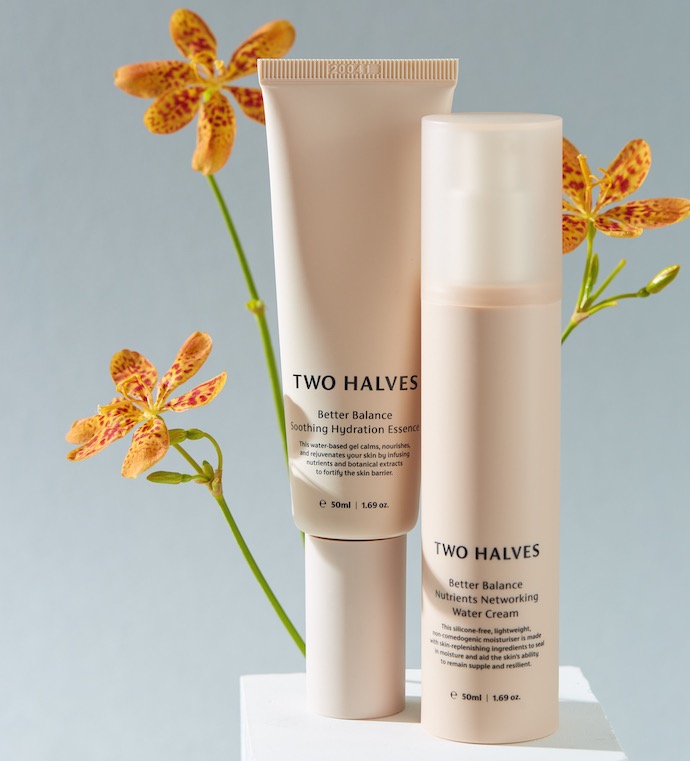 Its Better Balance Soothing Hydration Essence is a lightweight, watery gel that calms and nourishes frazzled and stressed-out skin with a potent blend of botanical extracts packed with anti-inflammatory, anti-photoageing and antioxidant properties. Derived from licorice root, the Dipotassium Glycyrrhizate extract in the essence has potent skin-soothing properties to tackle redness associated with acne, psoriasis and rosacea, and also acts as a skin-conditioning agent to smooth out the skin's texture and restore its suppleness. The essence also contains Resveratrol, a well-known antioxidant that helps to renew skin cells by encouraging the growth of epidermal cells to thicken the epidermis.
The silicone-free Better Balance Nutrients Networking Water Cream is made with skin-replenishing ingredients like Hydrogenated Farnesene, a plant-derived form of hemi-squalane, ceramides and vitamin E to seal in moisture and help the skin's ability to remain supple and resilient.