Get set to imagine, play and explore in a fascinating world of art, science, magic and metaphor at Future World: Where Art Meets Science, Singapore's largest permanent digital art gallery, at ArtScience Museum.
Created by award-winning Japanese art collective teamLab, Future World features 19 cutting-edge digital art installations that combine art, technology and science showcased through four key zones – City in A Garden, Sanctuary, Park and Space.
Since the permanent exhibition's launch in 2016, it has been explored by over two million people. The exhibition consists of a series of ever-changing, evolving environments, with new works added over the years.
teamLab recently added five new artworks – four in City in A Garden zone and one in the Sanctuary zone.
City in A Garden Zone
• Proliferating Immense Life – A Whole Year per Year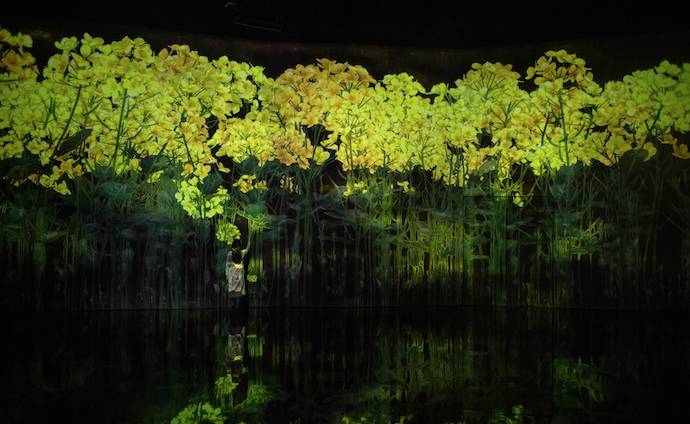 This installation depicts a wall of flowers that gently bloom and die in tune with the four seasons of the year, in real time. Created live by a computer programme, the flowers can respond to your presence, and subtly change, based on what you do. When you touch the flowers, their petals scatter and disappear. But if you stand still, the flowers will grow and bloom more abundantly.
• 100 Years Sea [running time: 100 years]

This video work with a running time of 100 years is based on scientific data derived from the World Wide Fund for Nature (WWF) which predicts the rising of the world's sea levels over the next century. Combining the elegance and beauty of traditional Japanese art with contemporary scientific data, it painstakingly illustrates rising sea levels in real time.
• Impermanent Life, at the Confluence of Spacetime New Space and Time is Born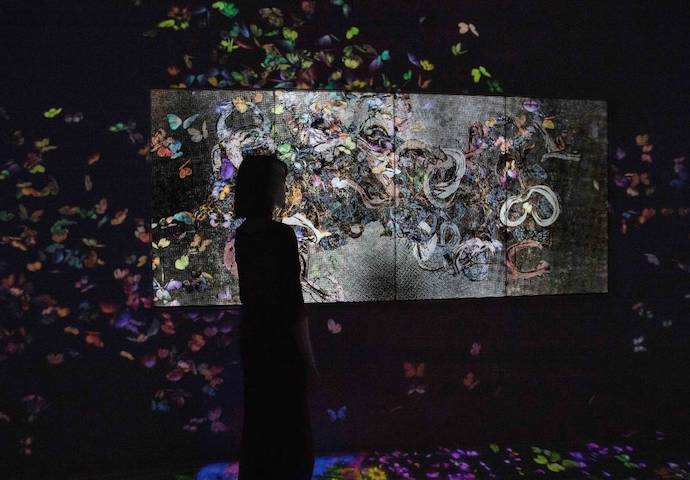 Depicting the cycle of life and death in perpetuity, the four-channel monitor installation portrays cherry blossoms which bloom and scatter. In the background, a circle is born that grows and spreads out radially, transforming the light and darkness of the world in which it exists. The artwork encourages a meditation of the impermanence of life.
• Enso – Cold Light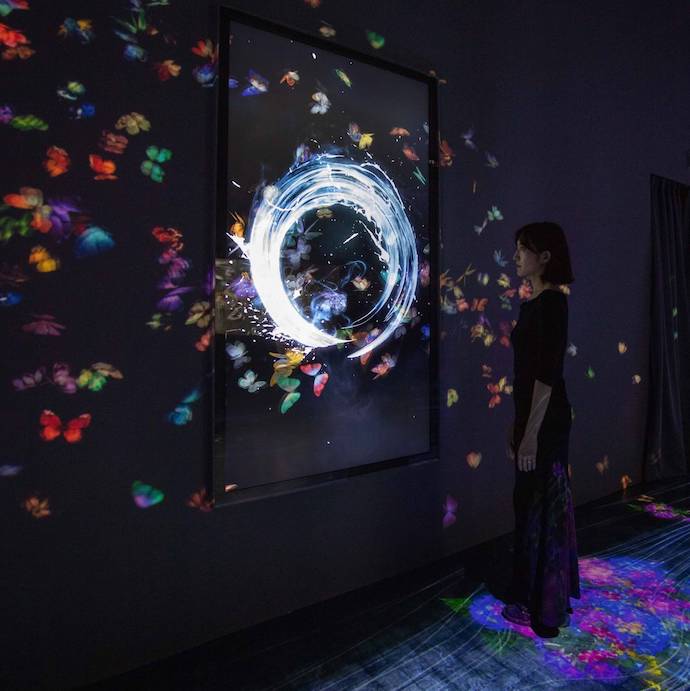 A symbol of enlightenment, the universe and equality, an ensō is created through the Zen practice of drawing a circle in a single brushstroke. The ensō has been brought into the 21st century with a digital version that glides into existence before slowly dissolving into nothingness. The circle reflects the hearts and minds of those who view it, with its interpretation left entirely to the viewer.
Sanctuary Zone
• The Way of the Birds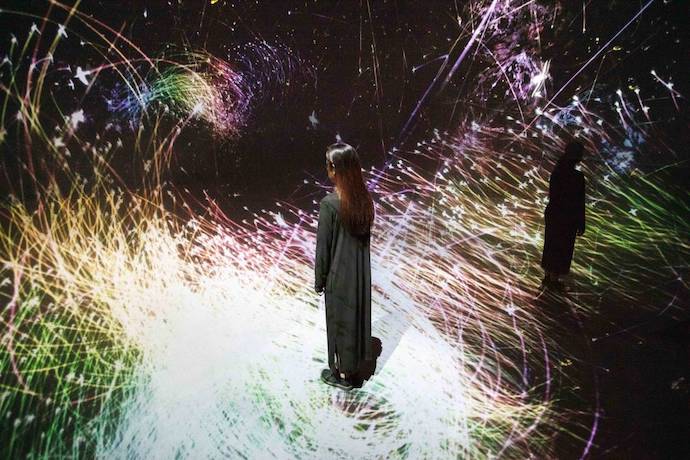 This interactive installation shows the movement of a flock of birds that respond to your presence as they fly. The birds leave behind a trail of light as they fly through the space. Rendered in real time by a computer programme, the birds are in a constant state of change.
Photos courtesy of teamLab