Whether it's steamed fish, chilli crab, prawn paste chicken, roast duck, sweet and sour pork, beef horfun, mapo tofu or double-boiled chicken soup, there is something comforting, wholesome and familiar about Chinese food that keeps us coming back for more.
To satisfy our cravings for Chinese fare, we head to these all-time favourite spots (listed in alphabetical order) which hit the mark for us every time.
Pan Pacific Singapore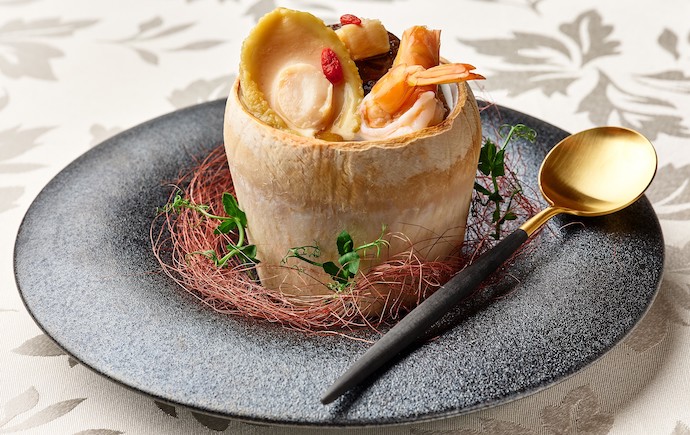 This award-winning restaurant has been serving authentic Cantonese dishes since it opened in 1987. It is known for elevating classic Cantonese flavours by injecting them with modern touches.
Signature dishes include Double-Boiled Chicken Soup with Abalone, Dried Scallops, Fresh Prawn and Chinese Mushrooms served in Young Coconut, Stir-Fried Scallops with Pumpkin and Black Bean Sauce, Baked Pork Spare Ribs with Fragrant Minced Garlic, Wok-fried Diced Beef Tenderloin with Mushrooms in Black Pepper Sauce and Braised Homemade Beancurd with Minced Pork and Pine Mushrooms in Signature Homemade XO Chilli Sauce.
Dempsey Hill, East Coast Seafood Centre, ION Orchard, Jewel Changi Airport, Riverside Point, The Riverwalk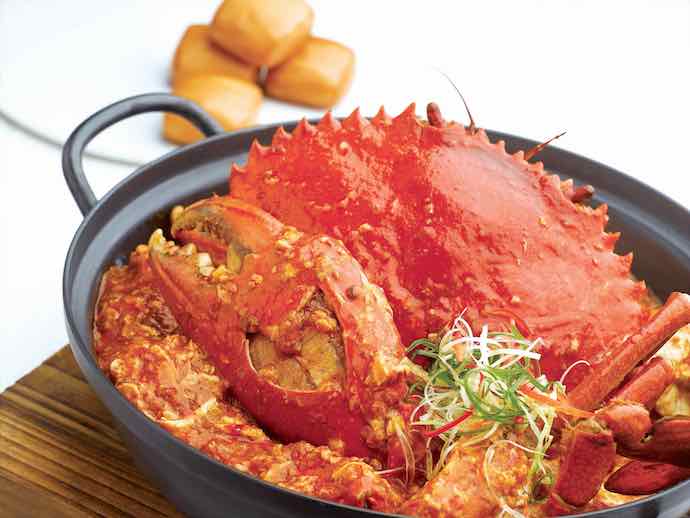 This 33-year-old restaurant is the go-to place for local-style live seafood, notably its Award-Winning Chilli Crab, cooked with over 10 Southeast Asian spices including chilli, turmeric, lemongrass, candlenut and tau cheo (fermented soy bean paste), which has been consistently voted as one of the best in town.
Other notable dishes include the Live Red Tilapia Deep Fried with Nonya Sauce, Seafood Bacon Roll Tossed with Salad Cream, Cod Fish Wok-Fried with Chef's Special Sauce, Sweet and Sour Chicken, Mocha Pork Ribs, X.O. Fried Rice with Seafood X.O. and Chilled Durian Pudding.
Chijmes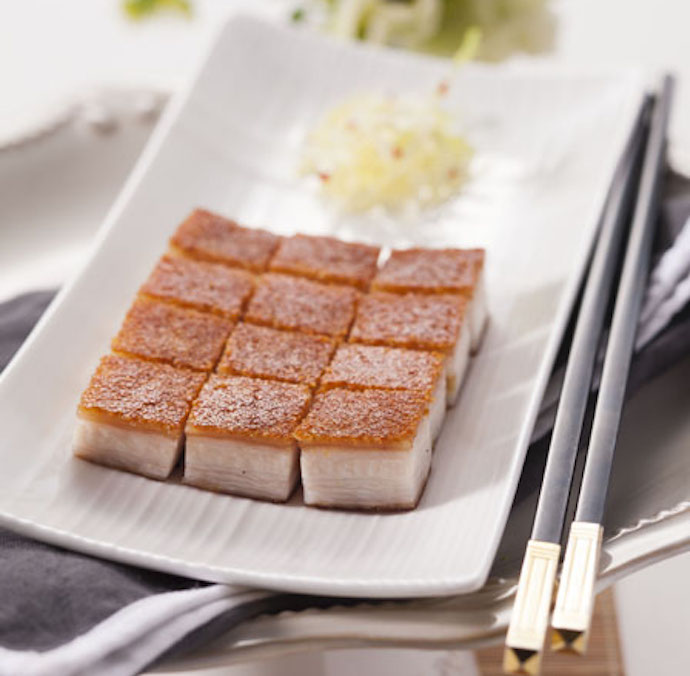 This one-Michelin-star restaurant is renowned for its double-boiled tonic soups such as Double Boiled American Sea Whelk Soup with Common Yam Rhizome and Wolfberries Soup, and barbecued meats like Crispy Roasted Pork, Barbecued Honey Pork and Barbecued Peking Duck.
Chicken fans cannot miss its Baked Chicken with Sea Salt in Casserole which has to be ordered in advance. Other house specialities include Preserved Meat Rice cooked in Clay Pot, Rice with Deep Fried Rice in Seafood Soup, Steamed Various Mushrooms Stuffed Tomato, Sweet Dumpling with Sesame Filling.
Changi Airport Terminal 3, Funan, Paya Lebar Quarter Mall, Suntec City, Westgate, Wisma Atria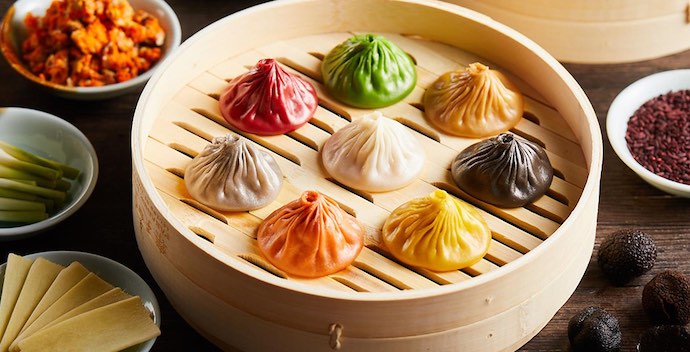 Xiao long bao fans swoon over its eight-colour Specialty Xiao Long Bao, touted as the world's first, which feature flavours such as luffa gourd, foie gras, black truffle, crab roe, cheese, garlic and Szechuan. Each bite-sized morsel is meticulously made, pleated with 18 precise folds and weighing exactly 25 grams.
Other must-orders include Spicy Szechuan Crispy Chicken, Poached Sliced Fish in Szechuan Chilli Oil, Silky La Mian, and recently introduced seasonal mainstays such as Pork Ribs in Sweet Plum Sauce, Sweet and Sour Crispy Fish and Crispy Original Xiao Long Bao, a modern take on the classic version.
Chinatown Point, Hotel Miramar, OCBC Centre, The Metropolis, Thomson Plaza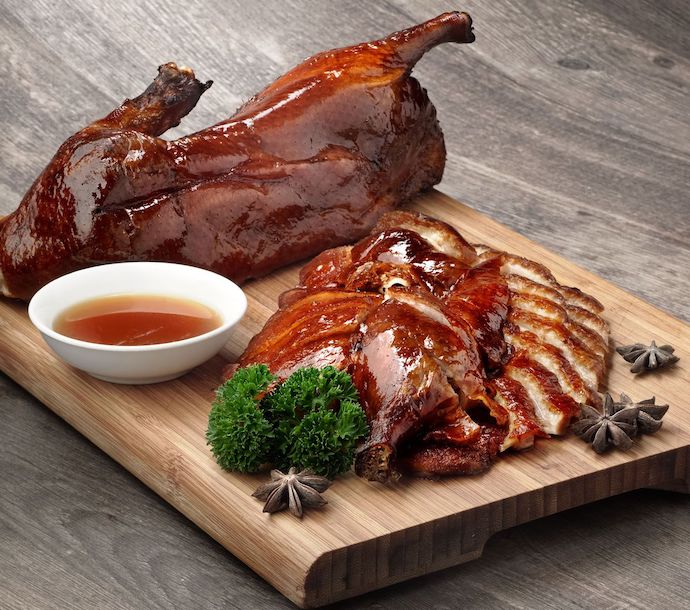 Opened by restaurant veterans Veronica Tan and Angela Ho in 2002 and now owned by the Select Group, the restaurant chain is known for its well-executed Cantonese dishes skilfully prepared by a team of chefs from Hong Kong.
Star dishes include Double-boiled Shark's Bone Cartilage Soup with Fish Maw, Steamed Lobster with Chinese Wine and Wheat Vermicelli, Braised Chinese Cabbage with Ham in Casserole, Roasted Spare Ribs with Honey, Roasted Crispy Peking Duck, Wok-fried Berkshire Pork with Scallion and Black Pepper Sauce, and Chilled Black Glutinous Rice with Ice cream in Coconut.
ION Orchard, Jewel Changi Airport, Jurong Point, Kitchener Road, Marina Square, nex, Northpoint, Parkway Parade, Raffles City Shopping Centre, Resorts World Sentosa, SingPost Centre, Tampines Mall, VivoCity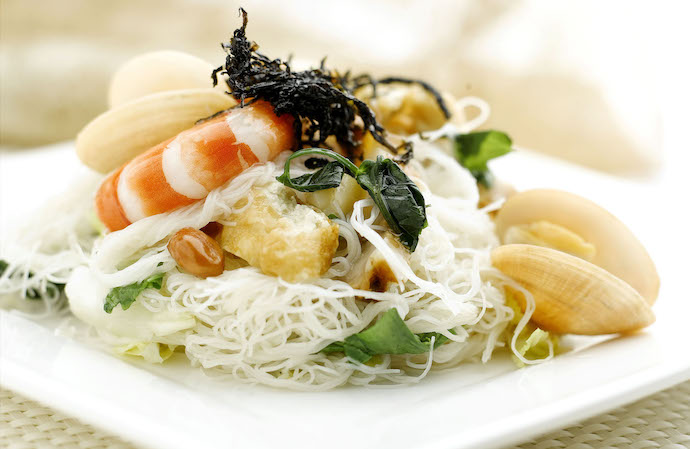 Named after the city of Putian, a coastal suburb in Fujian, the restaurant specialises in Heng Hwa dishes which are rich in seafood and are characterised by clean and comforting flavours. Its Kitchener Road branch was awarded a Michelin star in 2019.
Its signature Fried Heng Hwa Bee Hoon is made with non-glutinuos rice flour that is dried under the sun to ensure that the bee hoon is translucent, silky, fine and chewy. The bee hoon is cooked in a rich, milky stock, together with seafood, vegetables, tofu puffs and mushrooms, and topped with fried peanuts and seaweed. Other popular dishes include Putien Lor Mee, Stir-Fried Yam, Seaweed with Mini Shrimps and Bamboo Herbal Prawn.
The Ritz-Carlton, Millenia Singapore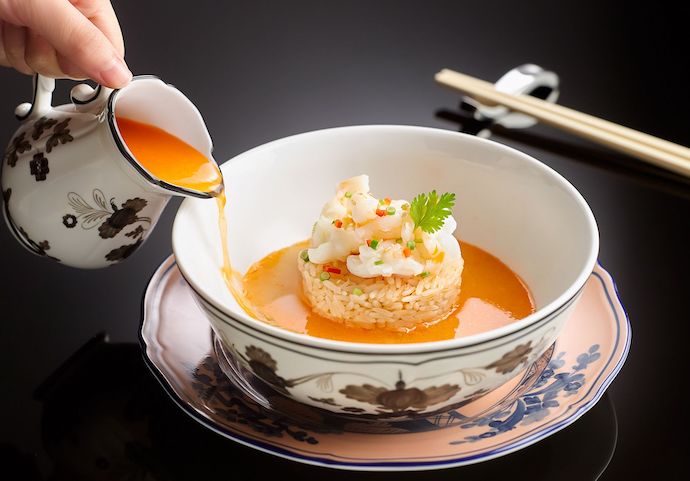 Awarded a Michelin star four years in a row, it comes as no surprise that this restaurant serves masterly executed Cantonese dishes that not only tantalise the palate but are also artfully plated on hand-painted tableware for visual impact.
Chef recommendations include Double-boiled Sea Whelk Soup with Fish Maw and Chicken served in a whole coconut, Poached Rice with Canadian Lobster Meat, Pan-fried South African Abalone with Homemade Sauce and Assorted Mushroom, Braised King Scallop with Stuffed Eggplant, Prawn Paste and Spicy Sauce and Pan-fried Japanese Wagyu Beef with Wild Mushroom.

Blk 181 Lorong 4 Toa Payoh, Serangoon Gardens Country Club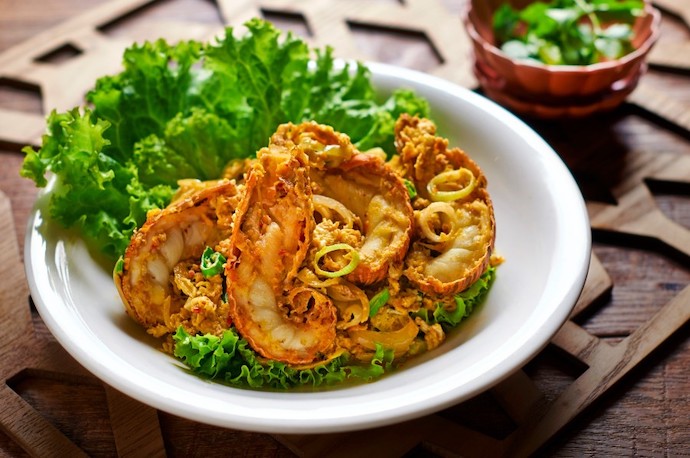 Come here for well-crafted, traditional Teochew-style seafood and meat dishes as well as Hong Kong-style handmade dim sum.
Take your pick of chef specialities such as Swatow Signature Crayfish, Steamed Pomfret in Teochew Style, Stir-Fried Yellow Chives with Prawns, Teochew Braised Sliced Duck, Swatow Signature Chicken and Sweet Yam Paste with Gingko Nuts. Hot picks from its dim sum menu include Teochew Five Treasures Crystal Dumpling, Gold Fish Dumpling, Mini Pork Bun with Crabmeat, Pork Ribs with Black Bean Sauce and Paper Wrapped Chicken. 
Carlton Hotel Singapore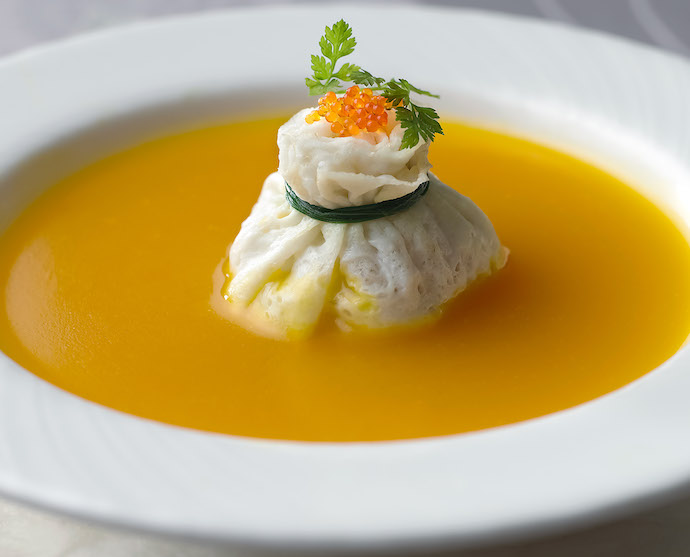 One of the pioneers of authentic Hong Kong cuisine in Singapore, this restaurant, which opened in 1988, has been consistently serving fine Cantonese flavours that have garnered many loyal fans over the years.
Served only during lunch, its dim sum is a crowd favourite, with must-tries such as Baked Barbecued Pork Buns, Baked Custard Bun, Steamed Glutinous Rice wrapped with Lotus Leaf and Steamed Carrot Cake. Chef specialities from its a la carte menu include Braised Bird's Nest wrapped with Egg White in Red Carrot Soup, Vermicelli Soup with Lobster in Chinese Wine, Deep-fried Century Egg wrapped with Minced Shrimps, Chilled Foie Gras and Whole Abalone, and Pan-fried Hokkaido Scallops with Golden Sauce.
Jewel Changi Airport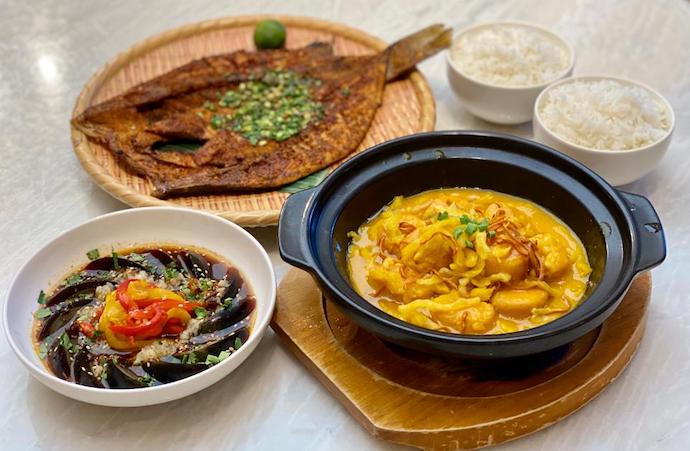 The first overseas outpost of Yun Hai Yao, the largest casual Yunnan restaurant chain in China, the restaurant serves dishes that are cooked with fresh ingredients from the highlands of Yunnan province.
House specialities include Steamed Pot Chicken Soup, Braised Wild Porcini Mushrooms, Yunnans Cross-bridge Noodles, Rice Noodles with Pork Chop, Stir-Fried Minced Pork with Yunnan Preserved Vegetables, Century Egg with Grilled Capsicum and Grilled Seabass with Lemongrass.