A must-visit for art lovers, the National Gallery Singapore oversees the world's largest public collection of modern art in Singapore and Southeast Asia. Opened in November 2015, the visual arts institution is housed in the former City Hall and Supreme Court buildings, two heritage buildings that have played a monumental role in Singapore's history.
The Gallery is home to over 9,000 artworks from across Southeast Asia spanning the 19th century to the present.
From now till 31 July 2020, the Gallery is offering FREE ADMISSION to its long-term galleries and ongoing exhibitions. Collect your Gallery Pass at the Ticketing or Information Counters.
Don't leave the Gallery without getting a close-up view of these five art pieces:
浮槎 Fú Chá, Cao Fei

City Hall Wing, Level 5, Ng Teng Fong Roof Garden Gallery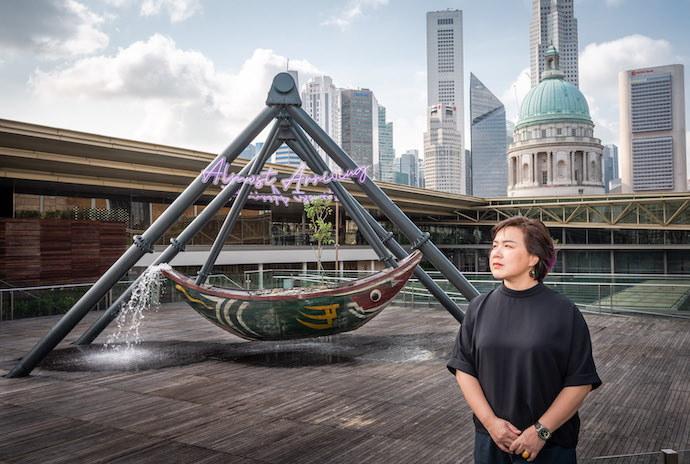 The first kinetic sculpture to be installed at the Roof Garden, this spectacular 5m-tall structure of a swinging wooden ship is accompanied by four different soundscapes. Created by Cao Fei, one of China's foremost contemporary artists, the installation's title refers to a Chinese fable about a raft that traverses both the Milky Way and the sea, suggesting faraway journeys in unexplored waters.
Pagoda II, Latiff Mohidin, 1964
City Hall Wing, Level 4, Level 4 Gallery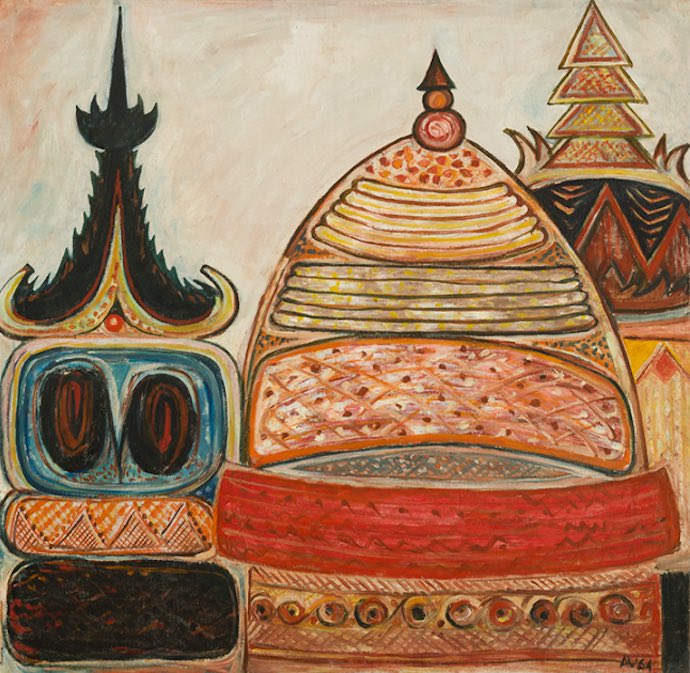 This painting by Malaysia's leading modernist painter and poet Latiff Mohidin is one of his earliest Pago Pago paintings and was made when he was travelling across Southeast Asia in the 1960s. Mohidin coined the phrase "Pago Pago" to evoke the consciousness that emerged through his travels. It was a way of thinking and working that sought to challenge the dominance of Western modernism at the time, and led him to explore a unique approach to form in his painting and poetry.
Artist and Model, 1954, Liu Kang
City Hall Wing, Level 2, DBS Singapore Gallery 1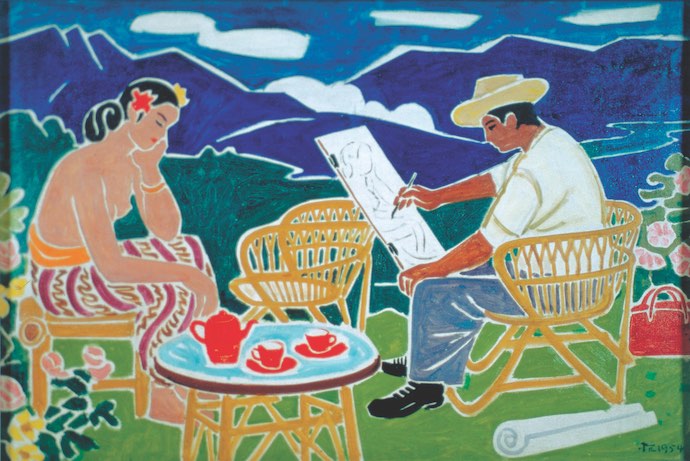 This painting by Singapore artist Liu Kang depicts fellow artist Chen Wen Hsi sketching a model. Based on a sketch done in Indonesia, this is one of the earliest paintings which highlights the role of local artists in imagining, reconstructing and projecting the region.
Drying Salted Fish, 1978, Cheong Soo Pieng
City Hall Wing, Level 2, DBS Singapore Gallery 1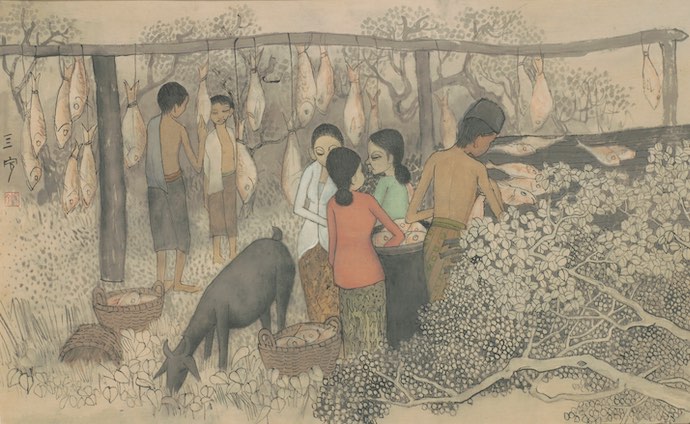 Scenes of salted fish drying in the sun were a common sight from the 1940s to 1960s, especially along the coast of Singapore and Malaya. This iconic painting by Singapore artist Cheong Soo Pieng is featured on the back of Singapore's $50 banknote. Cheong uses Chinese ink painting techniques and Western fixed-point perspective to depict a local scene.
The Orchardman's Smile, 1976, Pratuang Emjaroen
City Hall Wing, Level B1, The Ngee Ann Kongsi Concourse Gallery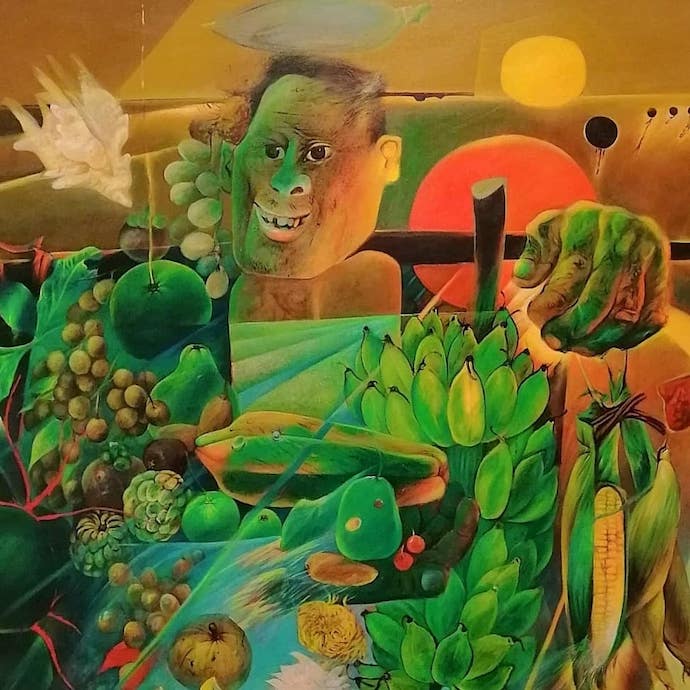 Self-taught Thai artist Pratuang Emjaroen's works are driven by his concerns about the vicissitudes of life, social problems, nature and Buddhism. In this painting, the beaming man with a bountiful harvest belies a more sinister reality, suggested by the four black dots in the upper right corner of the painting that symbolise bullet holes.

Photos courtesy of National Gallery Singapore and Charles Loh