Say "Sentosa" and many people will inevitably think of beaches, beach bars, resorts, attractions and theme parks. But the island itself has a layered and fascinating history.
Early records show that Sentosa, historically known as Pulau Blakang Mati (Malay for "Island of Death Behind"), was a secret pirate hideout, then a tranquil fishing village, before being used as a military base by the British to build forts and coastal defence systems.
To discover more of Sentosa's intriguing past while living it up in a luxe heritage boutique hotel, housed in a conserved colonial building dating back to 1904, book a staycation at The Barracks Hotel Sentosa.
Housed in two meticulously restored barracks that were once the sleeping quarters of British soldiers from the Blakang Mati Artillery Barracks, the 40-room boutique hotel offers a glimpse into the Sentosa's storied past.
The hotel offers an SRV-eligible staycation package which includes a one-night stay in a Premier room, breakfast and lounge access for two persons, and $50 dining credit.
Here's what you can look forward to during your staycation at the hotel.
Luxuriate in stylish rooms that celebrate the past and present
Spread across two conserved heritage two-storey blocks are six suites and 34 Premier rooms that bear the creative fingerprints of interior designer Kunio Iwata of KKS International.
Boasting an old-world charm with a modern touch, rooms and suites are decked out in military-inspired vintage leather and dark wood furnishings, lamps with a patinated metal finish, and retrospective framed photos of army life in the 1900s.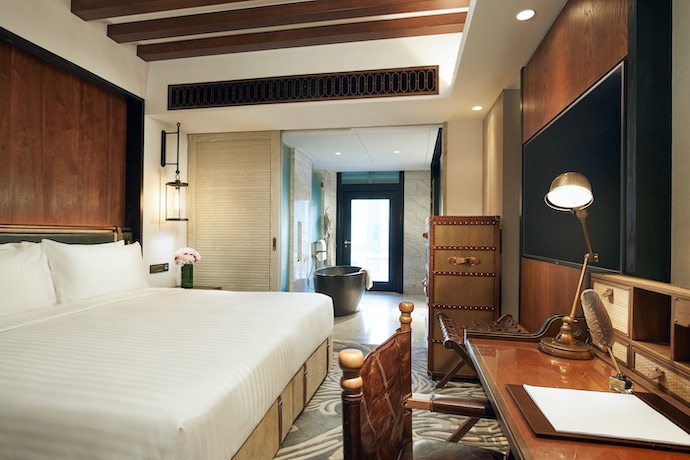 The chic bathroom sports marble-clad walls and floors, a sleek Apaiser marble stone freestanding bathtub, shell-shaped Eclipse white basins, Axor by Hansgrohe taps, Toto Neorest Washlet with automated functions and bath products by British fragrance brand Atkinsons.
All suites (named after different British generals) and rooms on the ground level have a patio and direct access to one of the two lap pools as well as a semi-private jacuzzi, while rooms on the second floor have balconies and high beamed ceilings.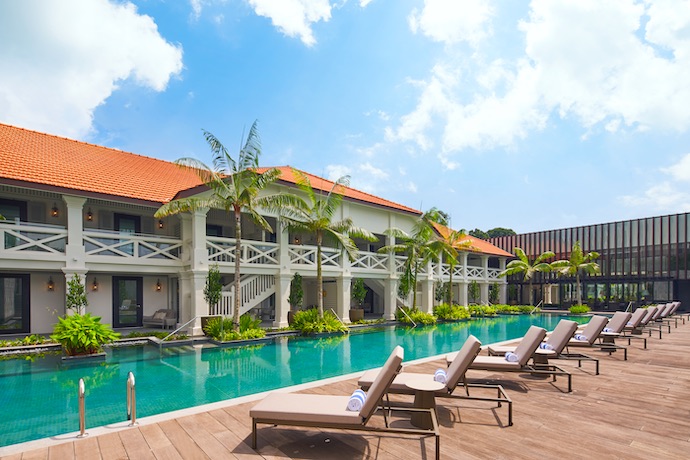 The minibar, Nespresso machine, Pryce Tea teabags (including the 1904 tea specially curated by Pryce Tea for the hotel), Acqua di Toscana San Felice still and sparkling water from Italy are housed in a vintage leather-clad cabinet.
For in-room entertainment and enjoyment, there's a 55-inch smart TV with 21 channels and a Marshall bluetooth speaker.
Chill-out in The Living Room
Separating the two lap pools is the bright and breezy Living Room, where breakfast, all-day refreshments, as well as evening cocktails and canapés are served. (Note: The Living Room is closed until the current Phase 2 [Heightened Alert] restrictions are lifted)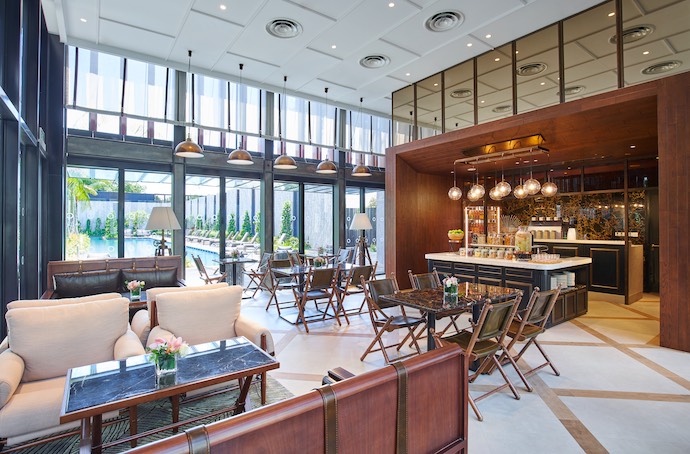 Breakfast is served from 8am to 11.30am and there's a choice of two set menus – Western or Local Delights. Western starter options include Barrack's Bakery Basket; Quinoa Superfood Salad; and Homemade Granola Berries with Natural Yogurt Bowl, while choices for mains include Brioche Toast with Omega-3 Eggs; Pancakes, Belgian Waffles or French Toast with Chicken Sausage, Streaky Smoked Bacon, Sauteed Mushrooms and Roasted Vine Tomatoes; and Spinach and Ricotta Quiche.
Those opting for the Local Delights menu can tuck into a Trio Dim Sum Collection for starters, and choose from mains such as Shredded Sakura Chicken and Dried Scallops Congee; Nasi Lemak; and Singapore Prawn Noodle in Pork Rib Broth.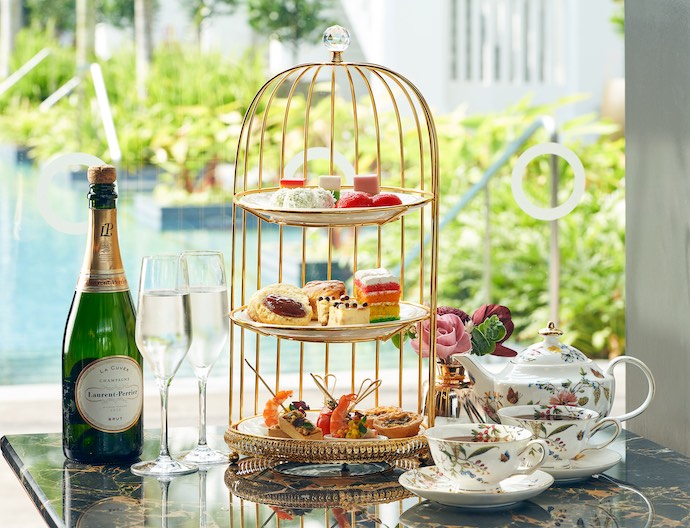 A selection of coffee and Pryce teas are served during afternoon tea, from 2pm to 4pm, along with cookies and nuts. If you prefer a more extensive selection, go for the Barracks Champagne Afternoon Tea ($128 for two persons) which includes a three-tier set of sweet and savoury treats, free-flow Champagne and a unique tea tailoring experience where you can create your own tea blend from a range of ingredients.
From 5pm to 8pm, enjoy a selection of light bites accompanied by your choice of sundowner.
Discover the history of the hotel and Sentosa on an exclusive heritage tour
Learn more about the hotel's heritage and Sentosa's past on the Barracks Heritage Tour, an hour-long walking tour led by two army veterans who used to serve and stay at the former British military barracks. Curated by heritage specialist Jerome Lim, the complimentary guided tour for hotel guests is held every Saturday at 2pm and 3.45pm. On other days, guests can request for the complimentary self-guided audio tour. (Note: The Barracks Heritage Tour will resume when the current Phase 2 [Heightened Alert] restrictions are lifted).
Heritage enthusiasts Khor Sing Hong and Winston Wong, who are in their 70s, will bring you on a walkabout around the hotel premises and other conserved heritage buildings in the vicinity to highlight the history of the barracks, how and why the buildings were constructed, and their uses pre- and post-war times.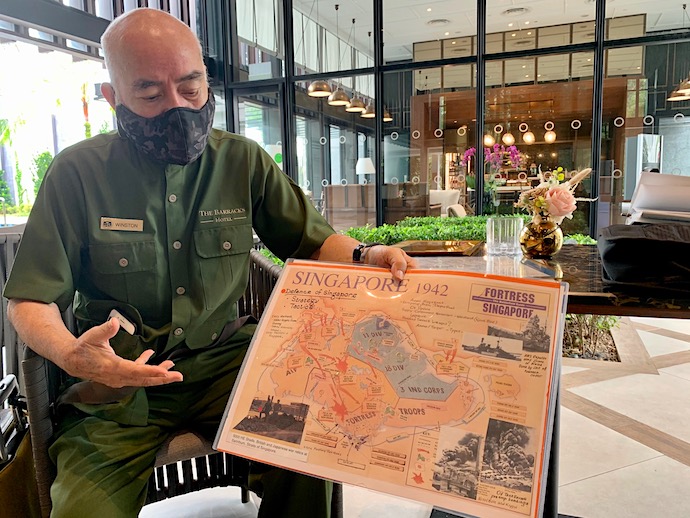 Both men served on Pulau Blakang Mati from 1968 till 1972 when the island was handed back to the Singapore government for recreational development and renamed "Sentosa". Khor served as a Combat Engineer Officer, while Wong served as Commander of the Singapore Armed Forces Bomb Disposal Unit on Fort Siloso.
Passionate storytellers, the duo will regale you with stories of their personal experiences on the island and how the island transformed from a military base surrounded by small villages into the famous resort destination it is today.
Discover the exact location of an old football field which was also used for field training as well as a helicopter landing pad; find out which original parts of the hotel were retained; and take a closer look at original artefacts such as vintage binoculars, keys and locks that have been framed and showcased along the corridors. See if you can spot the shoe sole cleaner used by the British army!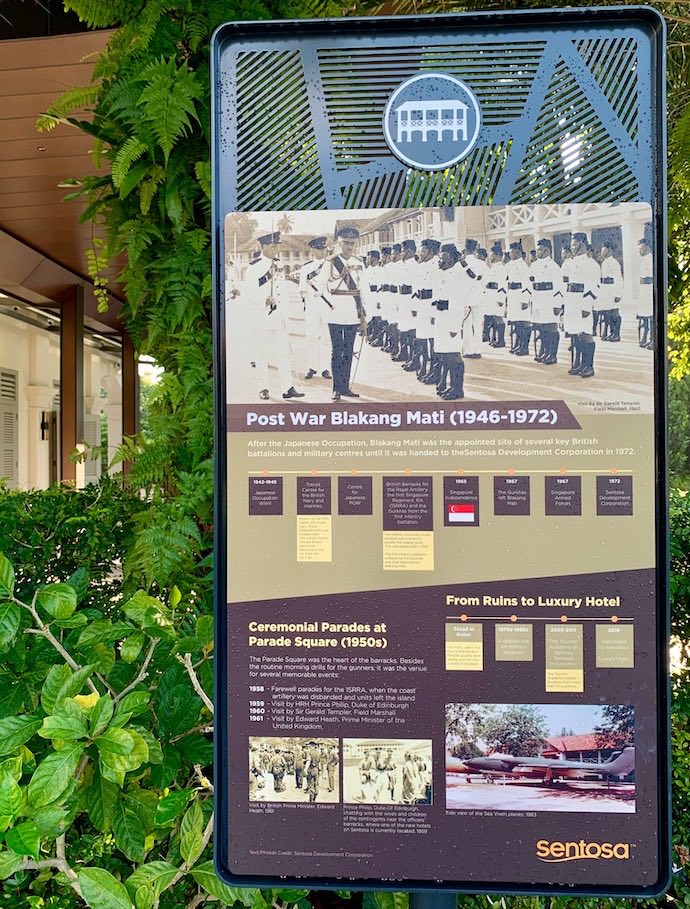 You'll also learn that the hotel's palm tree-lined lawn was formerly the parade square where drills and training took place, and also where ceremonial parades were held for the visits of British VIPs like HRH Prince Philip, Duke of Edinburgh, and former UK prime minister Edward Heath.
Soak up history of other heritage buildings around Singapore on the Colonial Charm Tour
If the Barracks Heritage Tour has spurred your interest in other heritage buildings on Sentosa and around Singapore, sign up for the Colonial Charm Tour, curated by the hotel exclusively for guests.
Led by a specialised guide, the half-day, mini bus tour will bring you to areas that were built and occupied by the British armed forces during the 1800s and 1900s, including Fort Siloso, Mount Imbiah, Dempsey, Gillman Barracks and Seletar Estate.
As the excursion involves quite a lot of walking at Fort Siloso and Mount Imbiah, be sure to wear comfortable walking shoes and lightweight clothing.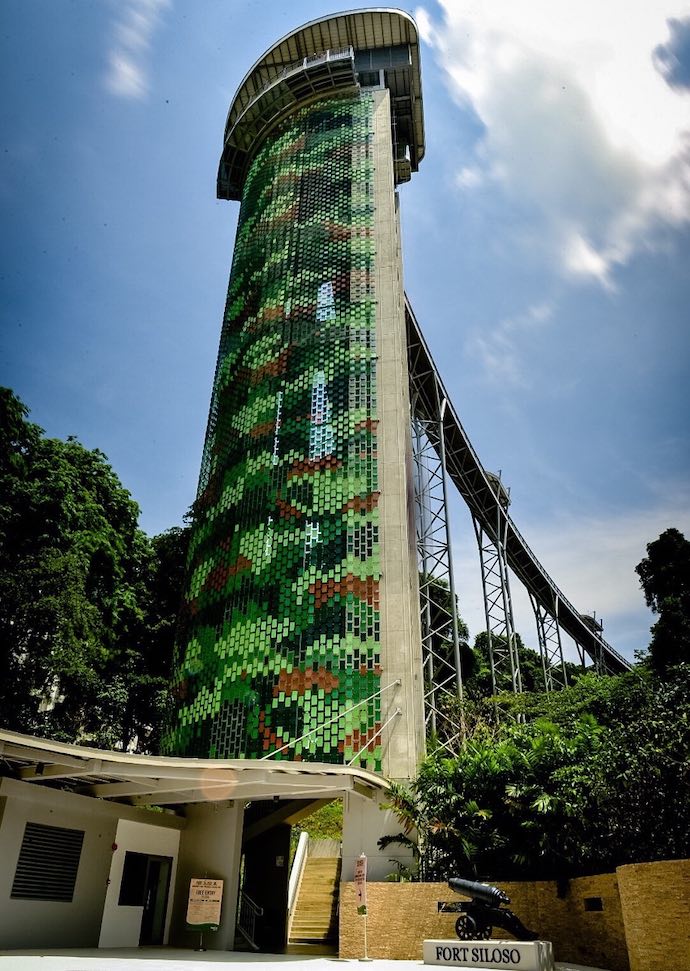 A treasure trove of information, tour guide Christopher Freeman made history come alive with entertaining stories and interesting nuggets of information. You'll learn that in a former life, the building occupied by Madame Tussauds Singapore was a hospital for British troops stationed on the island, and that Fort Siloso takes its name from the Malay word for "rock" but it is also a Filipino word which means "jealous person"!
You'll also get to check out St George's Church which is famous for its red-bricked, barn-like structure and stained glass windows, as well as one of the last (or possibly the last) remaining kampung-style canteens in Seletar where time seems to have stood still.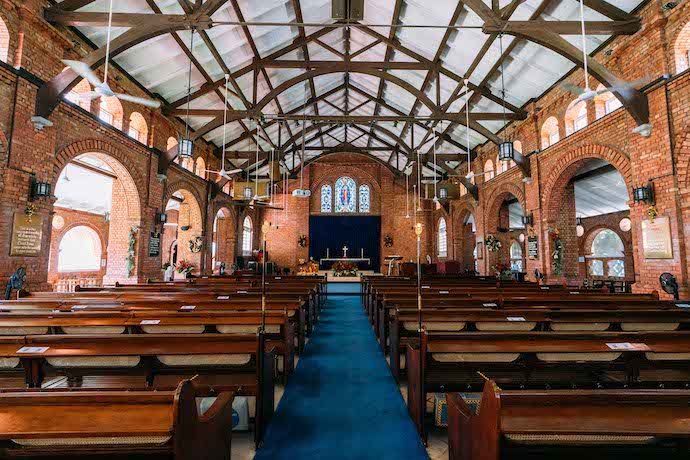 To end your tour experience on a belly-satisfying note and get a chance to experience yet another slice of colonial history, opt for an add-on four-course meal for two persons ($100 per person) at Wheeler's Estate in the Seletar Aerospace Park. Housed in a former British married officers' quarters-turned heritage building, with spacious verandahs and open lawns, the dining destination combines a restaurant, a bar and an alfresco café amidst open green spaces. (Note: Wheeler's Estate is closed until the current Phase 2 [Heightened Alert] restrictions are lifted)