Go on a thrilling augmented reality (AR) dinosaur-themed adventure at Jewel-rassic Quest, Jewel Changi Airport's new play attraction.
Bringing storytelling to life through digital interactivity, the AR game lets you time travel 89 million years back to the Late Cretaceous period to see magnificent dinosaurs such as the T-Rex and Velociraptor in action just metres in front of you.
Grab a specially-developed TimeLens (tablet) to trail the dinosaurs and watch them wander and fly; discover their hiding places and nests; learn about their eating habits; feed them; and hunt for their eggs on a 90-minute mission.
Be among the first 1,000 participants to complete the quest to receive a FREE jungle hat, $10 Jewel Retail Voucher and limited-edition pins (choice of two dinosaur designs).
Singapore residents pay only $18 (usual price: $22.50)
Standard ticket: $20 (usual price: $25)
We spotlight four ways to get up-close to the dinosaurs and have a rawr-ing good time.
Embark on a prehistoric quest to solve global warming
Play a character in the AR game through TimeLens and assist the game's avatar lead, Ranger J99, as she goes on a mission to obtain an AstroJewel by travelling back in time. A special crystal found in certain asteroids millions of years ago, the AstroJewel has the power to help solve problems brought on by global warming.
Pump up your adrenaline as you witness Ranger J99 battle with the raptors to recover the AstroJewel. You'll have to explore the Shiseido Forest Valley and Canopy Park to cross six checkpoints and bring back the AstroJewel for breakthrough archeological research to save mother nature.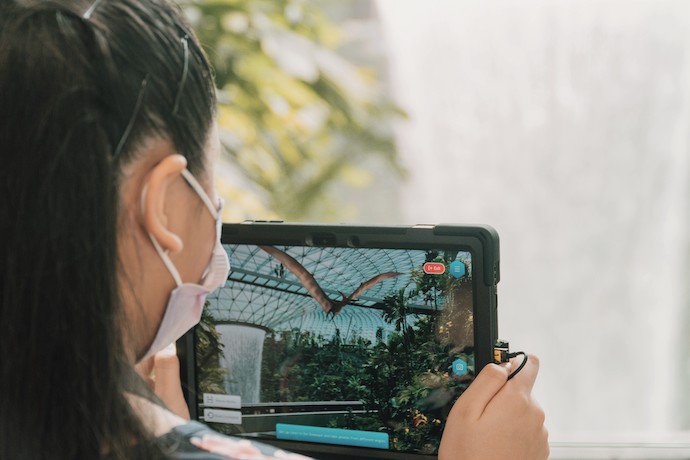 Use the TimeLens to snap breathtaking pictures of these dinos in action and interact in the game by picking up items, opening portals and sending things back in time.
Hunt for dino eggs around Jewel
Go on a Dino Egg Hunt as you move from one checkpoint to another. There are six dinosaur eggs scattered on different levels in Jewel, each containing hidden trivia and interesting facts about Jewel. Use the digital map in the game to find them all.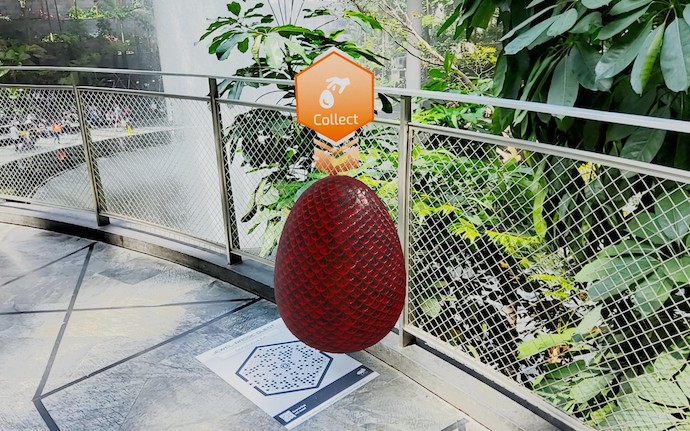 Unlock mini games
Secured the AstroJewel and completed the main story quest? That's not all! Carry on with the adventure and unlock three mini games:
• Game 1 – Be an archaeologist for a day as you brush off fossil bones and guess which dinosaur they belong to.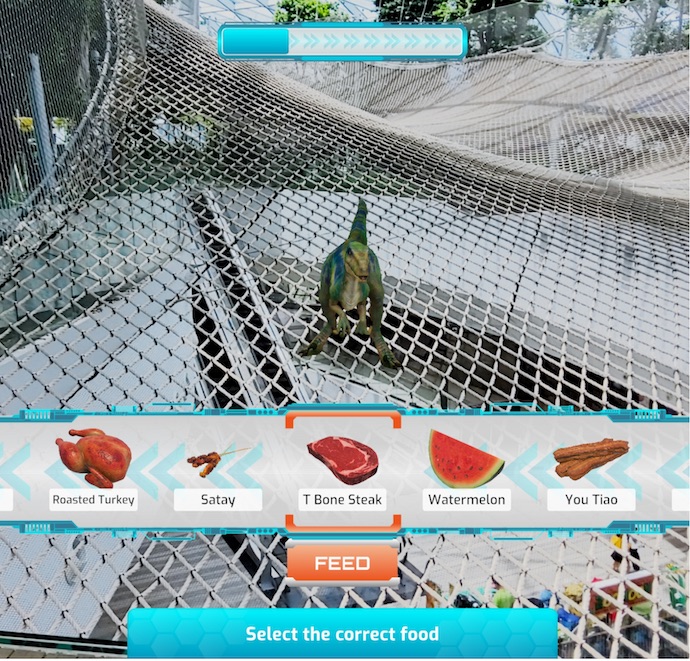 • Game 2 – Just like Singaporeans, the Velociraptor also loves food! Get a taste of what dinosaurs like to eat as you try feeding the Velociraptor with a variety of meat and vegetables. If you're feeling spontaneous, try feeding it some local delights – who knows, maybe it will love satay too!
• Game 3 – After completing your quest, do take pictures with the main dinosaurs.
Get up close with the dinos
Track each of the eight prehistoric giants in their respective sweet spots all around Jewel to snap memorable shots of your dino experiences.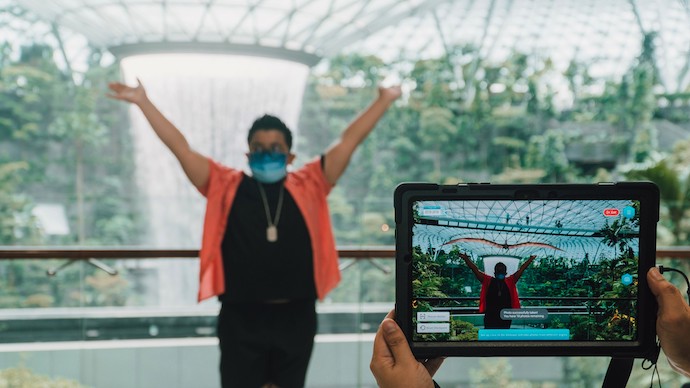 Head to Level 2 to meet with T-Rex or search for the towering Brachiosaurus among the bamboo poles. Create Insta-worthy poses with these 3D dinosaurs in AR and capture fun moments to share with friends and family.