The pandemic has sparked a flurry of home-based food businesses in Singapore, leaving foodies spoilt for choice.
Out of home kitchens across Singapore have come scrumptious creations for sale such as baked goods, savoury treats, comfort fare, traditional snacks and more.
Foodies, you'll want to bookmark the pages of these 10 home cooks and bakers on your browsers.
Order online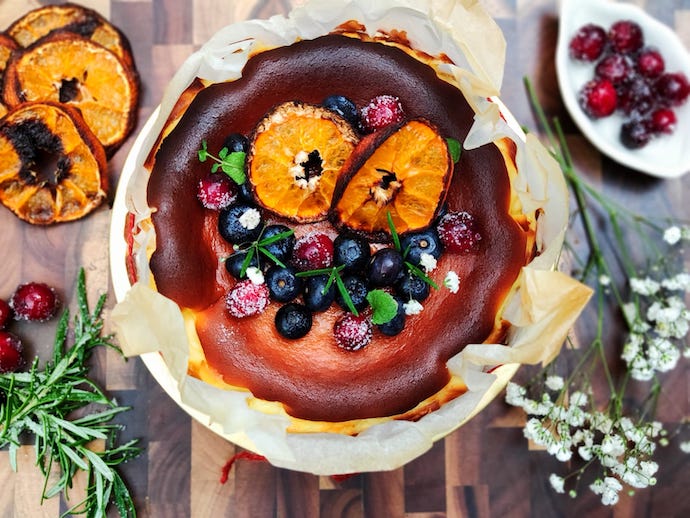 Basque burnt cheesecakes are still having a moment right now with their irresistibly sweet and salty flavours, caramelised top and gooey creamy centre.
Those popping out from the oven of budding entrepreneur Amrita Dhillon, who started baking at 14 years old, are perfectly baked, hitting all the right rich, creamy and smooth notes. The cheesecakes are also creatively hand-decorated with seasonal berries and pretty flowers, making them extremely Insta-worthy.
Order online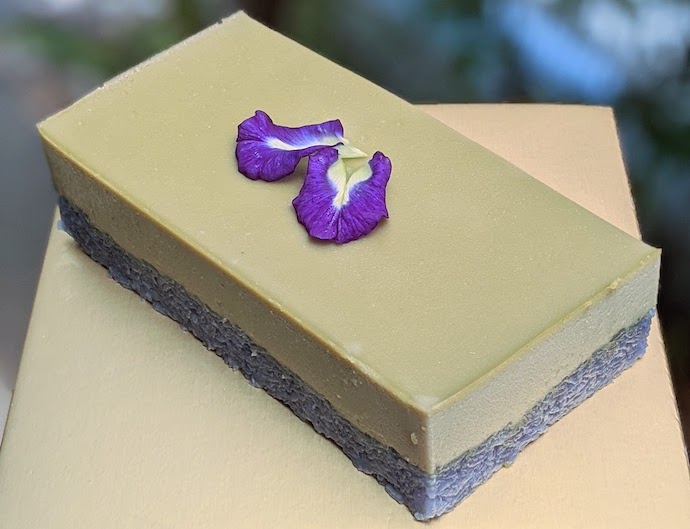 Nyonya kueh lovers will want to sink their teeth into Bluepea.sg's traditional Peranakan kueh salat. The kueh is made with blue dye extracted from homegrown butterfly pea flowers, pandan juice from homegrown pandan leaves and fresh coconut milk.
The kueh comes in three sizes: 4-inch x 4-inch half square, 8-inch x 8-inch square and 9-inch round.
Order online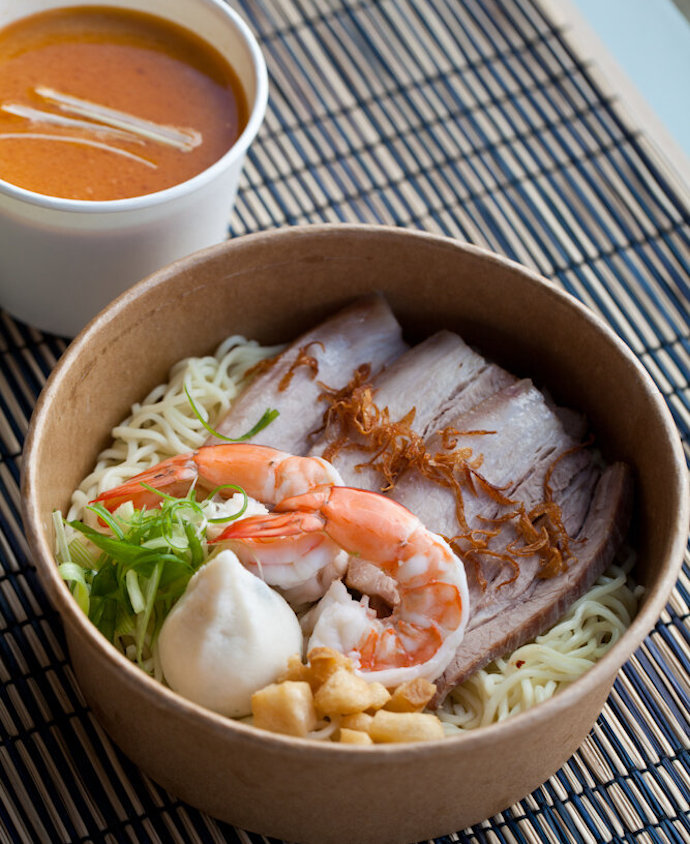 A big fan of hawker food, chef Jeremy Nguee, who also founded Batu Lesung Spice Company, started his Dream Shop to sell his recreations of his favourite hawker dishes. The stock for his Hae Mee Ramen is painstakingly made with a blend of prawns and roasted shell, bone broth, a rempah base, a mirepoix of aromatics, and a tare made up of flavoured oil, artisanal soy sauce, fried shallots and pork lard.
His Caramelised Honey Char Siew is made with free-range Canadian pork belly and cooked in a marinade of sugar, soy sauce, oyster sauce, sesame oil, hoi sin sauce and garlic. Other local favourites are Kicap Panggang Fresh Prawn, The Original Whole Prawn Ngoh Hiang and Har Cheong Chicken Wings. There's also a selection of kueh and cakes including Kueh Kosui, Gula Melaka Kueh Salat with Mao Shan Wang Durian, Pandan Kueh Salat and Orange Citrus Sugee Cake available for order under the Mrs Kueh section.

Order online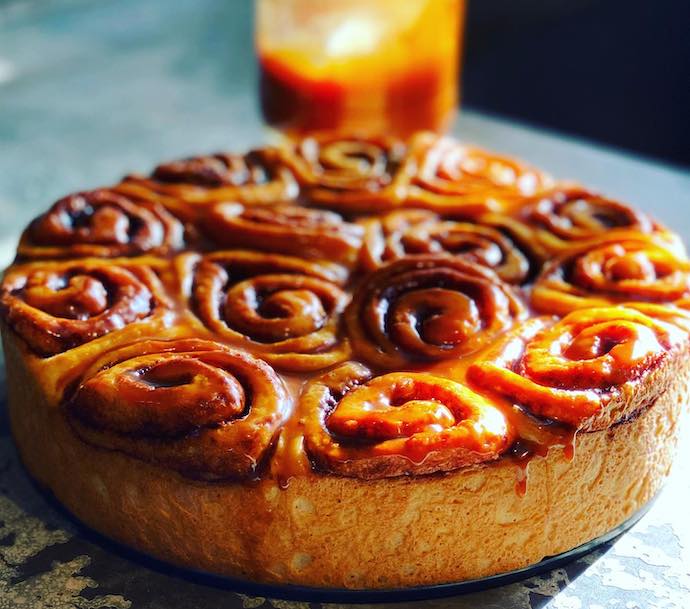 If you're a fan of cinnamon buns, you'll want to get a taste of those made with less sugar and without any preservatives and chemicals by self-taught baker Joyce Chung.
Crowd favourites are Himalayan Salted Caramel Cinnamon Roll, Cream Cheese Frosting Cinnamon Roll and Reduced Sugar Glaze Icing Cinnamon Rolls. She also offers Levain-Inspired Jumbo Chocolate Chips & Almond Cookie, possibly the biggest cookie in town at 125g, and Gluten Free High Protein Brownie.
Order online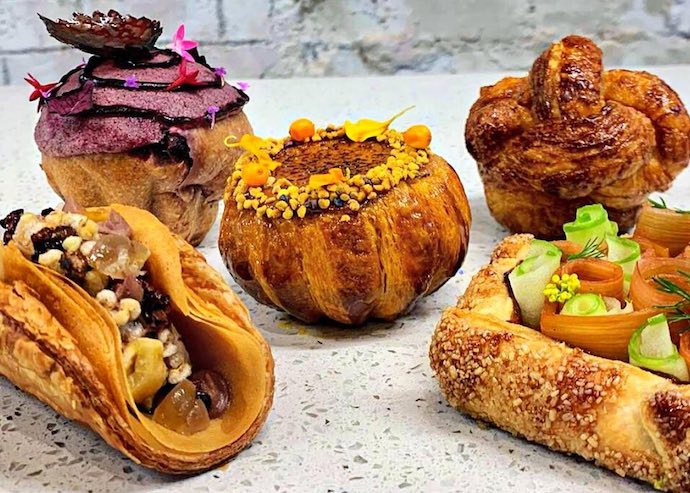 Founder and pastry chef Mohammed Al-Matin had stints in the now-defunct Restaurant Andre in Singapore and the famous two-Michelin-star Noma in Denmark. His pastry box which comprises five pastries – Purple Potato Brioche, Rhubarb Galette, Chestnut Ta-Cro, Autumn Pumpkin and Kouign Amann – are highly sought-after and always sell out within minutes.
Boxes can be ordered online every fortnight on a Sunday at 4pm. There's an online queue system which starts at 3.30pm. At 4pm, a random queue number will be issued via balloting to ensure fairness. Oh and delivery is free!
Order via Whatsapp 86680788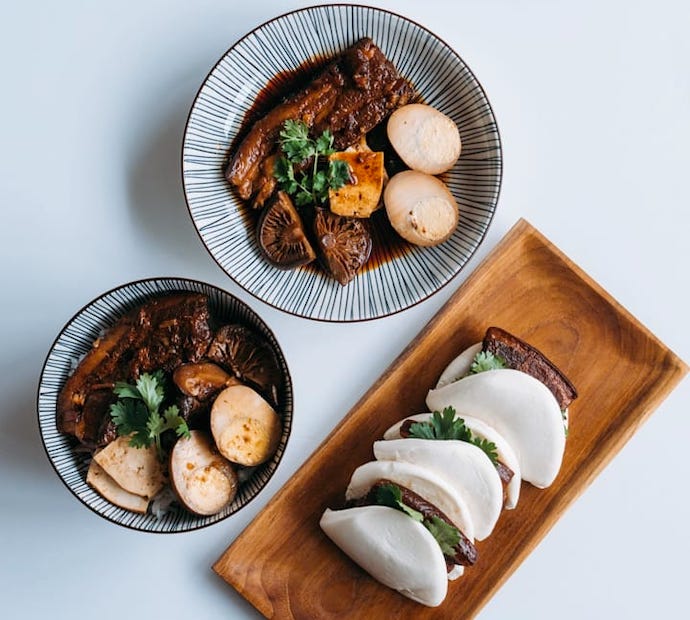 To make ends meet during the circuit breaker period when her nail salon had to be closed, manicurist Christine Yue decided to sell homemade lor bak on Instagram. Following a recipe that was handed down from her late grandmother to her mother and now to her, she braises the pork belly with a variety of spices and sauces for four to five hours until the meat is tender enough to melt in your mouth.
Lor Bak comes with two slabs of braised pork, egg, tau kwa and shiitake mushrooms; Lu Rou Fan comes with a slab of braised pork, rice, egg, tau kwa and shiitake mushrooms; while Kong Bak Bao comes with four lotus leaf buns and braised pork.
Direct message on Instagram to order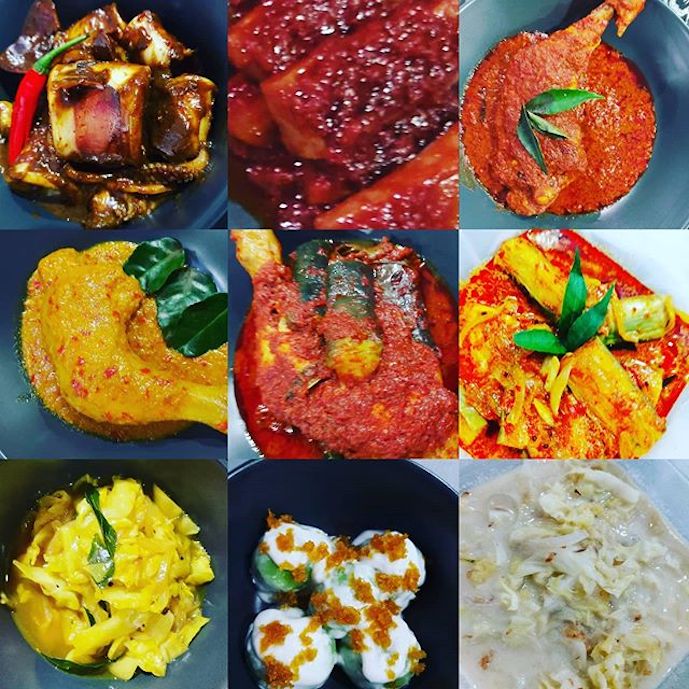 Enjoy homestyle Malay dishes in the comfort of your home by ordering curries, sambals and other specialities from Nurjahan Rahim of mum_daughter_kitchen.
Signature dishes include Asam Pedas, Chicken Lemak Chilli Padi, Chicken Thick Curry, Sambal Cuttlefish, Fish Curry, Rendang, Nasi Lemak, Nasi Ayam Kunyit, Potato & Chicken Curry Popiah Roll, and Squid with Chili Paste, Tamarind Sauce and Squid Ink. You may also request for your favourite Malay dish if it's not on the menu.
Order online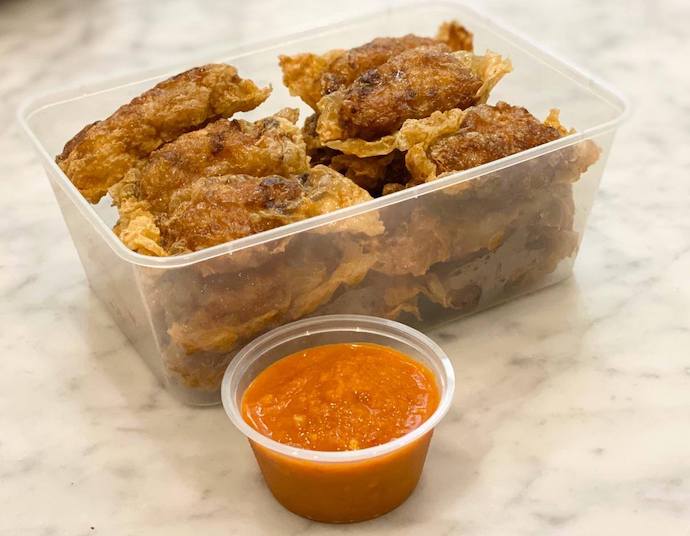 When his business was affected during the circuit breaker period, fashion designer Samuel Wong of apparel label evenodd decided to start an online business selling ngoh hiang with his mother Elle Kuah. The ngoh hiang is made with a 20-year-old heirloom recipe handed down from his grandmother to his mother.
Packed with pork, water chestnuts, prawns and onions, the meat rolls are sold in a box of 18 pieces. Cheese lovers must try the recently introduced mozzarella nogh hiang. Each order (deep-fried or raw and frozen) comes with homemade garlicky, vinegary red chilli dipping sauce.
Direct message on Instagram to order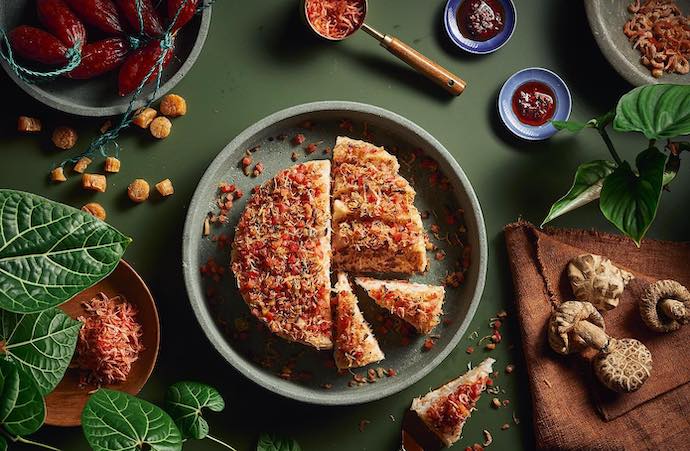 To savour homemade steamed carrot cake made with quality ingredients, order one from Karen Yuen, founder of Munch-Kins.
Her carrot cake was inspired by her late grandmother, a great cook who used to make carrot cake every Chinese New Year. Her version is made with Korean and Japanese white radishes and topped with dried shrimps, dried sakura ebi, dried scallops, Jinhua ham, mushrooms and lap cheong.
Order online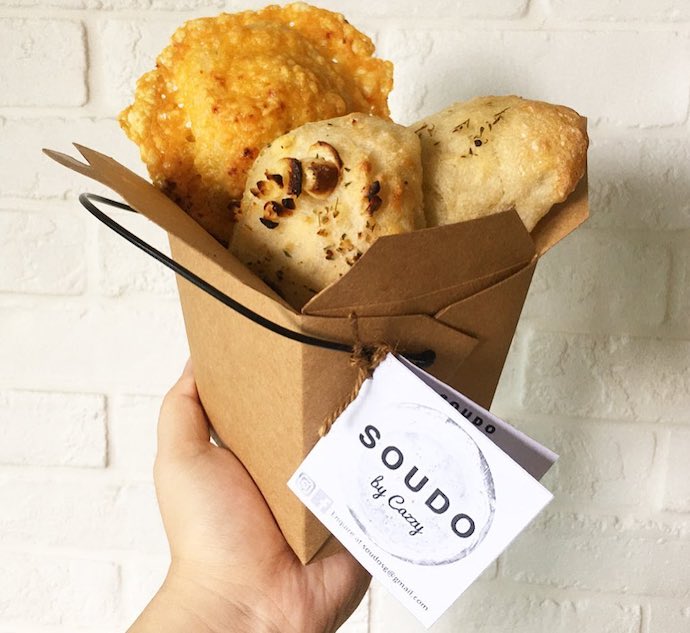 Sourdough bakes are all the rage these days and if you can't get enough of the sour, tangy flavours, order some sourdough buns handmade by voice-teacher-cum-home-baker Cassandra Chen of Soudo by Cazzy.
Her chewy Mondo sourdough buns, a cross between a pizza crust and a focaccia, come in four flavours: multi-grain, garlic butter, thyme and cheese (made with Arla cheddar cheese). She also makes pretty eight-inch flowery focaccias, Gula Melaka Cranberry Cookies with homemade gula Melaka and Lindt Hazelnut Chocolate Chunk Cookies.
ALSO CHECK OUT
5 Home-Based Burmese, Filipino & Indonesian Foods To Check Out