The flavours of Khmer dishes are bold and rich, with dashes of influence from French, Chinese, Indian, Thai and Vietnamese cuisines. Be sure to try these hearty Khmer dishes, and savour the punchy and fragrant flavours.
Ang dtray meuk
This squid dish is popular in seaside town like Kep and Sihanoukville. The squid is brushed with lime juice or fish sauce, then grilled on skewers and served with a sauce made with garlic, chillies, fish sauce, lime juice and sugar.
Bai sach chrouk
Grilled pork with rice, pickled radish and cucumber
Banh chiao
Savoury egg and rice flour crepes filled with minced pork, bean sprouts, onions
Beef Saraman
The richest of Cambodian curries, this braised beef curry is cooked with Indian spices such as coriander seeds, clove, cumin and cardamom, as well as chillies, lemongrass, shallots, garlic, shrimp paste, turmeric, galangal, kaffir lime leaves, peanut and dry-roasted grated coconut.
Cha houy teuk
Sweet jelly mixed with sago, red beans, jackfruit, sticky rice, taro and coconut cream
Deep-fried insects
Hoppers, moth pupae, tarantulas, crickets, ant eggs, water bugs, scorpions
Fish amok
This lightly sweet and creamy fish curry is Cambodia's most famous dish. It is made with fish (typically a river fish) mixed in a herb/spice paste (kroeung) comprising garlic, shallots, lemongrass, turmeric, galangal and kaffir lime leaves, along with palm sugar, fish sauce and chillies, topped with coconut milk and steamed in banana leaves shaped like small bowls.
Grilled banana and tapioca
Kampot pepper crab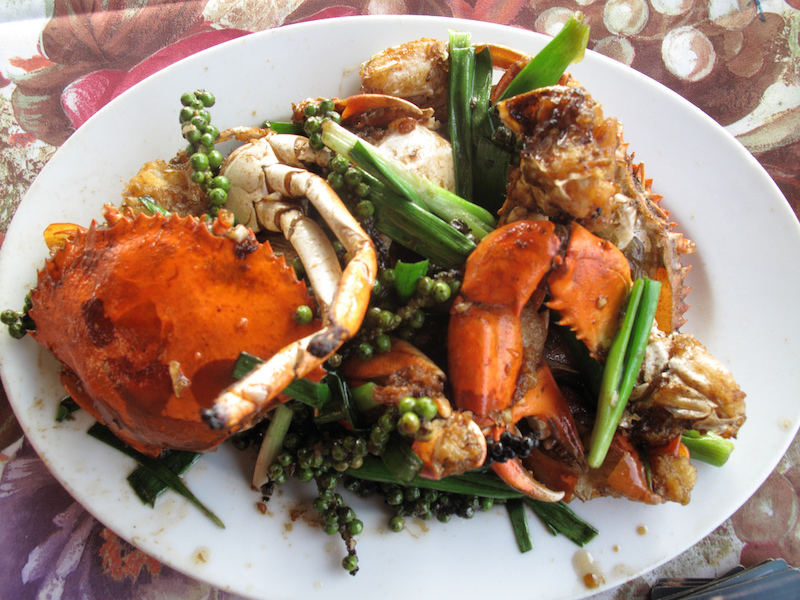 Kaw
Pork or chicken with hard-boiled egg and bamboo shoots braised in a broth made of palm sugar, fish sauce, pepper
Khmer red curry
Kralan rice cake
Sticky rice, red beans, grated coconut and coconut milk roasted in bamboo sticks
Lap Khmer
Lime-marinated beef salad
Lok lak
Stir-fried beef or pork in oyster/soy sauce
Nom banh chok
Rice noodles topped with green fish gravy, fresh green beans, bean sprouts, banana flower, cucumbers
Num pang
Baguettes filled with pâté, deli meats, pickled/fresh vegetables and chilli
Num plae ai
Sweet glutinuous rice balls filled with palm sugar topped with grated coconut
Prahok
Fermented salted fish paste
Red tree ants with beef and holy basil
Samlor machu trey
Sweet and sour fish soup
Sankhya lapov
Coconut custard steam-baked in a pumpkin
Skewed embryos, gizzards, meat