Singapore may be a tiny island, yet there seems to be no shortage of activities for family outings – from scenic spots and brunch cafes to hidden trails and local farms that are off the beaten track. Clearly, there are still many more kid-friendly places for us to explore.
If you're a thrill-seeking bunch on the lookout for more family activities in Singapore (or simply hoping to get your teens out of the house and away from their devices), here's a handy list of places to visit during the weekends or upcoming school holidays.
151 New Bridge Road, 91 Upper Cross Street
Every Friday, Saturday and Sunday, 10am – noon
Approximately 2 to 3 hours
Picture this: A scene in Chinatown where a serial killer is on the loose (gasp!). The whole nation is gripped with fear, and participants are roped in to figure out who the murderer is by solving a series of puzzles.
This outdoor mystery is pretty much like the board game Cluedo, except that it's translated into an engaging, real-life format. Suitable for children aged 7 and above, this game tour commences with a minimum of four persons, making it a great activity for families.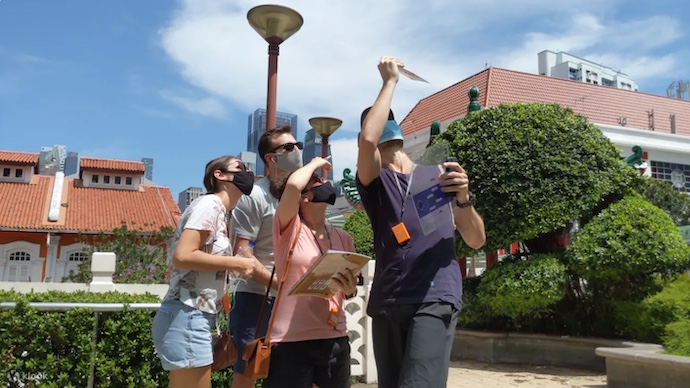 As a team, participants get to determine which route to take and the choice of items to pick. There'll also be a game master to guide teams through the tour. Aside from solving the mysteries, you'll also get to meet characters along the way like Samsui woman Auntie Geok and provision shop owner Ah Kee while learning more about the history of Chinatown.
Intertidal Walk
Along Pasir Ris Central, opposite Pasir Ris MRT Station
Located in the Eastern part of Singapore, Pasir Ris Beach is one of the many interesting destinations to visit within Changi Precinct for some family fun. You'll be surprised to find an extensive range of marine life along the shores of Pasir Ris like large and small starfish. Some starfish are brightly coloured while others camouflage themselves.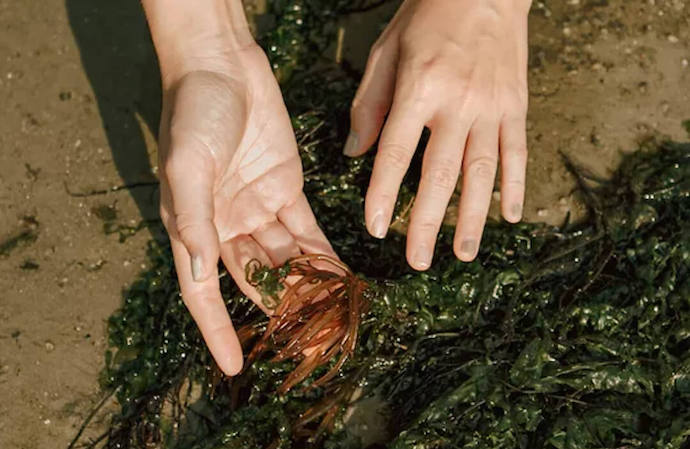 Ideally, it's best to visit with an experienced and trained guide. Nature walk tours are readily available – these are educational intertidal explorations where you'll get your feet wet while learning fascinating facts about creatures that exist alongside us. You'll also get to hone observational skills to identify animals such as hermit crabs and sea cucumbers! Remember to pack your water bottles, mosquito repellent, and always wear comfy and loose clothing to embark on the coastal adventures without restraints.
That said, refrain from digging up these marine creatures and bringing them home. Harvesting could cause harm to biodiversity. To protect our shores, admire the creatures in their natural habitat.
#01-208 Marina Square
Monday to Friday – Noon to 8pm
Saturday, Sunday, public holidays & MOE school holidays – 10am to 8pm

Remember the energetic Hasbro advertisements of NERF from the 1990s to 2000s? To this day, the iconic jingle rings loud: "It's NERF or Nothin'!". Essentially a fun-filled arena packed with multiple-themed activity zones, NERF Action Xperience is the perfect spot for family fun.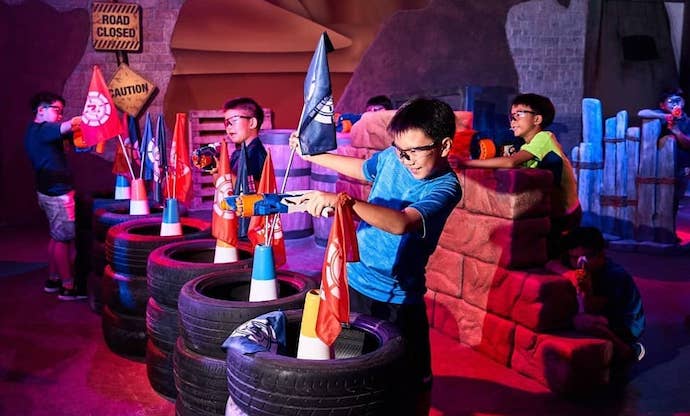 The Zombie City allows players to gather their squad in a team-based battle. Could this be an exciting game of children versus parents? Possibly. Either way, the goal is to blast as many zombies as possible (both physical target boards and digital) within a set amount of time. The team that scores the most points wins.
At the Camp Dune Zone, players get to compete against each other using NERF blasters. The goal here is to collect the team's flag and bring it to the respective home bases. Here, it's all about speed, accuracy and teamwork. Budding teen adventurers can also conquer terrains in an indoor obstacle course by racing up an ice cliff or defying gravity down an almost vertical slide.
Bedok Reservoir Park
Saturday, Sunday & public holidays – 9.30am to 6.30pm
Monday – 9.30am to 2pm
Tuesday to Friday – 9.30am to 6pm
Forest Adventure offers a variety of exhilarating treetop obstacle courses. Don't worry, all participants will go through a mandatory 20-minute safety briefing first before they're even allowed to go up among the trees.
There are different loops with varying difficulty levels. Beginners can start with The Green Loop, a slow and steady route, at only 6.3m high. Get acclimated to the height as you move on to higher loops that come with octagonal planks and plenty of ropes. Courses gradually get more challenging for thrill-seeking teens and adults to have their fun too.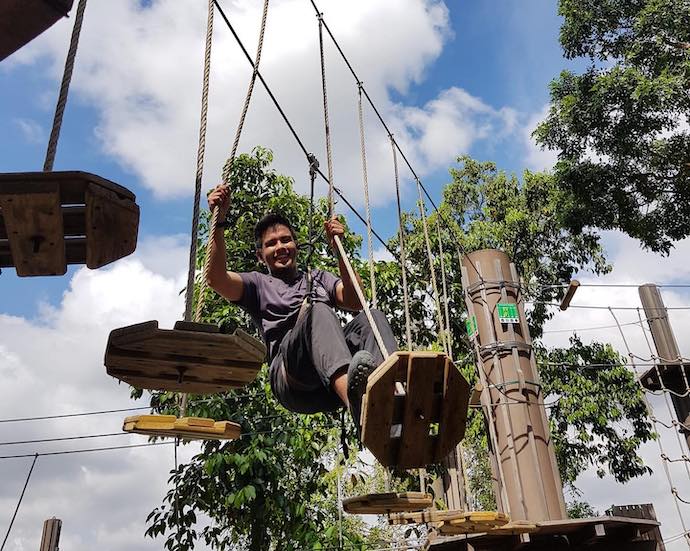 At the end of the day, it's all about outdoorsy family fun here – perfect for getting teens out of the house for a break away from the screens and video games. The best moment, of course, is when you get to channel your inner Tarzan and zoom down that satisfying 300m zipline over the clear waters of Bedok Reservoir.
207A Upper Thomson Road
Wednesday to Friday – 3pm to 9pm
Saturday – 11am to 9pm
Sunday – 11am to 7pm

Painting has always been a calming affair, so that explains the trend of art jamming in recent years. But when was the last time you painted with no rules just for the sake of it? Toss aside the traditional idea of painting as Splat Paint House is dedicated to messiness, expression and play.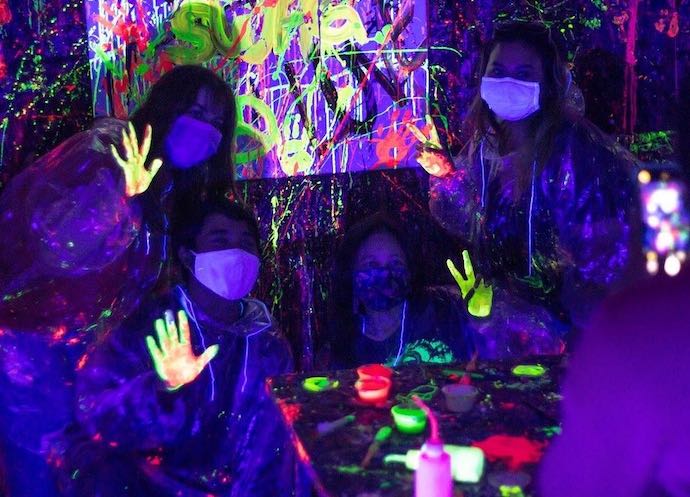 With offerings like glow-in-the-dark UV paint and water guns, it's exactly the place to go to release that pent-up stress away from work or school. For one, you'll be greeted with EDM and pop music (just the way teens like it), along with luminescent splatters and paint buckets. There are literally no rules, so go on, paint on the tables, chairs, walls and floor!
The real fun begins when you let loose and forgo careful strokes of the brush. Get your hands filled with neon colours (maybe even your face too). Needless to say, this is a super fun family- and kid-friendly space.
Airport Boulevard, entrance next to Changi Airport Terminal 4, Car Park 4A
A must-visit for families, Changi Jurassic Mile boasts colourful life-size dinosaur displays. One of the best ways to explore the Jurassic Mile is on a bicycle. Even if you're not a fan of these giant reptile replicas, they still make for an interesting sight while cycling.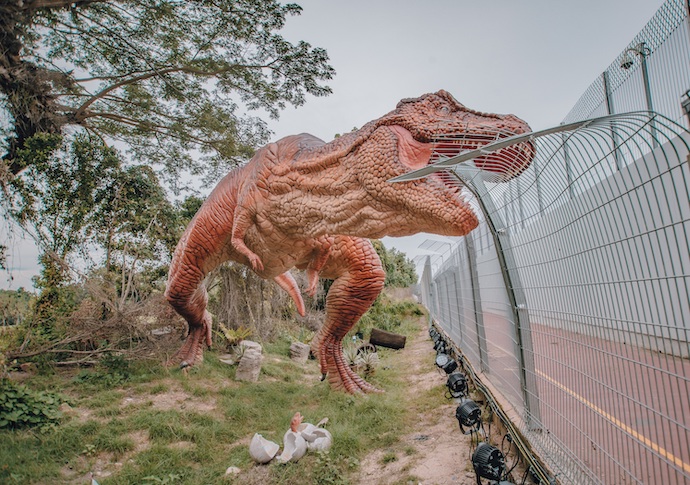 Make your way to the accessible Changi Airport Park connector, which leads you directly to East Coast Park. While on the move, keep a lookout for a variety of dinosaur displays along the way –from baby Stegosauruses to baby (or gigantic) T-Rexes and pink Diplodocuses to Pterodactyls.
Pro tip: While taking photos of the displays, do remember to watch out for oncoming cyclists and scooterists that may be travelling along the narrow path. Even better, bring along a selfie stick if you hope to capture the humungous dinosaurs in your shot. To get the full experience, take some time to read up on fun dino facts featured on the nearby signs.
78 Airport Boulevard, Level 5
Monday to Thursday – 10am to 10pm
Friday to Sunday, eve of public holiday & public holiday – 10am to 11pm

Situated on level five of Jewel Changi Airport is Canopy Park, a 14,000sqm recreational park that's packed with nine exciting attractions for children, teens and the young-at-heart. Families can choose to experience the offerings individually or as a bundled package.
Attractions include the Hedge Maze, where you can immerse yourself in foliage and have a field day with the kids; and the Mirror Maze, where you get to lose yourself in a kaleidoscopic escapade to figure out what's real and what's merely a reflection. There's also Discovery Slides where you get to hop on for quick descent. Another highlight is the Manulife Sky Nets for brave souls willing to be suspended 25m above the ground on a giant net.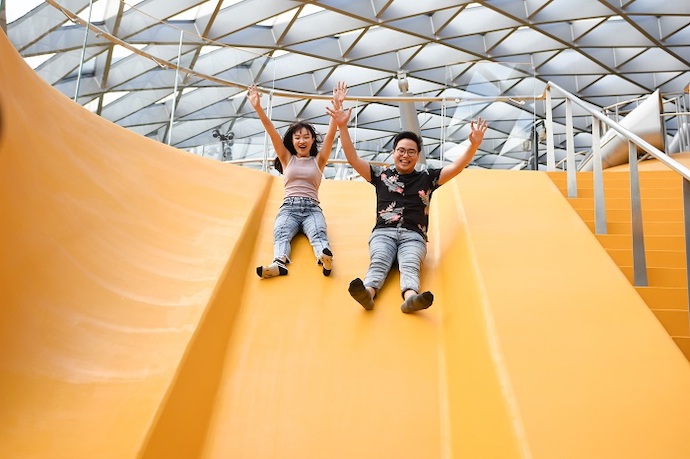 After a full day of exciting activities, enjoy a scrumptious meal within the building or catch the awesome light and sound show at the HSBC Rain Vortex in the evening.
Mud Krank
10 Neo Tiew Lane 2, Gallop Kranji Farm Resort, Farm H
Tuesday to Sunday – 2pm to 10pm
Located at Gallop Kranji Farm, Mud Krank is Singapore's first and only all-terrain vehicle (ATV) adventure park. What was previously designed for kids is now cranked up for teens and adults too. Perfect for adventurous families, Mud Krank lets you experience an exciting but safe off-road experience. It's the activity to get those engines revving and spirits pumping. Plus, where else in the city can you feel like a skilled mud racer?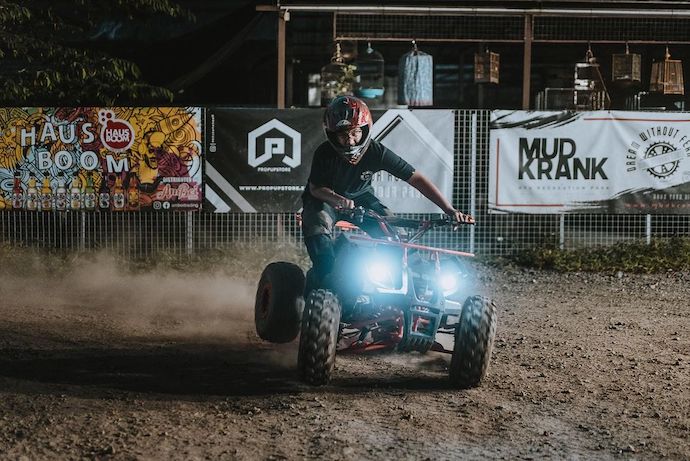 What's more, ATV riding is an all-weather event here – you'll get a chance to ride around dusty and muddy conditions, rain or shine. Fret not, older teens aged 13 and above who weigh no more than 90kg and are at least 150cm tall are still allowed to ride these vehicles. The activity is also open to younger kiddos aged 4 to 12.
This article is adapted from Now Boarding by Changi Airport's "8 best family activities in Singapore to partake in"