Singapore's parks and Park Connector Network (PCN) offer a fun and easy way to explore the many green spaces spread out across the country.
The network of park connectors are mostly flat, and run along roads, rivers, canals and even below some MRT tracks. The pathways cover a distance of over 300km, providing a link to Singapore's major parks and nature sites.
Here are 5 scenic parks and PCNs to explore and have fun outdoors:
Bishan-Ang Mo Kio Park
Distance: 6km around the perimeter of the Park
Starting & ending points: McDonald's Bishan Park, 1378 Ang Mo Kio Avenue 1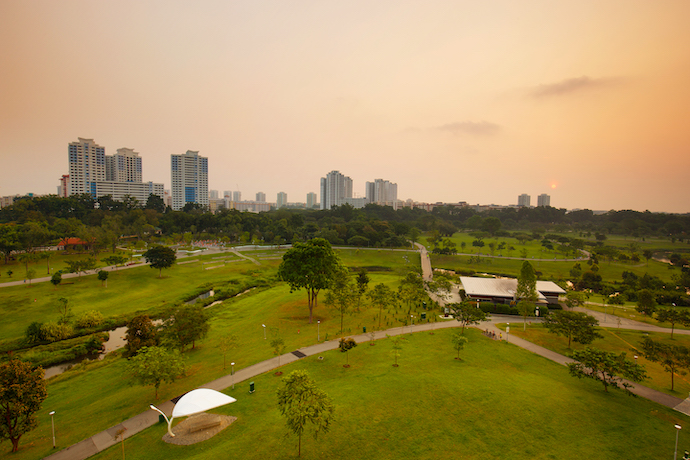 Spanning 62ha, the Park stretches along Ang Mo Kio Avenue 1 from Upper Thomson Road to Bishan Road. Meandering through the Park is a 3km naturalised river flanked by wildflowers along its banks.
The Park is home to a wide array of flora such as trumpet tree, tembusu tree, tea tree, bachelor's button and creeping ruellia; as well as fauna such as purple heron, scaly-breasted munia, white-breasted waterhen, dragonflies, butterflies and smooth-coated otters.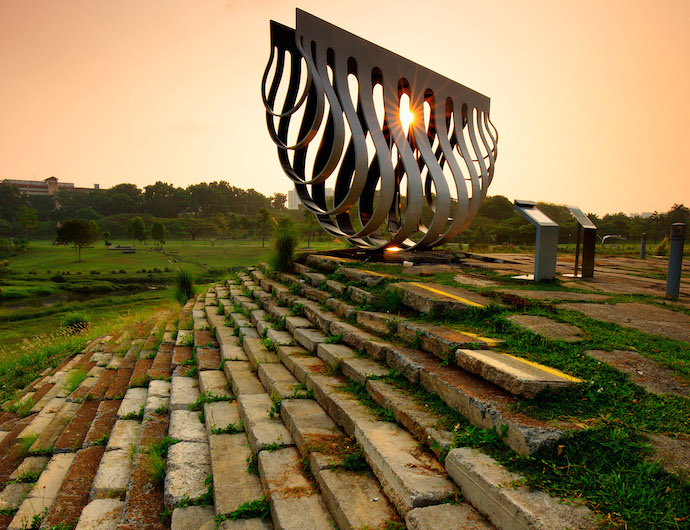 The Park also has playgrounds, a Riverside Gallery, a Butterfly Habitat, a Forest Walk, a Therapeutic Garden, Community & Herb Gardens, a Landscape Pond, a dog run and Recycle Hill which features the award-winning sculpture entitled An Enclosure for a Swing, created by Singaporean artist Kelvin Lim Fun Kit to represent the fusion of nature and design.
Eastern Coastal Loop – Marina Reservoir Route
Distance: 8km
Starting point: Tanjung Rhu Promenade (Tanjong Rhu Bridge opposite Singapore Sports Hub)
Ending point: Singapore Sports Hub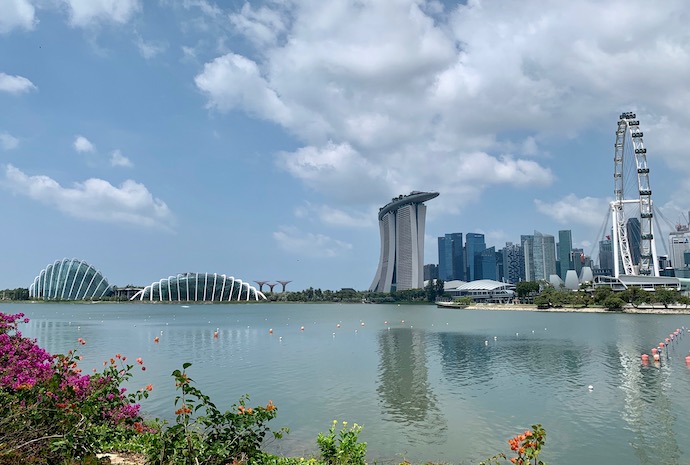 This route lets you take in the spectacular cityscape views in the Marina Bay area. Starting from Tanjong Rhu Promenade, travel along the edge of Marina Reservoir to a short stretch of East Coast Park, Singapore's largest park, before heading to Gardens by the Bay, Bay East, to enjoy its wide open lawns, pavilions and palm trees, and take captivating shots of the Singapore Flyer, Marina Bay Sands, Gardens by the Bay's two conservatories and Supertrees, and buildings in the Central Business District.
Cross over to Marina Barrage and travel along the path to Gardens by the Bay, Bay South, passing by the Gardens' Satay by the Bay food centre and its two conservatories. Continue on to the path parallel to The Helix, Singapore's longest pedestrian bridge. Go around the Youth Olympic Park, Singapore's first art park, before heading down to the Waterfront Promenade and the Singapore Flyer, Asia's largest giant observation wheel.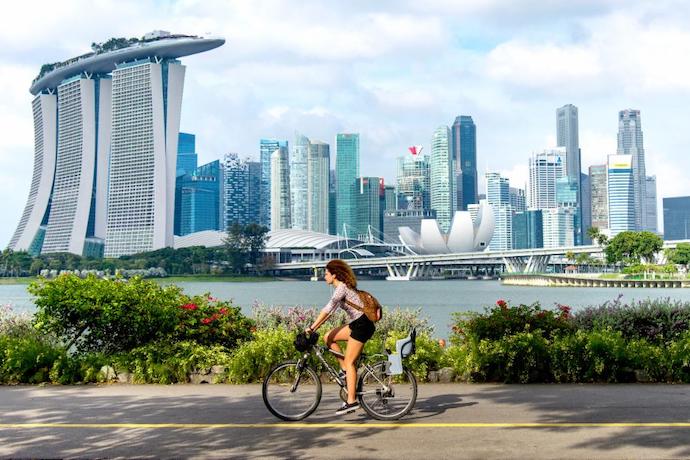 Continue your journey along the edge of Marina Reservoir towards the Singapore Sports Hub, state-of-the-art integrated sports, entertainment and lifestyle hub. Complete the trail back to Tanjong Rhu Promenade.
Pasir Ris Park
Distance: Approximately 6.5km
Starting and ending points: Tampines Park Connector at Pasir Ris Drive 3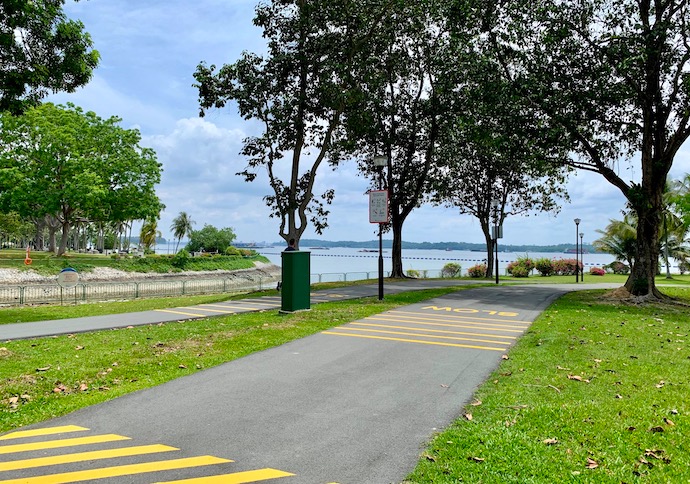 This 70ha Park, which takes its name from the Malay word which means "beach bolt-rope", stretches from Pasir Ris Road to Jalan Loyang Besar.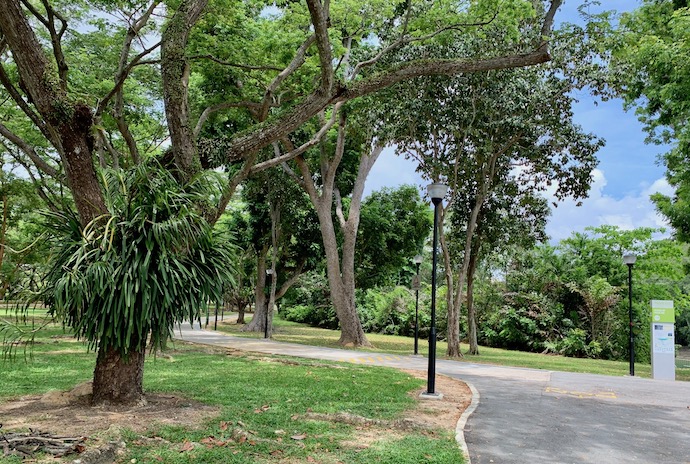 Located next to Pasir Ris Town Park, the Park has a playground with space-nets, cableways and innovative play stations, as well as a preserved 6ha mangrove forest which can be explored from a Mangrove Boardwalk and multiple trails. There's also a three-storey Bird Watching Tower within the mangrove forest for birding fans to observe birds such as white-breasted waterhen, Oriental magpie-robin, common tailorbird, olive-backed sunbird, yellow-rumped flycatcher, Oriental pied hornbill and red-breasted parakeet.
Punggol Waterway Park
Distance: 8.4km
Starting & ending points: Sentul Crescent Road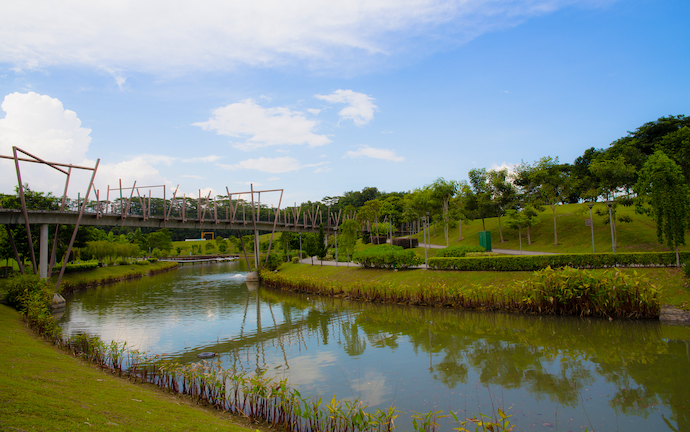 This waterway is dubbed the "Venice of Punggol" for its open spaces, lush greenery and soothing running water. The tracks along the promenade run on both sides of the waterway.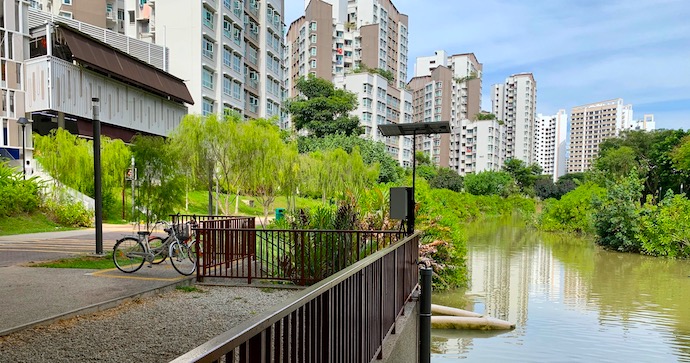 Attractions along the waterway include Jewel Bridge, whose design was inspired by a jewel atop a ring; the steel Adventure Bridge, designed to look like a wooden suspension bridge; Kelong Bridge, which incorporates elements of a kelong (a traditional offshore platform built on stilts and posts for local fishermen) to reflect Punggol's heritage as a fishing village; the undulating Wave Bridge; and the elevated Sunrise Bridge, which provides a good vantage point to view the sunrise.

Serangoon Park Connector
Distance: 4.2km
Starting point: Tampines Road and runs along Hougang Avenue 7 and Buangkok Drive
Ending point: Junction of Sengkang East Road and Buangkok Green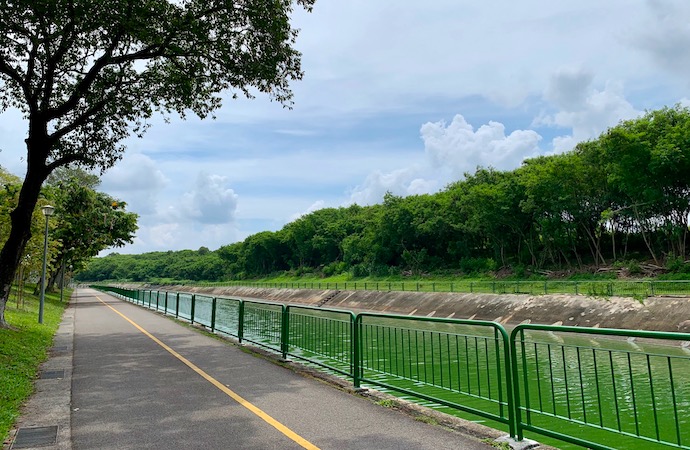 The park connector runs along the Serangoon River and overlooks the lush greenery of Lorong Halus Wetlands. Birding fans will be pleased to know that the area is frequented by birds such grey heron, little egret, collared and white-throated kingfisher.