While you can't travel to your favourite destination just yet, a luxe villa staycation at five-star luxury hotel One Farrer Hotel might be the next best thing.
Billing itself as a lifestyle urban resort, the hotel is located within the hospitality, healthcare and lifestyle Connexion complex which also houses Farrer Park Hospital, Farrer Park Medical Centre and Owen Link, a retail and dining zone.
Conveniently located above Farrer Park MRT Station, the 249-room hotel has a unique "hotels within a hotel" concept which features three distinct hotels, each with its own personality: Urban Hotel, Loft Apartments and Skyline Hotel & Sky Villas.
The Urban Hotel rooms are spread across levels 11 to 15, while the two-storey Loft Apartments (equipped with kitchenette and pantry) occupy levels 16 and 17.
The Skyline Hotel and Sky Villas comprises Skyline Rooms, Suites and Studios on levels 18 and 19, as well as six Sky Villas (including the palatial Presidential Villa) on level 20. There's even a private glass lift to transport Skyline guests between the three levels.
Book the Heavenly Opulence Package ($999 nett) for four persons and enjoy a fun staycay with your BFF's or loved ones. The Package includes a one-night stay at the two-bedroom Orchid Villa, club lounge access with breakfast for four and a four-course Western set dinner for four served in the Villa.
We highlight 5 reasons why you should book the hotel's Heavenly Opulence Package for your next staycay.
Luxuriate In A Roomy, Chic Space
At 105sqm, the two-bedroom Orchid Villa on level 20 is expansive. There are three entrances to the Villa and the main one leads right to the living room which sports a comfy sofa, two chairs, two gleaming stainless steel tables, a black and white sculpture and a 55-inch smart TV.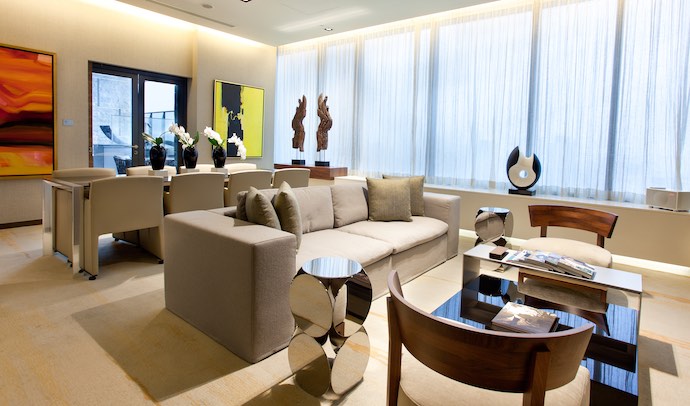 There are three pantry areas stocked with illy coffee, TWG teas, snacks, soft drinks and beer.
Taking pride of place next to the window in the dining area is a pair of 18th century Khmer-style Naga heads made of wood. The walls of the Villa are also livened up with eye-catching abstract artworks by artists from Asia.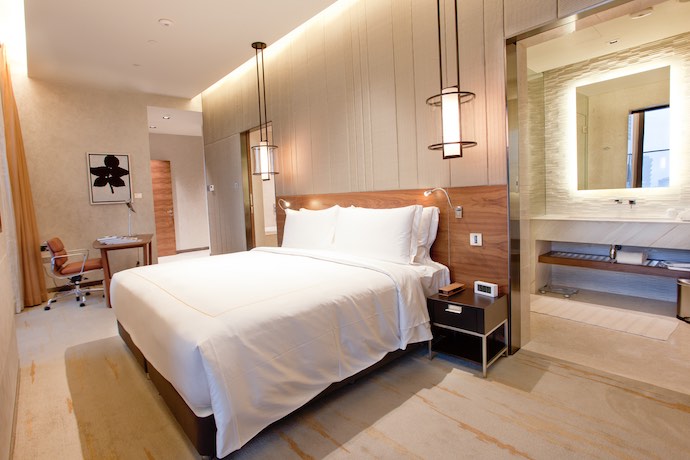 Each bedroom has an en suite bathroom, one with a full-size bathtub, his-and-her sinks and shower area with double showers, while the other has a long sink and a Japanese soaking tub.
But the piece de resistance has got to be the two jacuzzis, one at each outdoor terrace, which afford captivating city and sunset views while you settle in for a relaxing soak. In the larger terrace, there's even an outdoor grill, sink and eating area for BBQ parties.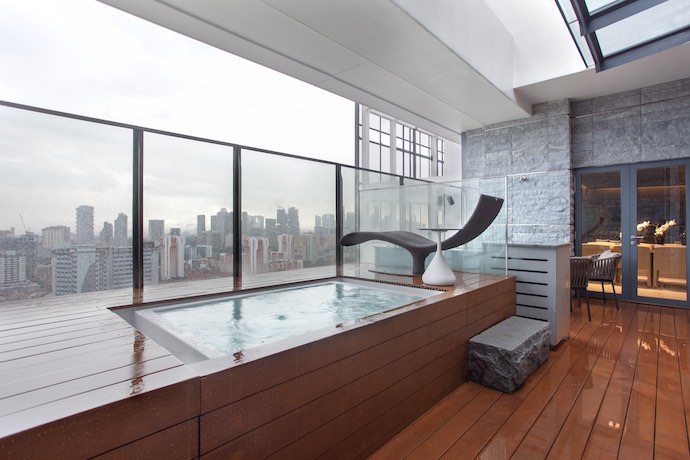 Hang Out At Lounge With Generous Meals & Sweeping Views
The Package comes with exclusives access to the Skyline Lounge & Terrace on level 18, open from 7am to 10pm daily. You'll never be hungry as the Lounge serves five complimentary light meals daily.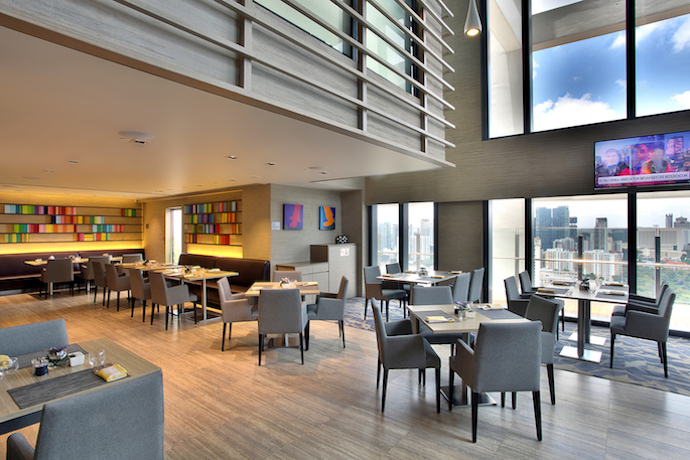 In addition to serving breakfast, the Lounge also offers sandwiches and snacks from noon to 2pm, afternoon tea from 3pm to 5pm, cocktails from 5.30pm to 8pm, as well as sweet and savoury supper treats from 8.30pm to 10pm. Coffee, tea, water, fruit juices, fresh and dried fruits, nuts, cookies, and fish and prawn crackers are available all day.
Sit by the window to soak up views of suburban life and the surrounding neighbourhood. In the evening, we recommend chilling out on the breezy outdoor terrace to catch the sunset.
Just next to the Lounge is a rooftop pool (open to Skyline Lounge guests only) with a waterfall feature, a popular spot not just for lounging and dips, but also for dreamy, Insta-worthy shots.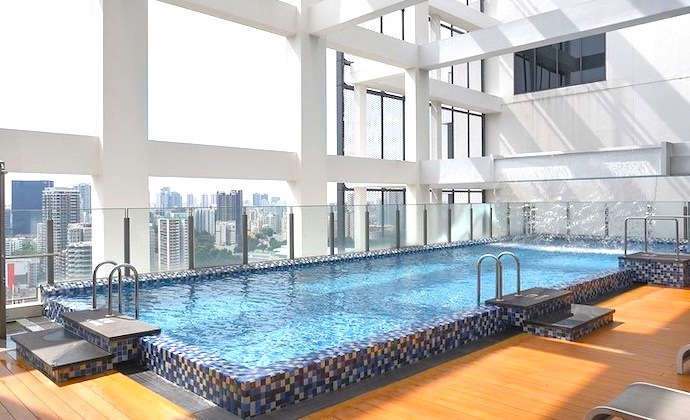 Savour A 4-Course Dining Experience In The Villa
As a luxe staycation isn't complete without an in-room dining experience, the Heavenly Opulence Package has included a four-course Western "omakase-style" menu, created with seasonal ingredients by the hotel's Executive Chef Marcus Tan.
Each dish is artfully plated and served by banquet staff, garbed in black uniform and black gloves.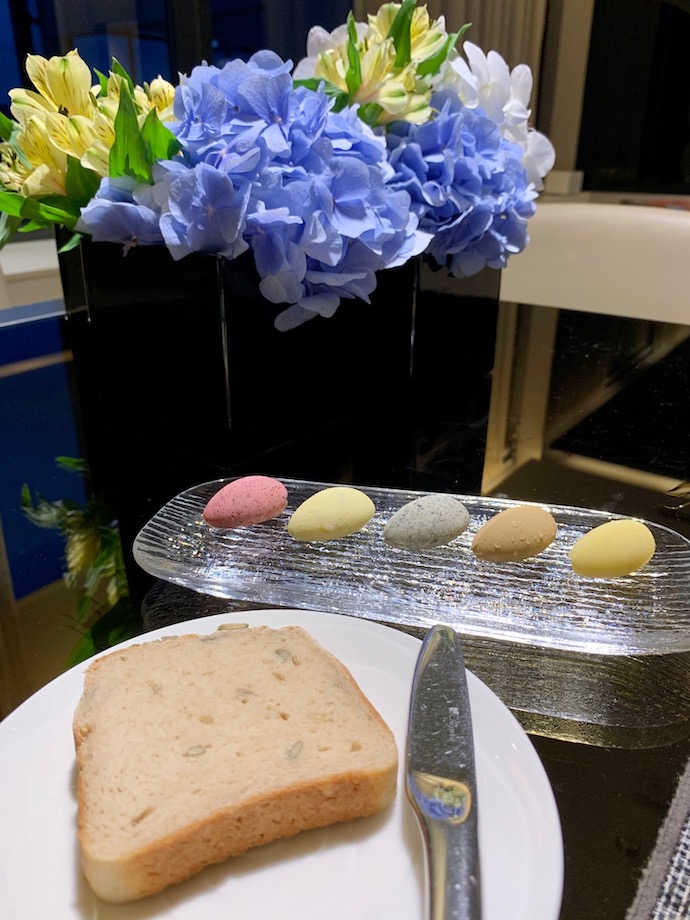 Enjoy some homemade bread with a choice of five homemade butter, flavoured with beetroot, lemon, coffee, black sesame and honey, and an amuse bouche before the appetiser of Oak Wood Smoked Salmon with Sweet Mustard Dill Sauce, Beetroot Carpaccio, Frisee Salad and Leafy Greens is served.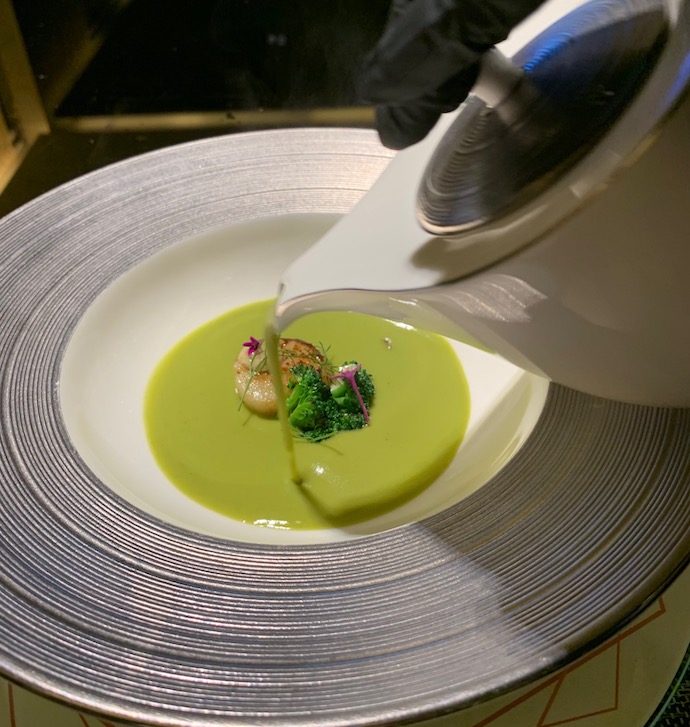 Slurp up the comfy Cream of Broccoli with Parmigiano Reggiano Grissini before savouring the fork-tender Slow-Braised Herb Beef Cheek, served with Asian-style Ratatouille, Homemade Gnocchi and Pepper Sauce.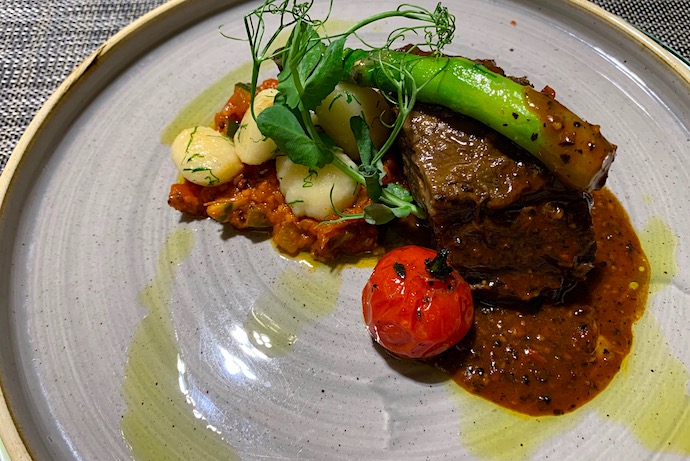 End on a sweet note with the scrumptious Iced Coffee Parfait with Fresh Berries, Caramel Sauce and Orange Tuile.
Explore The Rooftop Farm
Did you know that the hotel has a lush farm that boasts over 70 varieties of edible plants, herbs, spices, fruits and vegetables? The 11,000sqft farm and orchard can actually be seen from the outdoor terrace of the Villa.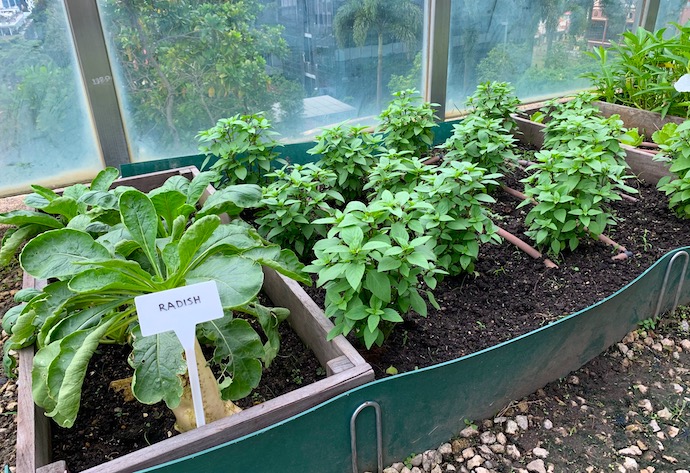 A complimentary farm tour, led by the hotel's horticulturist, can be arranged (weather permitting) by the hotel's Lifestyle Concierge. Bookings must be made in advance.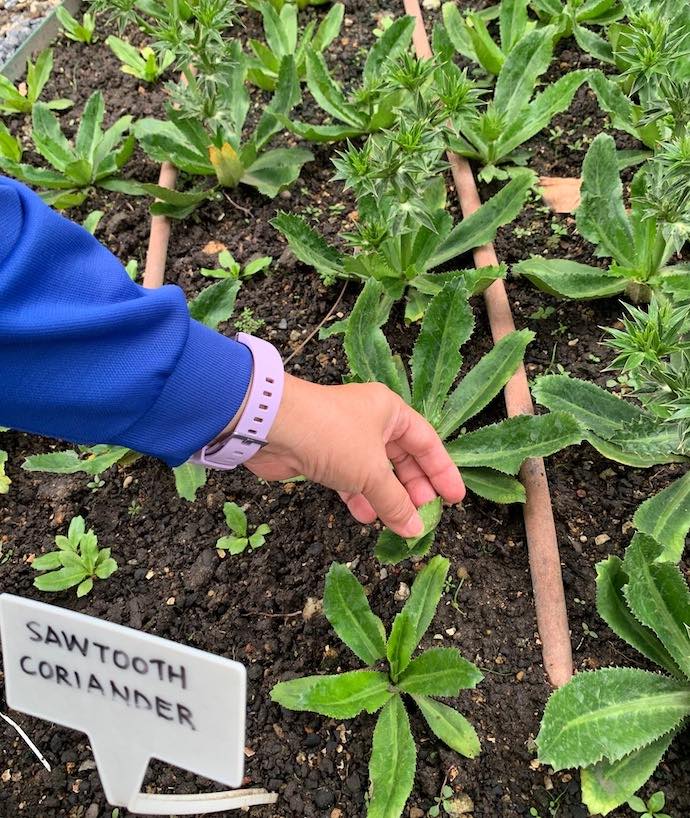 Walk through the farm, located on level 7 of the adjoining Farrer Park Hospital wing, to see beds of radish, lettuce, kangkong, laksa leaves, sweet basil, holy basil, sawtooth coriander and chocolate mint; ciku, mango, banana, pineapple, mulberry, jackfruit and passion fruit trees; blue pea flower and lady's finger plants and more.
Check Out The Outstanding Art Collection
Get up close to some of the hotel's art collection scattered throughout the public spaces of the hotel as well as Farrer Park Hospital.
The massive collection – some 700 original artworks and installations ­– by artists from Singapore and Asia, were commissioned by The Farrer Park Company.
You can't miss the gigantic Artemis green bronze apple sculpture, the handiwork of Singaporean artist Kumari Nahappan, at the hotel driveway, or the commanding Circle by Milenko Prvacki, a 2012 Singapore Cultural Medallion Winner, at the hotel lobby.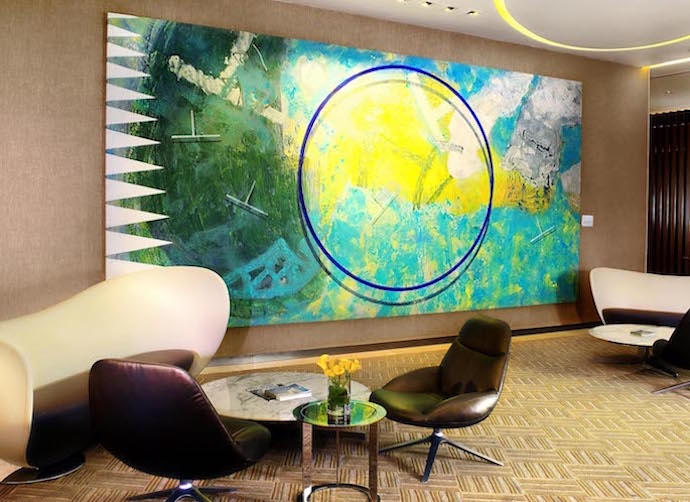 Look out also for fine hand-knotted carpets and ceramic pieces displayed in various spaces to complement the artworks.
To find out more about the art pieces and the Asian artists behind them, browse through The Farrer Park Company's 240-page Art.Lifestyle.Environment coffee-table book, which can be found in the Villa's living room.