In need of a pampering soak to recharge your body? Get a taste of the Japanese bath onsen experience right here in Singapore.
Soaking in an onsen brings a host of health benefits – it helps to increase blood circulation, relieve pain and promote good sleep.
We've sussed out six places that are worth checking out for some self-pampering.
Affordable, no-frills and beginner-friendly onsens
511 Upper Jurong Road, #01-06
Onsen – 11am to 11pm daily
Café – Noon to 10pm daily
Get a one-day public onsen pass for $41.80 nett at Joya Onsen Cafe. This pass entitles you to a full day of pampering, whether it be soaking in the large pool or dining at its in-house cafe.
Couples who prefer having their own personal spa experience can book the private onsen for 90 minutes at $88 per person. The private onsen session includes a one-day pass to the public onsen so you may also soak in the public onsen before or after your private onsen session.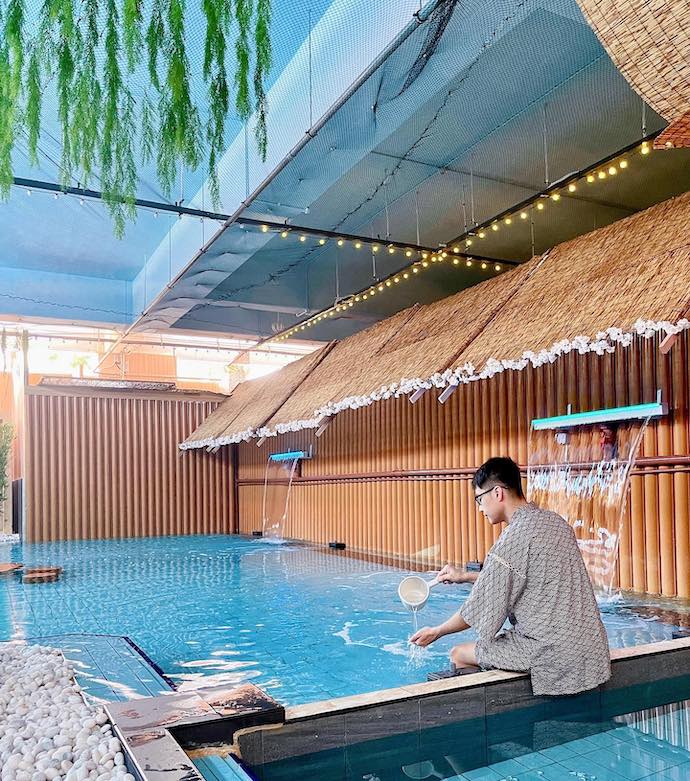 Like many onsens, Joya offers gender-separated baths. But what's more interesting is that the waters are infused with ingredients such as green tea and oolong tea for added health benefits like detoxification.
After your relaxing bath, head to the café for Traditional Rice Bowls topped with nori, ebikko, onsen egg, natto, tofu or inari beancurd; Traditional Curry Rice; Traditional Green Tea Ochazuke; or sides like Spice & Herbs Crispy Mushroom, Nori Fries & Mayo Dip, and Potato Salad with Mayo. There are also Japanese desserts such as Oshiruko (red bean soup with mochi), Peanut or Matcha Warabi Mochi, Raindrop Cake, Strawberry Mix Fruit Banana Sando, Coffee Jelly and Milk Pudding.
#02-17/18 Kallang Wave Mall
10am to 10pm daily
A jet bath, full-body streams of highly oxygenated water and a soda bath consisting of carbon dioxide-rich water (which is supposed to help with blood circulation) – these are just some of the many features you'll find at this hidden oasis.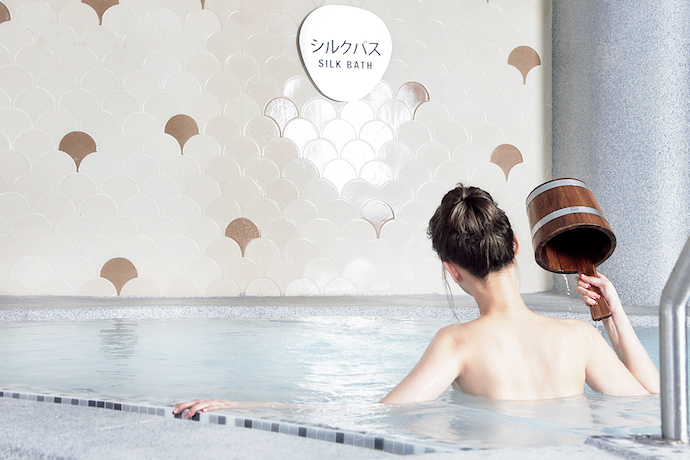 A one-day pass ($40.66 for adults, $29.96 for children and seniors) will grant you access to all the baths here, including amenities such as the steam room and sauna, as well as usage of the lounge. Alternatively, you can also opt for the onsen-and-spa package which comes with an onsen session topped with a spa treatment such as traditional Thai massage.
Consider taking a dip in a cold bath after soaking up in the hot pool to help tighten the pores. Fun fact: Temperature changes also help to stimulate tissues for injury recovery. Best of all, you'll get to don a traditional Japanese yukata before heading to Yunomori Cafe, where you'll find nourishing dishes like soba, ramen and oden.
#02-08 Hexacube
Noon to 8pm, Tuesday to Sunday
We've all experienced those stubborn muscle aches that return every now and then. Perhaps, what you need is a Foot Bath ($28 for 25 minutes) or a Full Body Bath ($36 for 25 minutes). At Shiruki Studio, you can expect some head-to-toe pampering including special ultrasonic hydrotherapy treatments. It offers affordable Japanese private onsen treatments with a focus on self-healing.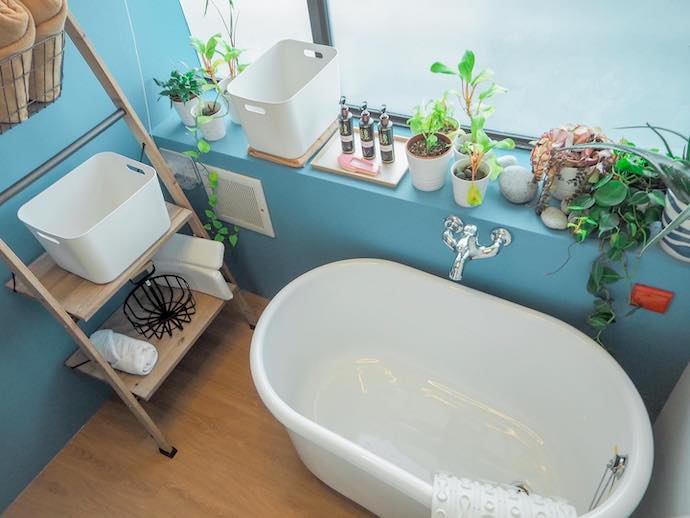 All it takes is a simple combination of air bubbles in the water plus heat bubbles. The combo helps to release tension and soothe joints, and offers a host of other benefits such as deep skin cleaning and improved blood circulation. To top it off, there's even a wide range of essential oils  to select from and add to the bath for an ultra-relaxing spa experience. Go for chamomile which is known to help with pain relief and anxiety.
Fancy onsens with wide, deluxe options
#02-28 The Centrepoint
11am to 9pm, Monday to Friday
10.30am to 8pm, Saturday, Sunday & public holidays
Koyamaki is the wood of the sacred Japanese umbrella pine and it is used for the tubs found at Elements Wellness. The lime-scented fragrance of this wood is unleashed when mixed with water, which makes for a unique experience in itself.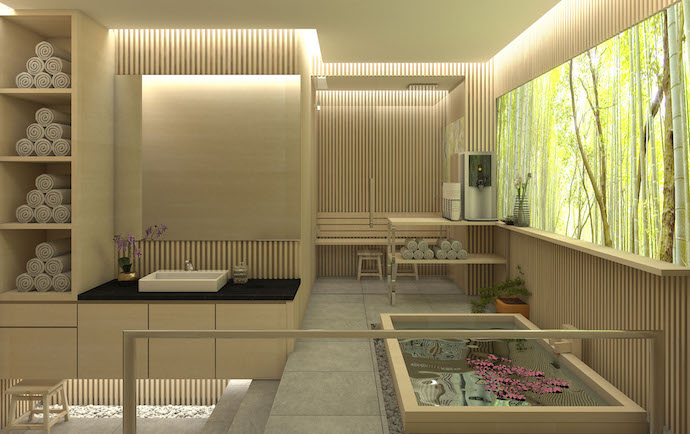 Waters here are packed with energised negative ions, which can help to detox and soothe arthritic pains. The ionised water also helps neutralise free radicals, giving it an anti-ageing effect on the skin.
Its Signature Koyamaki Onsen Ritual ($168++ for one person, $286++ for two) is a must-try. It's a grand package comprising a 60-minute body massage, a 15-minute back scrub, and an onsen therapy with a 40-minute steam bath. Spa options are available for couples looking to spend some quality time in a private suite too. Regardless of what treatment you choose, you'll walk out feeling like royalty!
787 Bukit Timah Road
1.30pm to 10.30pm daily

Singapore's first Japanese spa, Ikeda Spa is known for its onsen bath made of hinoki, a Japanese cypress wood once reserved strictly for Japanese royalty and prized for its soothing scents, anti-bacterial properties and other health benefits.
Besides the highly popular Hinoki Onsen Bath (single or couples), it also offers the Ganbanyoku Detox Massage ($200+) which is voted the "best detox massage in Singapore". Performed on a hot stone bed, the treatment lets you enjoy a good massage and a sauna session at the same time.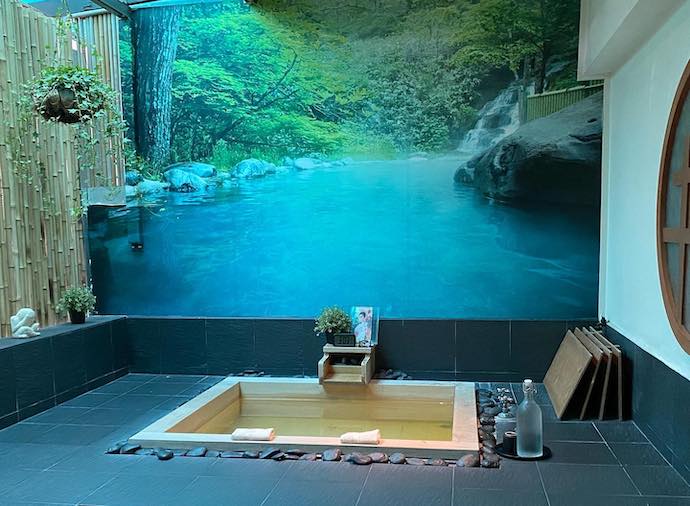 Another noteworthy treatment is the Zen Candle Therapy Massage ($200+), voted as "the best tension relieving massage in Singapore". This signature massage combines the spa's customised massage zen candle, which slowly liquefies into one of the most nourishing skin salves, with Eastern-inspired deep tissue massage and soothing Swedish broad strokes, to knead out muscle knots, soothe dull aches and bring forth deep relaxation.
#03-44/45/46, Harbourfront Centre
10am to 10pm daily
New kid on the block, HEIWA Wellness and Spa opened at the end of 2021 and is conveniently located at HarbourFront Centre.
Boasting a zen, Muji-like interior, the spa offers a host of facilities such as a mineral-rich onsen, infrared-powered steam bath and sauna, and services like full-body massages and foot reflexology. An aromatherapy massage (which includes a gourmet Japanese Bento Set and use of spa facilities) is priced at $178 for 60 minutes, while an onsen soak costs $38 for 45 minutes.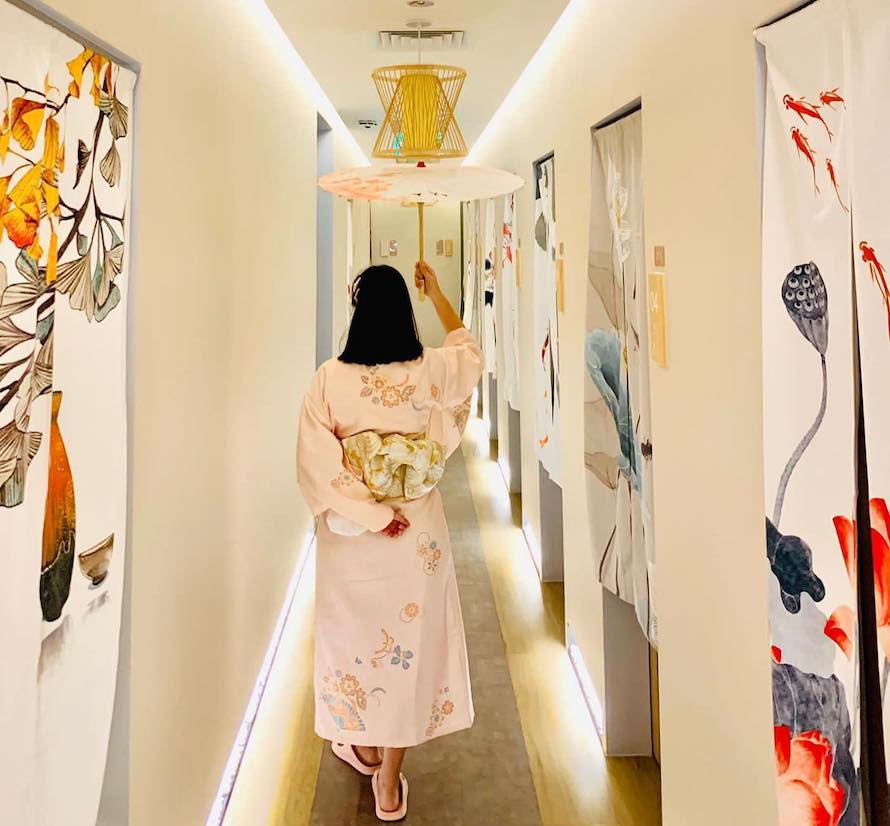 Fuel up after your treatments (dressed in a kimono or yukata, with free styling provided!) at the in-house restaurant, helmed by Chef Wong, an experienced sushi chef who honed his skills in Tokyo. Besides a selection of sashimi, sushi and bentos, Chef Wong has also come up with a luxurious Omakase menu featuring premium dishes such as Kagoshima A5 wagyu teppanyaki, grilled cod fish and fresh catch sashimi platter.
Japanese Onsen Etiquette
Here are some tips on how you can get an uninterrupted and authentic onsen experience:
• For hygiene purposes, wash your body with soap before entering the pool. This prevents the water from being dirtied.
• Douse yourself with warm water first. Also known as the practice of Kake-yu, this helps to get your body accustomed to the temperature, thus preventing hot flushes or dizziness. Start with your feet, then work your way up to your waist, hands and chest.
• Don't soak for too long. The recommended duration is between 15 to 20 minutes.
• Wipe your body dry before heading off. To avoid dehydration, drink plenty of water after your onsen session.
This article is adapted from Now Boarding by Changi Airport's "6 Hottest Onsens In Singapore To Melt Your Stress Away"