Attention, Marvel enthusiasts! Join forces with the Avengers as the Mightiest Heroes descend upon Jewel Changi Airport at the Avengers: Beyond Earths' Mightiest at Jewel Marvel-themed event from now till 13 August.
You don't want to miss this event fellow adventurers, because Marvel's coolest superheroes have taken over the Shiseido Forest Valley and Canopy Park. Here are five things you can look forward to.
1. Unleash your inner superhero at Avengers Assemble @ Shiseido Forest Valley
Kick off your action-packed journey at the Shiseido Forest Valley. Here, you'll find seven Marvel-themed photo spots that will transport you into the world of the Avengers. At the North entrance, be greeted by none other than Iron Man himself, standing at a staggering height of 5 metres.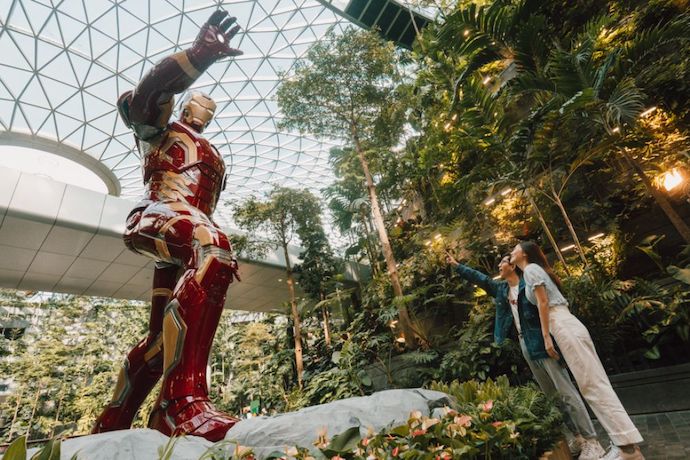 Next, marvel at the ginormous 3D displays featuring Captain America's virtually indestructible Vibranium Shield and Thor's mighty Mjolnir, reaching heights of 3 metres and 3.5 metres, respectively.
But the adventure doesn't end there. Test your strength against The Incredible Hulk – the Hulk-Out-Meter allows both adult and kid superhero-wannabes to measure their strength. It's your chance to battle against the indomitable Hulk!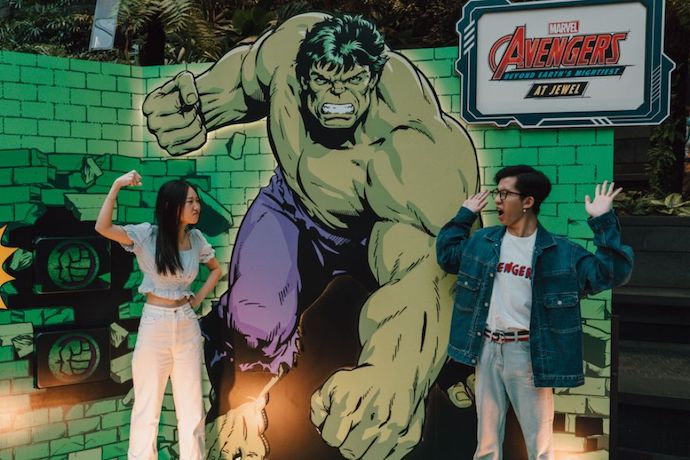 Fans can also engage in mystical battles alongside Doctor Strange, claim the throne as the Black Panther, and experience the incredible shrinking powers of Ant-Man and the Wasp.
2. Witness the evolution of Marvel Avengers at Avengers Forever @ Canopy Park
Next, go on a nostalgic journey through 60 years of Marvel Avengers history and learn amazing Avenger fun facts. From their humble beginnings in comic books to their triumphant rise in television, toys and blockbuster movies, this exhibit pays tribute to the enduring legacy of The Avengers.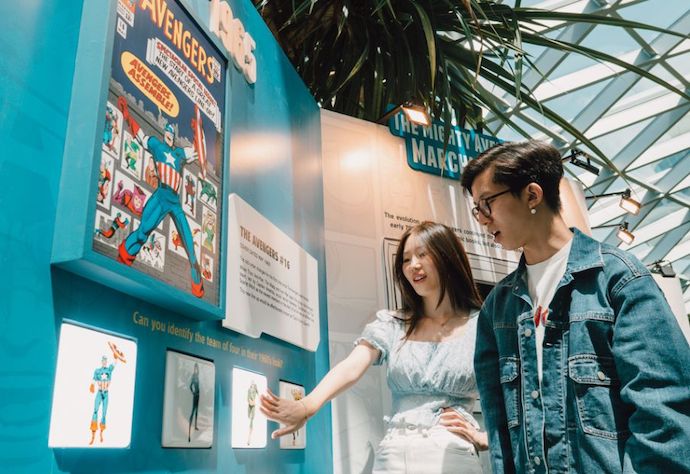 Trace The Avengers' extraordinary timeline from their inception in 1941 with the iconic Captain America to their official formation in 1963. See rare items on display such as the first-ever Avenger action figures from 1972, and watch a snippet of The Avengers' first animated series The Marvel Super Heroes.
Did you know that Singapore was once featured in a Marvel comic? While Singapore has been mentioned in Marvel Comic stories in the 1940s, the X-Men Vs Avenger #3 comic in June 1987 was the first time that Singapore was featured. See if you can locate this comic among the exhibits!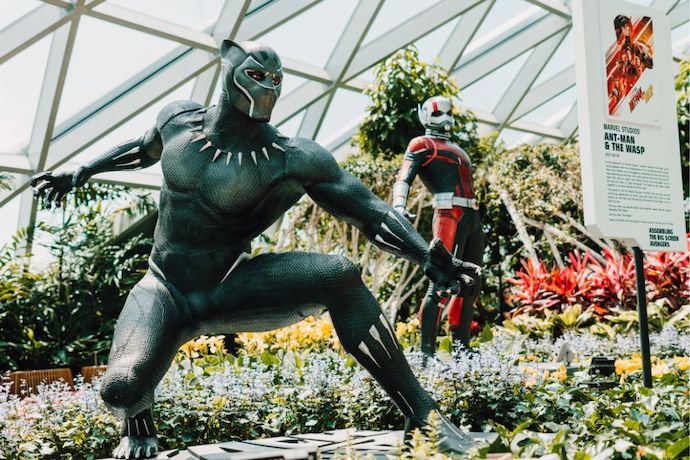 In the enchanting Petal Garden, life-sized statues of beloved characters from the Marvel Cinematic Universe await, from Ant-Man, the Wasp and Black Panther to Captain America and Iron Man.
3. Catch the Marvel Avengers-themed Light & Sound Show
Complete your Marvel Avengers experience with a special Light & Sound show at the HSBC Rain Vortex. Be there early to get a prime spot and catch your beloved superheroes flashed against the cascading water of the world's tallest indoor waterfall! Witness the majesty of these characters with the theme soundtrack from Marvel Studios' Avengers: Endgame in the background, transporting you to the heroes' worlds instantly.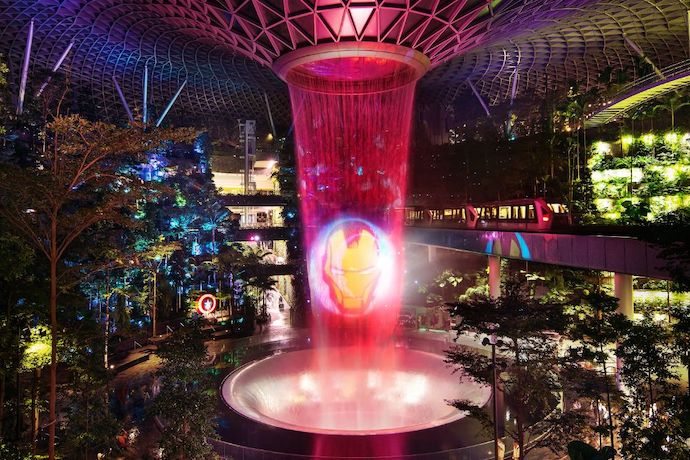 The Light & Sound show runs till 13 August, 8pm from Monday to Thursday; and 8pm and 10pm from Friday to Sunday.
4. Shop for Marvel Avengers comics and merchandise
Bring home a piece of your adventure with a Marvel memorabilia! Start at Action City's pop-up store, conveniently located near the Concierge Counter on Level 2. From toys to stationery, apparel to figurines, it is like a treasure trove of Marvel goodies. Then, head to The Wonder Store (#B1-219/220) for more Marvel, and even Disney and Pixar merchandise.
Pro-tip: Want to stand a chance to win some Marvel Avengers merch? Jewel will be running two contests during the campaign period to give away Marvel premiums, including a special edition Marvel Avengers comic featuring the Avengers against the backdrop of Jewel drawn by Singaporean artist Gary Choo.
First Contest – Scan QR codes found on the Marvel Avengers displays at the Shiseido Forest Valley, vote for your favourite Avenger and share photos using the Avengers-themed photo frame on your social media accounts (more details on Jewel's website here).
Second Contest – The mechanics will be announced on Jewel's social media accounts, so be sure to follow Jewel on Facebook and Instagram to get the latest dips!
5. Earn Avengers stamps and additional rewards when you shop and dine at Jewel
While you're enjoying the Marvel Avengers activities at Jewel, shop and dine there at the same time and get to earn additional rewards. From now till 30 July, collect six Avengers character stamps on the CapitaStar app by completing various tasks. With each transaction, you'll earn Mighty STAR$ and work your way towards unlocking these stamps. Once you've conquered all six tasks, a reward awaits – an additional 25,000 STAR$ (equivalent to $25) will be yours to claim!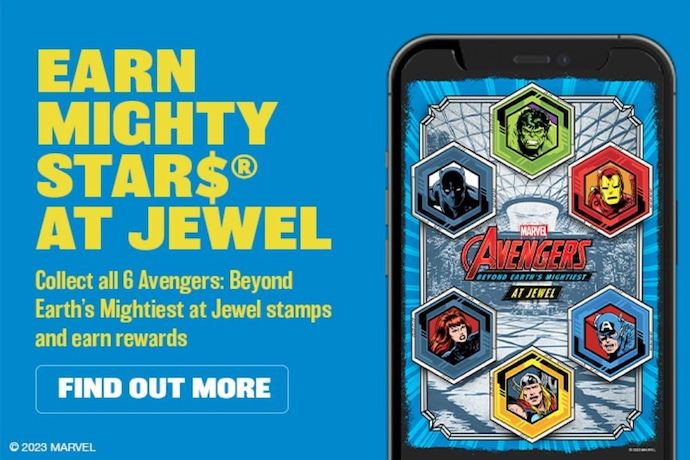 Some of these tasks include spending a minimum of $20 at Jewel attractions and spending a minimum of $20 at two different Duplex stores on Level 2. For more details, check here.
Photos courtesy of Changi Airport Group
This article has been edited and adapted from Now Boarding by Changi Airport's "Step into the epic Marvel Avengers universe at Jewel Changi Airport this June school holidays"