Craving a restorative break or need to unwind after a long flight? Check into Oasia Hotel Downtown, Singapore by Far East Hospitality for a wellness experience like no other.
The striking red, nature-inspired hotel, designed by award-winning architecture firm WOHA, inspires and empowers guests to go on a personal wellness journey during their stay through the hotel's three wellness pillars of Refresh, Refuel and Recharge.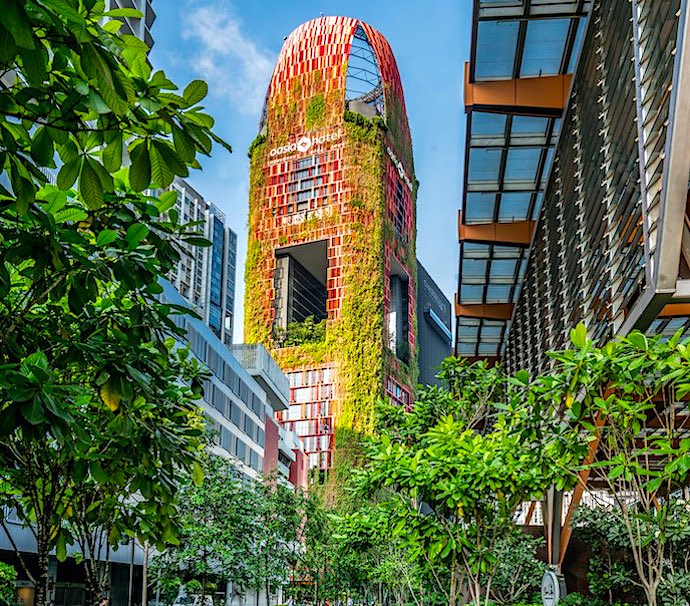 The 27-storey, 314-room hotel boasts greenery-filled, open-air spaces designed by acclaimed Spanish interior designer Patricia Urquiola that are perfect for relaxing and unwinding. These spaces feature cabanas, specially designed lounge chairs and breezy communal nooks where guests can take a break, relax and conquer the day at their own pace.
The hotel recently launched two Wellness in the City packages – a 2D1N Revitalising Escapade and a 3D2N Holistic Retreat – to help guests refresh, refuel and recharge their body, mind and soul through an array of activities specially designed to cater to different wellness goals. Package price starts from $570 nett for stays till 22 December 2023, and includes a stay in a Deluxe Room with Club benefits, breakfast for two persons, one wellness activity, high tea or dinner (depending on package), early check-in at 1pm and late check-out at 3pm.
Here's how you can enjoy an all-rounded wellness escape at the hotel.
Refresh your body and mind in soothing rooms with striking views
Rest and relax in rooms that sport wood and burnt orange tones matched with a soothing palette of white and grey while soaking up captivating views of different parts of the city. A distinguishing décor piece in the rooms is an elegant wooden panel featuring carved chevron-like patterns.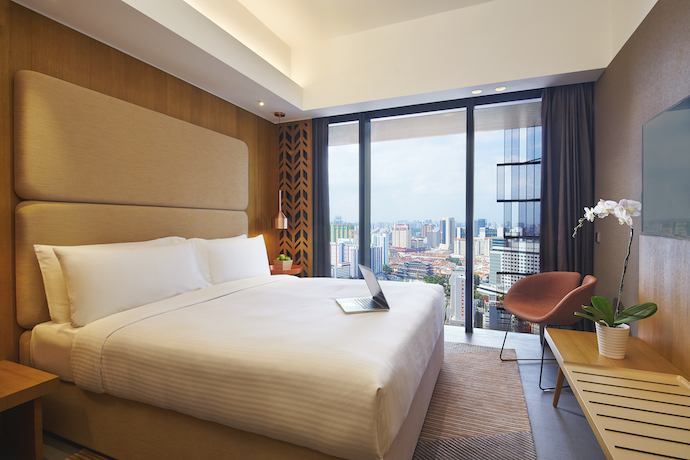 One-of-a-kind Urquiola-touches come in the form of stylish custom-designed rugs, copper lamps and bathroom tiles.
Refuel your body with nourishing meals
As a Wellness in the City package guest, you get exclusive access to the Club Lounge on Level 21 where you can enjoy all-day refreshments and beverages, as well as a hearty breakfast spread comprising wholesome options like guacamole on sour dough toast topped with poached eggs, served with coconut oatmeal; create-your-own wellness bowls; a breakfast platter of eggs done your way with sausage, bacon, tomatoes, baked beans and hash brown; pancakes; and a comforting bowl of porridge.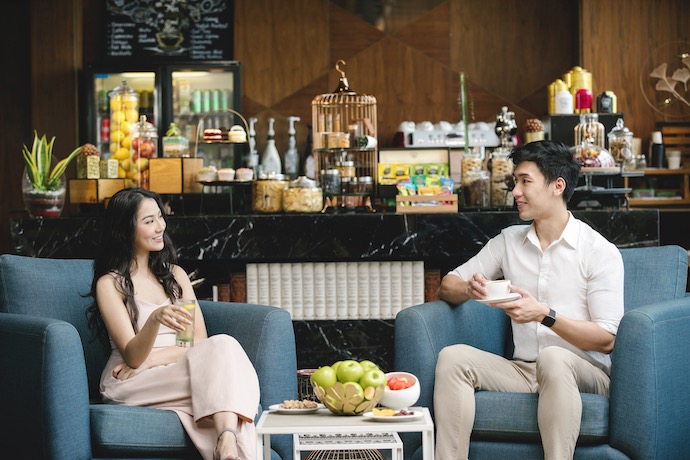 From 6pm to 8pm daily, enjoy free-flow of wines, beers and cocktails along with some hot and cold canapés during evening cocktails at the Club Lounge. During the cocktail hour, you can also take a restorative break through a 10-minute complimentary neck and shoulder massage at the massage station just outside the Club Lounge. The massage is on a first-come, first-served basis, and is great for relieving any tightness or knots in your neck and shoulder area, as well as improving your blood and lymphatic circulation.
If you opted for the 2D1N Revitalising Escapade, you'll get to indulge in an afternoon high tea session at The Marmalade Pantry, a homegrown bistro located on the ground floor. Nibble on dainty floral-infused sweet and savoury treats like Lemon Macaron, Petite Earl Grey Cupcake, Coconut Chiboust, Raisin Buttermilk Scone, Seared Scallop with Osmanthus on Focaccia, Paprika Chicken with Ginger, Chicken Cranberry Sandwich and Truffle Egg Mayo Sandwich. Enjoy the treats with your choice of Monogram tea.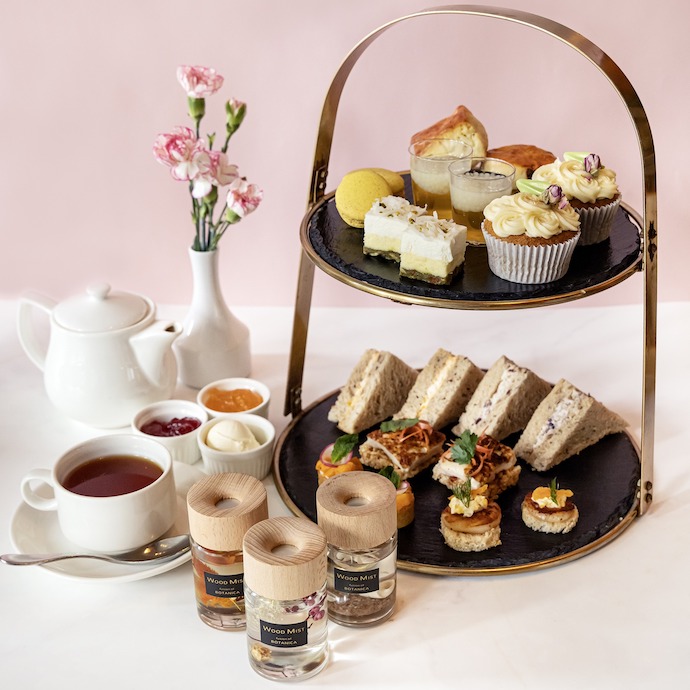 The 3D2N Holistic Retreat comes with a three-course dinner on the second evening at OSO Ristorante, an Italian fine-dining restaurant located on Level 27. Tuck into wholesome dishes such as Raw Tuna Loin Carpaccio marinated in beetroot, balsamico and orange; Cured Beef "Bresaola" Pear with Parmigiano; Flat Small Ravioli "Plin" filled with herbs, mixed vegetable ragout cooked "Bolognese" style; or Stewed Seabass Fillet with Smoked Eggplant Pulp, Sun-Dried Tomatoes and Lemon Zest. End on a sweet note with the 85% Venezuelan Single Origin Dark Chocolate and Black Cherries or the Double Cream Vanilla Flan "Panna Cotta" with Black Pepper Caramel Sauce, and wash it all down with a glass of Italian sparkling, red or white wine.
Recharge your body through wellness and fitness activities
If staying active and fit are important elements of your wellness journey, join the four-hour Historical Cycling Tour led by Bike Around Tour Singapore. Discover Singapore's historical landmarks and key attractions such as Merlion Park, Clarke Quay, Kampong Glam and the Formula 1 race circuit on two wheels. There'll be pit stops where you can sample yummy local delicacies.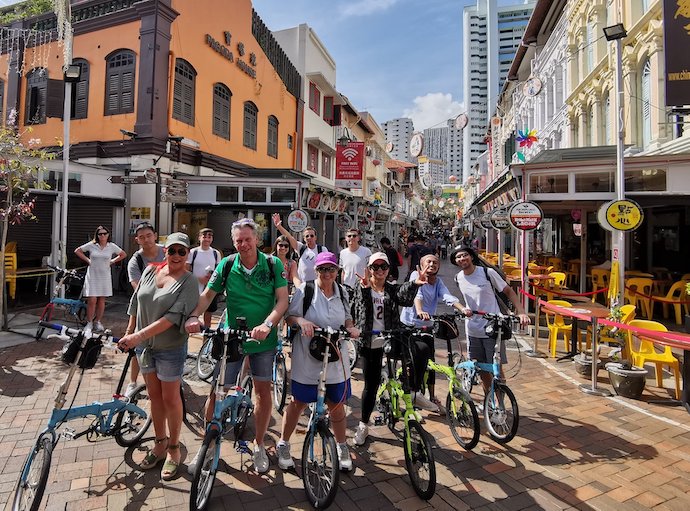 Additionally, you can get moving with wellness and fitness activities such as aqua spin, aqua circuit, yoga, Pilates, HIIT, weight and band work, and sound healing, led by experienced instructors. The activities are held on different days and at various times throughout the week at venues like the hotel's Sky Terrace on Level 12 and swimming pool on Level 27. Note that a two-day advance reservation is required for the wellness and fitness activities.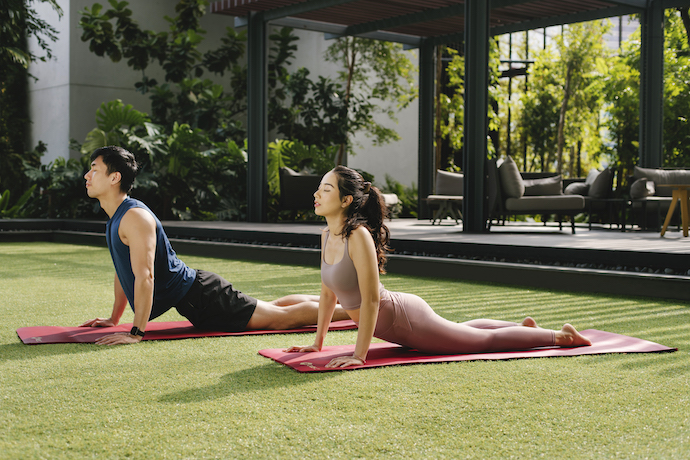 Recharge your mind and soul through a mental wellness workshop
For a more introspective approach to wellness, join a one-hour Mental Wellness Workshop by SPACE2B, held at the wellness studio's premises at 2B Stanley Street. Choose one of three wellness sessions – Breathwork, Active Meditation or Embodied Movement.
Combining breathing science with time-tested yogic breathing techniques, Breathwork teaches you how to breathe optimally to improve and enhance your physical health, sleep quality and more.
Active Meditation will take you through a series of guided activities that gradually eases you into great focus and meditation of the present moment.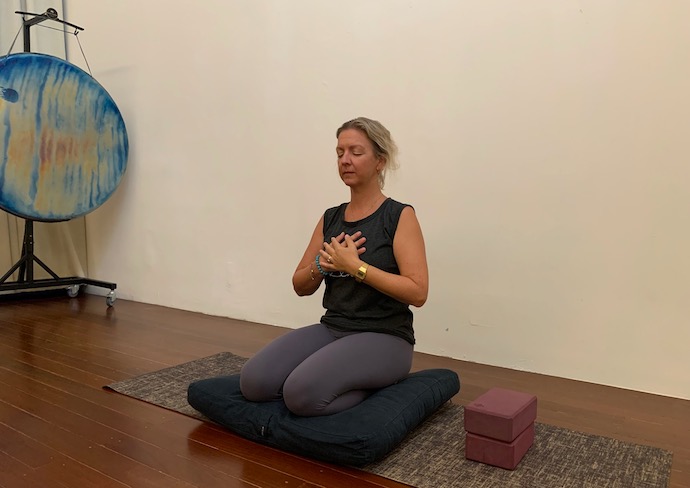 Embodied Movement is all about coming into a deeper understanding and intimacy with yourself. You'll learn to pause, calm down your nervous system and enter into a state of stillness. You'll also learn how to practise dynamic breathing, and perform gentle movements and stretches on the mat with the help of yoga blocks and bolsters to release tension in the neck, back, shoulders, hips and spine. The session ends with deep relaxation on the mat. After the session, you'll be able to gain greater inner and outer awareness, find your instinctive rhythms of movement and stillness, and discover effortless balance.