It is said that nature heals, that it gives the overworked cogs of the brain some rest, and reduces anxiety and stress. Which is what makes hiking in Singapore so great. Now, if only there weren't so many people around!
Given the travel restrictions, it's understandable that the walking trails here have been a bit congested as of late. It seems like everyone's trying to re-attune themselves with Singapore's native backyards. From Bukit Timah Nature Reserve to MacRitchie Reservoir, pictures of these popular hikes are all over social media feeds these days.
It's no fun hitting trekking trails when you also have to navigate through crowds, but we've got your back, plucky adventurer. Here are some of the best places to hike in Singapore that go off the beaten track.
Tampines Eco Green
Difficulty level: 1 out of 5 – it's an easy stroll down clearly-marked, even trails
Getting there: Alight at Tampines MRT Station and walk 20 minutes to the park via Sun Plaza Park
Interestingly, this quiet hiking spot is located within the heartlands of Tampines, a savannah of sorts bordered by HDB estates.
Surprisingly, you won't be able to even see the flats from inside the grounds. Instead, this full-fledged ecological park offers rugged marshlands, secondary forests and freshwater ponds along easy walking trails. Wondering why there aren't any lamp posts around? The aim is not to disturb the over 75 species of birds, 20 species of dragonflies, 35 species of butterflies and 32 species of spiders that have made Tampines Eco Green their home.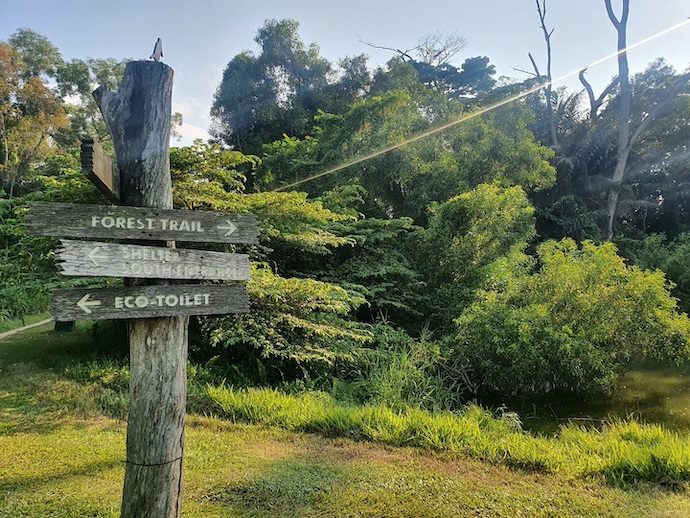 Keeping to its fully off-the-grid principle, the structures dotted around the park (benches, signboards and bird hides) are made out of recycled materials. Even the toilet that can be found in the park is eco-friendly – its odour-free system utilises bacteria and wood shavings to convert human waste into compost!
Chestnut Nature Park
Difficulty level: 2 out of 5 – well-trodden paths are easy to navigate, but it's a long walk
Getting there: Park at Chestnut Nature Park carpark and begin your route from there. Alternatively, from Bangkit LRT Station, head towards Bangkit Road towards Chestervale Condominium. Take the tarmac track leading to Zhenghua Nature Park, make a right turn, walk along the track to get to the underpass, leading to Chestnut Nature Park.
Granted, Chestnut Nature Park is not exactly hidden, but Singapore's largest nature park (a breathtaking 81ha in size) is well worth the visit for its secluded vibes.
The expansive nature park offers several hiking trails of varying difficulties as well as dedicated mountain biking areas. Prep for a long trek since hiking across both the northern and southern trails will stretch as long as 5.6km.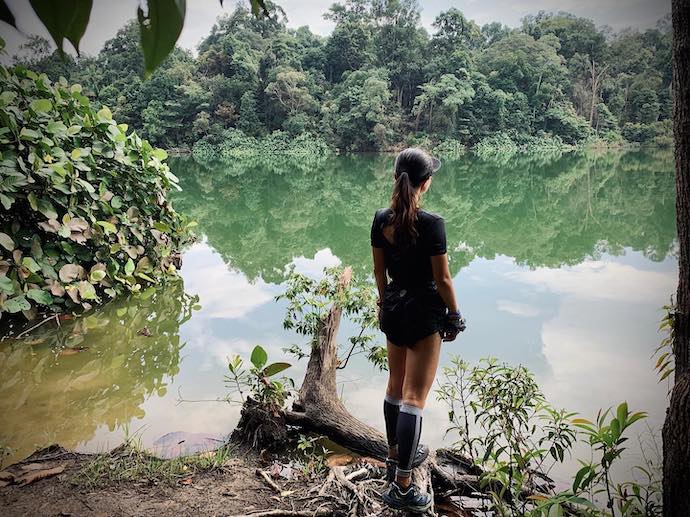 Known to be a relatively quieter park to venture in, you won't find big crowds here, just the tranquil sounds of nature, including a bustling stream. Hilly terrains, granite boulders and an open field of tall lalang are among the natural elements hikers will face.
Eventually, trekkers will find a grove of trees leading to the observation tower at Chestnut Nature Park, where they can admire the vast greenery, thanks to National Parks Board and its biodiversity conservation efforts.
Bukit Batok Hillside Nature Park
Difficulty level: 3 out of 5 – it's an uphill trek that will see you occasionally bashing through light vegetation and trekking on long-disused boardwalks
Getting there: Across the road from Block 315 along Bukit Batok West Avenue 2, find an opening into the forest – the trodden trail to Bukit Batok Hillside Nature Park should be visible from the pavement.
Little is known about the origins of Bukit Batok Hillside Nature Park, an area that can be found in a secondary forest along Bukit Batok Road.
A trodden path at the edge of the forest will bring hikers to some uphill stone steps that lead to a dilapidated sheltered walkway resembling the torii gates of Kyoto, Japan. Nature has reclaimed this abandoned park, with vegetation growing over what used to be walking trails, wooden boardwalks, artificial rock installations and broken lamp posts.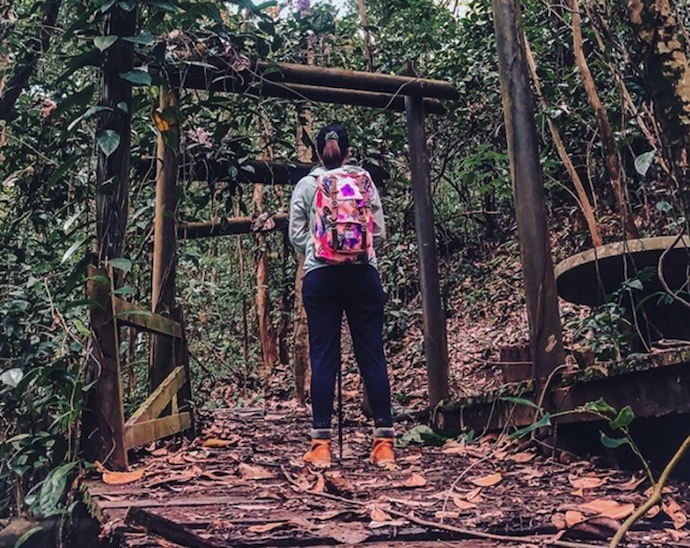 Hikers will have to navigate steep terrains and thorny vegetation to find old structures like pavilions and a well, traces of what would have been a vibrant recreational park in this part of Singapore. Wander upwards to the top of the hill for an open view of the vicinity, though right now you'll most likely be greeted by the view of BTO flats being constructed.
The lack of information about this spot adds to the mystery, making Bukit Batok Hillside Nature Park one of the more surreal trekking places in Singapore.
Marsiling Tunnels
Difficulty level: 4 out of 5 – with proper lighting gear, outfit and confidence, walking through the underground tunnel should be manageable. Not for the squeamish and those who are afraid of getting dirty.
Getting there: From the bus stop near Woodlands Waterfront carpark, walk down Admiralty Road towards Marsiling Crescent. Make your way further down the stretch to find an opening past the barricade. Enter the field to find a semi-trodden trail that leads to the entrance of Marsiling Tunnel.
Wanderers looking for more abandoned places (and aren't afraid to get dirty) can look yonder to the north of Singapore to find Marsiling Tunnels. A bunker used by the British military as a storage facility for petroleum during World War II, this underground tunnel counts among one of the spookier trails in Singapore.
Getting there is easy enough – one simply has to find the tunnel's semi-concealed entrance among dense foliage after bashing through a forest next to Woodlands Waterfront carpark. The hard part comes when you wander into the depths, as you'll have to trudge through ankle-length mud alongside rusted pipes. As you would have guessed by now, wearing flip-flops will be unwise.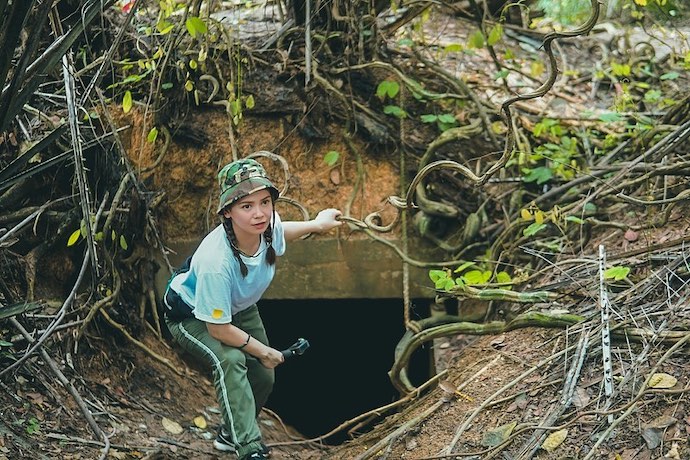 Headlamps will be required since it's completely dark underground. Other sports accessories you may want to consider bringing are arm pockets for your smartphones or a water and impact-proof case to store your belongings.
Those afraid of creepy crawlies should probably avoid this trek altogether since the walls and ceiling of the tunnel are covered with fat geckos and their eggs. To make things even more exciting, there are sinkholes that one can drop into chest-high muddy waters.
The tunnel comes to a dead end, so visitors will have to make their way out the same way they entered. It's best not to wander into the tunnels alone, so be sure to find an experienced guide to take you down below.
Clementi Forest
Hiking difficulty level: 5 out of 5 – be prepared to navigate slippery, muddy ground, climb over fallen logs and bash through prickly foliage
Getting there: Alight at the bus stop opposite Ngee Ann Polytechnic (12109) along Clementi Road. Walk towards the canal behind the bus stop and follow the semi-trodden path into the forest.
Even if you're not a fan of the great outdoors, you would no doubt have heard of Clementi Forest. Interest in this untouched plot of land hasn't died down ever since a local nature lover shared gorgeous footage of his trek off the beaten path, capturing the forest's early morning beauty in all its majestic glory.
Located off the Green Corridor, this once-hidden gem promises a vast vista of raw, lush greenery – something many deem to be extinct in urban Singapore. Since this spot remains undeveloped, there aren't any paved paths. This means it is a proper nature walk in Singapore as you'll have to clamber over fallen trees, trudge through muddy ground, roam on uneven ground and bash your way through knee-high vegetation.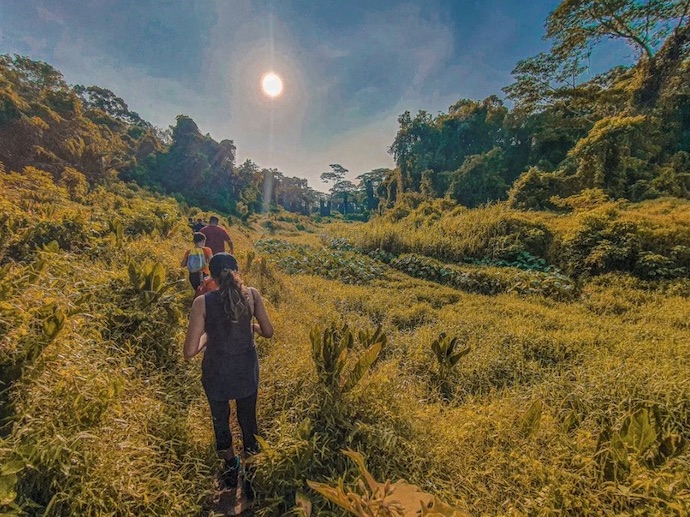 It's common for people to slip and fall while trekking into Clementi Forest, so be sure to gear yourself up properly with the right outdoor or sports attire like hiking boots, thick socks and durable leggings.
The best time to hit this trail is during daybreak, around 7am. You'll get to catch the bright morning mist merging among the tree-filled landscapes. Very Jurassic Park feels.
Wander further into the forest and find the abandoned Old Jurong Railway track, which will lead to an old train tunnel. And since this trail is not for the faint of heart, you won't find as many people as you would at public parks!
This article is adapted from Now Boarding by Changi Airport's "Hidden trails off the beaten track to explore in Singapore"