The Telok Ayer heritage area is a hot spot for foodies, coffee lovers, drink enthusiasts and anyone looking to chill out. But did you know that it was once Singapore's waterfront, a landing point for early immigrants in search of a better life? Back in the day, Telok Ayer (Malay for "bay" and "water") was mainly populated by Chinese immigrants, leading to a concentration of temples and clan associations in the area.
It is against this backstory that The Clan Hotel Singapore, the CBD's newest luxury hotel, draws inspiration from and crafts unique experiences to transport guests to a bygone era when Chinese immigrants sought housing assistance, support, companionship and connection to their home countries at clan houses. Even the hotel's name is a nod to the clan associations from the 19th century, some of which are still active today.
Just as Singapore's forefathers helped the Chinese immigrants make the country their own, the experience-driven hotel by Far East Hospitality promises to extend the same spirit of hospitality and care to all its guests.
The 30-storey hotel, which opened in March this year, sits above the nexus of Far East Square, a collection of shophouses dating back more than 170 years. The hotel houses 324 rooms across three categories – Grand Premier, Premier and Deluxe – from levels six to 29. The 18 Grand Premier and 60 Premier rooms make up the hotel's signature MASTER Series rooms which come with customised services along with a host of perks and privileges.
Its rooftop Sky Pool and Sky Gym (complete with Fitness-on-Demand personal training service and traditional Wing Chun wooden dummy for those into martial arts) on level 30 offer some of the best vistas of heritage shophouses and skyscrapers in the surrounding area, a stunning juxtaposition of Singapore old and new.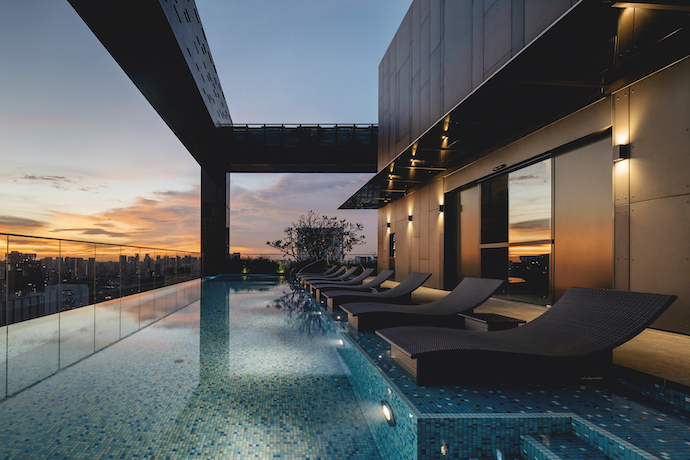 For a staycation marked by enriching modern-meets-heritage experiences that celebrate the Singapore story and bring to the fore the history of Chinese clan associations, book a stay at the hotel's MASTER Series Grand Premier or Premier rooms.
As MASTER Series room guests, here's what you can look forward to.
Personalised Pampering Experiences
Your journey as a MASTER Series guest begins even before you set foot in the hotel. You get to choose up to five premium snacks and drinks to be enjoyed in the comfort of your room, and on the day of your check-in, a shiny limo arrives at your residence to whisk you off to the hotel in style.
Upon entering the hotel's dark, mysterious arrival lobby, you'll be greeted by the sound of a gong which supposedly emits good vibrations for your stay. A tea ceremony conducted by the resident tea master awaits at the elegant second-floor lobby which sports double-height floor-to-glass windows, wooden wall panels, black marble, dark timber shelves, lattices and lantern-like lamps.
As you sip on Nanyang Ritual tea, an oolong blend specially created for the hotel by Pryce Tea to spotlight the daily brew of the 19th century Chinese settlers, and nibble on tau sar piah, marvel at the lobby's decorative objects, each with a story to tell.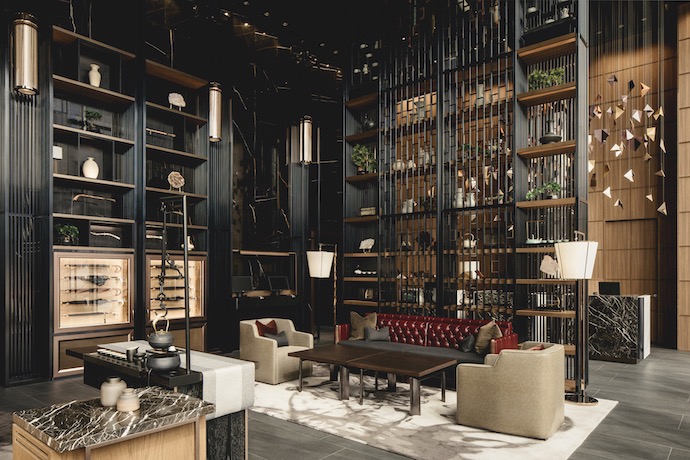 A collection of vintage Pasotti umbrellas brings out the hotel's promise to take care of guests like they are kin. Floating above the reception is an eye-catching installation by local artist Grace Tan called "The Pact", comprising 150 aluminium panels, which signify the spirit of togetherness and how great things can be achieved through a community's collective efforts and aspirations.
Tan is part of The Clan Collective, the hotel's collaboration with artists, local craftsmen and influential personalities who are widely regarded as keepers of Singapore's culture and heritage. Other Clan Collective partners include Chong Han San, founder of Q Menswear, who designed the hotel staff uniforms, and Ivan Yeo of The 1925 Brewing Co. who specially crafted The Orient Brew, a white chrysanthemum lager, for the hotel.
Luxe Rooms That Celebrate Past & Present
The pampering service continues as The Clan Keeper, your personal concierge (a MASTER Series guest perk), helps you settle into your room, offers you a choice of one of three handmade soap bars, makes bookings for your pool and gym access, arranges for special dining requests, orders your pillow of choice (we recommend the Comfort-U Body Pillow) and assists in any way throughout your stay.
Occupying corner locations, MASTER Series rooms guarantee sweeping views and are decked out in warm wood and soothing hues, lantern-like lamps and framed heritage objects like Chinese calligraphy paintbrushes.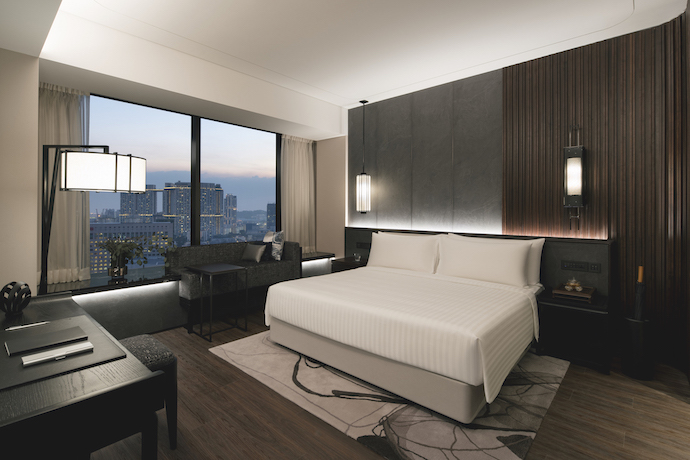 Sleek grey-tiled bathrooms feature a TOTO Washlet, a Hyflux filtered water tap and bath products by VUUDH – Hotel Collection, plus a bath tub only in Grand Premier rooms.
The cosy daybed by the window is the perfect spot for soaking up the marvellous views while sipping on Nanyang Ritual tea or Nespresso coffee, and indulging in a healthy dose of daydreaming!
Reimagined Chinese Classics & Hawker Favourites
The Singapore story theme continues at QIN (Chinese for "kinship") Restaurant & Bar through the quaint Chinese medicine cabinet motifs across its ceiling and wall.
Managed by TungLok Group, the restaurant on level 4 serves up classics with an inventive spin like Chilli Crab Costini; Hainan, No Rice Please; 'Sang Mein'; and Siphon Mushroom Tea. For breakfast, MASTER Series guests can tuck into hearty choices such as Home Brewed Local Porridge, American-style The Qin Breakfast, a smoked salmon and ham Continental Breakfast, Pancake Breakfast, a vegetarian Nochicken Bagel-Burger and a Chef's Daily Special.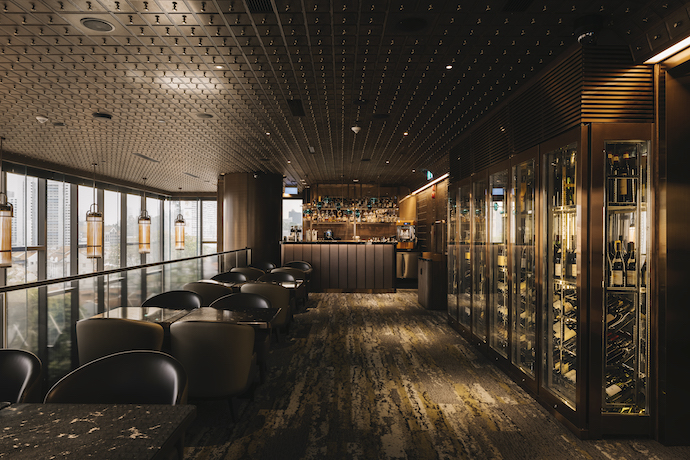 As for drinks, the bar on level 5 offers over 60 wine selections and a range of cocktails including The QIN Tales signature cocktails like The Roar, Pu Luo Chung and The Five Kings which are inspired and named after a part of Singapore's history.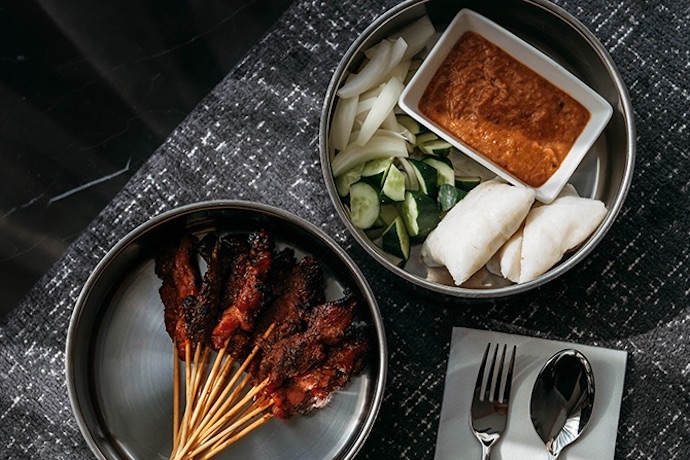 If you love hawker food, you're in for a special treat as you'll get to enjoy The Clan Daily Special, a spread of local hawker dishes curated by The Clan Collective partner Dr Leslie Tay of award-winning ieatishootipost food blog. Exclusively for MASTER Series guest, the dishes of your choice will be delivered to your room at dinner time, in homey metal tiffin carriers, by The Clan Keeper. From Legendary Bak Kut Teh and Ibrahim Satay Power to Janggut Laksa, Eddie Li Xin Fishball Noodles and Punggol Nasi Lemak, each dish represents Singapore's diverse culture.
Local Precinct Tour & Insightful Experiential Activities
Play tourist in your own backyard by joining the Local Precinct Tour to rediscover the heritage of the area and see its gems with new eyes. Conducted daily at 4pm, the two-hour walking tour is led by one of The Clan Keepers who will regale you with tales of the area's storied past.
Explore heritage sites and cultural spots like Fuk Tak Chi Museum, Museum Café, Buddha Tooth Relic Temple & Museum, Sri Mariamman Temple, URA Singapore City Gallery and Maxwell Food Centre where you'll be treated to an iced-cold drink.
If the precinct tour has whet your appetite for more discoveries about Singapore's past, join one of the hotel's experiential tours to take a deep dive into brewery culture and tasting; Hokkien and Hainan food culture; disappearing trades; sandal-making; wet plate photography and more.
An eye-opening experiential tour is "The OG Female Badass: The Untold Tale of the Samsui Women and Majies", led by guide and storyteller extraordinaire Patrick Lee of Persp8ctives by 8th Wave. Lee, whose grandmother was a samsui woman, shares intriguing details about the lives of samsui women (why they wear red headscarfs) and majies (who is the most famous majie in Singapore) from China who came to Singapore in the 1930s to find work and send money back home. Learn more about the women's combing-ceremony to enter celibacy, as well as their sisterhoods, secrets and sacrifices. Gain a better understanding of these women, and discover why they were both rebels and victims in between tradition and changing times.
Lee will also show you the places where the independent women lived and frequented, and offer insights into the architectural history of Bukit Pasoh Road and Keong Saik Road. You'll also get to explore a half-hidden temple which played a central role for both women and learn about its noble social mission which continues till today.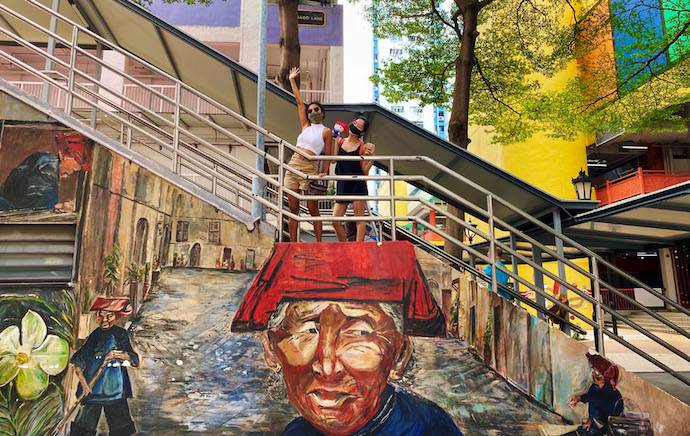 Other highlights include checking out Insta-worthy murals and sculptures that pay tribute to the samsui women, visiting Kreta Ayer's best-kept secret, stopping by a club where millionaires lived it up in the early 1900s, and getting a taste of some favourite foods of samsui women.