Opulent. Vivacious. Eclectic.
Adjectives that best sum up the design DNA of The Scarlet Singapore, Singapore's first luxury boutique hotel. Opened in December 2004, the 80-room hotel is housed in a 1924 Art Deco building and a row of 1868 shophouses, which in a former life served as the living quarters of samsui women who helped to build Singapore.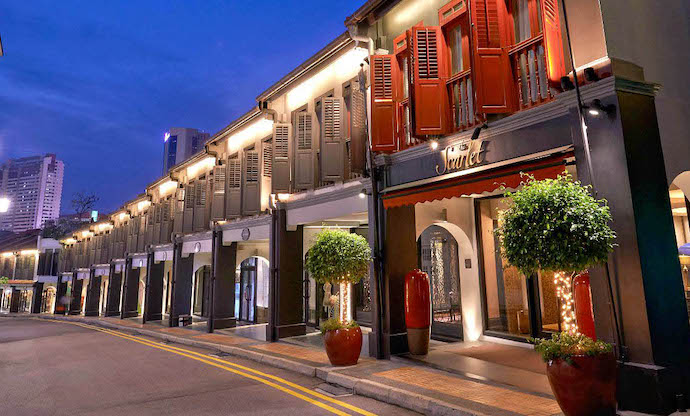 Black marble, high-back velvet chairs in deep red and blue hues, bronze statuettes, an ornate mirror, water features and dazzling chandeliers in the lobby tease the senses and offer a glimpse of what to expect in the rooms and suites.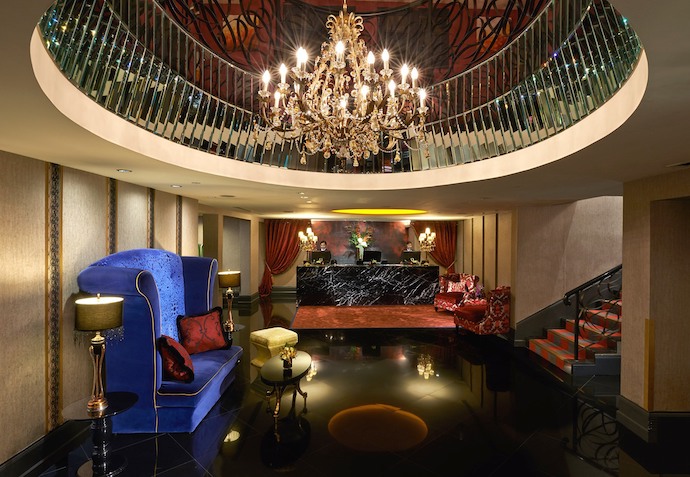 Deluxe, Executive and Premium rooms are decked out in vibrant gemstone-inspired palettes, one-of-a-kind headboards, whimsical artworks and dark wood furnishings. Some Executive rooms have balconies while Premium rooms come with bathtubs.
But the true character of the hotel is unveiled in its themed suites – Swank, Opulent, Lavish and Splendour – where a world of luxury, romance and indulgence awaits.
The hotel's recently launched Scarlet Seduction staycation package is a great way to spend quality time with your special someone. The package starts from $148++ for a weekday stay in a Deluxe room and includes breakfast for two persons as well as complimentary minibar and snacks which are replenished daily. Executive and Premium guests will also receive a complimentary bottle of red Italian wine.
Suite guests not only get a selection of premium snacks, red and white wines, plus a bottle of Prosecco, they also enjoy complimentary one-way limo service so they can arrive or leave the hotel in style.
Here's what you can look forward to during your stay at the hotel.
Luxuriate in bold, uninhibited spaces
Rooms are spread across the four-storey Art Deco building and heritage shophouses, while suites are housed within the Art Deco building.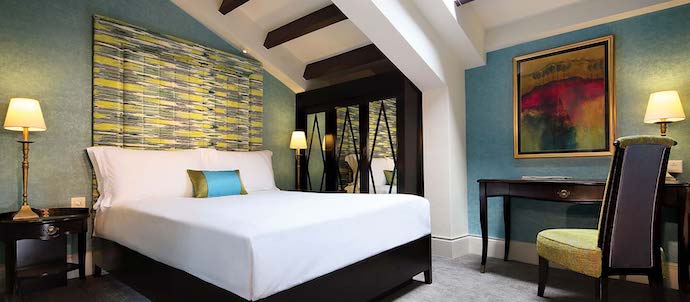 As the hotel straddles two buildings, no two spaces are alike. Each room has a unique configuration, with some offering views of red rooftops or the city area.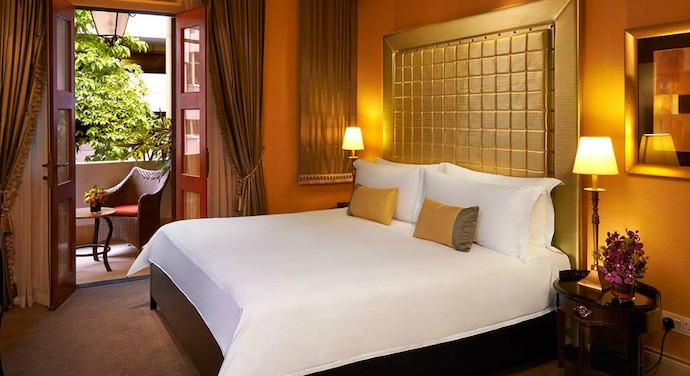 Made for romantic escapades, each suite has a distinct personality that stays true to its name. All suites feature king-sized beds, bathtubs with jacuzzi jets and work desks and elegant silk curtains.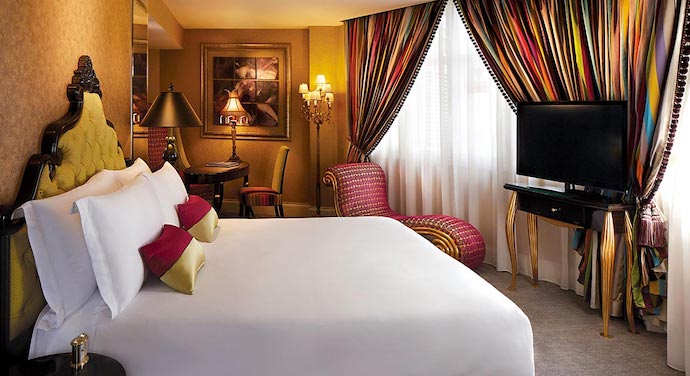 Swank and Opulent suites have spacious balconies and living rooms adorned with custom-made furnishings in eye-catching shades. The semi-hexagonal Lavish suite boasts a luxe king-sized Hästens bed that's tailor-made with natural materials such as horsehair, flax, wool and pine, while the pièce de résistance of the Splendour suite is the Christian Lacroix-fabric day bed.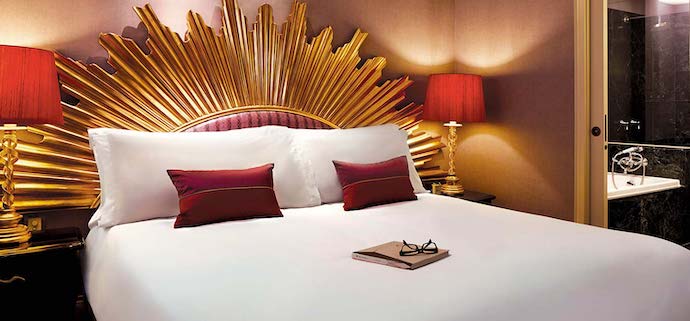 Feast on Italian specialities at Pasta Brava and keto-crafted eats at Sofi Café + Keto  
One of Singapore's oldest Italian restaurants known for its handcrafted pastas and homemade sauces, Pasta Brava recently relocated to the hotel's Art Deco building.
Satisfy your Italian food cravings with house specialities and bestsellers such as Spaghetti with Seafood in Fresh Squid Ink; Lasagna; Chef's Lobster Bisque; Pan-fried Beef Tenderloin flavoured with Tellicherry Black Peppercorns and Gorgonzola Cheese; Calamari and Vegetables with PB Special Tomato Sauce; Spiced Tomato Based Stew with King Prawns, Clams, Squid, Mussel and Crayfish; Tiramisu; Chocolate Lava Cake with Vanilla Ice Cream; and Sticky Date Pudding with Toffee and Vanilla Ice Cream.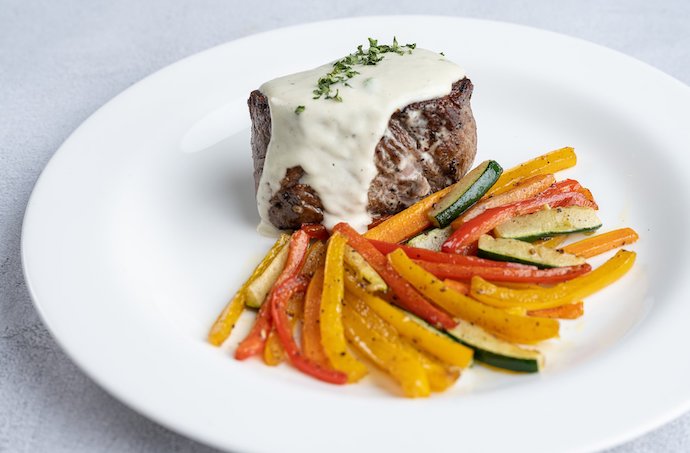 Keto fans will be pleased to know that the restaurant offers keto-compliant, low-carb, gluten-free pasta and pizza options. Pastas are made with almond meal, psyllium fibre and egg white, while pizza doughs contain almond meal, egg yolk and olive oil.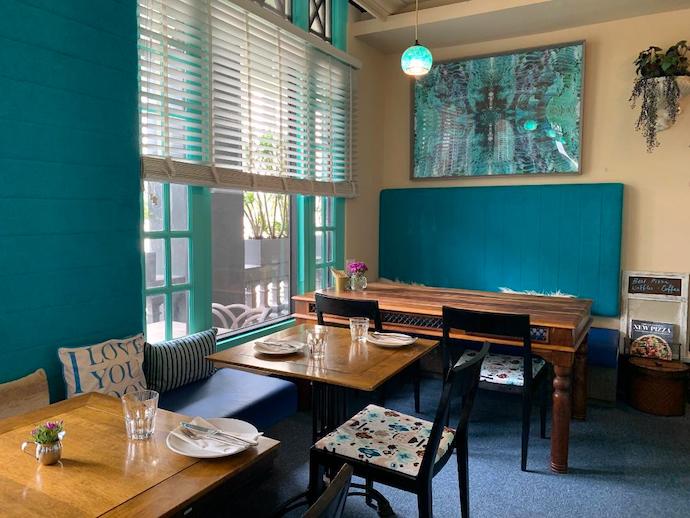 For more keto-crafted foods, order from sister eatery Sofi Café + Keto which shares the same space as Pasta Brava. The all-day café is also where hotel guests can enjoy a hearty Western breakfast with keto options, of course.
Every dish on the menu is painstakingly crafted, and thoroughly tried and tested by café founder and keto advocate Sofi Sui.
Must-trys include 3 Eggs Omelette; Keto Spicy Chicken Wings; Chilli Crab Thin Crust Pizza; Burrata Thin Crust Pizza; Singapore's 1st Whole Boston Lobster Pizza; Handcrafted Gnocchi with Fresh Seafood Alio Olio; Roasted Pork Belly with Mash or Salad; Hokkaido Scallop, Prawn, Egg in Spicy Shirataki Noodles Soup; and Grilled Grass Fed Beef Tenderloin with Fries.
Guilt-free desserts to sink your teeth into include Keto Panna Cotta, Apple Cake, Lemon Zucchini Cake, Limoncello Almond Cake and Keto Rosemary Cake.
The café also sells keto coffee, keto flour, almond and oat milks, organic chocolate, honey with truffle, truffle sauce as well as house-made keto-compliant kaya, nut butter and Sourdough Keto Bread.
Unwind with cocktails at Sofi Café Rooftop Bar
Nothing beats enjoying drinks with the wind in your hair on a rooftop bar in the evenings. This breezy bar on the fourth level of the hotel offers scenic views of the Chinatown and Tanjong Pagar neighbourhoods.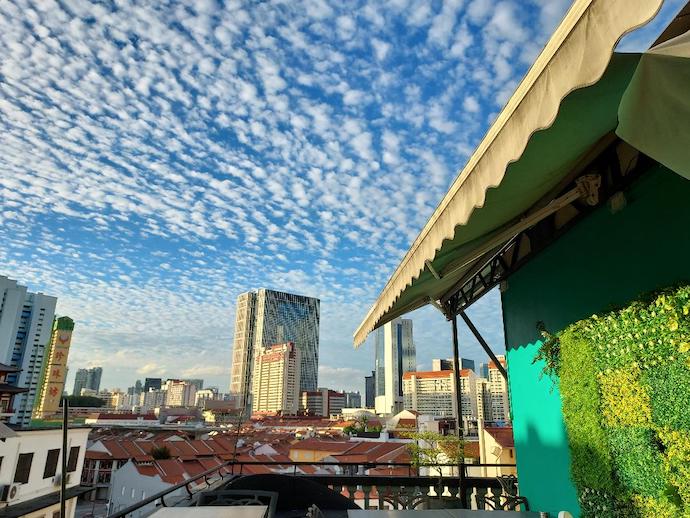 Settle down with your favourite tipple and savour moreish eats like Fresh Sautéed Mussels with Tomatoes, Herb Butter & White Wine; keto-compliant Organic Grilled Paprika Cauliflower Steak with Lemon Parmesan; Grilled Pork Tomahawk; and Grilled Meat & Seafood Platter (feeds four to five persons).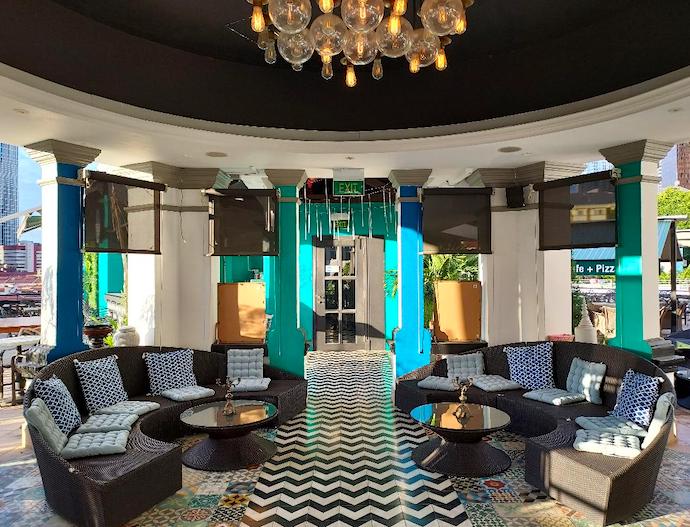 Those who are watching their sugar intake can go for the bar's specially crafted keto cocktails that are sweetened with monk fruit powder. Sip on Pandan Martini, Espresso Martini, Homemade Limoncello, Berries Mojito, Pineapple Bellini, Sweet Melon Daiquiri or Azuki Sake Shake while soaking up the captivating views.