One of the best places in Singapore to enjoy nature and the outdoors is at Singapore Botanic Gardens, the country's oldest garden.
The first and only tropical botanic garden on the UNESCO's World Heritage List, the 161-year-old Gardens is home to an amazing array of plants including rare orchids, heritage trees and bonsai, lakes, fountains, walking trails, freestanding sculptures, an octagonal gazebo, a Seed Bank and even a Learning Forest.     

If you only have a couple of hours to spare at the 82-hectare Gardens, here are the attractions that you cannot miss:

• Jacob Ballas Children's Gardens
8am – 7pm (last entry at 6.30pm)
Closed on Mondays except on designated public holidays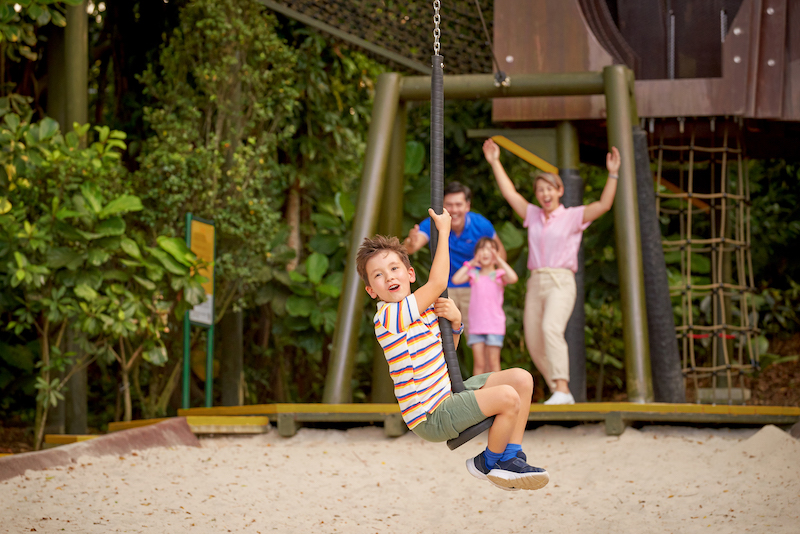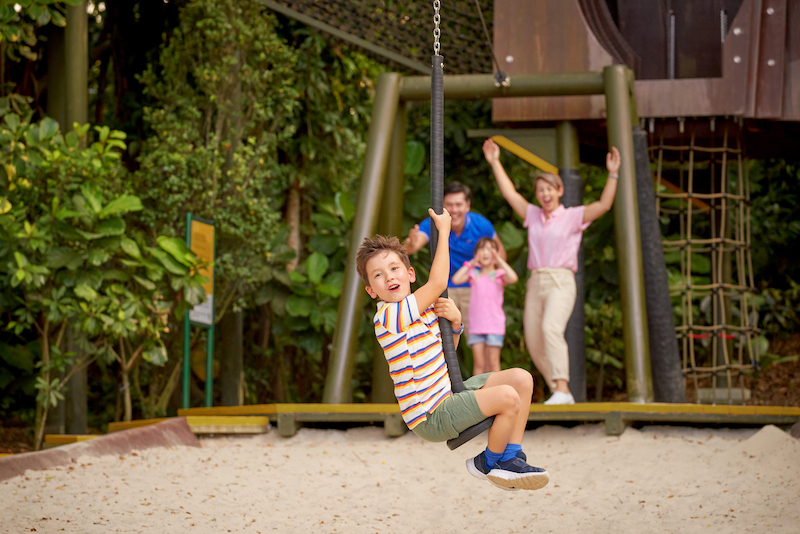 Your kids will love exploring the Jacob Ballas Children's Gardens,the first of its kind in Asia. The perfect spot for kids to play, explore and learn about plants and the environment, it has a farm, an orchard and a forest with streams and ponds.
Young adventure seekers can explore the suspension bridge and nature play areas while budding naturalists can walk along the stream and climb into the tree houses. Those who are keen on gardening can observe how plants grow and pick up some gardening tips.

There are also curated trails to guide the young ones on how to be an "Adventurer", "Gardener" or "Naturalist" for a day. 

• Learning Forest
5am – midnight daily (The SPH Walk of Giants and Keppel Discovery Wetlands are closed from 7pm to 7am to maintain a conducive habitat for wildlife)
Free admission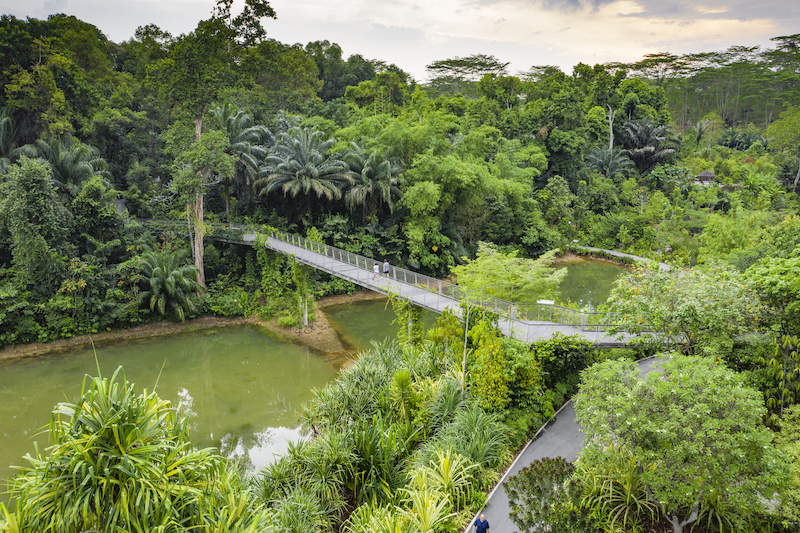 Discover freshwater forest wetland and lowland rainforest habitats, see giant and wild fruit trees, and spot birds and butterflies at the 10-hectare forested area (about the size of 15 football fields).

Located at the new Tyersall-Gallop Core of the Gardens (enter via Tyersall Avenue), the Learning Forest has a long history that can be traced back to the early 19th century. It is home to over 100 species of birds, 20 species of amphibians and reptiles, 19 species of butterflies, seven species of mammals and more than 500 species of plants.

The area can be explored through a network of boardwalks and elevated walkways. Get up close to some of the tallest tree species in Southeast Asia at The SPH Walk of Giants and learn about a swamp forest ecosystem at Keppel Discovery Wetlands.

• National Orchid Garden
8.30am – 7pm (last ticket sale at 6pm)
$5 adult, $1 senior/student, free admission for child below 12 years old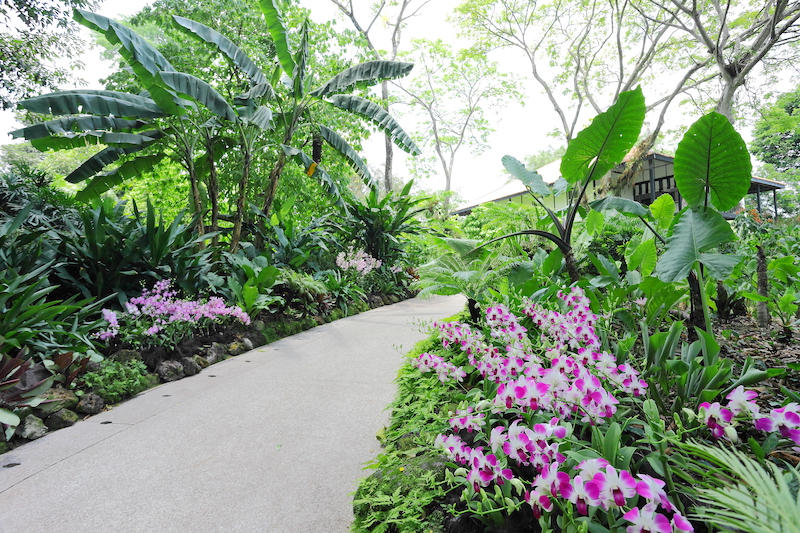 See glorious orchids in all their full splendour here. There are over 1,000 species and 2,000 hybrids on display including the famous Vanda Miss Joaquim, Singapore's national flower.

Look out for VIP and Celebrity Orchids named after the likes of Andrea Bocelli, Bae Yong Joon, the Duke and Duchess of Cambridge, Elton John, Jackie Chan, Jane Goodall, Kofi Annan, Margaret Thatcher, Michael Kors, Nelson Mandela, Princess Diana and Shah Rukh Khan.

See an extensive collection of rare, unique and award-winning orchids at the Tan Hoon Siang Mist House which also houses the Fragrant Orchids corner where some of the most fragrant orchids can be found.

• Swan Lake
5am – midnight daily
Free admission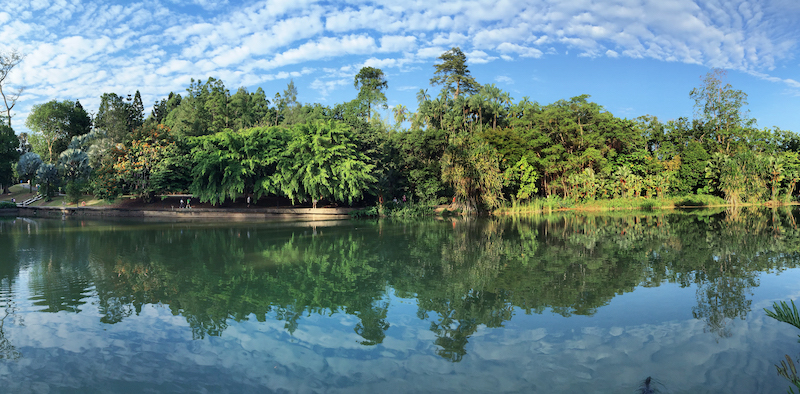 Named after a pair of beautiful mute swans from Amsterdam that glided gracefully across the Lake, the 154-year-old Swan Lake is considered to be the oldest ornamental water-feature in Singapore. Today, the swans are still a captivating feature of the Lake.

Covering an area of slightly less than 1.5 hectare, with a depth of about 4 metres, the Lake is home to numerous species of aquatic plants and fishes. 

At the centre of the Lake is the "Flight of Swans" bronze sculpture of five swans taking flight, created by local sculptor Eng Siak Loy.  

www.sbg.org.sg 

SOUTHEAST-ASIA.COM RECOMMENDS
Ready to explore more of the Singapore Botanic Gardens? Join The Green Oasis Trail and let Locomole bring you not only to the Gardens' main attractions but also its hidden gems as well as show you what to eat and drink while you're there.

What's more, grab your complimentary $200 discount vouchers and use them all during your stay in Singapore! (Vouchers can be found in the Locomole app upon your purchase of this trail)