Learn more about Singapore's diverse heritage, culture and religion at these heritage centres, museums and places of worships.
HERITAGE
Chinatown Heritage Centre
48 Pagoda Street
Nearest MRT Station: Chinatown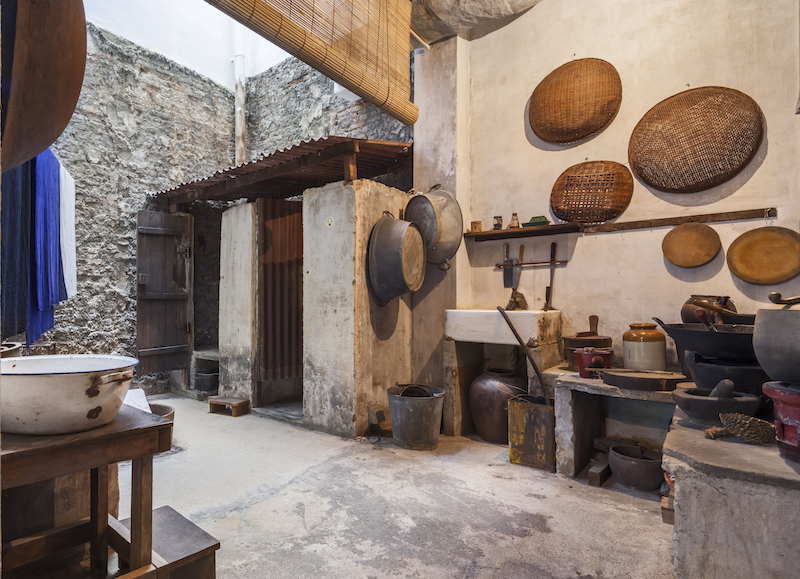 Discover Chinatown's evolution from its early days as a Chinese migrant settlement to today's vibrant heritage precinct. Learn about the experiences of Chinatown's early residents like the trishaw rider, carpenter, hawker, samsui woman and clog maker who came to seek a livelihood, pursue their dreams and toil against adversity to achieve their aspirations in their new homeland. The Centre has six galleries with interactive features that shine the spotlight on, among others, a tailor shop, clan associations, street markets and secret societies.
Eurasian Heritage Gallery
139 Ceylon Road
Nearest MRT Station: Dakota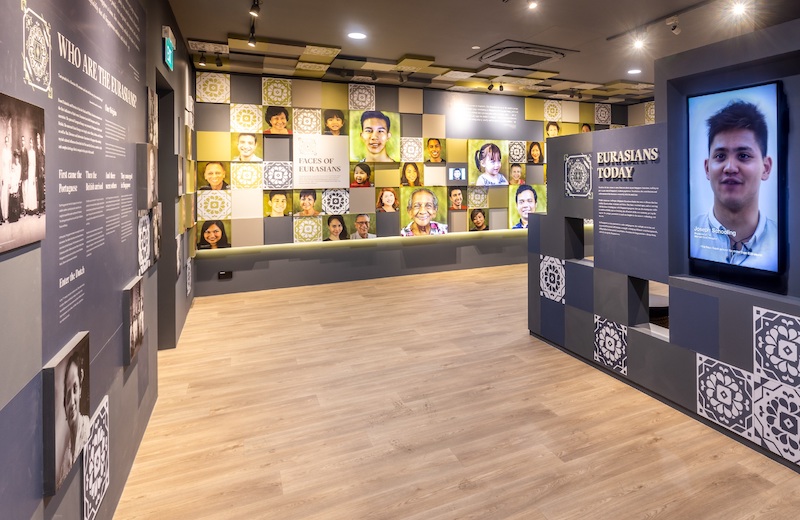 Find out more about the history, culture and heritage of the Eurasian community at this recently revamped Gallery which is located in the charming neighbourhood of Katong, home to many Eurasians since the early 20th century. One of Singapore's smallest but earliest communities, the Eurasians are known for their hybrid traditions of East and West. Their Asian and European origins can be traced to some of the region's oldest colonial settlements such as Malacca, Penang, Goa, Macau and Ceylon (now Sri Lanka). Despite being a small community, Eurasians played a major role in Singapore's transition to independence – in nation-building, foreign relations, sport and the arts. Its three galleries highlight prominent Eurasians from sports, music, politics and broadcasting; as well as provide an interesting overview of the community's roots, religion, rites of passage, language, music, performing arts, food and clothes.
Gedung Kuning
73 Sultan Gate
Nearest MRT Stations: Bugis, Jalan Besar and Nicoll Highway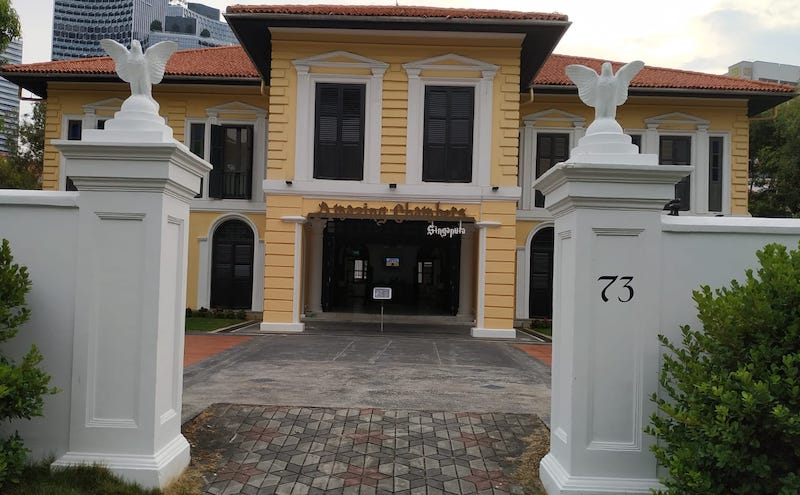 Also known as "Rumah Bendahara" (Prime Minister's residence), Gedung Kuning ("Yellow Mansion" in Malay) was believed to be built around the same time or slightly earlier than the former Istana Kampong Gelam. Constructed mainly of wood and brick, the façade of the building suggests European influence but its form and internal layout reflects the architectural style of a traditional Malay house.

Indian Heritage Centre
5 Campbell Lane
Nearest MRT Station: Little India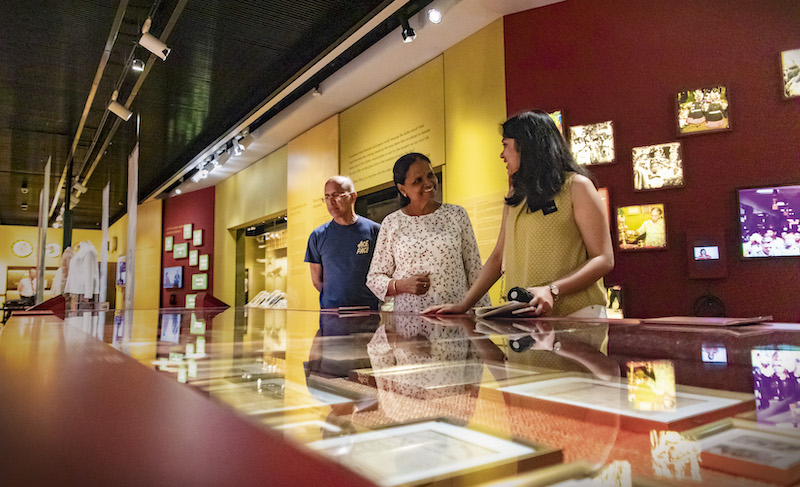 The Centre is the first museum in Southeast Asia dedicated to the Indian community's diverse heritage. Its permanent galleries feature five themes that highlight the experiences of the Indian community in Singapore during the colonial period and the contributions of the Indian and South Asian communities to Singapore's nation-building efforts. Pick up a free copy of the Little India Heritage Trail booklet from the Centre's Visitor Services Counter for a self-guided walk to Little India's historical landmarks, places of worship and retail offerings.
Malay Heritage Centre
85 Sultan Gate
Nearest MRT Station: Bugis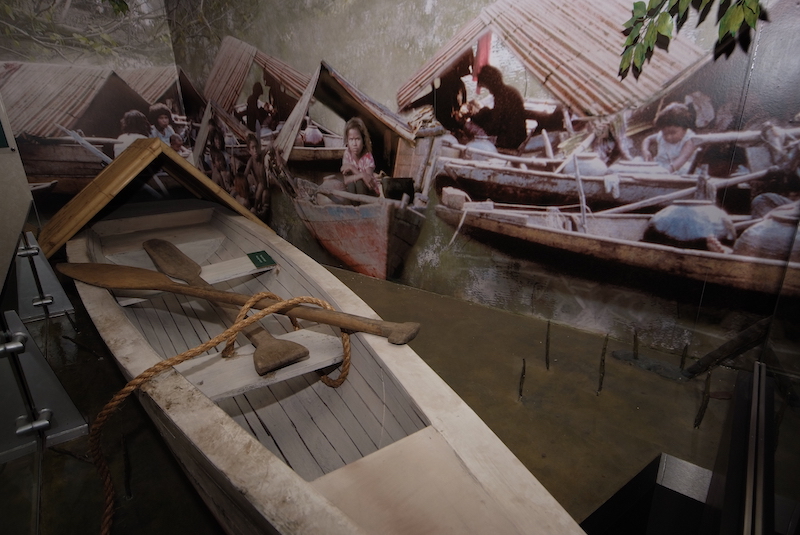 The building housing the Centre was once the residence of Malay royalty in Singapore and was known as "Istana Kampong Gelam" (Kampong Gelam Palace). A rich showcase of Malay heritage and culture in Singapore, the Centre showcases historical artefacts, interactive multimedia and colourful exhibits from the country's national collection as well as contributions from the community in its six permanent galleries spread over the two levels. Discover how Kampong Glam was a thriving port town before Sir Stamford Raffles' arrival in 1819, and learn more about the Malay culture and the significant contributions of the Malay community.
Nagore Dargah Indian Muslim Heritage Centre
140 Telok Ayer Street
Nearest MRT Station: Telok Ayer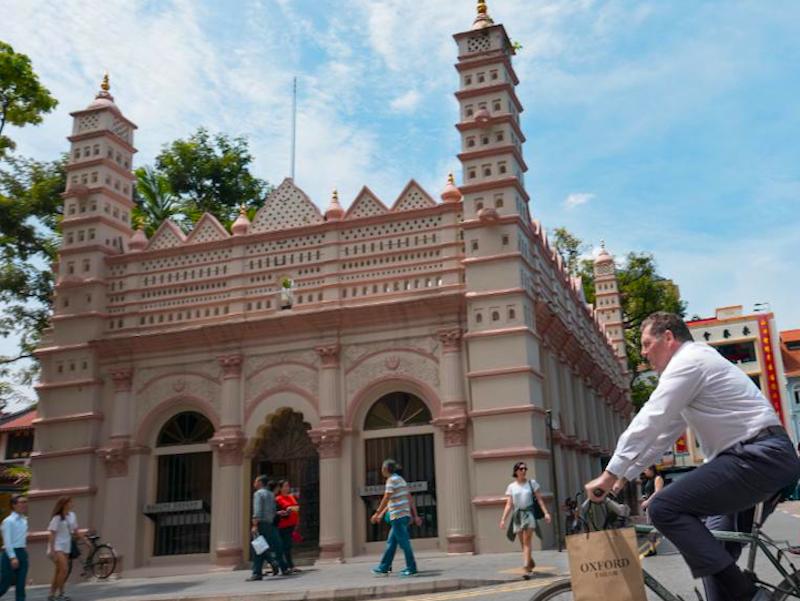 Built between 1828 and 1830 by early immigrants from South India, the two-storey heritage centre showcases Indian Muslim culture, diaspora and heritage. The building is a replica of a shrine in Tamil Nadu, India, that houses the remains of saint Shahul Hameed, a South Indian holy man who helped to spread Islam to India. Learn about various aspects of the community's history like how Indian-Muslim merchants sailed from port to port to trade items such as betel and gold from the multimedia exhibits.
The Intan
69 Joo Chiat Terrace
Nearest MRT Station: Eunos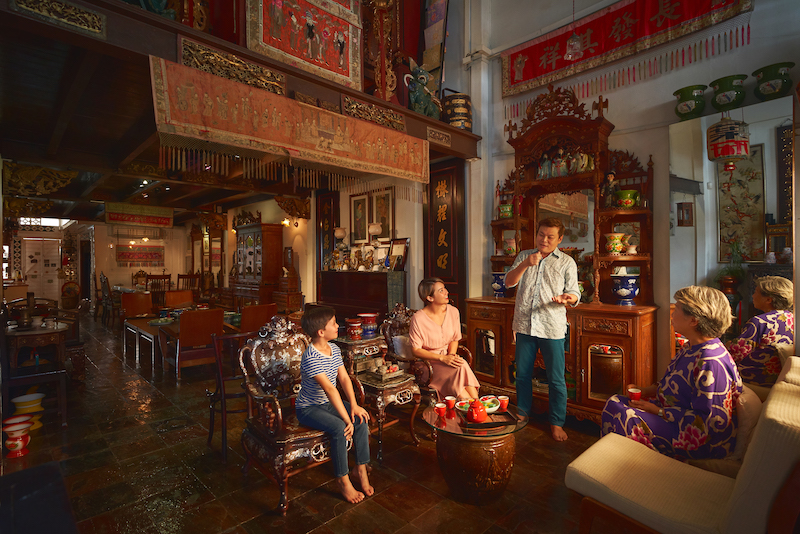 Learn about the history, traditions and lifestyle of the Peranakans (Malay for "locally born"), descendants of Chinese immigrants who married local Malay women from the Straits Settlements, at this home-museum owned by true-blue Peranakan antiques collector Alvin Yapp. Yapp's two-storey shophouse is filled with Peranakan artefacts like porcelain, jewellery, silver, clothing, beaded slippers (kasut manek), hand-painted enamel tiffin carriers and intricately carved display cases. Yapp offers two tour options – a one-hour tea and a two-hour lunch or dinner, with dishes prepared by his mother. He will also explain the history of the Peranakans and share unique aspects of the culture including the lavish wedding ceremonies and intricate beadwork of the nyonya ladies.
CULTURAL & HISTORY MUSEUMS
Asian Civilisations Museum
1 Empress Place
Nearest MRT Station: Raffles Place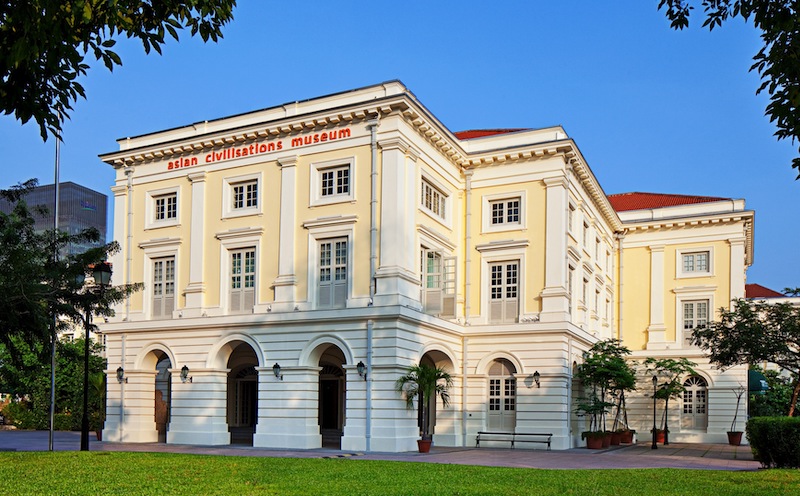 Housed in a historical building by the Singapore River, the Museum is the only one in the region dedicated to exploring Asia's artistic heritage, particularly the ancestral cultures of Singaporeans. Founded in 1993, the Museum's collections grew out of the 19th century Raffles Museum. It spotlights the long historical connections between the cultures of Asia, and between Asia and the world. Objects on display tell interesting stories of the trade and exchange of ideas that were the result of international commerce, as well as the flow of religions and faith throughout Asia.
Former Ford Factory
351 Upper Bukit Timah Road
Nearest MRT Stations: Beauty World and Hillview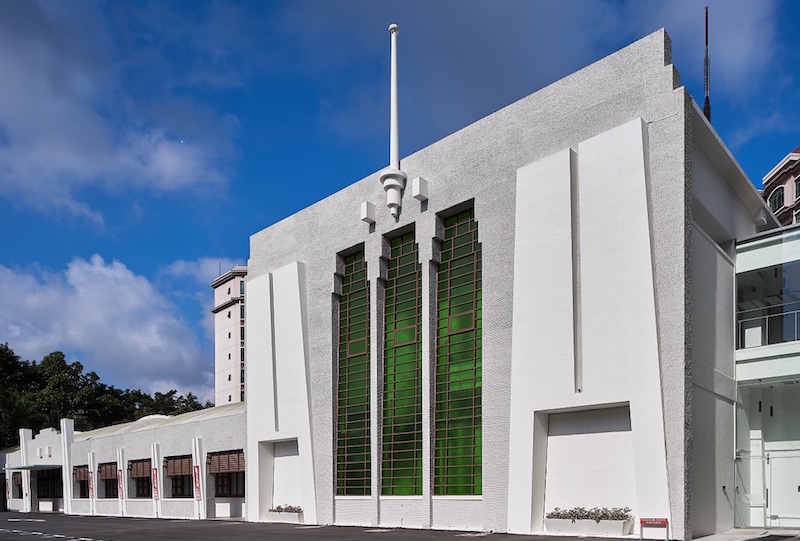 History buffs will want to check out Ford Motor Company's first automobile assembly plant in Southeast Asia, the site where British forces officially surrendered Singapore to the Japanese on 15 February 1942 during World War II. Its permanent World War II exhibition, Surviving the Japanese Occupation: War and its Legacies, presents the events and memories surrounding the British surrender, the Japanese Occupation and the legacies of the war. The sombre story is told through audio interviews, news reels and clippings, photographs, diaries and harrowing personal accounts. The most historically significant part of the building is the boardroom where Lieutenant-General Arthur Percival signed the document to surrender Singapore to the British.
National Gallery Singapore
1 St. Andrew's Road
Nearest MRT Station: City Hall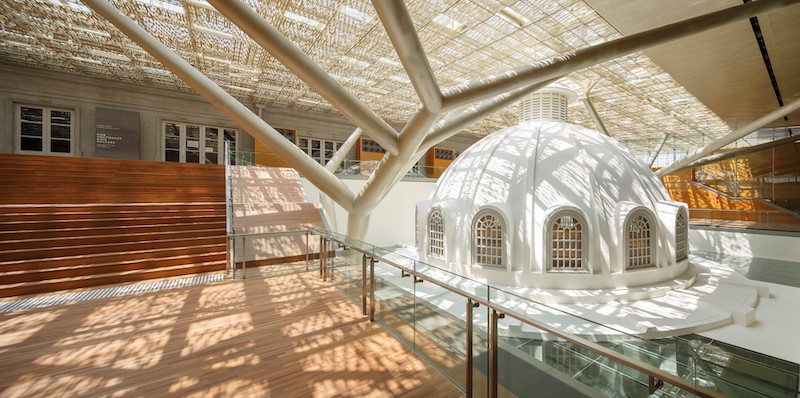 A must-visit for art lovers, the Gallery oversees the largest public collection of modern art in Singapore and Southeast Asia. The visual arts institution is housed in the former City Hall and Supreme Court, two heritage buildings that have played a monumental role in Singapore's history. It showcases some 8,000 works from Singapore's National Collection including paintings, sculptures, prints, photographs and videos, as well as pieces from institutions and private collectors around the world. Its permanent galleries display the works of prominent local artists such as Cheong Soo Pieng, Georgette Chen and Liu Kang, as well as renowned regional artists like Latiff Mohidin (Malaysia), Raden Saleh (Indonesia) and Fernando Cueto Amorsolo (Philippines).
National Museum of Singapore
93 Stamford Road
Nearest MRT Stations: Bencoolen, Bras Basah and Dhoby Ghaut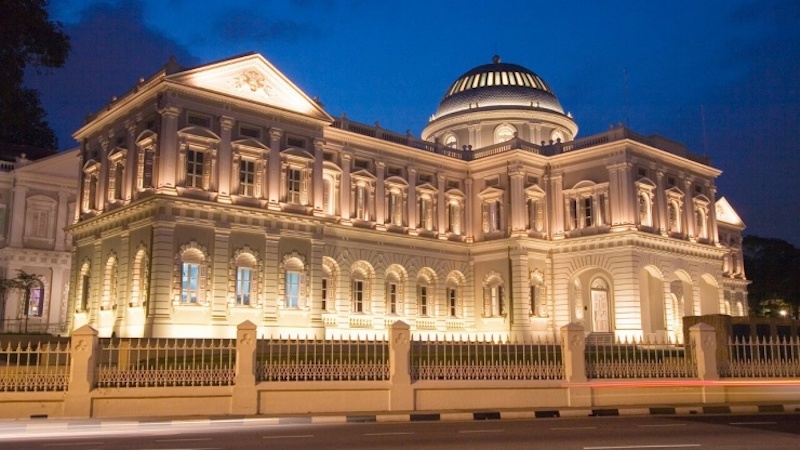 Learn about Singapore's history and culture in a fun and engaging way at the country's oldest museum. Originally home to the Raffles Library and Museum, the neo-classical style Museum was erected by the British in 1887. Its galleries highlight fresh perspectives of the Singapore story using cutting-edge technology to present the country's legacy and development. The Museum hosts innovative activities and events all year round including the popular Night Festival, captivating art installations, as well as performances and film screenings of different styles and genres.
PLACES OF WORSHIP
Armenian Church Singapore
60 Hill Street
Nearest MRT Station: City Hall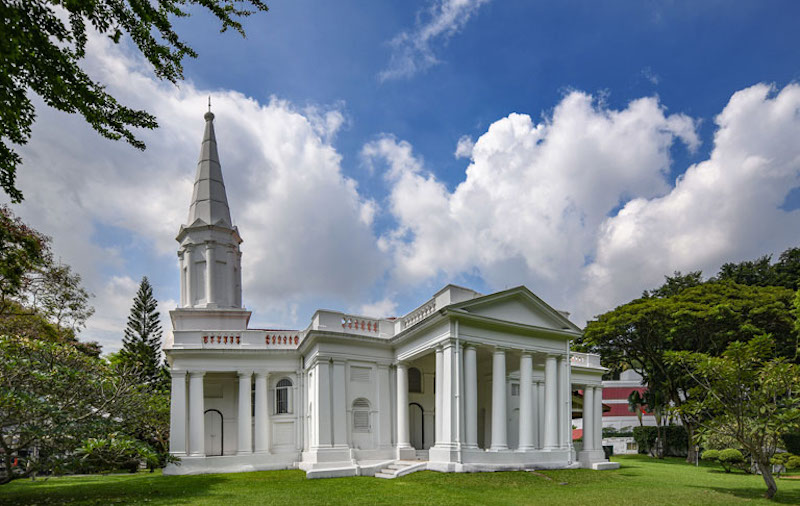 Built in 1835 and dedicated to St. Gregory the Illuminator, the first head of the Armenian Apostolic Church, Singapore's oldest church is a 19th century architectural masterpiece designed by Irish architect George D. Coleman. The Church's design combines the symmetry of Palladian architecture with the practical details of Eastern architecture such as louvres and wide verandahs. Check out the tall spire on its roof, the Roman Doric columns and pilasters that hold up the porticoes. Inside, admire the vaulted ceiling and cupola, which are based on traditional Armenian Church architecture. The Church's Memorial Garden has tombstones (not actual graves) of influential Armenians such as Agnes Joaquim who hybridised Singapore's national flower (Vanda Miss Joaquim), and Catchick Moses who co-founded English newspaper The Straits Times.
Buddha Tooth Relic Temple & Museum
288 South Bridge Road
Nearest MRT Station: Chinatown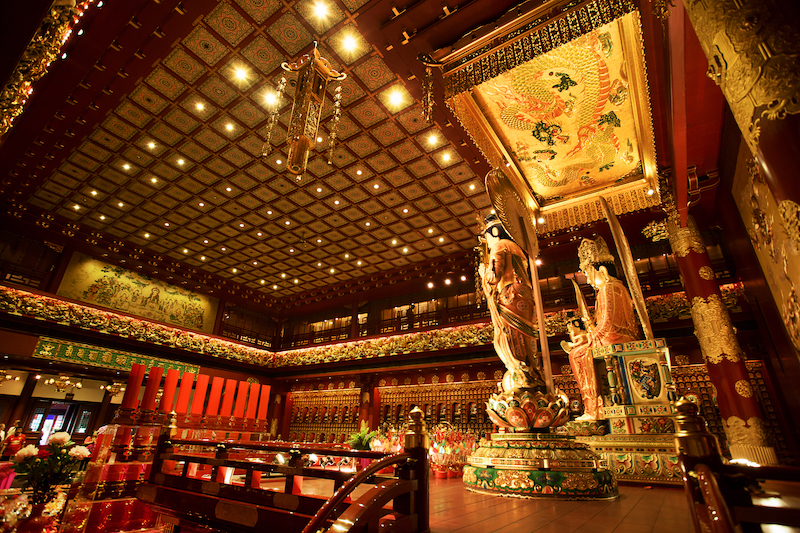 Opened in 2007, this five-storey Tang Dynasty-style temple was built to house a relic said to be a tooth of Buddha. The tooth relic can be viewed in the Sacred Light Hall on the fourth floor. The relic is housed within a 3,500kg giant stupa which was made from 320kg of gold, of which 234kg were donated by devotees. On the first floor are the Hundred Dragons Hall, which houses a hundred Buddha statues and the Universal Wisdom Hall, where handcrafted Bodhisattva artworks are on display. The Buddhist Culture Museum on the third floor displays revered artefacts of the Buddha such as bone and tongue relics, while the Eminent Sangha Museum on the mezzanine floor holds cultural performances, talks and film screenings. Head for the roof to see pagodas, pavilions, an orchid garden and a Buddha prayer wheel.
Jamae Mosque (Masjid Chulia)
218 South Bridge Road
Nearest MRT Stations: Chinatown and Telok Ayer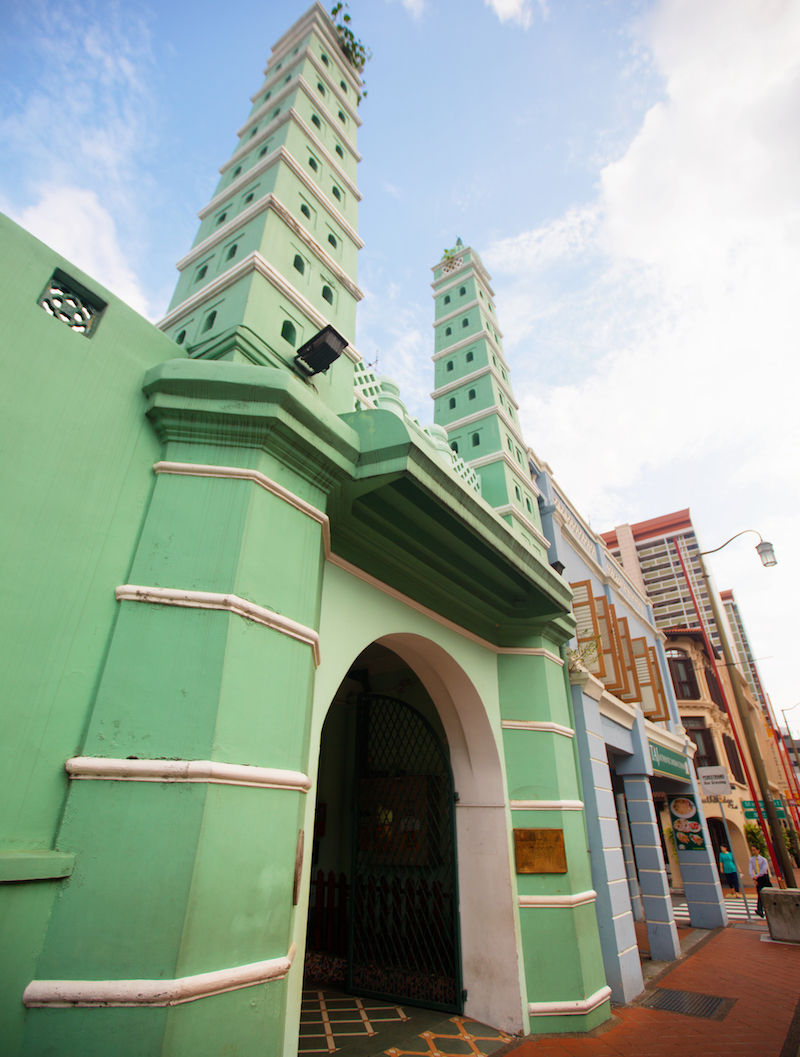 Also known as Chulia Mosque, the mosque was gazetted as a national monument in 1974. It was built by the Chulias (Tamil Muslims from the Coromandel Coast in South India) between 1830 to 1835. Its eclectic architecture fuses elements from both neo-classical style and South Indian tradition. Besides facilitating religious activities, prayers and sermons, the mosque also serves an educational function by organising seminars and discussions on religious or social thoughts and beliefs for both Muslims and non-Muslims.
Maghain Aboth Synagogue
24/26 Waterloo Street
Nearest MRT Station: Bencoolen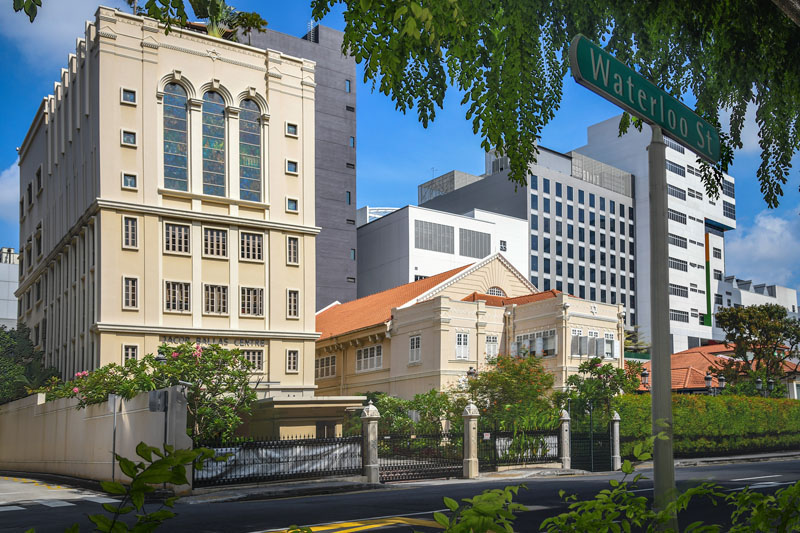 The oldest surviving synagogue in Southeast Asia is the nucleus of Singapore's small Jewish community. Built in 1878, the Synagogue sports a neo-classical architectural style with Palladian arcades and pedestals, and arched doorways, while its facade bears three blue Stars of David. Inside, the prayer hall features a high triple-volume ceiling, traditional columns and rusticated walls that do not bear any decorations or images. In the centre of the hall lies the bimah, a raised pulpit where prayers by the rabbi and readings from the Torah take place during services. The hall has a second-storey U-shaped balcony for women which was only added in its later years.
Sri Mariamman Temple
244 South Bridge Road
Nearest MRT Station: Chinatown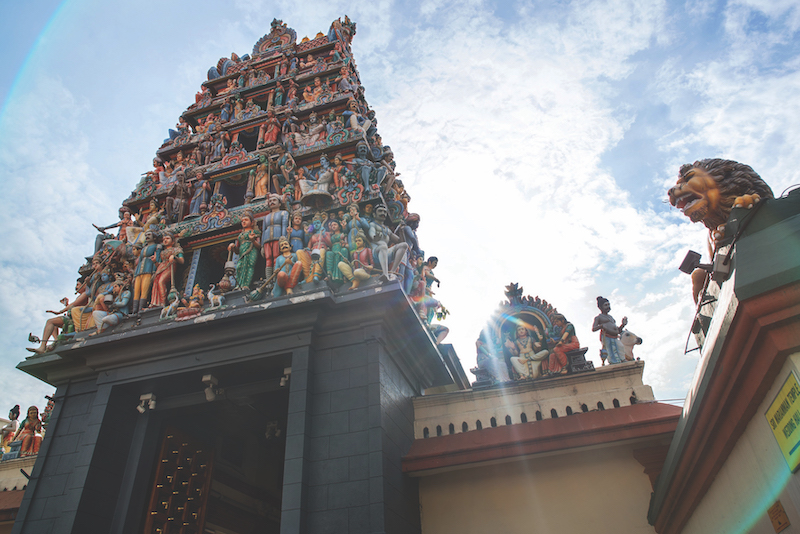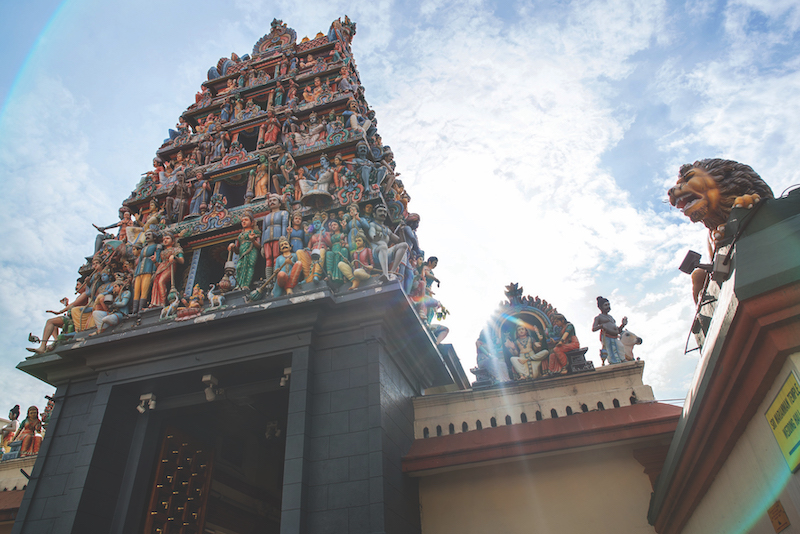 Singapore's oldest Hindu temple is located, not in Little India, but in Chinatown. Built in 1827, the Temple is dedicated to the goddess Mariamman, known for her power in curing illnesses and diseases. The Temple's ornate gopuram (monumental entrance tower) is a landmark for generations of Hindu worshippers. The gopuram's five tiers are covered with sculptures of Hindu deities and figures dressed in traditional Indian costumes. The Temple has been restored a number of times, most recently in 2010 by a team of about 20 artists from India who also repainted all the stone sculptures. The main festival celebrated at the Temple is the annual fire-walking festival known as Theemithi, which falls in October or November.
Sultan Mosque
3 Muscat Street
Nearest MRT Stations: Bugis, Jalan Besar and Nicoll Highway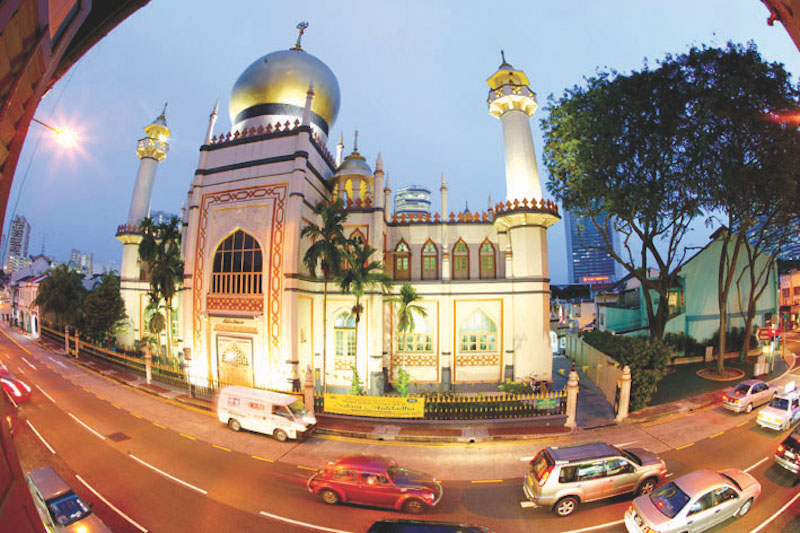 A prominent landmark in Kampong Glam, the Mosque is also known as Masjid Sultan. Considered the national mosque of Singapore, it was built in 1824 for Sultan Hussein Shah, the first sultan of Singapore. The original structure was demolished about a century later to make way for the current building which was completed in 1932. Gazetted as a national monument in 1975, the Mosque's most striking features are its two gold onion domes, each topped by a crescent moon and star. The base of each dome is adorned with glass bottle ends donated by poor Muslims as the sultan wanted all Muslims, not just the rich, to contribute to the building of the Mosque.
Thian Hock Keng Temple
158 Telok Ayer Street
Nearest MRT Station: Telok Ayer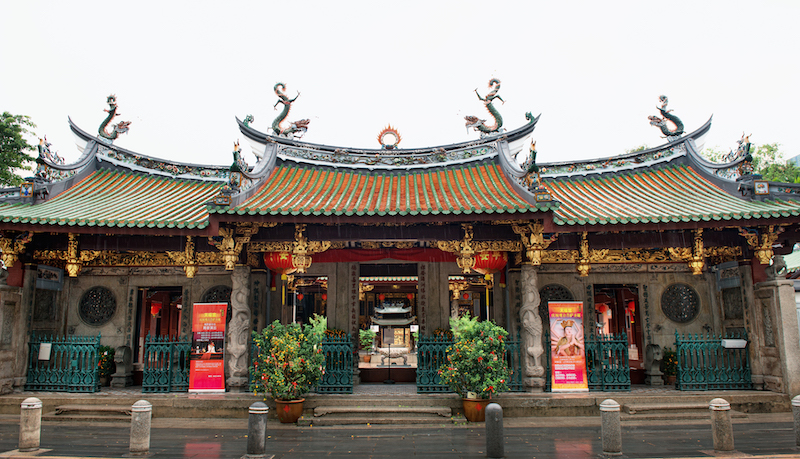 Singapore's oldest Hokkien temple, Thian Hock Keng ("Temple of Heavenly Happiness") is dedicated to Mazu, the goddess of the sea. Early Chinese immigrants would make thanksgiving offerings of money and joss sticks at the Temple for their safe sea voyage across the turbulent South China Sea. As the Temple was designed and built according to Chinese temple architectural traditions by skilled craftsmen from China, it is one of the most traditional Chinese temples you'll find in Singapore. Amazingly, the Temple was built without the use of a single nail! Spot the Temple's detailed carvings and sculptures of dragons, phoenixes and deities, as well as the colourful broken porcelain on the roof ridges, a Fujian decorating technique.