The crux of enjoying the best eats at a hawker centre is that if you see a queue, printed accolades or newspaper articles at the stall, the food is usually worth trying or waiting for.
If you see a packet of tissue, an umbrella, a water bottle, a book, a bag or any personal item on a table or a seat at a hawker centre or food court, it means that the seat or table has been "choped" or reserved. It is common practice to reserve a seat this way especially during peak hours so look out for these items and do the same to chope your place before buying your food.
Here are some popular food centres where you can enjoy a variety of local dishes at affordable prices.
ABC Brickworks Market & Food Centre
6 Jalan Bukit Merah
Nearest MRT Stations: Queenstown and Redhill

Built in the 1970s, the food centre is named after the Archipelago Brewery Company, Singapore's first commercial brewery, as well as the brick factories that used to populate the neighbourhood. Popular eats include durian mango ice dessert from Jin Jin Jin Hot/Cold Dessert, traditional Chinese soups from Michelin Bib Gourmand winner Ah Er Soup, char siew (barbecued pork) rice from Fatty Cheong and claypot chicken rice cooked over charcoal fire from Yuan Yuan Claypot Rice.
Adam Road Food Centre
2 Adam Road
Nearest MRT Station: Botanic Gardens
Located close to the Singapore Botanic Gardens, the food centre offers a good variety of halal food. Bestsellers include nasi lemak (rice cooked in coconut milk served with spicy sambal, hard-boiled eggs, cucumber slices, fried anchovies and peanuts) from Selera Rasa Nasi Lemak, mee soto (spicy chicken noodle soup) and mee rebus (Chinese egg noodles in thick, spicy gravy) from Selamat Datang Warung Pak Sapari, prawn noodles from Noo Cheng Adam Road Prawn Noodle and Chinese-style dessert soups from Teck Kee Hot & Cold Dessert.
Albert Centre Market & Food Centre
3 New Bugis Street
Nearest MRT Station: Bugis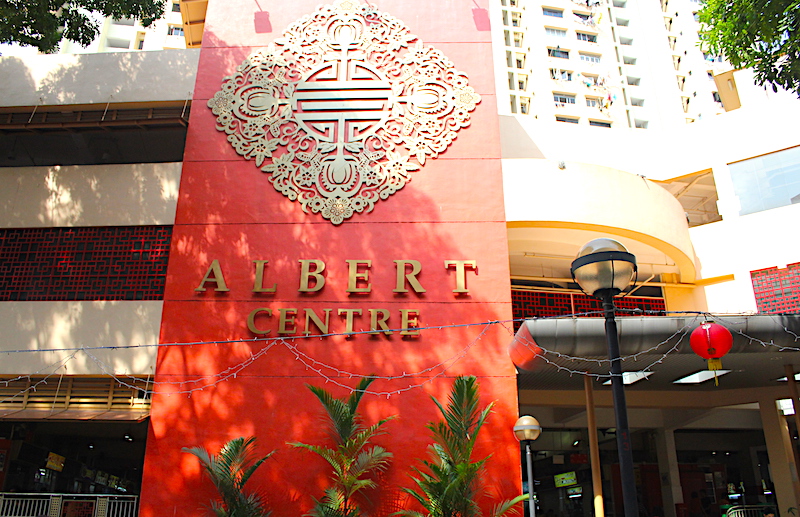 A short walk from Bugis Junction, Bugis+ and Bugis Street, this food centre is a popular spot with shoppers and tourists. Must-trys include yong tau foo (tofu and vegetables stuffed with minced fish paste and meat) from Bai Nian Niang Yong Tau Foo, minced meat noodles from Ah Seng Bak Chor Mee, wanton noodles from Traditional Wanton Noodle and fried carrot cake from Guan Kee Fried Carrot Cake.
Amoy Street Food Centre
7 Maxwell Road
Nearest MRT Stations: Tanjong Pagar and Telok Ayer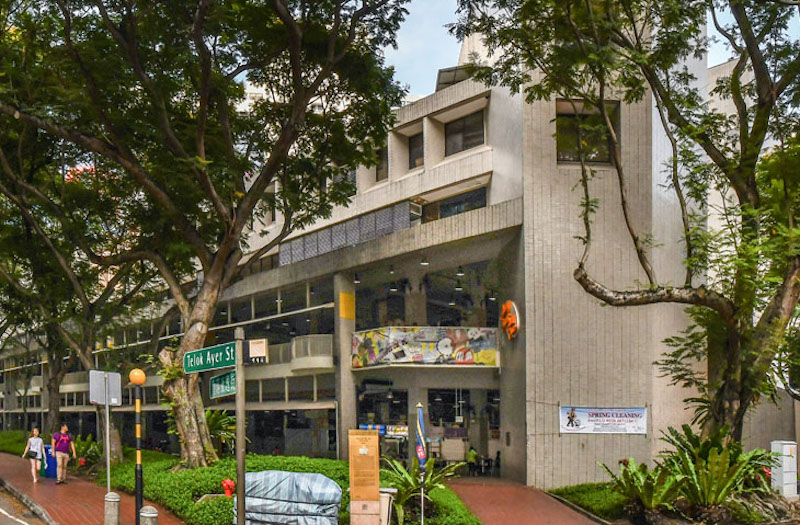 Located in the Central Business District, this two-storey food centre is usually very crowded during lunchtime on weekdays. Must-eats include fish soup from Han Kee, salted egg yolk chestnut rice dumpling from Michelin Bib Gourmand winner Hoo Kee Rice Dumpling, Singapore-style ramen from Michelin Bib Gourmand winner A Noodle Story and beef noodles from Hong Kee Beef Noodle.
Chinatown Food Street
Smith Street
Nearest MRT Station: Chinatown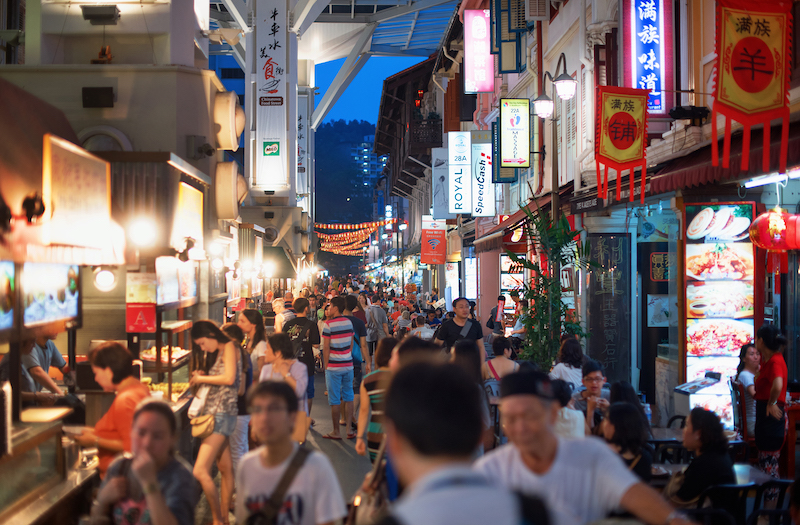 Tuck into some of Singapore's most popular hawker fare at this open-air food street which has a high-ceiling glass canopy shelter. Enjoy iconic dishes such as char kway teow (stir-fried rice noodles in dark soy sauce), Hokkien mee (yellow wheat noodles and vermicelli stir-fried in a prawn and pork bone stock with bean sprouts, prawns, squid and egg), satay (char-grilled marinated meat on skewers eaten with spicy peanut sauce), bak kut teh (pork rib soup infused with aromatic herbs and spices eaten with rice), Hainanese chicken rice and roti prata (Indian flatbread eaten with fish, meat or vegetable curries).
Chomp Chomp Food Centre
20 Kensington Park Road
Nearest MRT Stations: Ang Mo Kio, Lorong Chuan and Serangoon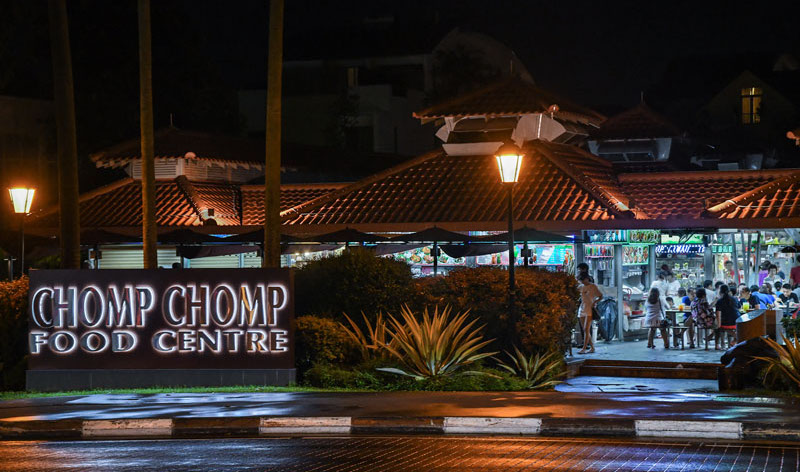 Opened only from 4pm onwards, the food centre is located in the Serangoon Gardens neighbourhood. Must-eats include barbecued chicken wings from Chong Pang, Hokkien noodles from Ah Hock Fried Hokkien noodles, fried carrot cake from Ang Mo Kio 409 Fried Carrot Cake and barbecued sambal stingray from Hai Wei Yuan BBQ.
Golden Mile Food Centre
505 Beach Road
Nearest MRT Stations: Lavender and Nicoll Highway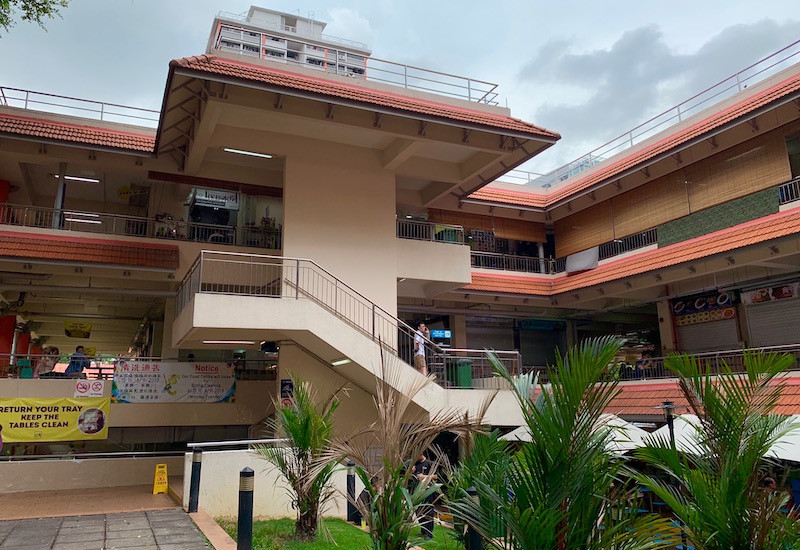 This food centre houses food stalls on two floors as well as an army market on the third storey where shops sell army paraphernalia and outdoor gear. Popular eats include yong tau foo (tofu and vegetables stuffed with minced fish paste and meat) from Golden Mile Special Yong Tau Foo, Peranakan (Straits Chinese) dishes like ayam buah keluak and itek sio from Charlie's Peranakan Food, duck rice from Ah Xiao Teochew Braised Duck, and traditional glutinous rice balls filled with peanut, sesame, yam or red bean in peanut, almond milk or ginger soup from Ah Balling Peanut Soup.
Lau Pa Sat
18 Raffles Quay
Nearest MRT Stations: Raffles Place and Telok Ayer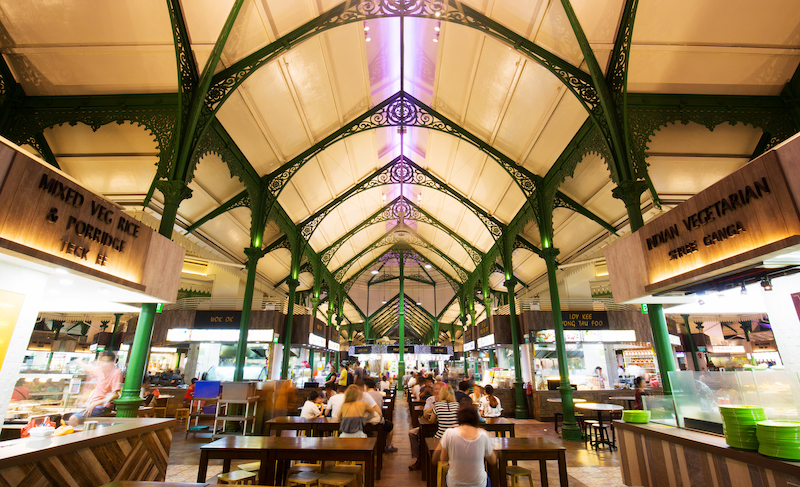 Located in the heart of the Central Business District, Lau Pa Sat (Hokkien for "old market") stands out with its unusual octagonal structure, Victorian cast-iron filigree elements and a clock tower. In the evenings, satay vendors set up shop outdoors at the adjacent Boon Tat Street. Besides satay, popular eats include char kway teow (stir-fried rice noodles) from Lai Heng Fried Kway Teow, yong tau foo (tofu and vegetables stuffed with minced fish paste and meat) from Loy Kee Yong Tau Foo, thunder tea rice (Hakka dish of rice with veggies, tofu and peanuts served with green tea soup made with tea leaves, nuts, seeds and herbs) from Thunder Tea Rice and chicken dum briyani or mutton briyani (basmati rice cooked with spices and layered with meat) from Indian Curry House.
Maxwell Food Centre
1 Kadayanallur Street
Nearest MRT Stations: Chinatown, Tanjong Pagar and Telok Ayer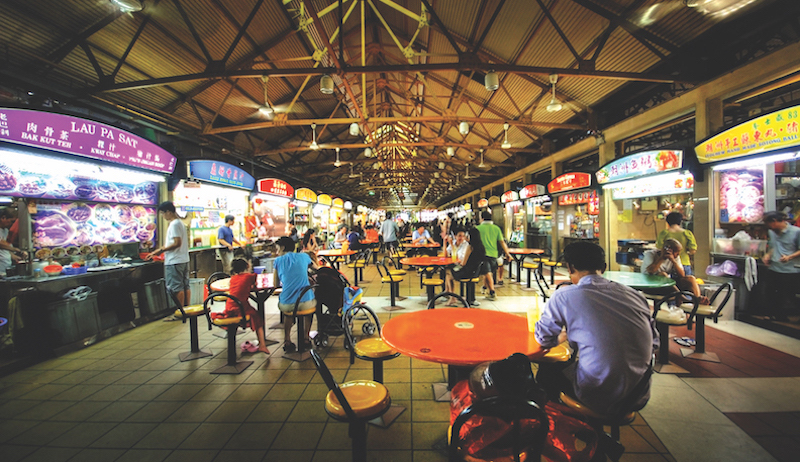 Originally a wet market till its conversion into a food centre in 1987, Maxwell Food Centre is a popular place for traditional Chinese foods. Must-eats include the famous Hainanese chicken rice from Michelin Bib Gourmand winner Tian Tian Hainanese Chicken Rice, fish or chicken porridge from Zhen Zhen Porridge, crispy oyster cake from Maxwell Fuzhou Oyster Cake, and tapioca cake and ondeh ondeh (glutinuous rice balls filled with palm sugar and coated in grated coconut) from Xing Xing Tapioca Cake / Ondeh-Ondeh.
Newton Food Centre
500 Clemenceau Avenue North
Nearest MRT Station: Newton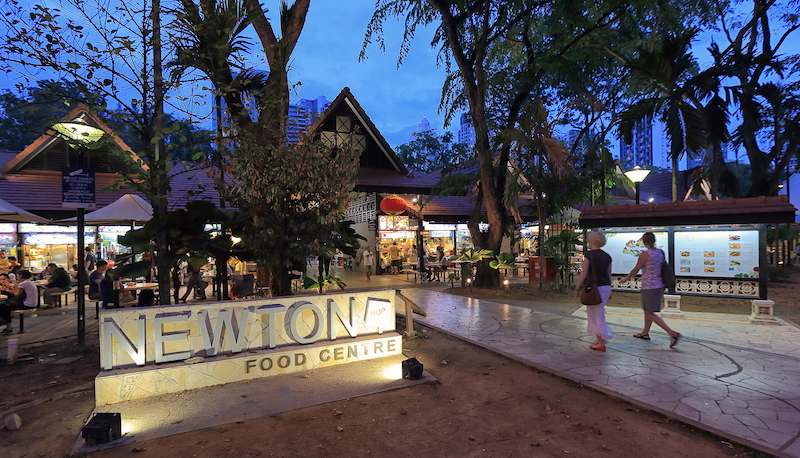 Also known as Newton Circus, the food centre was the first hawker centre to be designed and built with a garden setting to complement Singapore's "garden city" image. Its most recent claim to fame was being featured in Hollywood blockbuster movie Crazy Rich Asians. Must-eats include popiah (fresh spring roll) from Bee Heng Popiah, oyster omelette from Hup Kee Fried Oyster Omelette, duck noodles from Kwee Heng and fried Hokkien mee from Thye Hong.
Old Airport Road Food Centre
51 Old Airport Road
Nearest MRT Station: Dakota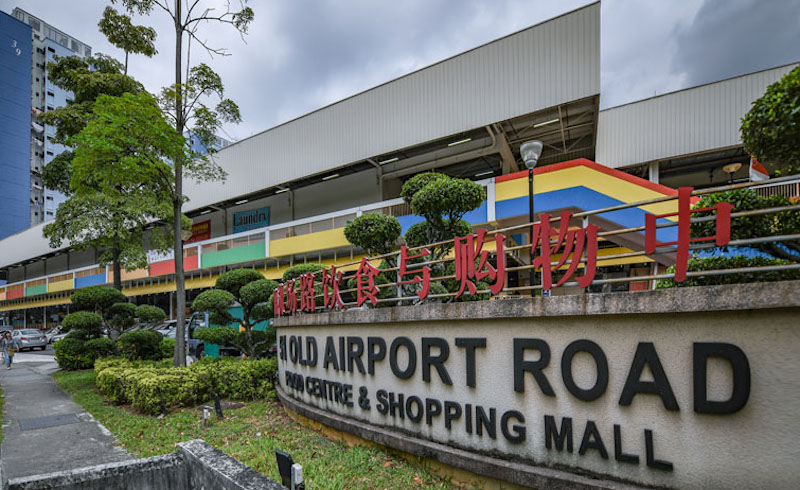 Its name is in reference to Kallang Airport, Singapore's first civil airport, which covered the food centre building area as well as the Old Airport Road. Popular eats include lor mee (Hokkien dish of thick flat yellow noodles in thick starchy gravy) from Xin Mei Xiang Lor Mee, chee cheong fun (steamed rice rolls) from Freshly Made Chee Cheong Fun, rojak (vegetable and fruit salad) from Toa Payoh Rojak and char kway teow (fried rice noodles) from Michelin Bib Gourmand winner Lao Fu Zi Fried Kway Teow.
People's Park Food Centre
32 New Market Road
Nearest MRT Station: Chinatown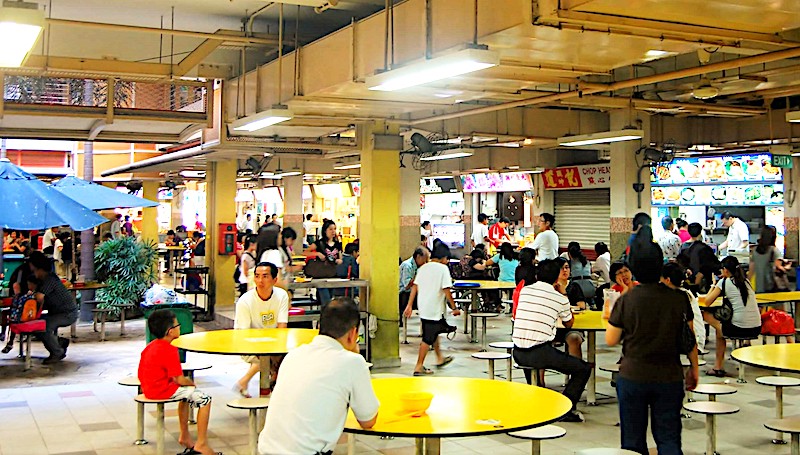 Located next to OG People's Park department store in Chinatown, the food centre offers a wide variety of Chinese dishes. Be sure to try the roast pork rice from Zhen Zhu Fang Roasted Delights, roast duck from Toh Kee, yong tau foo from Yong Xiang Xing Dou Fu and loh mei (old-time Cantonese dish of fermented bean curd stew that includes pork belly, chicken, mushrooms, pig's intestines, pig skin, cuttlefish, water spinach and fried beancurd puff) from Loh Mei Specialist.
Tekka Centre
60 Bukit Timah Road
Nearest MRT Station: Little India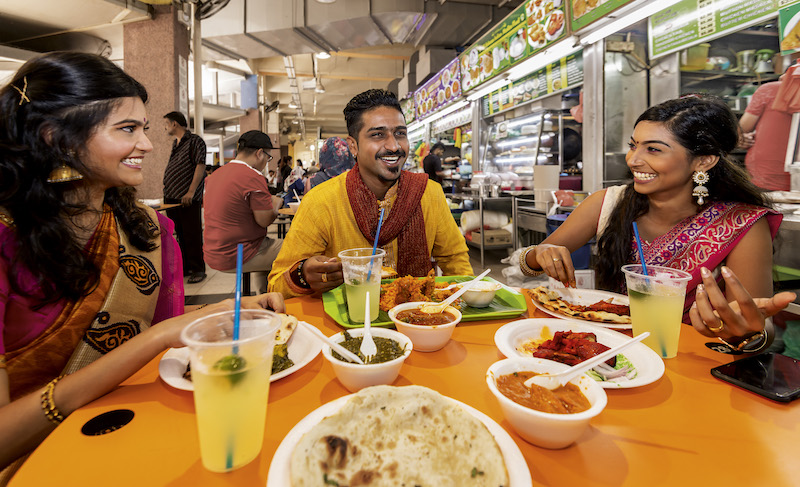 Located in bustling Little India, Tekka Centre was formerly known as Kandang Kerbau (Malay for "buffalo enclosure") Market. Its current name is taken from the Hokkien term for the bamboo plants that once grew in the area. Must-eats include Indian rojak from Temasek Indian Rojak, mutton briyani (basmati rice cooked with spices and layered with mutton) from Allauddin's Briyani, marsala dosai (South Indian rice and lentil pancake stuffed with marsala-spiced potatoes) from Anna Dosai Stall and prawn vadai (Indian deep-fried dough fritter) from Sky Lab Cooked Food.
The Bedok Marketplace
348 Bedok Road
Nearest MRT Station: Tanah Merah
Not your typical hawker centre, this hip food centre is run by young chefs who put their own spin on local favourites and western dishes. Be sure to try the Waygu Beef Rump Cap Don or Pork Cheek Bento from The Burning Oak, wanton noodles from Liang's Wanton Noodles, smoked sausages from Urban Smokeshack and tonkotsu ramen from Kokoro Ramen.
Tiong Bahru Market
30 Seng Poh Road
Nearest MRT Station: Tiong Bahru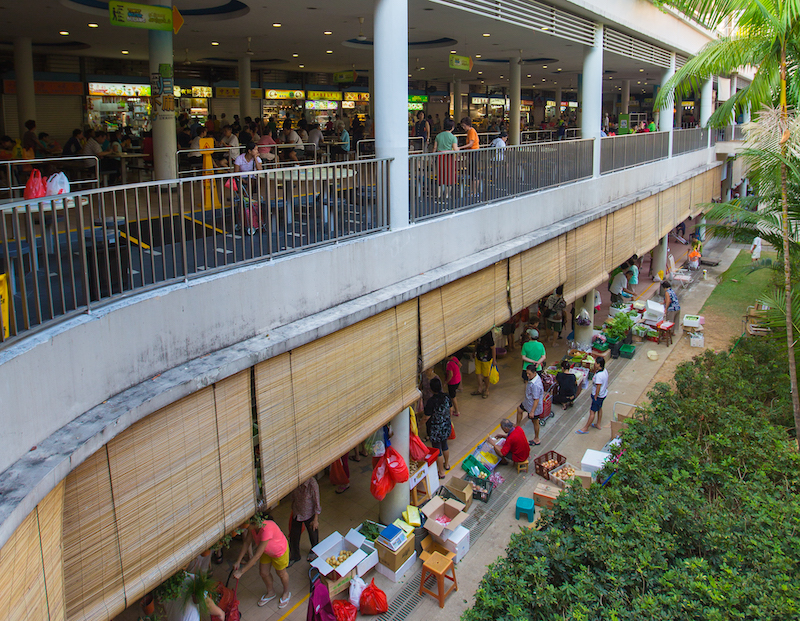 Located in one of Singapore's oldest housing estates, Tiong Bahru Market is home to over 80 food stalls. Must-eats include chwee kueh (steamed rice cakes topped with preserved radish) Jian Bo Shui Kueh, fishball noodles from Hui Ji Fishball Noodles & Yong Tau Foo, roast pork rice from Tiong Bahru Lee Hong Kee Cantonese Roasted and beancurd from Teck Seng Soya Bean Milk.