Amidst Singapore's urban landscape are many pockets of green spaces where you can get close to nature and spot wildlife in their natural habitats. These nature reserves and parks have lots of trails for you to explore and escape to nature.
Bukit Timah Nature Reserve
Hindhede Drive
Nearest MRT Station: Beauty World MRT Station
One of the few reserves with Singapore's largest surviving primary rainforest, this 163-ha reserve includes Bukit Timah Hill, the country's highest hill at 163m. Nature lovers will be happy to know that all the major plant groups in a tropical rainforest can be found here – from flowering plants which include emergent trees, fig trees, forest shrubs, rattans, palms, lianas, vines and epiphytes, to fungi and lichen. Keep your eyes peeled for wildlife such as long-tailed macaque, cicada, Plantain Squirrel, Golden Orb Web Spider, Malayan Colugo, Red-crowned Barbet and Asian Fairy Bluebird. All walking trails start at the visitor centre and some have undulating slopes and uneven steps.
Coney Island Park
Punggol Promenade Nature Walk
Nearest MRT Station: Punggol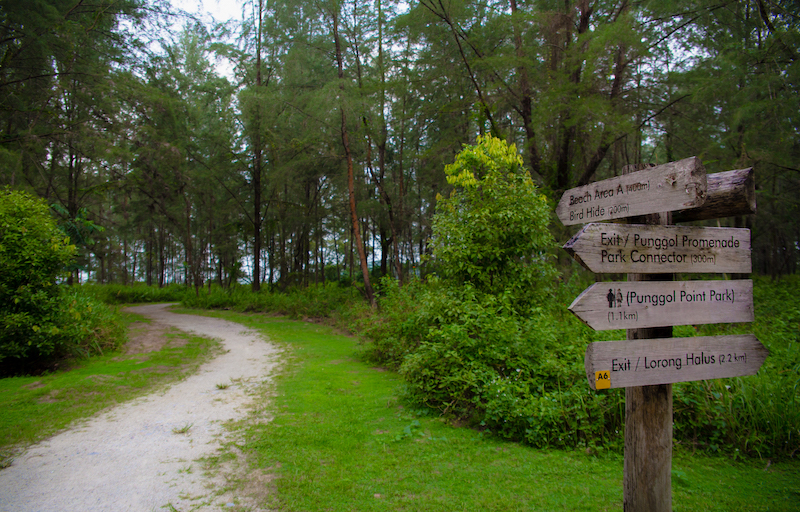 The 50-hectare park is home to a wide variety of habitats and a diverse range of fauna and flora. Explore the forest and mangrove habitats on the boardwalk and move on to the beach which can be accessed at five locations. Try spotting one of 80 species of birds including the resident male Baya Weavers, Oriental Magpie-Robins and parakeets flying through the forest canopies.
Dairy Farm Nature Park
100 Dairy Farm Road
Nearest MRT Station: Hillview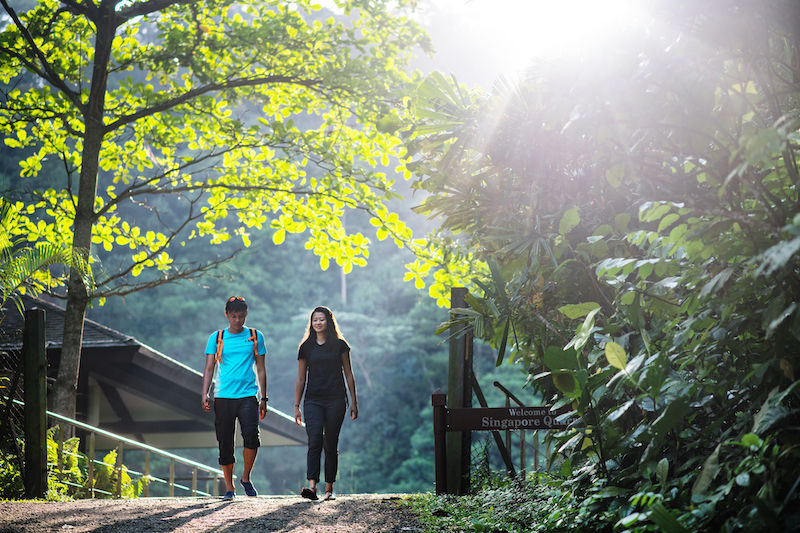 As its name suggests, an area where the Park is situated was once a dairy farm where Friesian cows produced milk for children of expatriates in Singapore. This 63-ha Park has trails for hiking and mountain biking, a former quarry (now called Singapore Quarry) which been transformed into a wetland habitat with a platform to view freshwater flora and fauna, and Wallace Education Centre, Singapore's first field study hub for schools. Named after English naturalist Alfred Russel Wallace, the Wallace Trail has two routes which takes you through a dense forested area populated by flora such as chempedak, durian, fig and Sea Apple fruit trees, betel plants, Heliconia and Torch Ginger, and resident wildlife such as squirrels, butterflies, and birds such as Crimson Sunbird and Olive-winged Bulbul.
MacRitchie Reservoir Park
Along Lornie Road
Nearest MRT Stations: Caldecott and Marymount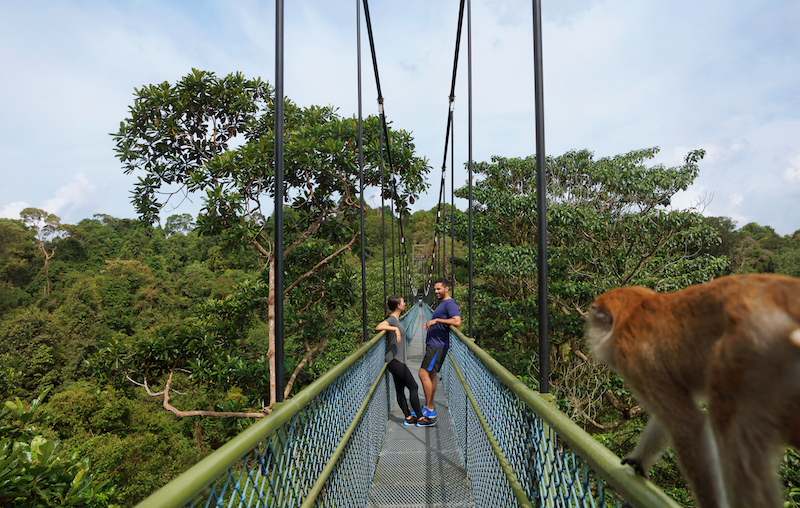 Bordering Singapore's first reservoir and the Central Catchment Nature Reserve, the Park has a number of trails including gravel and dirt paths like the MacRitchie Nature Trail and Lornie Trail as well as boardwalk routes like the Chemperai, Prunus and Petai Trails. A must-visit is the TreeTop Walk, a 250m-long suspension bridge (designed for one-way traffic only) where you can get a bird's-eye view of the forest canopy. Depending on your pace and which trail you take, a round trip including the TreeTop Walk is about 7km to 10km (three to five hours). Look out for native creatures of the forest such as long-tailed macaques, White-throated Kingfishers, Banded Woodpeckers, Greater Racket-tailed Drongo, monitor lizards, squirrels and flying lemurs, as well as flora like rubber trees, wild Ixora, Nibong Palm, Singapore Rhododendron and Tembusu trees.
Pulau Ubin
Nearest MRT Station to Changi Point Ferry Terminal: Tanah Merah
Take a bumboat (15-minute ride) from Changi Point Ferry Terminal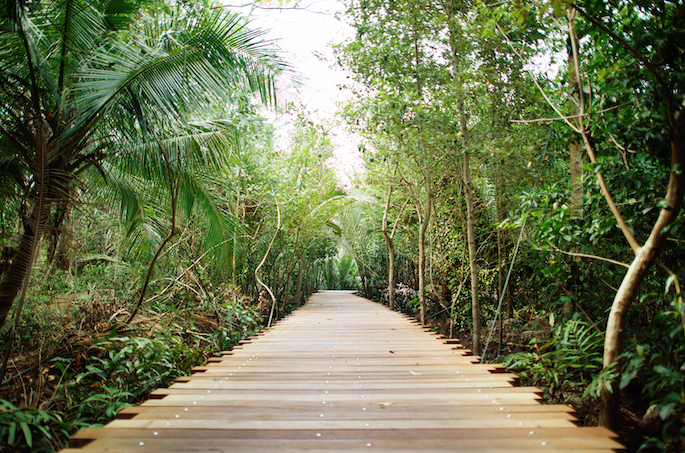 This boomerang-shaped island off the northeastern coast of Singapore is home to the country's last villages or kampungs and Chek Jawa Wetlands where six major ecosystems – sandy beach, rocky beach, seagrass lagoon, coral rubble, mangroves and coastal forest – meet. Experience the island's rustic atmosphere and village life on the Pulau Ubin Tree Trail which starts in front of the Ubin-HSBC Volunteer Hub. Walk through old coconut and rubber plantations, see the house of the late village head of Pulau Ubin, and check out interesting trees including Singapore's only two mangrove trees listed in the Heritage Tree Register of Singapore as well as durian, jackfruit, candlenut and cocoa trees.
Sungei Buluh Wetland Reserve
301 Neo Tiew Crescent
Nearest MRT Station: Kranji (take the Kranji Countryside Express bus from Kranji MRT Station)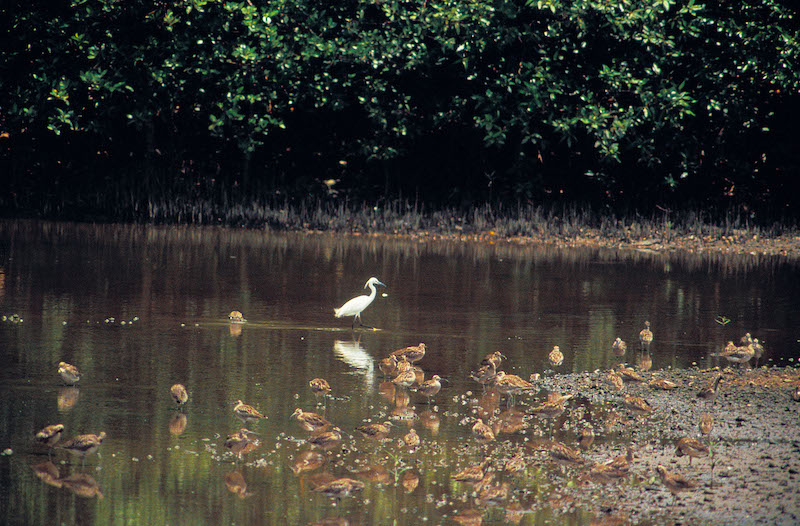 Singapore's first ASEAN Heritage Park was discovered in 1986 by a group of birdwatchers from the Malayan Nature Society. Three years later, the wetland was designated as a nature park and it officially opened in 1993. An important site for migratory birds, birding fans can look forward to spotting migratory birds such as Chinese Egret, Little Egret, Eurasian Wigeon, Common Redshank, Nordmann's Greenshank and Pacific Golden Plover on the Migratory Bird Trail. The Trail has five hides, two platforms and an 18m-tall Aerie Hide where you can also spot resident birds such as Rufous Woodpecker, White-throated Kingfisher, Rusty-breasted Cuckoo and Grey Heron. Get up close to mangrove trees and catch glimpese of wildlife such as giant mudskippers, Malayan water monitor lizards, mud lobsters and tree-climbing crabs on the 500m-long Mangrove Boardwalk. There's also a 3km Route 1 walking trail that goes around the Park's two main ponds.
The Southern Ridges
Start from Marang Trail for Routes A & B
Nearest MRT Station: HarbourFront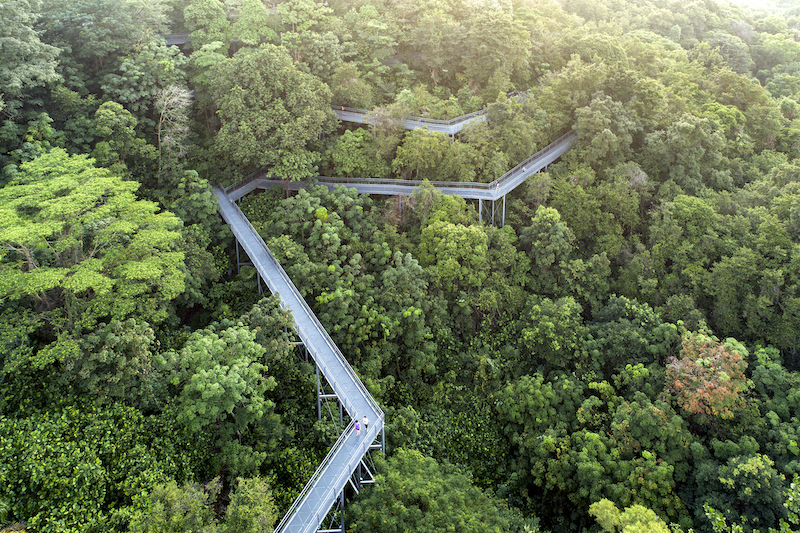 Made up of three parks and one nature reserve, this 10km stretch of green, open spaces connect Mount Faber Park, Telok Blangah Hill Park, HortPark, Kent Ridge Park and Labrador Nature Reserve. Highlights include the wave-like Henderson Waves, Singapore's highest pedestrian bridge; Forest Walk, an elevated metal walkway through the a secondary forest where you can spot birds, dragonflies and butterflies; and Canopy Walk, a 280m-long boardwalk which cuts through dense secondary forest filled with groves of Tembusu, Acacia and Dillenia trees.