With vibrant lanes and heritage buildings found at every corner, the colonial town of Malacca offers a tonne of activities and loads of delicious food (think Char Kway Teow, Nyonya Assam Laksa, Assam Fish Head, Chicken Rice Balls and Chendol) for every member of the family.
We've put together eight of the best things to do on a 2D1N trip to Malacca.
Eat Chicken Rice Balls at Kedai Kopi Chung Wah
20 Lorong Hang Jebat
Open daily (except Wednesdays) from 9am to 2pm
Located right across the flower-filled bridge, at a corner facing Jonker Street (one of the most well-known streets for walking in Malacca), this coffeeshop is famous for its Chicken Rice Balls.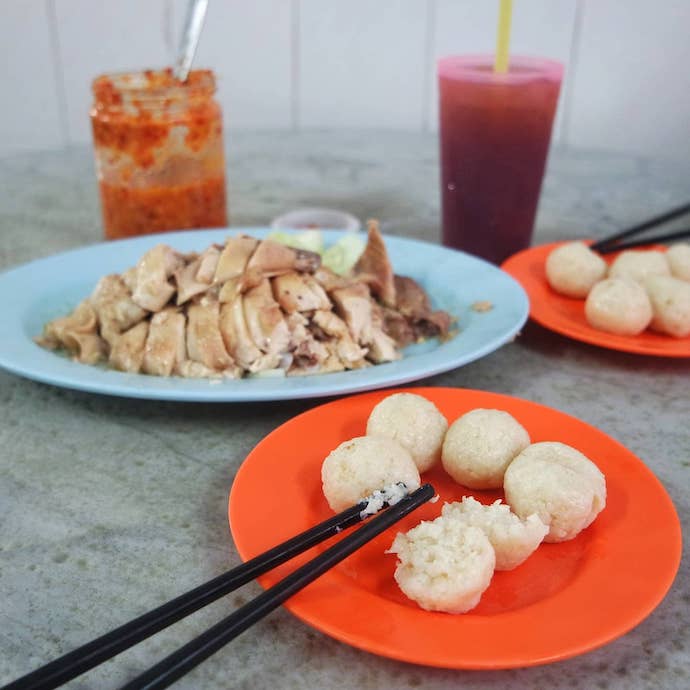 The earlier you get there, the better as its fame brings about long queues every day. The glutinous Chicken Rice Balls come in a plate of five (RM1.50). The most popular choice is a half serving of Hainanese Chicken (RM18) paired with some chilli or black sauce for a burst of flavours.
Explore Dutch Square (Red Square)
Bandar Hilir
After a hearty meal, take a leisurely stroll around Dutch Square, one Malacca's main tourist attractions. Traces of different colonial forces, which once ruled Malacca, have left imprints here.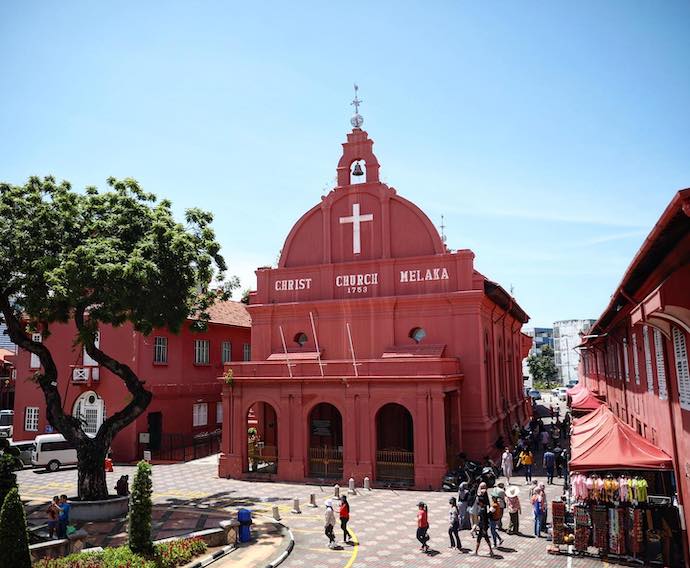 One of them is the notable Christ Church. One of the city's defining structures, this historical building has been around since the 18th century, when the Dutch took possession of Malacca from the Portuguese. Besides its historical significance, Christ Church also makes a popular and beautiful photo backdrop. It's no wonder then that it is one of the most photographed spots in Malacca!
Aside from the church, spot other iconic structures like the Queen Victoria Fountain, which was built to commemorate Queen Victoria's Diamond Jubilee in 1901. Though old, the fountain still functions to this day.
See iconic landmarks along Malacca River on the Malacca River Cruise

9am to 11pm daily
RM25 for a child below 12 years old, RM30 for an adult
Located close to Dutch Square is Malacca River, a tranquil river that was once known as the "Venice of the East". Spanning a total distance of 10km, the river was a notable entry port for both European and Asian traders during the 16th century.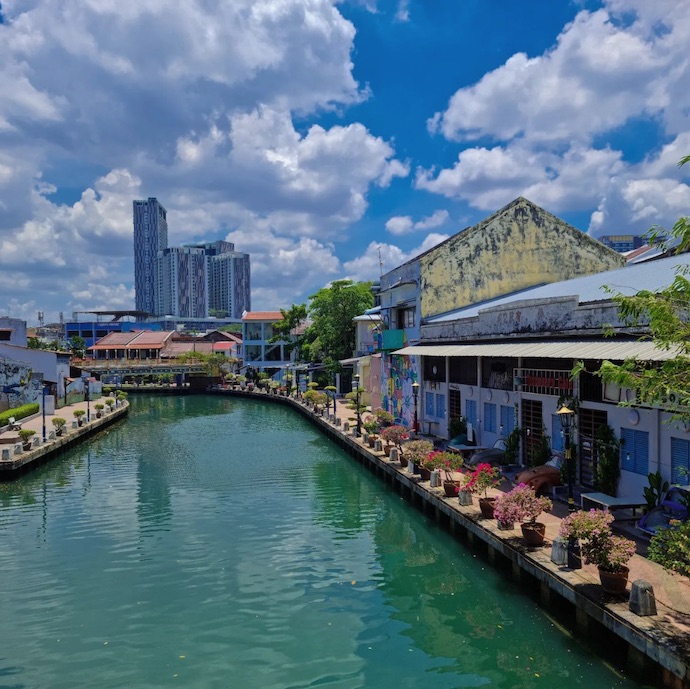 If your feet are feeling a little sore from all that walking at this point, hop on the Malacca River Cruise to soak up sights of picturesque locations throughout the city. On the 45-minute cruise, look out for tourist attractions like the Cheng Ho Cultural Museum and Old Town Hall (The Stadthuys) that is adorned with a gorgeous terracotta colour.
Feast on nyonya specialities at Nancy's Kitchen 
13 Jalan KL 3/8, Taman Kota Laksamana, Seksyen 3
Monday, Wednesday, Thursday: 11am to 5pm
Friday to Sunday & public holidays: 11am to 3.30pm, 5pm to 9pm
What's a road trip to Malacca without indulging in some authentic nyonya food? Nancy's Kitchen has been a hot favourite amongst locals and tourists alike so be sure to check it out.
Nancy, the original chef of the restaurant, was born and raised in a Peranakan household in the small town of Batu Berendam. Through watching and helping her mother in the kitchen, she soon developed a keen interest in cooking. The nyonya dishes served at the restaurant are based on recipes that were passed down to Nancy by her family.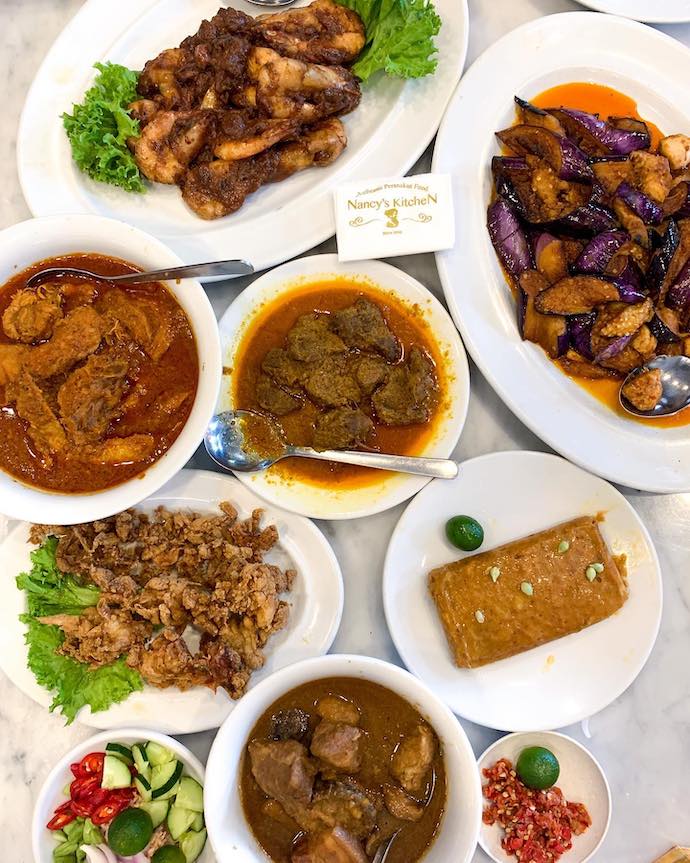 Sporting a homey vibe, the restaurant serves mouthwatering dishes such as Chicken Candlenut (RM12) and Nyonya Laksa (RM6). To beat the heat, end your meal with Nyonya Cendol (RM4.50), made with rich gula melaka, green jelly, coconut milk and palm sugar syrup.
Get your caffeine fix and café staples at The Daily Fix Cafe
55 Jalan Hang Jebat
Monday to Friday: 9.45am to 5.30pm
Start your day with a satisfying brunch at The Daily Fix, a café housed in a double-storey vintage shophouse.
Order your favourite coffee like latte and flat white coffee (RM11), and fill up on pasta, sandwiches or the café's signature pancakes. The Pandan Pancake is a hot favourite, but if you're feeling more adventurous, opt for the Espresso (RM15) or Durian Pancake (RM17.90) instead.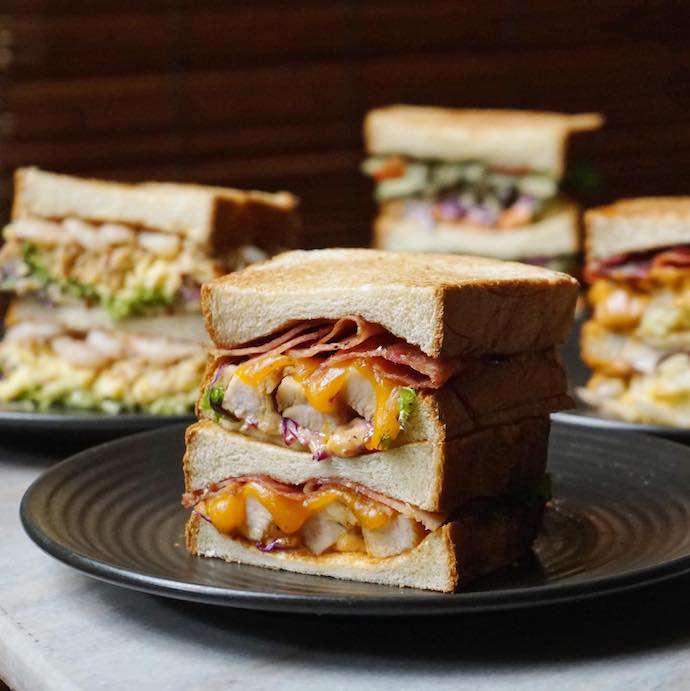 For a heartier option, get the Smoked Duck Sandwich (RM17.50), served with cucumber, green apple and salad on the side.
Learn about Peranakan culture at the Baba Nyonya Heritage Museum
48-50 Jalan Tun Tan Cheng Lock
Friday to Sunday: 10am to 12.30pm, 2pm to 5pm
A must-visit is the Baba Nyonya Heritage Museum, a UNESCO World Heritage site. Babas (Peranakan men) and Nyonyas (Peranakan women) or Peranakan Chinese are the descendants of Chinese traders from Fujian Province who migrated to the British Strait Settlements of Malacca and married the local women of Malay origin.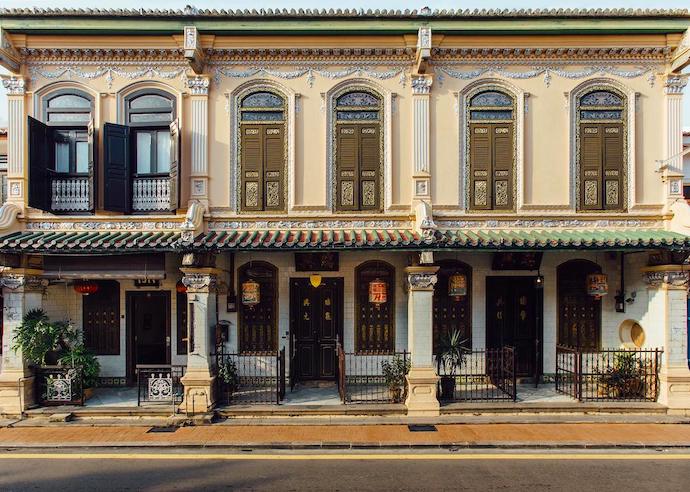 Built in 1896, the museum was once the home of four generations of the Baba Chan family. After its transformation to a museum in 1985, it became a showcase for artefacts belonging to 19th and early 20th century Malaya. Get a glimpse of hand-painted tiles, chandeliers, gold-leaf fixtures and jewellery designs of the era, particularly gold, silver and precious stones, that were crafted to add charm to the Nyonya Baju Panjang (long dress widely worn by Peranakan women). The place remains well-preserved to this day and serves to honour the Peranakan spirit, identity and culture.
Shop for souvenirs, clothes, jewellery, food & more at Jonker Street Night Market
Jalan Hang Jebat
Friday to Sunday: 6pm to midnight
Jonker Street runs through the heart of Malacca, but it is on the weekends that the street truly comes alive.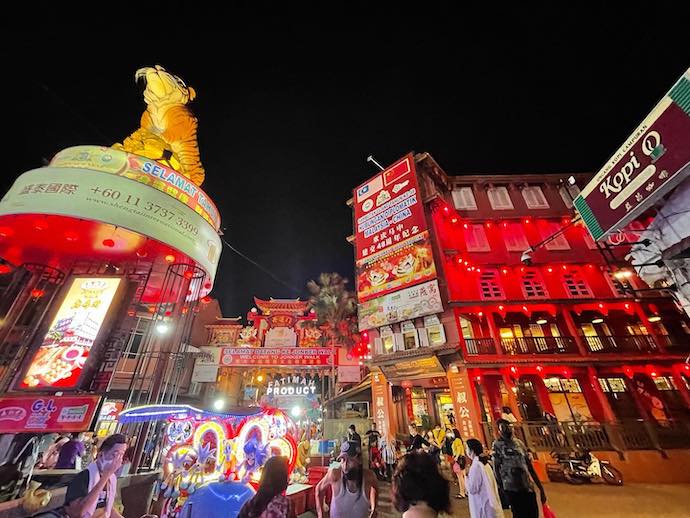 The weekend market sells a wide range of things – from souvenirs, clothing and toys to jewellery, temporary tattoos and more. There's also a satisfying selection of snacks on sale including quail eggs, putu piring (traditional steamed rice flour cakes filled with palm sugar), grilled oysters, coconut ice cream and durian cendol. Prices range from RM3 to RM10.
Enjoy home-style nyonya food at Nyonya Makko Restaurant
123 Jln Merdeka, Taman Melaka Raya
Open daily (except Tuesdays) from 11.30am to 2.25pm, 5.45pm to 8.45pm
One of Malacca's oldest nyonya eateries, Nyonya Makko is known for its home-style cooking.
The restaurant is adorned like an elegant and authentic nyonya house, both inside and out, with Peranakan kitchenware, wood carvings and framed photos. Dishes are priced between RM12 to RM50 and boast a perfect mix of sweet and spicy flavours.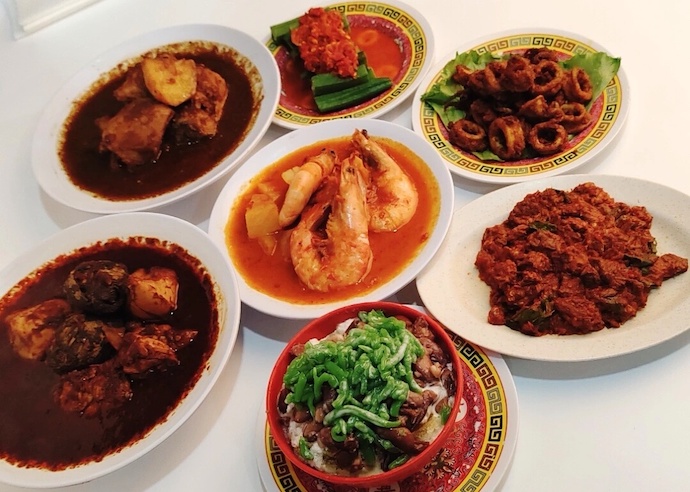 Be sure to order its signature Ayam Pongteh, a chicken stew of potatoes flavoured with gula melaka and soybean sauce. If you prefer seafood, get the Lemak Nenas Udang where big prawns are fried and slathered with a cream mixture made with coconut milk and pineapple.
This article has been adapted from Now Boarding by Changi Airport's "2D1N Malacca travel guide from Singapore to Malaysia"