Laos has hundreds of Buddhist temples or wats that are also home to monks, novices and nuns. Here are some of the country's most popular places of worship, many of which boast unique and impressive architecture.
Champasak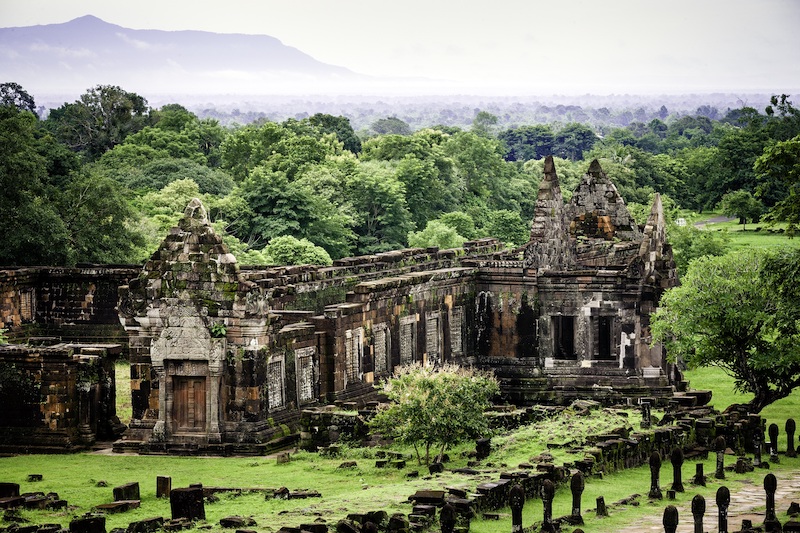 • Wat Phou (UNESCO World Heritage Site)
Located at the foot of Phou Kao Mountain, this ancient Khmer temple (which means "mountain temple" in Lao) is one of Laos' largest archaelogical sites. The temple complex, which comprises Wat Phou, Phou Kao Mountain and the remains of two ancient cities named Lingapura and Shrestrapura, is a UNESCO World Heritage Site. The complex was built during the first part of the 11th century, with some additions and reconstructions from the 12th and 13th centuries. There's a natural spring that locals believe contains holy water.
Luang Prabang
• Haw Pha Bang (Royal Temple)
• That Chomsi
• That Makmo
• Wat Aham
• Wat Choum Khong
• Wat Ho Pha Bang
• Wat Long Khoun
• Wat Mahathat
• Wat Mai Suwannaphumaham
• Wat Manorom
• Wat Pa Phai
• Wat Phon Phao
• Wat Sene
• Wat Sensoukaram
• Wat Wisunarat (Wat Visoun)
• Wat Xieng Thong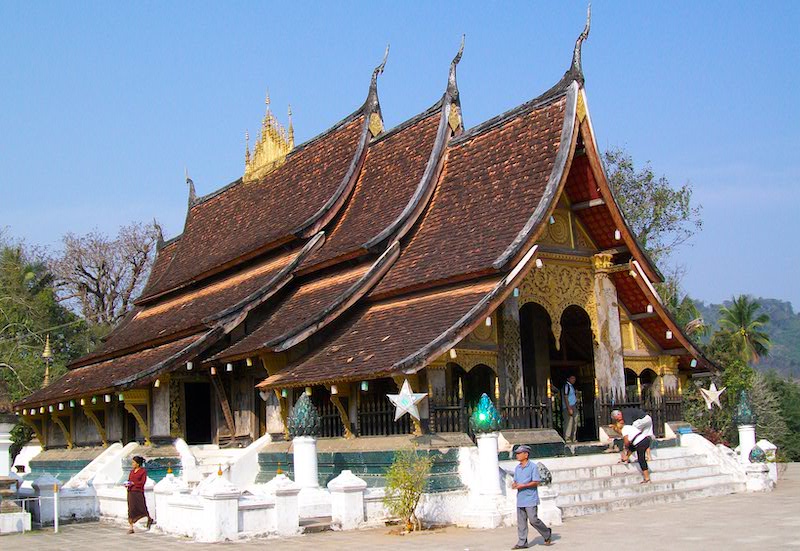 Built in 1559 by King Setthathirath, Wat Xieng Thong is one of the most impressive temples in Luang Prabang. Its architecture is a fine example of 16th century Buddhist art and architecture, with two-tiered roofs, ornate mosaic patterns and wall carvings. The site of very important royal ceremonies in the past, the temple houses the bones of King Sisavangvong, a 12m-tall funeral carriage of the former king, as well as rare Buddhist deities.
Savannakhet
• That Ing Hang Stupa
• That Phone
• Wat Xayaphoum
Vientiane
• Pha That Luang (Great Stupa)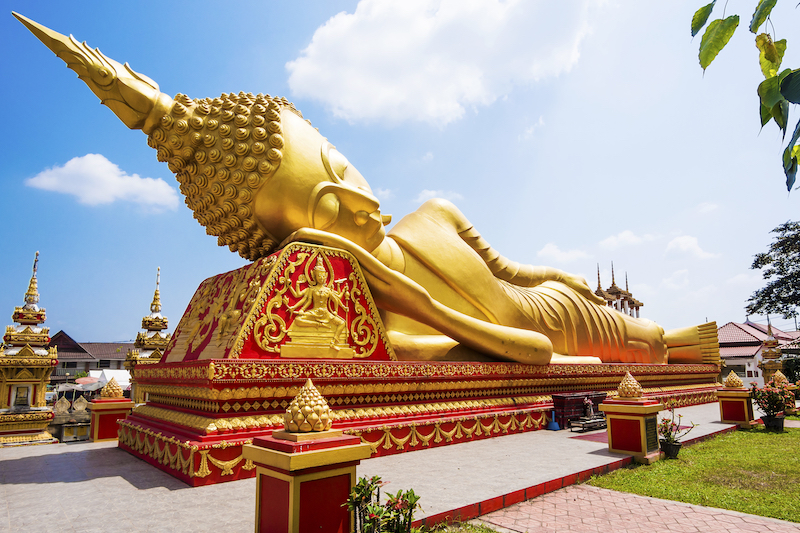 Laos' most important and famous Buddhist as well as national monument, this golden stupa is said to enshrine a breast bone of the Lord Buddha. Built in 1566, it has three levels to symbolise the ascent from the earth to the sky. The first level is the underworld; the second represents 30 perfections of Buddhism; and the third points to the prelude to the kingdom of heaven.
• Wat Ho Phra Keo/Haw Phra Kaew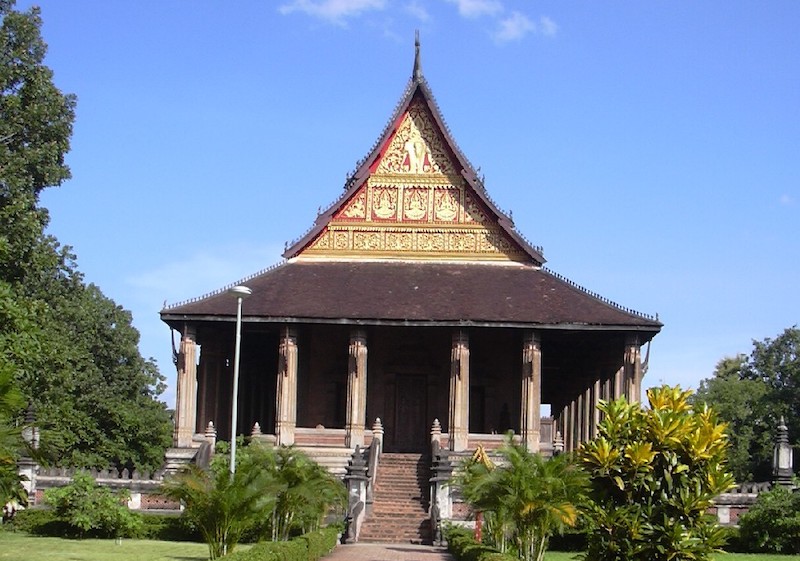 One of Laos' most revered temples, it got its name from the Emerald Buddha as Thailand's most highly revered Buddha image was enshrined in the temple for over 200 years. Converted from a place of worship into a museum in the 1970s, the temple now houses the finest national collection of Buddhist sculptures and artefacts.
• Wat Sisaket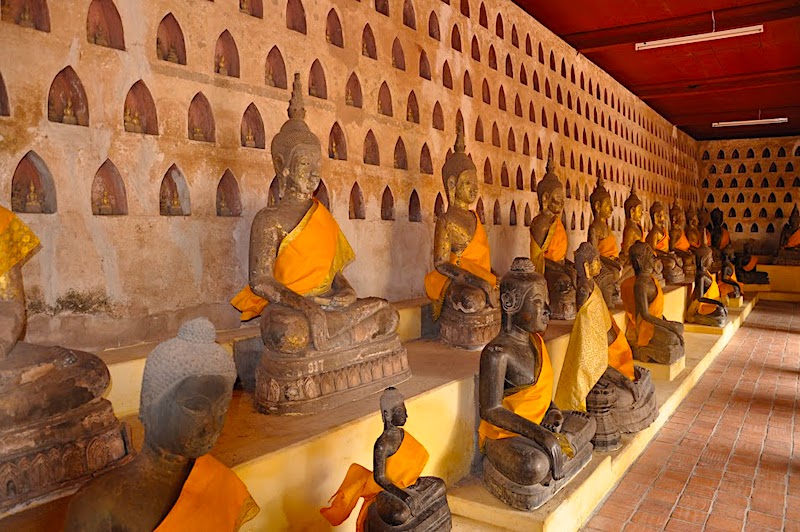 • Wat Si Muang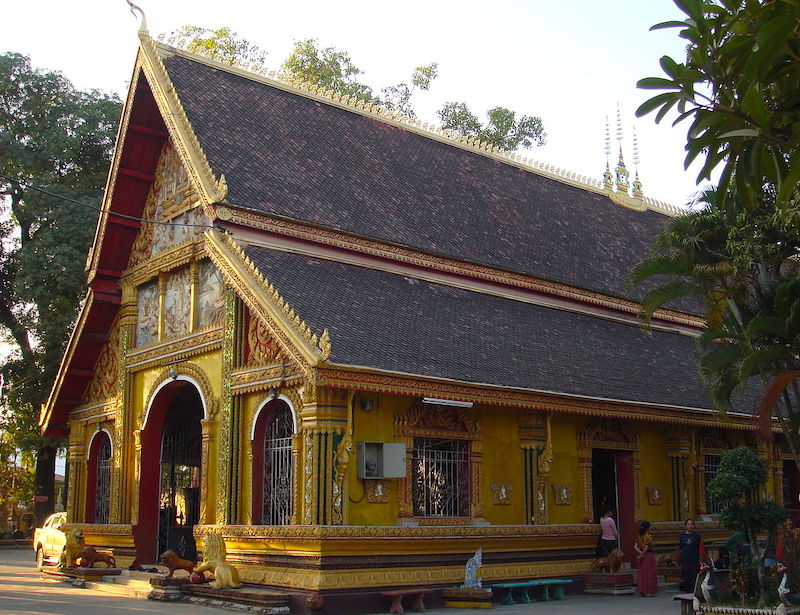 • That Dam
• Wat Dane Soung (Jungle Temple)
• Wat Inpeng
• Wat Ong Teu