The school holidays are here once again and it's time to let the little ones have some extended playtime.
Keep them out of the heat and humidity by bringing them to indoor playgrounds for hours of fun in air-conditioned comfort.
From free indoor playgrounds and play areas within shopping malls to playpens large enough to host a birthday party, choices are aplenty. Check out our list of awesome indoor playgrounds where your kids can not only have fun but also discover a world of learning and creativity.
– FREE ENTRY –
Indoor Play Area at Jewel Changi Airport

West Gateway Garden, Level 2 (next to Tim Ho Wan)
Open 24 hours

There's no doubt that Changi Airport is one of the most kid-friendly places in Singapore. If you're looking to beat the heat while letting your kids enjoy some sunshine and greenery, head on over to this indoor playground located in the heart of Jewel Changi Airport.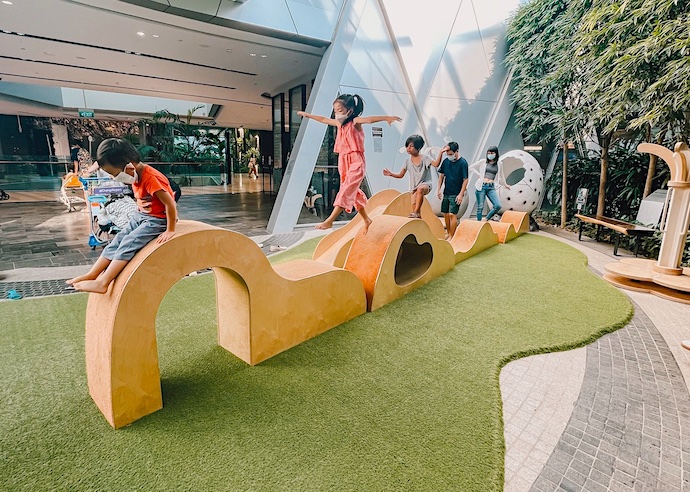 Tucked away in the West Gateway Garden on Level 2, this free playground is designed with natural elements in mind, and suitable for children aged 3 to 5. Your little ones are sure to have a blast traversing the rolling wooden hills or climbing and hiding in the latticed wooden cave. The foliage and shaded seating area is also a great place for parents to take a breather from all your Jewel shopping escapades while the kids play their hearts out!
Space-Themed Indoor Playground at Marina Square
Level 3
Opens daily from 10am to 10pm
Level 3 of Marina Square is home to a myriad of kids and family stores purveying everything from kidswear and baby gear to toys. So it's only fitting that there's a playground to host parents on a shopping break along with kids looking to expend their energy.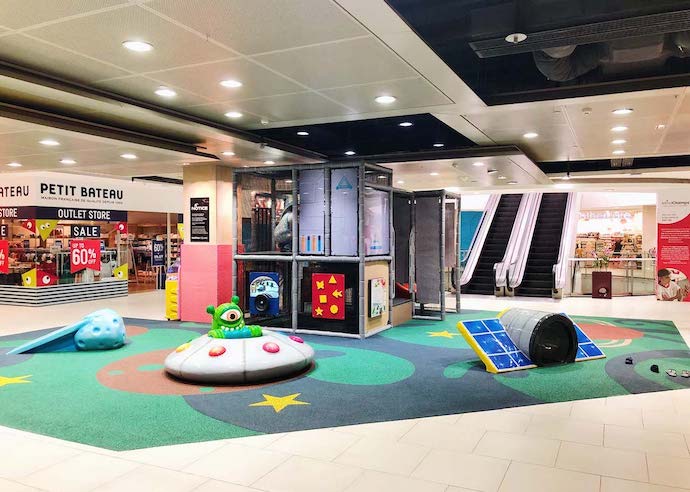 The 110m-wide play area features an adorable indoor playground pop-up with mini ramps and slides designed after extraterrestrial motifs – spot the green alien friend peeking out of his spaceship! Kids will be able to crawl around and climb the structure, as well as express their creativity with interactive boards.
Paragon Junior Playground at Paragon
Level 5
Opens daily from 10am to 10pm (closed for cleaning from 3pm to 4pm)
On your next jaunt to Orchard Road with your kids, take a breather while your kids are occupied at Paragon's indoor playground on Level 5. Hidden from the more crowded floors below, the play space is situated right next to a massive Mothercare store.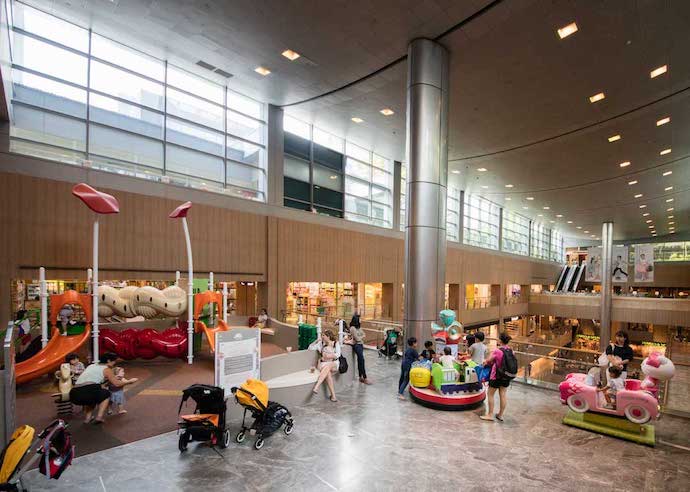 Not only does the main area have two large slides to incite plenty of smiles, but it also has tunnels, climbing walls and bridges to train the little ones' confidence. Just adjacent lies a coin-operated ride in the form of a mini merry-go-round and a kiddy automobile ride.
Parents will be pleased to know that there are seating areas to watch over the kids, plenty of stroller space and nursing rooms just nearby too!
The Artground at Goodman Arts Centre
#01-40 Blk J
Opening hours: Wednesday to Sunday – 9.15am to 10.30am, 10.45am to noon, 2pm to 3.15pm, 3.45pm to 5pm (closed on Monday and Tuesday)
A free play space for kids in the eastern part of Singapore can be found at The Artground at Goodman Arts Centre.
The educational space spans both play and art spaces, with the former including plenty of amenities inspired by Singapore snacks. Think slides designed after ice-cream waffles, balancing beams shaped like giant love letter biscuits and climbing pods that look like curry puffs.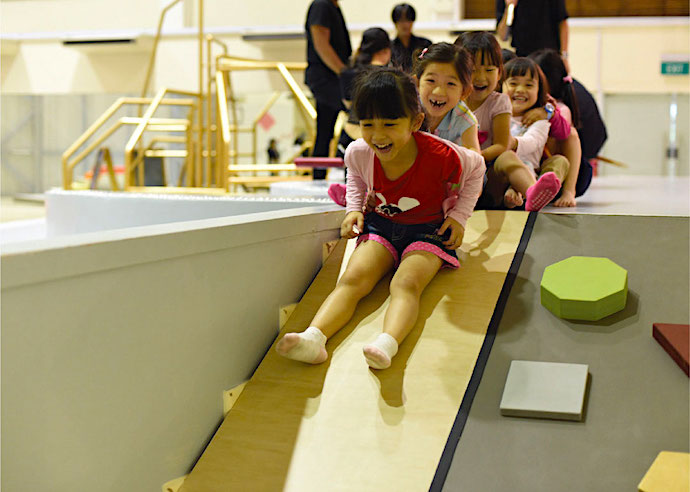 Aside from the playground, The Artground also hosts educational programmes at The Whitebox, that include dance, storytelling or performance theatre. Meanwhile, The Good Garden section has an outdoor urban garden for kids to develop a better understanding of Mother Nature. With so much to see and do, your kids can have a holistic and wholesome experience all in one location.
While entry to The Artground at Goodman Arts Centre is free, you will need to book entry and reserve slots online with a $15 refundable deposit before heading down.
– PAID ADMISSION –
T-Play Khatib at HomeTeamNS Khatib

• $20 HomeTeamNS member, $40 Affiliate, $50 guest
• Opening hours: Tuesday to Thursday – 1pm to 7pm, Friday and eve of public holiday – 1pm to 9pm, Saturday, school holidays and public holidays – 10am to 9pm (closed on Monday)
Taking pride as Singapore's first fully Peranakan-themed playground, T-Play Khatib is visually striking from the get-go due to the iconic dragon facade that calls to mind the original dragon playground at Toa Payoh.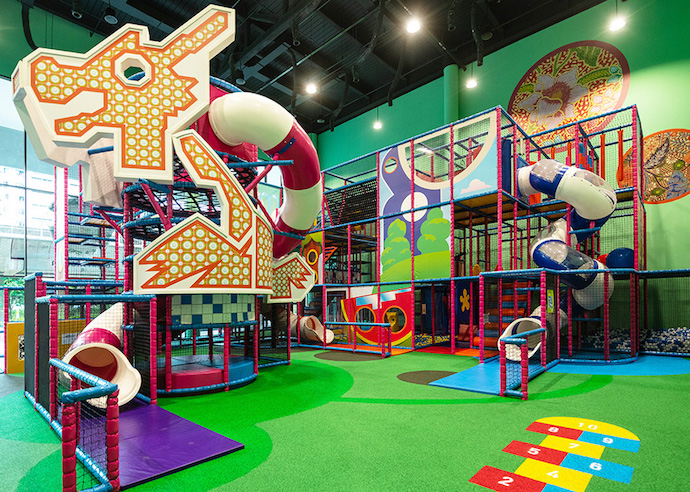 Combining heritage and modern play features, this indoor playground in Singapore offers interactive experiences for kids aged 12 and below through smart interactive spheres, tunnels, mini trampolines and spiral slides. All this while dad and mum can sit at the cafe to sip on a cuppa and watch over their young ones.
Entry also grants kids complimentary craft and colouring activities, which will provide them a breather after running, hopping and jumping about.
Canopy Park at Jewel Changi Airport
Level 5
• $3 per entry for Changi Rewards and CapitaStar members, $5 per entry for non-members, $4.50 for Singapore residents
• Opening hours: Monday to Thursday – 10am to 10pm, Friday to Sunday, eve of public holiday and public holiday – 10am to 11pm
Besides the free kueh-themed playground, there is also another Changi Airport playground worth exploring at Jewel Changi Airport. The Canopy Park has plenty to offer for indoor playtime, and is suitable for kids between the ages of 18 months and 12.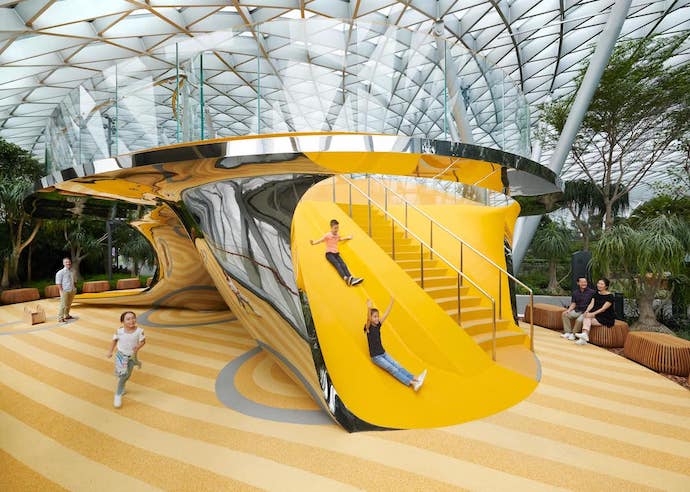 For just $5 per entry, stroll along the Petal Garden and whisk down the Discovery Slides which double as an art piece to admire. Kids will also particularly enjoy the Foggy Bowls, where they can play with mist that form clouds. The Topiary Walk is another feature that is particularly educational. It features photo stops with various cute animal topiaries, so even little ones can learn more about them along the way.
With so many delightful activities around Changi Airport, it's no wonder that the airport is truly a kids' wonderland for toddlers and older children alike.
Pororo Park Singapore at Marina Square
#02-29
• $36 per child (inclusive of one accompanying adult), $10 for babies below 9 months old
• Opens daily from 10.30am to 8pm
Pororo Park Singapore is the perfect place to wind down after a day of shopping with your family at Marina Square. From $36 per entry, let your kid roam freely while you rest, and watch them explore the many amenities that this indoor playground has to offer.
The first thing you'll notice is the playground's numerous animal mascots, since Pororo Park is based on a character-themed concept from Korea. Ride the Pororo Express Train with your kids at every 45-minute interval or get them to tackle Poby's Jungle Gym of maze-like structures. Other activities include the classic ball pit named the Shark Ball Pool and a mini-construction area at the Hinoki Pit.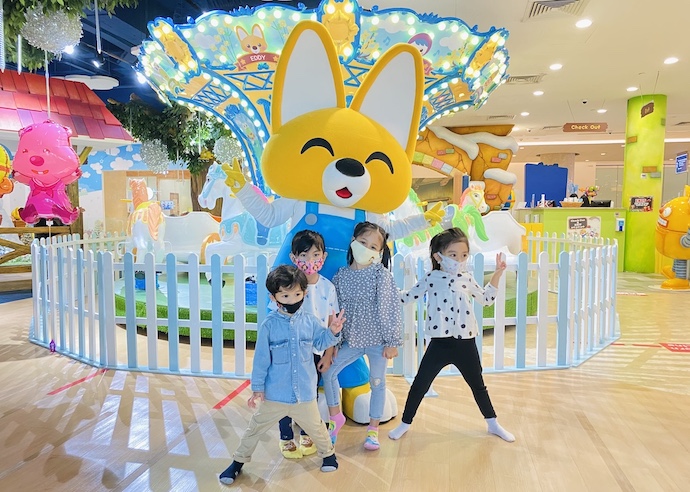 If your kids need a break, head for Tong Tong's Little Theatre to catch the live mascot performance. After the show, they can get up close and personal with the characters during the meet-and-greet session. Each play session lasts for three hours.
Pororo Park also offers event packages for birthday parties.
Tayo Station at Downtown East
Level 3, E!Hub
• $26 on weekdays, $30 on weekends and public holidays (inclusive of one accompanying adult), $8 for additional adult
• Opening hours: Monday to Friday – 10.30am to 6pm, Saturday, Sunday and public holidays – 10.30am to 8pm
Venture to the eastern part of Singapore and you'll find Tayo Station at Downtown East's E!Hub. Suitable for kids aged between 1 and 12, the indoor playground is designed after the popular Tayo the Little Bus animation series and is more than just your average playpen.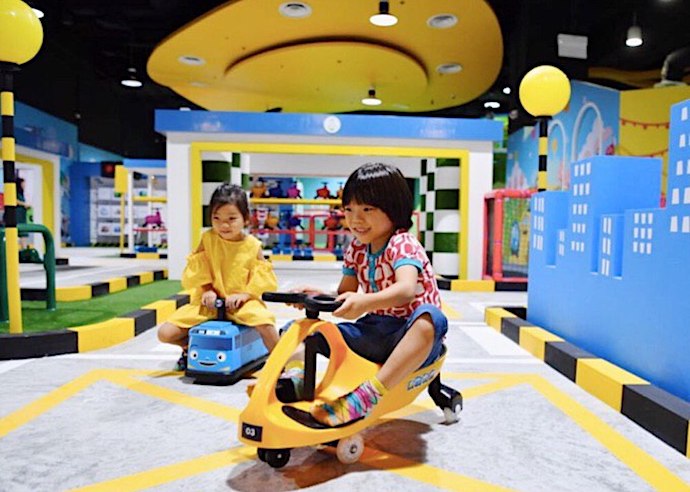 Not only can kids watch episodes of the show at the Rainbow Lounge, but they can also be better equipped with newfound skills and knowledge such as learning about road safety at Tayo's Road Circuit. Over at the three-storey Gani Playground, kids can train their motor skills by climbing a mini rock wall and jumping into the giant ball pit at the Cliff Ball Pool.
Younger children aren't left out either – the Toddler Play area is a dedicated space where little tots up to 3 years old can roam freely. Want your kids to meet Tayo in person and take pictures? Then book a slot during weekends or public holidays where he makes a guest appearance!
Waka Waka at annex@furama
#05-01
• From $23 for non-peak and weekdays, from $28 for weekends and school holidays
• Opening hours: Monday to Friday – 10am to 6pm, Saturday and Sunday – 10am to 8pm
Plan a family date at Waka Waka, where kids aged 2 and above can visit for a ball of a time. The playground is safari-themed, which means that the little ones can feel like they're bravely venturing into the great outdoors while still being under a protective shelter.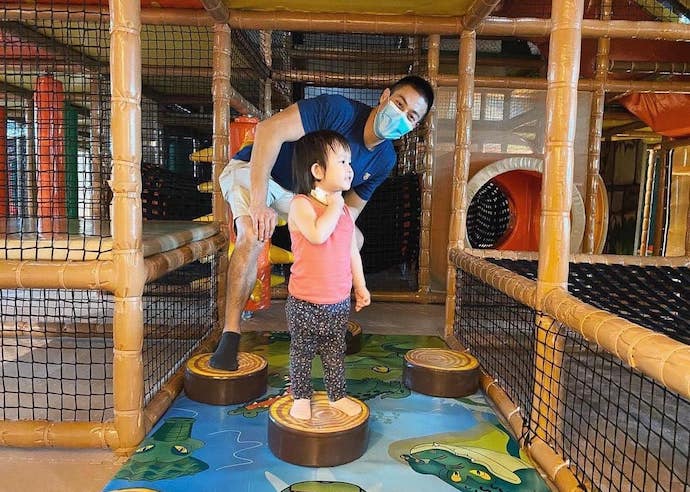 The entire space is separated into zones catering for different age groups, so you may not have to deal with a crying child who can't complete a challenge. You'll also find unconventional play features here like the adventure rope course and a wave slide fitted with real water and slides. Get your kids to look out for life-size statues of lions and zebras which add a touch of realism to the safari world.
With all that playing, the kids are bound to get famished. Thankfully, Waka Waka also has an Eat & Play Family Deal (from $80) that includes an a la carte buffet for lunch or dinner for two adults and one kid. Parents can also kick back at the wait areas while their little ones take on their safari adventure.

*This article is adapted from Now Boarding by Changi Airport's "9 indoor playgrounds in Singapore where the fun never stops"