Step into the immersive world of video games at Virtual Realms: Videogames Transformed, a multi-sensorial exhibition that re-imagines video games as a 21st century artform.
Held at ArtScience Museum till 9 January 2022, the exhibition is co-curated by celebrated Japanese video game designer Tetsuya Mizuguchi and showcases video game creativity in six impressive installations that reshape how games can be experienced in virtual and physical realms.
The interactive installations were conceived by some of the world's leading video game developers, namely KOJIMA PRODUCTIONS (makers of DEATH STRANDING), Enhance (Tetsuya Mizuguchi and team behind Rez Infinite), thatgamecompany (authors of the game Sky: Children of the Light), Tequila Works (studio that made RiME), Media Molecule (creator of Dreams) and David OReilly (creator of the game Everything).
To create the large-scale, immersive installations, the video developers collaborated with top media artists and design studios Rhizomatiks, FIELD.IO, The Mill, Marshmallow Laser Feast, onedotzero and The Workers.
The Museum will be conducting a virtual tour of the exhibition on 25 June through its official Facebook account and YouTube channel. On-site guided tours will be held on 2 and 16 July from 4pm to 5pm; and on 9 & 30 July from 6pm to 7pm.
Experience new ways of approaching and enjoying video games through six thematic realms: SYNAESTHESIA, UNITY, CONNECTION, PLAY, NARRATIVE and EVERYTHING.
SYNAESTHESIA
Rezonance, 2021
By Enhance (game developer) and Rhizomatiks (media designer)
Synaesthesia is a neurological phenomenon in which the boundaries between the senses are blurred and where sounds can be "seen" and visuals can be "heard" or "felt".
Tetsuya Mizuguchi, founder of Enhance, has been experimenting with synaesthesia and his experiments have been expanded into a large-scale format, resulting in Rezonance (2021).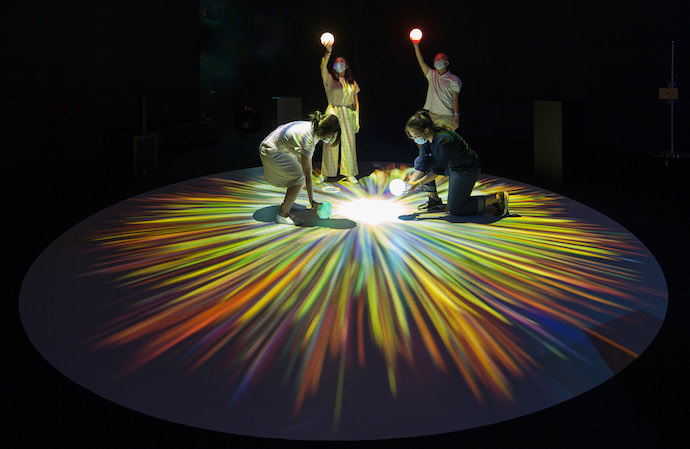 Pick up a haptic ball and become a beat in an installation combining music, light and technology to convey the experience of synaesthesia.
The ball will vibrate and light up in your hand. As you move around and raise and lower the object, it will interact with the lights display on the floor and change the music. Chase a bird made of light on the floor or coordinate with other players to influence the display and soundtrack.
UNITY
Together: the distance between (us), 2021
By thatgamecompany (game developer) and FIELD.IO (media designer)
Here, the dreamlike world of thatgamecompany's Sky: Children of the Light (2019) has been transformed into an immersive spatial environment. As you move beneath the circular light-sculpture, music and audio fragments from the game Sky are triggered and a choreography of light sequences unfolds.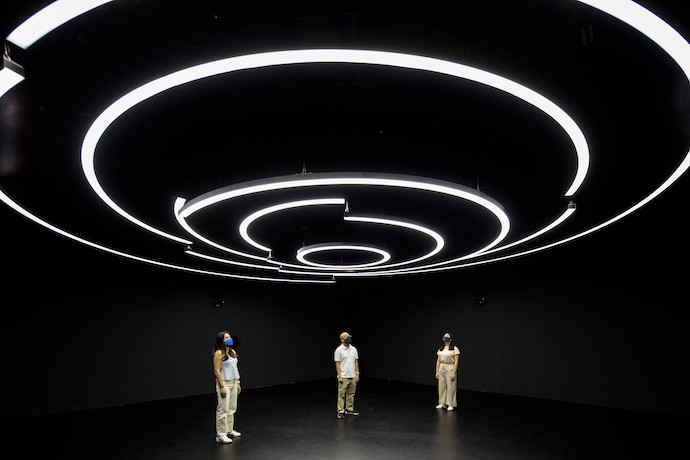 You become a player in the all-encompassing generative instrument. Explore the relationship between movement, light and sound as you use your presence to influence the composition of the space.
By coordinating with other players, you'll witness the build-up of fragments of light and melody which will culminate in a collective crescendo and a moment of unity for all to experience.
CONNECTION
WALL, 2021
By KOJIMA PRODUCTIONS (game developer) and The Mill (media designer)
The key theme of human connection in KOJIMA PRODUCTIONS' game, DEATH STRANDING (2019), has been reimagined for the WALL experience.
The wall is the only channel between two opposing worlds – one alive with biological cells and the other flowing with galactic energy particles.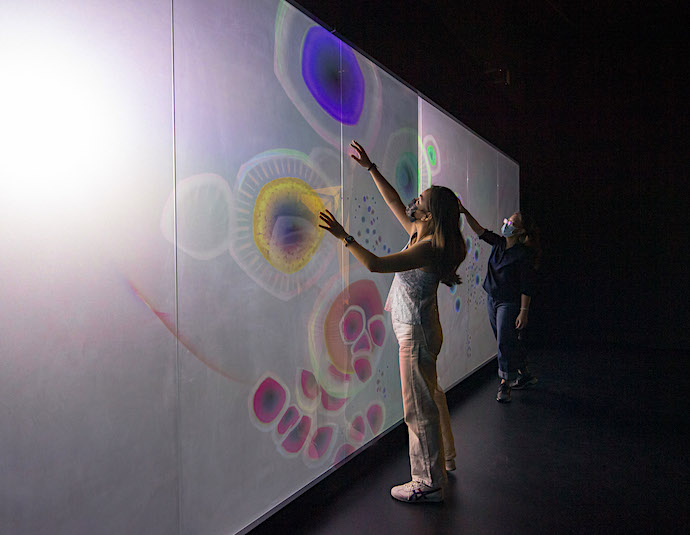 As you approach the wall, the cells and cosmic particles will respond to your presence, dividing and clustering with your movement. The mesmerising patterns that form will offer hints of communication between different spaces and time.
Amongst your interactions and imprints, traces of other silhouettes will emerge and snapshots of past interactions will be replayed. These signs of life within or beyond the wall hint at the structure as a channel of communication between different spaces and time.
PLAY
Dream Shaping, 2021
By Media Molecule (game developer) and Marshmallow Laser Feast (media designer)
Put on a tracking helmet that connects you to the virtual world of Dreams, while the oversized soft shapes in the play-space are your props.
Moving through the three acts of PLAY, you'll be transported from a multicoloured ball-pit to the creation of the universe and back again. Sharing shapes and experimenting with movements around the space will create a spectacle within both the physical and virtual worlds.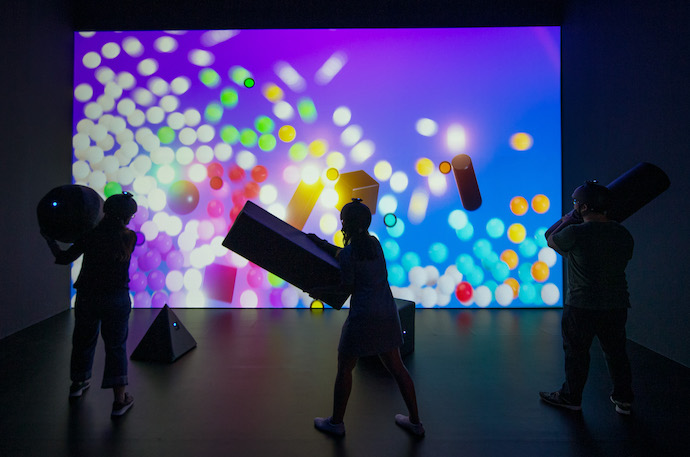 As you are caught between the physical and virtual worlds, your imagination and movements will turn into an improvised performance. This is your moment to explore with your imagination.
NARRATIVE
Book of Sand, 2021
By Tequila Works (game developer) and The Workers (media designer)
Step into the mysterious Mediterranean world of Tequila Works' game RiME (2017) to begin the next chapter of this ever-evolving tale of discovery and loss.
Inspired by Jorge Luis Borges' novella, Book of Sand explores the notion of an infinite story with neither "any beginning or end". You can enact changes by commanding the crumbling of statues or controlling the shift from night into day.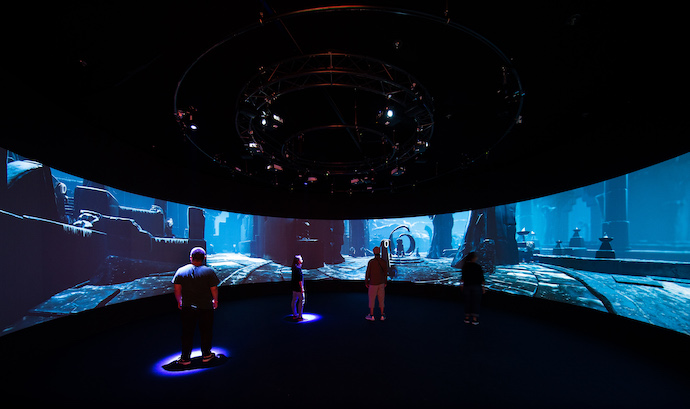 Depending on the choices made and how you collaborate with other players, each rendition of the narrative will be different.
EVERYTHING
Eye, 2021
By David OReilly (game developer) and onedotzero (media designer)
Eye is a unique reactive environment based on the concepts of David OReilly's game Everything (2017). You can rotate three oversized controllers to play with the "flow", "scale" and "warp" of the shifting kaleidoscopic formations (or mandalas) on the screen. Unique patterns of living and non-living forms are continuously being generated and no mandala created will ever be seen again.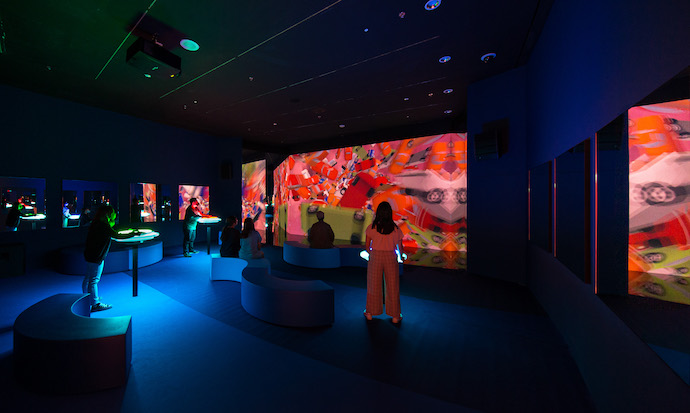 Go on a visual journey through time – from the Big Bang through to the end of the universe. Get comfy on a soft spongy seat as you listen to a synchronised soundtrack from the London Symphony Orchestra, and bathe in the psychedelic wonder.
Admission
• Singapore resident – $16 adult, $12 concession, $45 family package (two adults, two kids)
• Standard ticket –$19 adult, $14 concession, $54 family package (two adults, two kids)