Calling all design, culture and fashion enthusiasts! Make your way to Asian Civilisations Museum (ACM) to check out #SGFASIONNOW, the museum's first display focused on contemporary Singapore fashion.
A collaboration with LASALLE College of the Arts' School of Fashion and the Textile and Fashion Federation (TaFF), the display features works by eight practising Singaporean designers including Paris-based designer Andrew Gn, cheongsam maestro Goh Lai Chan, Priscilla Shunmugam and Carol Chen, winner of TaFF's 2020 edition of Singapore Stories, an annual fashion design competition for emerging, locally-based designers.
Curated by five final-year students from LASALLE, with guidance from ACM's curatorial team, #SGFASIONNOW explores the question of what contemporary Singapore fashion is by focussing on good craftsmanship, the central theme of the display.
We highlight five thoughtfully crafted pieces with exquisite craftsmanship that you need to take a closer look at.
Gown
May There Be Light Collection by Andrew Gn
Paris, 2020
Gn was inspired to create a collection that would bring hope, pleasure and joy amidst the global pandemic lockdowns. The all-white look represents rebirth, hope, optimism and joy of life.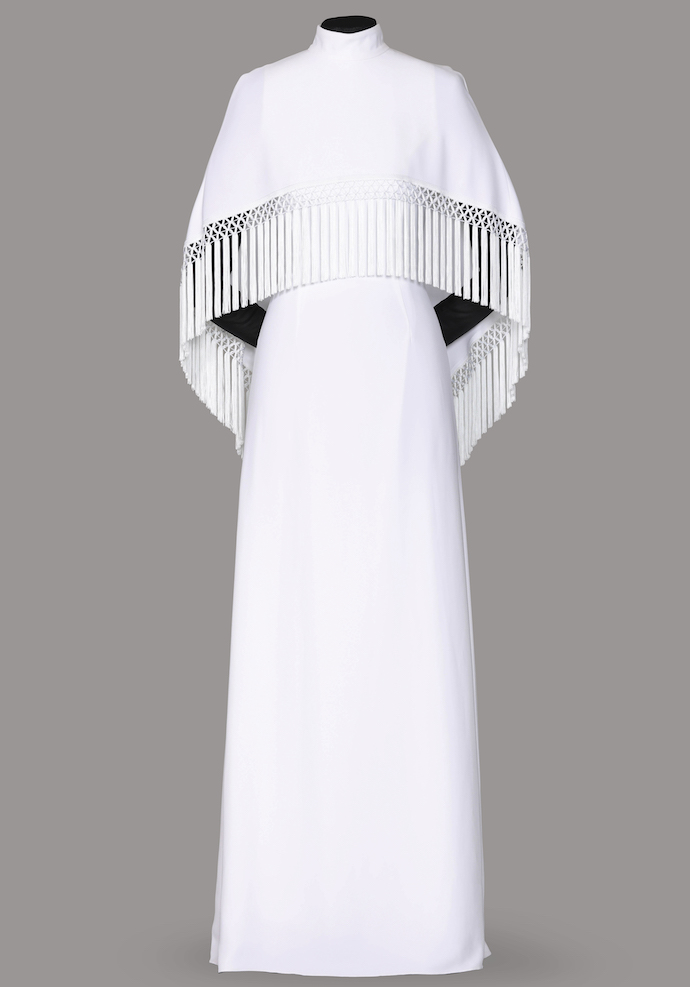 Crafted from fluid crepe, the column dress features a cape with a macrame fringe produced by a trimming company in Italy. The cape is a nod to Chinese export shawls of the 20th century, often called "Manila shawls".
Cheongsam
WANDERLUXE Collection, Spring/Summer 2018 by LAICHAN by Goh Lai Chan
Singapore, 2017
Fully embroidered with lace florals, tulle ribbon applique and beading, the dress is a masterful contrast of structured tailoring and textural embellishment. The silhouette is a direct reflection of the traditional cheongsam, but with a contemporary twist in the choice of sheer lightweight fabric.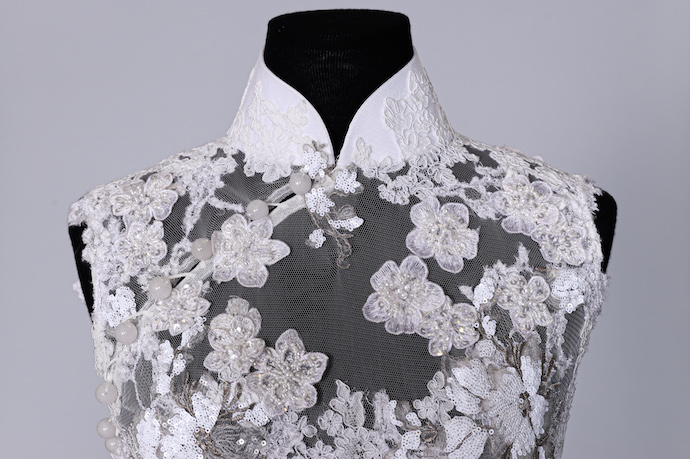 The dress was made with very traditional ways, but it also employed European techniques such as cutting on the bias and using unusual fabrics.
Cheongsam with cape
Ong Shunmugam by Priscilla Shunmugam
Singapore, 2015
This custom-made piece for donor Paige Parker, who wore it to the Cannes Film Festival in 2016, was fabricated in an intricately textured silk jacquard with a vibrant red-and-white colour palette.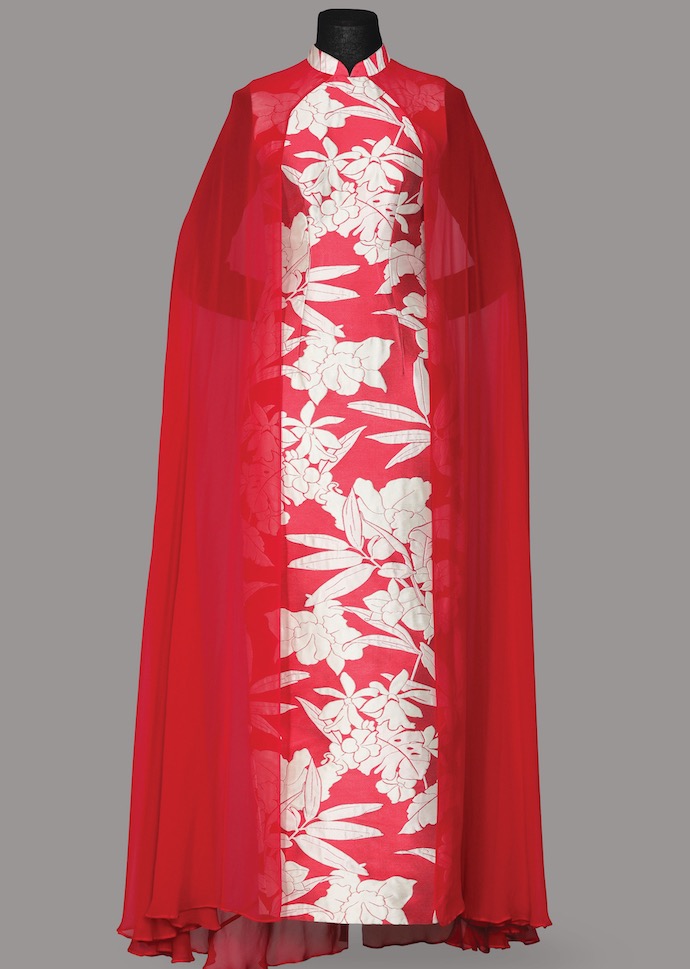 The piece exemplifies Shunmugam's skilled eye for balancing print, proportion and texture. The lightweight silk cape provides a contrast to the heavier jacquard of the cheongsam, and the print is carefully matched at the seams.
Top with cape sleeves and pants
Neoterica Collection by Carol Chen
Singapore, 2020
This piece from Carol Chen's debut collection Neoterica is inspired by Singapore's modernity, inclusive culture and architecture. The title is derived from the ancient Greek word "neōterikos", which means new or young. Chen pays homage to traditional artistry of South and Central Asia by incorporating Zardozi embroidery which features the use of silver threads and beads.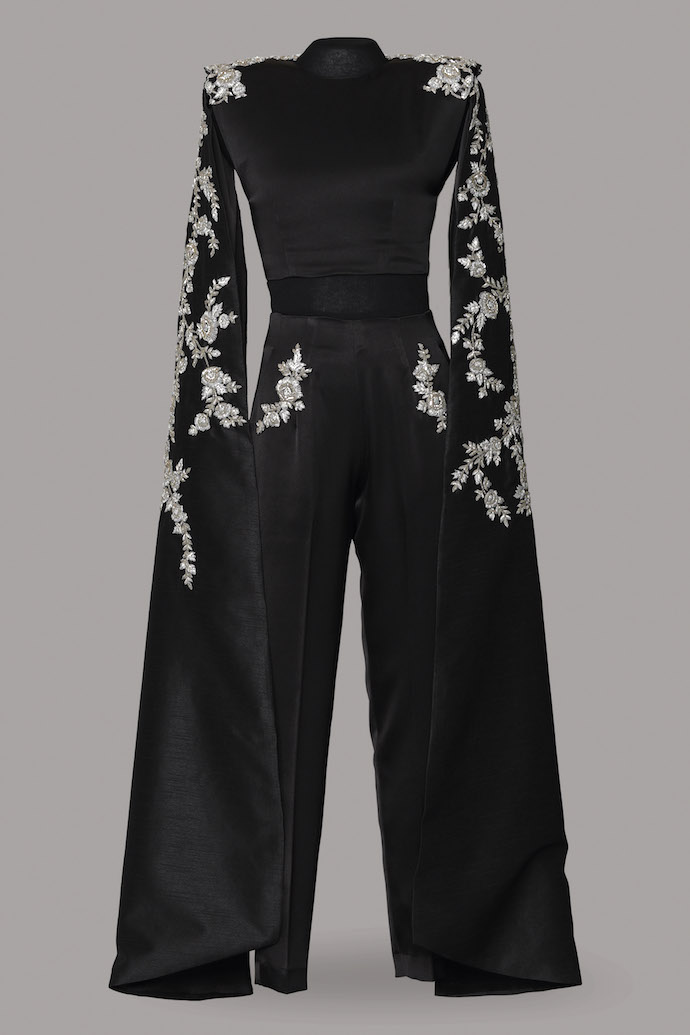 Actress Kiki Lim wore the outfit to this year's Star Awards Ceremony at Changi Airport.
Jing dress
Baëlf Design by Jamela Law and Lionel Wong
Singapore, 2019
The dragon scale-patterns of this outfit were created by 3D printing from thermoplastic polyurethane, showcasing a rather unique and unorthodox aspect of garment making. It features a reinterpretation of Chinese opera costumes inspired by the National Museum of Singapore's archival collections of local street performances.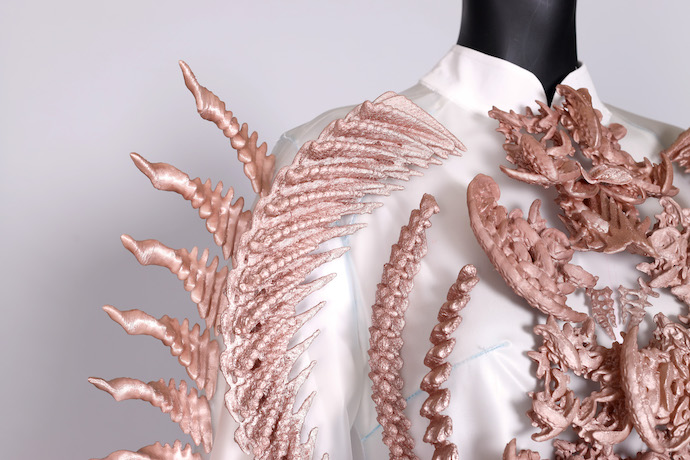 This wearable art piece juxtaposes traditional Chinese elements with futuristic structures and crafting processes, displaying the evolving type of craft added to the Singapore identity and encapsulates the idea of never-ending possibilities for the future of Singapore fashion.
#SGFASHIONNOW runs from 25 June till 19 December 2021

Admission
• Free for Singaporeans & PRs
• Foreign visitors: $20 adult, $15 student and senior (includes entry to the special exhibition Life in Edo / Russel Wong in Kyoto on Level 2)