Eating has been known as one of Singapore's national pastimes, and it's pretty clear why. Besides well-loved traditional hawker food, the country is also blessed with a myriad of unique restaurants including those that offer extraordinary dining experiences worth going the extra mile for.
Why stick to the usual spots when you can choose to dine in an aeroplane cabin, a whimsical Alice in Wonderland-themed space or a modern kelong floating between Pulau Ubin and Changi Point Ferry Terminal?
Check out these five themed restaurants with cool concepts that are sure to guarantee unforgettable meals!
www.facebook.com/WonderlandSavour
#02-08 Wisma Atria
Let's face it. Real life can be quite dull sometimes and we all deserve an occasional fictional escape from time to time. If you're looking for a unique place to eat, Wonderland Savour offers a whimsical dining experience akin to falling down the rabbit hole as the restaurant's theme is based on Tim Burton's popular Alice in Wonderland film adaptation.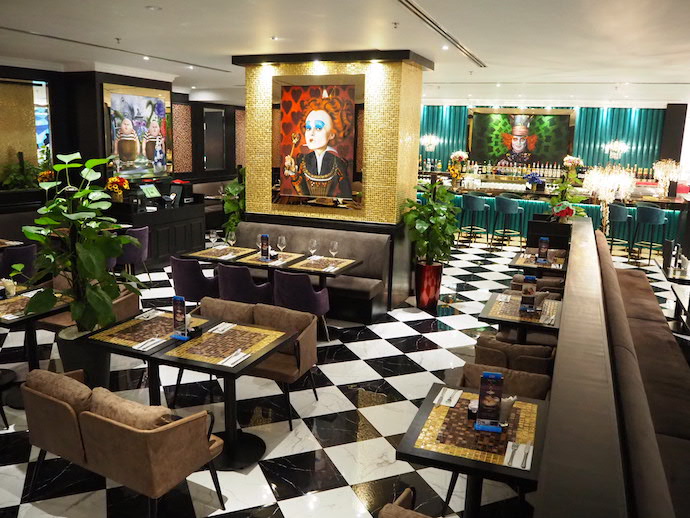 Boasting a glamorous Instagram-worthy design at first glance ­– from lush, teal velvet furniture to touches of gold and luxurious lighting – this restaurant is all about whimsy.
In terms of food, Wonderland Savour serves up delicious modern European cuisine. Its Set Lunch ($32++) includes a starter of salad or soup, a main dish with options like Linguine Chilli Crab and Truffle Carbonara, plus a cup of black tea or coffee. Must-try a la carte dishes include Mushroom Croquettes ($22), Laksa Spaghetti ($28), Pork Belly Confit ($26) and Duck Confit ($29).
To remain committed to the theme (just like the mad tea party scene in the film), go for its Tea Set. Priced at $28++ and $48++ (Grandeur), the sets come with mouth-watering mini sandwiches, mini toasts as well as a cup of tea or coffee (two cups for the Grandeur Tea Set).
www.gardenasia.com
240 Neo Tiew Crescent
Far from the city centre lies a hidden gem: Gardenasia. Located in a secluded spot in the Kranji countryside, this expansive space is a farm stay and event venue all-in-one. Besides the villas, there's a quaint and comfy bistro tucked amidst all that lush greenery, the perfect spot for those looking for respite from café crowds in the urban jungle.
What sets this bistro apart is how it creates dishes using local ingredients grown in the surrounding farms. Yes, that means you get the authentic farm-to-table experience!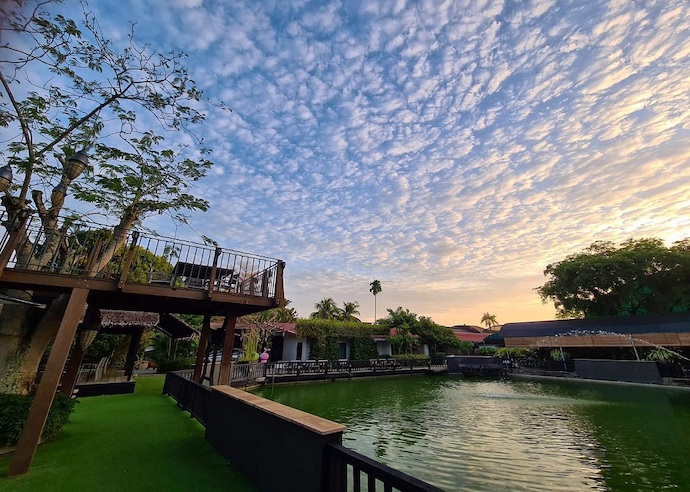 Expect classic Western dishes like Traditional Fish and Chips ($18) and Pan-Seared Fish Fillet ($29), prepared using fresh catches of the day including salmon, red snapper and sea bass.
Those who prefer local dishes can tuck into local delights like Grilled Ribeye Hor Fun ($24), Hokkien Mee Pasta ($18) and Gardenasia Fish Soup ($20). For light bites, order comforting nibbles such as Mozzarella Cheese Sticks ($9), Popcorn Chicken with Salsa ($8) and Prawn Fritters with Wasabi Mayonnaise ($9).
smithmarine.com.sg
95B Pulau Ubin, FC97E Pulau Ubin Coastal Area
Fancy reeling in fish and devouring them on the same day? Smith Marine Floating Restaurant is where you can eat your fresh catch!
Take a 15-minute boat ride from Changi Point Ferry Terminal to get to this modern kelong (an offshore platform), located right smack in the middle of the sea – an unconventional place that's unlike your usual zi char stall.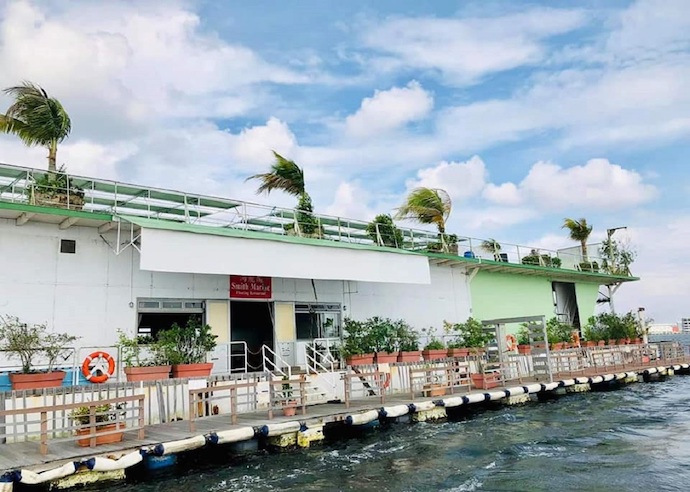 Not only is it Singapore's first halal-certified kelong restaurant, but diners can also personally catch their fish in the restaurant's "sure-catch" pond. This particular pond is teeming with fleshy fishes like snapper and sea bass. Don't worry if fishing is new to you as the friendly restaurant staff will be on hand to offer assistance to help you secure a fish within minutes.
The experience costs $35, including the part where professional chefs whip up a delicious meal with your catch. You can opt for several cooking methods for your fish – steamed Teochew style, fried with soya sauce, or even assam-style.
Other noteworthy seafood dishes include the Salted Egg Sotong ($30), with each piece of sotong deep-fried in a thick, savoury batter, as well as the tender Green Mussels ($28) cooked with garlic, sambal, or black pepper.
Due to the current restrictions, the restaurant is only serving Set Menus for two to five persons (from $280) which include a two-way ferry service.
www.lejardin.com.sg
5 Cox Terrace, Level 2, Fort Canning Arts Centre
Nestled within Fort Canning, this blooming floral-themed garden café whose name means "the garden" in French boasts a Victorian-style interior decked with hanging ceiling plants and vibrant terrariums. The pet-friendly eatery also offers an alfresco terrace seating for those who prefer to dine under a canopy of trees.
If the naturalistic styling of this place seems familiar to you, that's because it's opened by the same team behind Café de Nicole's Flower, which sports a similar florist-in-cafe concept.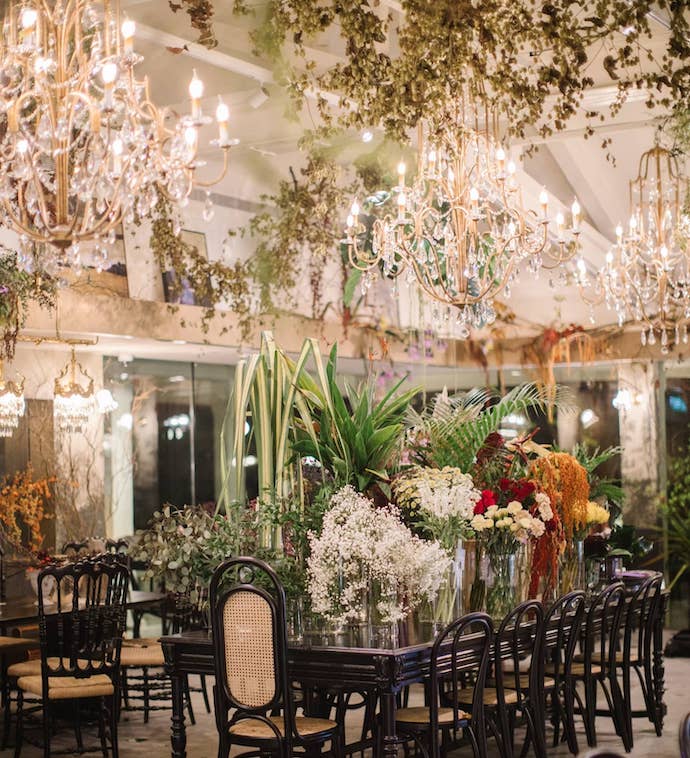 Food-wise, go for breakfast and brunch house specialities like Potato Rosti ($18.90) and Croissant Waffle ($23.90), or mains like Ora King Salmon ($30) and Kurobuta Pork Loin ($34) for lunch and dinner.
Satisfy your sweet cravings with the scrumptious Dark Chocolate Hazelnut Tart ($12.90), Rose Waffles ($18.90), Pistachio Tart ($10.90) or Fig & Raspberry Tart ($12.90).
sushiairways.com
20A Baghdad Street
This dining destination replicates a flight to Japan, with an interior that looks very much like an aeroplane cabin, complete with stainless steel stairs, compartments and meal carts. Even the windows are shaped like the ones in an aircraft! To top it all, service staff are also dressed in uniforms befitting air stewards and stewardesses.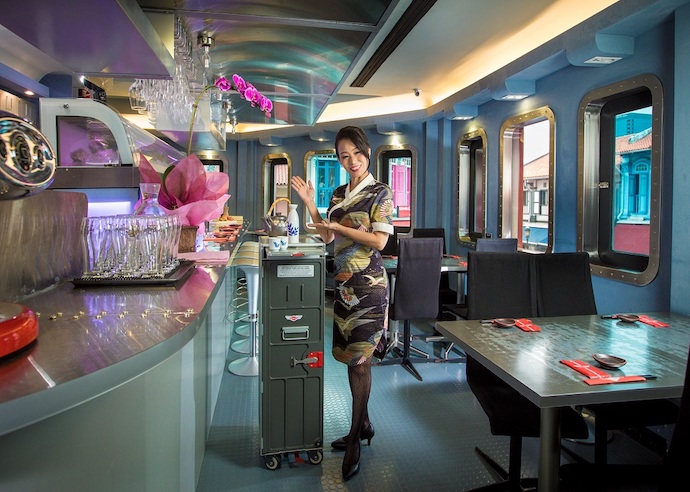 All that might seem gimmicky, and you might be thinking if the food matches up to its theme. Thankfully, Sushi Airways delivers the quality with its wide range of fresh seafood air-flown from Japan every week. It also offers a specially curated omakase meal consisting of typically eight to 10 courses featuring seasonal ingredients ($200 and $250 per pax). The meal includes a wide range of dishes, from appetisers like Raw Eggplant to more substantial dishes like Abalone with Saba Tiny Crab, Unagi, Frozen Ikura, Chawanmushi with Grated Truffle, and Grilled Lobster with Sea Urchin Sauce.
The a la carte menu features a range of sushi, sashimi, maki, hand rolls, yaki mono, age mono, noodles and rice. Popular choices include Sashimi Moriawase ($72), Ebi Maki ($35), Tori Yasai Gyoza ($6), Soki Nitsuke ($26), Tsukune ($8), Beef Yakiniku Don ($25) and Bara Chirashi ($38).
This article is adapted from Now Boarding by Changi Airport's Obscure and unique food places and experiences in Singapore