If you are consciously making health and wellness your priority, the newest hotel on Sentosa wants to help you achieve your self-care goals.
Taking over the premises of the former Le Méridien Singapore, Sentosa, the wellness-focused Oasia Resort Sentosa offers an all-rounded wellness experience in the form of homely comfort, mindful activities, nutritious food and restorative spa treatments.
The first resort and spa of Far East Hospitality, the resort houses 191 rooms spread across the Wellness Sanctuary, a three-storey heritage building, and the Palawan Wing, a six-storey annexe.
Your wellness journey begins even before you set foot in the resort. Ahead of your stay, you will be asked to choose from three wellness goals: Refresh (mental and physical well-being), Refuel (diet and nutrition) and Recharge (fitness improvement).
Each goal has a curated wellness plan that features recommended holistic programmes, activities and even snacks specially designed by the resort's health experts. No matter which wellness goal you pick, you can look forward to an all-encompassing wellness experience that will leave you rejuvenated and refreshed.
We highlight four ways that you can refresh, refuel, recharge and focus on self-care during your staycay at Oasia Resort Sentosa.
Refresh and recharge in rooms that soothe the senses
Lounging around in a bathrobe all day, catching up on some reading, bingeing on Netflix and soaking in the bathtub with jazz music in the background. These are just some of the things staycations are made for, and the resort's rooms and suites are the perfect space to live it up.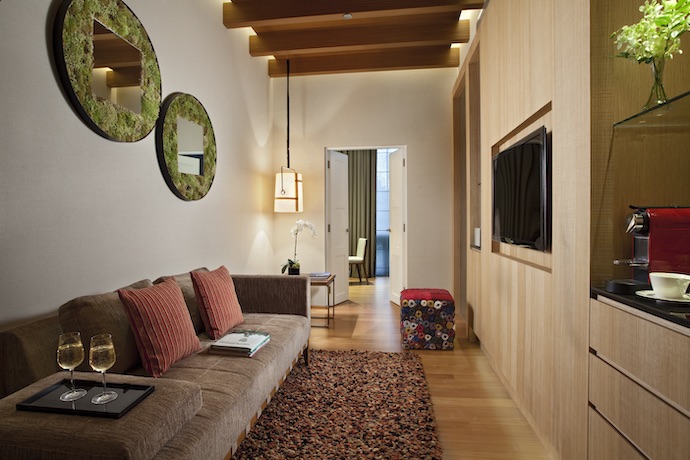 The meticulously restored Wellness Sanctuary, a former military barracks that housed British artillerymen during World War II, has Premier Rooms, some with bathtubs, and Junior Suites that feature a living area, bedroom, and bathroom with a free-standing bathtub and rain shower glass cubicle. In a nod to Singapore's tropical climate, the suites are outfitted with ceiling fans and floor-to-ceiling windows, and sport soothing hues of brown, beige and white, spiced up with red and green accents.
Over at the Palawan Wing are Deluxe Rooms which sport clean lines, calming earth tones of brown and beige, and natural wood furnishings, as well as Suites, decked in warm wood tones and feature a living area, powder room and bathtub. Opening soon are Spa Suites with outdoor patios and jacuzzis for refreshing soaks anytime you like.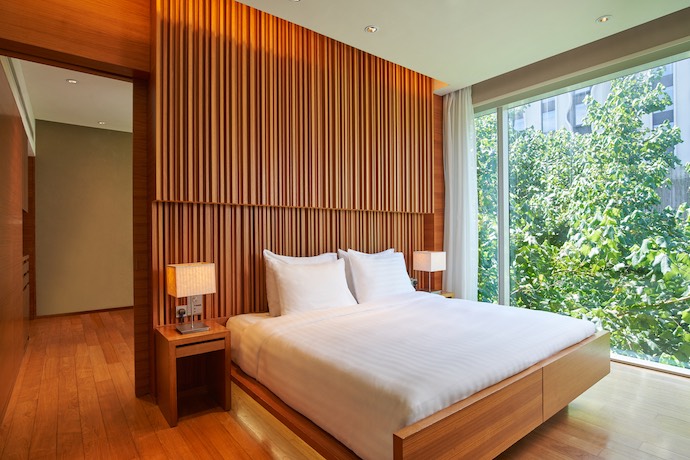 Bathrooms are stocked with amenities by Australian brand Biology Smart Skincare, while rooms are equipped with Lavazza coffee machines and stocked with South African Rooibos and The Refuel (Japanese Hojicha with Italian citrus and French lavender) teas curated by Pryce Tea, and Nordaq water.
There are also complimentary drinks and snacks, specially selected to match your wellness goal. Our choice of "Refresh" got us green apples, coconut juice, Asmara Astri Herbal 33 – Immunity & Digestive Drink, nut mixes from The Whole Kitchen and Amazin' Graze Chocolate Hazelnut Granola.
The wellness touch shows up again in the form of the multi-purpose Oasia Balm, blended in-house with special oils and beeswax, during turndown service. Matched to your wellness goal, the "Refresh" balm soothes your senses, "Rejuvenate" helps you to connect back with nature and "Recharge" is for uplifting your mood and releasing tension. Use it to moisturise your skin, or as a lip balm, hair wax, mood enhancer or natural perfume.
Refuel with wholesome eats at Bedrock Origin
The best part about staycays is arguably the breakfast spread. In-house restaurant Bedrock Origin (sister restaurant of award-winning steakhouse Bedrock Bar & Grill) offers a selection of wholesome options that are far from bland and boring.
Get your vitamin boost from the Morning Fruit Bowl, comprising berries, papaya, kiwi, watermelon and dragon fruit, and your choice of Power Greens, Refreshing Orange or Pink Grapefruit juice.
Craving for something local? Go for the Five Dim Sum "Warriors" and tuck into chicken and prawn siew mai, red bean bao, vegetable dumpling, prawn dumpling, and chicken and mushroom glutinous rice wrapped in lotus leaf. A hearty option is Bedrock Origin's Nasi Lemak, which comes with gut-friendly tempeh sambal goreng, a nutritious omega-3 pasturised sunny-side-up egg, jumbo chicken satay, peanuts, anchovies, cucumber slices, achar and coconut steamed rice.
A porridge with a difference is the Barramundi Mixed Oat Congee, made from low GI whole grain oats and sustainably locally-farmed Kühlbarra barramundi.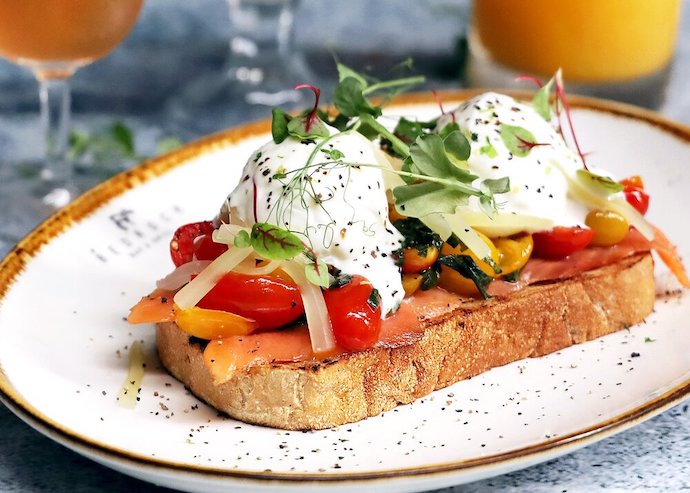 Western options include Hearty, toasted Baker & Cook sourdough, pork bacon, parsley potato, Italian sausage chickpea stew and your choice of overeasy, sunny-side-up or scrambled omega-3 pasturised egg; Morning Booster, gravlax smoked salmon, smashed avocado on toasted Baker & Cook sourdough, cherry tomatoes, poached eggs, yoghurt and lemon zest; and Vitality, loaded with superfoods like chia seeds, baby spinach, tomatoes, egg whites and mushrooms.
If you prefer light bites, try the Housemade Level-Up Granola, packed with power grains, dried fruits, nuts and seeds like rolled oats, pumpkin seeds, sunflower seeds, golden flaxseeds, brown flaxseeds, walnuts, pecans, almond flakes, coconut flakes, dried cranberries, dried apricots and raisins, served with your choice of full cream or low fat milk, oat milk or soy milk.
There are also Tropical Breeze Bircher Muesli with fresh green apple, toasted coconut, milk and mint, and Chia Yoghurt Power Bowl with Greek yoghurt, raw honey, chia seeds, toasted almond and fresh pomegranate.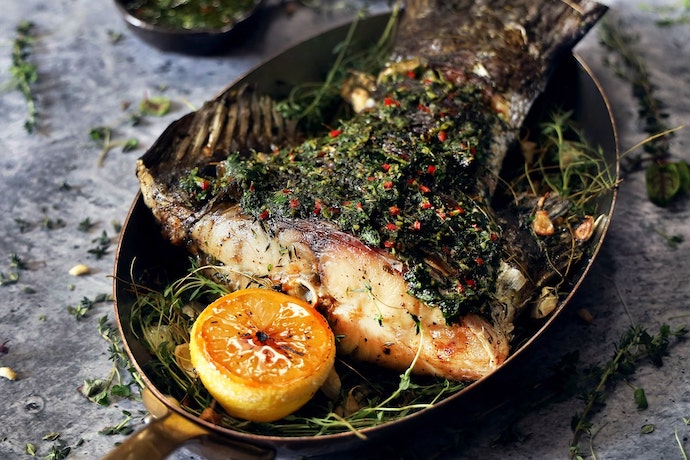 For lunch and dinner, the restaurant serves a selection of meat cuts and seafood procured from farms in Australia, Japan and the US. Take a peek at the choice cuts and fresh catch being aged in dry ageing cabinets at the front of the restaurant.
A must for red meat lovers are the signature dry-aged steaks like the Dry-Aged Australian Barley-Fed Striploin and Tenderloin, and Kobe Wagyu Ribeye grilled over applewood fire, while seafood fans will not want to miss the flavourful Aged Kühlbarra Barramundi Tail, Turbot on the Bone and Grilled Whole Aged Snapper.
Recharge with mindful activities and fitness programmes
As exercise and fitness are important elements of your wellness journey, the resort offers a spectrum of complimentary activities with varying intensity levels to recharge your body and mind. Workout programmes are designed by local wellness experts and fitness studios such as UFIT and Les Mills.
Fitness enthusiasts can take part in HIIT, strength training and Aqua Zumba classes, while yoga fans can join the Sunset Yoga classes held daily from 6pm to 7pm. For a more restorative exercise, join the Sunrise Qi Gong sessions on weekends from 7am to 8am.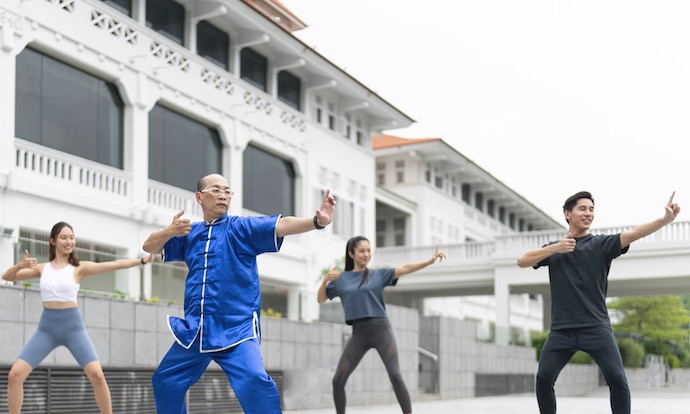 If you prefer working out in the privacy of your room, get a Lululemon mat from the front desk and check out the guided workout videos available on demand via IPTV. Selections include Les Mills Body Balance Class, Les Mills Core exercises, as well as meditation and yoga sessions.
To recharge your mind, there are "Learn Well" workshops held on weekends at the Wellness Lounge. At the tea appreciation session by Pryce Tea, discover the herbal benefits of tea and learn the art of brewing tea; and at the Ditch & Switch and Clean Beauty by Young Living, learn how to make your own toxic-free linen spray, facial mist and household products using essential oils and ingredients commonly found in your home.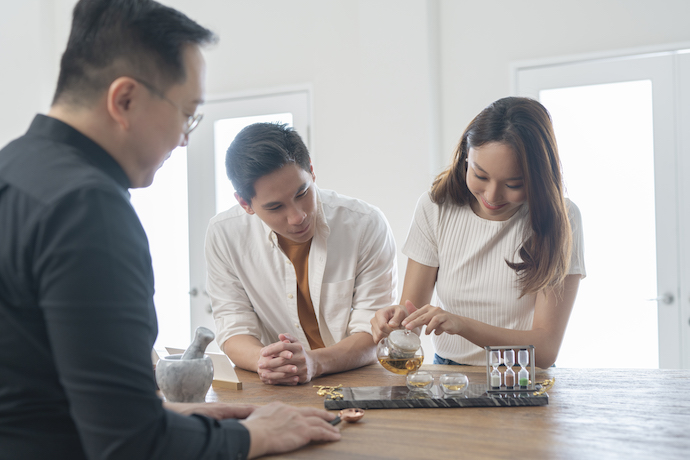 There are also opportunities to sample herbs and microgreens grown indoors while learning about urban farming from Grobrix, and find out more about science-based traditional medicine, and common food and nutrition myths from Asmara's food scientist.
Rejuvenate and relax at Oasia Spa
No wellness staycation at the resort is complete without experiencing some head-to-toe pampering at Oasia Spa.
The spa is the first in Southeast Asia and Oceania to partner with leading Japanese organic skincare brand KOTOSHINA to use and carry its organic products which are all formulated with organic green tea from Kyoto's Uji region.
The signature Detox Bamboo Massage employs a technique crafted by KOTOSHINA where bamboo from Kyoto is rolled over your body rhythmically to encourage circulation and lymphatic drainage. KOTOSHINA tea seed massage oil is used as an anti-oxidant to remove toxins and reduce the appearance of cellulite.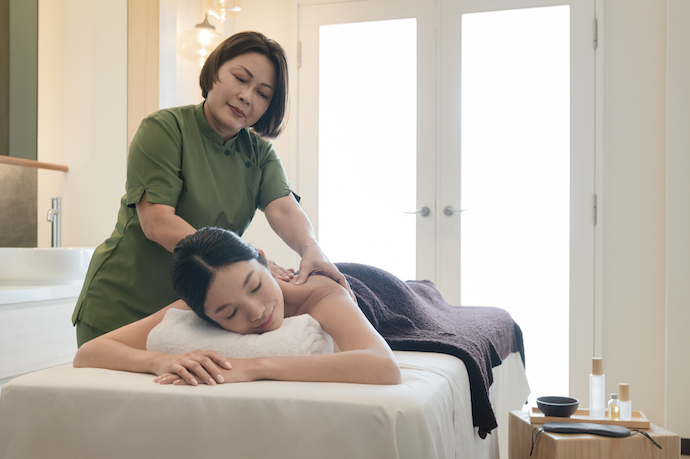 To release tension and alleviate muscle aches, go for the deeply relaxing Oasia Signature Massage which features a blend of Thai, shiatsu and Indian massage techniques. To ease you into deeper relaxation, the treatment starts with an Indian head massage, followed by special breathing techniques. Choose from three massage oils, blended by a team of aromatherapists in Japan with nourishing ingredients such as rice bran, jojoba, hinoki, lavender, geranium, lemongrass, pepper, coriander seed and mandarin.
Oasia Spa is also the first hotel spa in Singapore to offer Cryotherapy Facial. Suitable for all skin types, this groundbreaking purifying facial uses cold temperature technology to cool and tighten the skin, shrink the pores, and remove toxins and swelling. The intense blast of cold-air also causes blood vessels to temporally narrow, encouraging the rush of new blood cells into the blood vessels.
After your treatment, decompress at the spa's Meditation Lounge which replicates the Japanese forest-bathing experience with a special PhytonAir device that diffuses forest essence. Engage in self-guided meditations or nibble on nutritious snacks from The Whole Kitchen and dehydrated fruit from UglyFood to complete your restorative spa journey.