Designated by the National Heritage Board in 2011 as Singapore's first Heritage Town, the colourful enclave of Joo Chiat is rich in Peranakan history and culture.
Named after Chew Joo Chiat, a wealthy Chinese plantation owner and philanthropist, the charming neighbourhood is not just known for its Insta-worthy heritage shophouses and unique single-storey houses built on raised ground; it's also a well-loved foodie destination where a dizzying array of food is served up.
To explore Joo Chiat's well-preserved pre-war architecture, hunt down some of its best Peranakan eats, discover interesting ingredients at a bustling wet market and more, join the Little Nyonya's Kitchen Culinary Adventure walking tour. The tour is led by self-professed "lifelong food explorer" and founder of Wok 'n' Stroll Karni Tomer, who is always "talking, teaching and dreaming" about food!
Here's what you can look forward to on the mouthwatering food and heritage tour. Be sure to come with an empty stomach!
To market, to market
An essential part of local communities, wet markets are where you can get a true glimpse of local cultures and soak up all the unique sights, smells and sounds.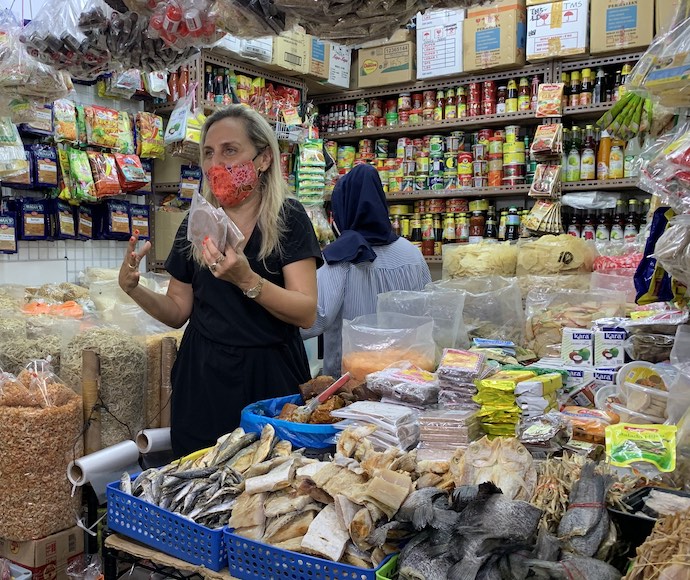 Walk through Geylang Serai Market, one of Singapore's biggest and busiest wet markets, to experience the kampung spirit and learn about the different ingredients that go into Peranakan dishes. From the smelly belacan to the poisonous buah keluak, you'll be amazed by the unusual ingredients that can be found at the market. Bag some home if you're game enough!
Enjoy bites & sips
The food tasting experience kicks off with Putu Piring, a Malay dessert that's also enjoyed by the Peranakans. Made with rice flour, filled with melted gula melaka (a type of palm sugar), topped with fresh grated coconut and served on a small piece of pandan leaf, the steamed rice cakes are similar to the Chinese Kueh Tutu. Watching the Putu Piring being assembled one by one before being placed on the steamer is pretty mesmerising!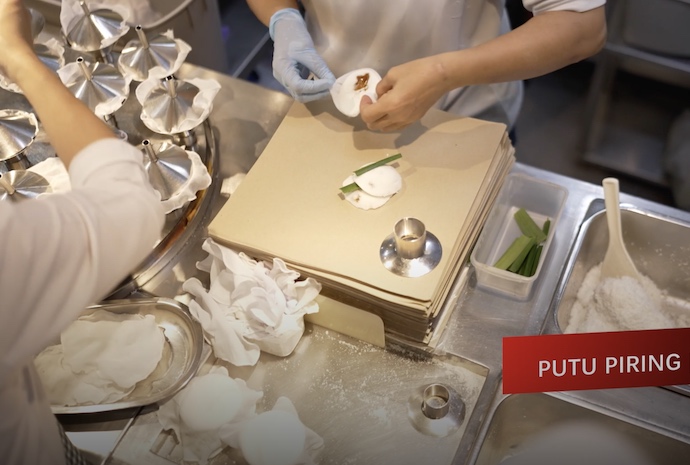 The next stop is a Popiah shop along Joo Chiat Road where you can see what vegetables go into the spring rolls and how the fillings are skilfully wrapped in paper-thin skins before you sink your teeth into the freshly made rolls. You'll also get to see how the thin, soft and chewy skins are painstakingly made the traditional way. Watch how the Popiah skin master twirls dollops of dough in mid-air and coax paper-thin skins out of baked dough on a searing hot pan.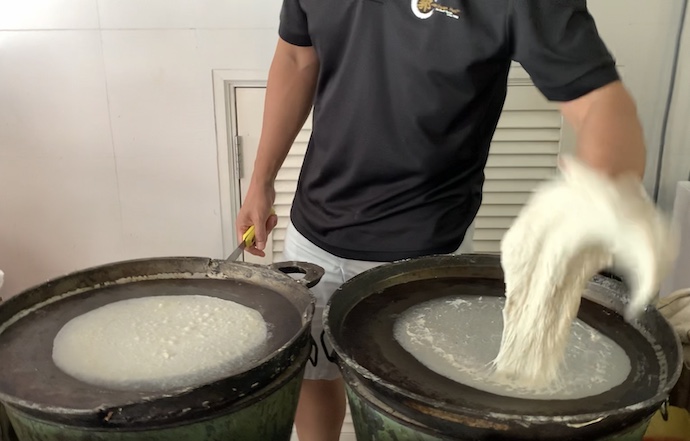 A sumptuous spread of Peranakan specialities are served for lunch, prepared with some of the unusual ingredients that were spotted at Geylang Serai Market earlier. Get set for an explosion of tastes and textures on your tastebuds as you savour popular Peranakan dishes like Nyonya Acar (pickled vegetables), Udang Sambal Petai (prawns and stink beans stir-fried in chilli paste), Sotong Hitam (squid with its black ink) and Ayam Buah Keluak (chicken cooked with buah keluak nuts), with poison removed, of course! End on a sweet and cooling note with ice-cold desserts like Chendol, Sago Pudding and Pulut Hitam (black glutinous rice sweet soup), all of which feature coconut milk, a key ingredient in Peranakan desserts.
Be sure to leave room for more food sampling along the way like the leaf-wrapped Otak Otak (aka Otah) – spicy fish paste – which is grilled over a small charcoal pit.
The tour ends with a delightful Peranakan tea session where you get to sample a colourful selection of nyonya kueh that are made with lots of coconut milk and grated coconut.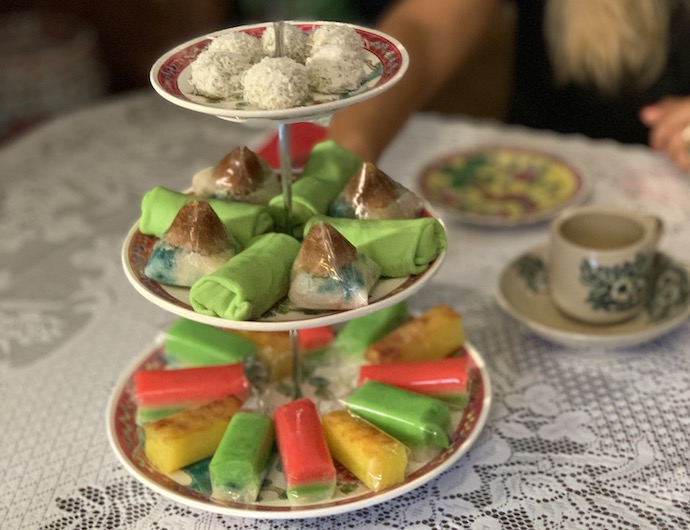 Sink your teeth into kueh such as Nyonya Chang (rice dumpling), Kueh Lapis (rainbow or nine-layered cake), Kueh Bingka (tapioca cake), Kueh Salat (glutinous rice streaked with blue dye from blue pea flowers topped with coconut egg custard), Kueh Dadar (pandan-flavoured crepe rolled with gula melaka grated coconut), Pulut Inti (glutinous rice topped with gula melaka grated coconut) and Ondeh Ondeh (coconut-covered glutinous rice balls filled with molten gula melaka).
Admire well-preserved Peranakan shophouses
No tour of Joo Chiat would be complete without checking out and photographing the Insta-worthy pastel-coloured shophouses along Koon Seng Road. Built in the 1920s, the heritage shophouses have withstood the test of weather and war, mirroring the tenacity of the Peranakan people.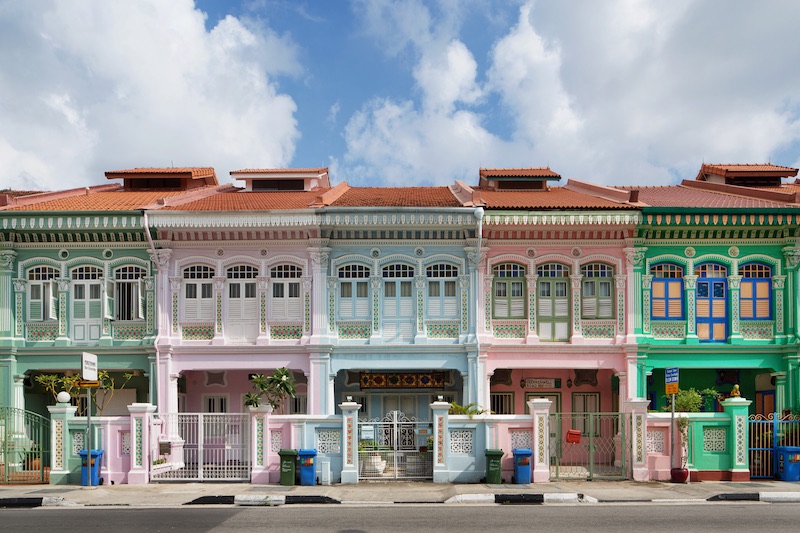 Learn more about the shophouses' elaborate Peranakan architecture, which is a blend of Chinese, Malay and European elements, and look out for ornate details such as floral tiles and mystical guardian lions.
Learn about Peranakan culture & dress up in Peranakan costume
Visit a very special museum along Joo Chiat Road, filled with Peranakan memorabilia, and learn more about the Peranakan culture. Get a closer look at the antiques that adorn the steps of the staircase as well as the Peranakan artefacts on the second-floor of the museum.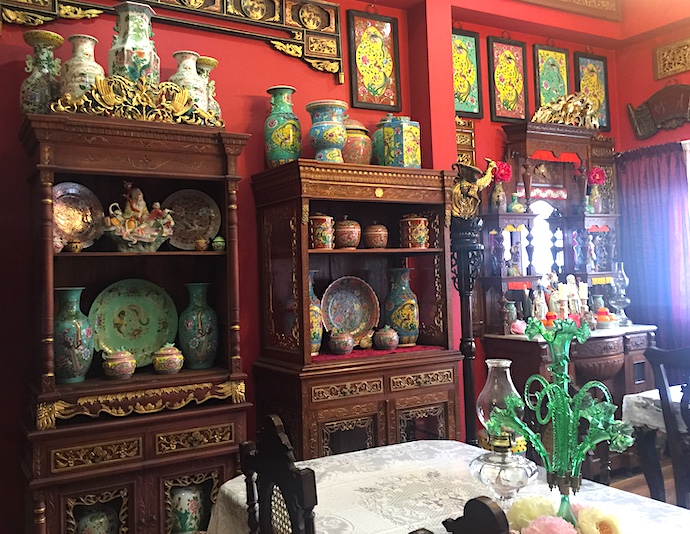 Discover traditional Peranakan fashion like the kebaya and sarong for nyonyas (Peranakan women) and batik shirt for babas (Peranakan men), worn for important events and special occasions. Ladies can put on a kebaya along with a pair of finely embroidered beaded slippers, and feel like a nyonya!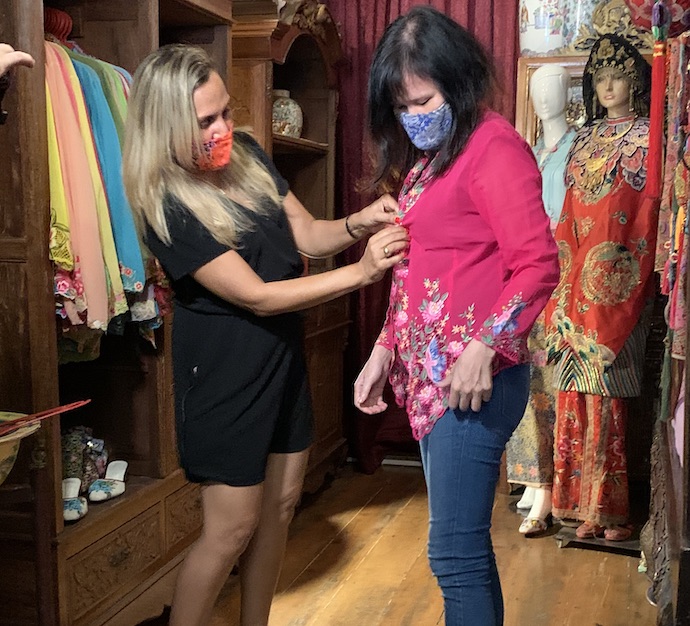 Photos courtesy of Karen & Karen Pte Ltd

The tour also comes with Locomole's Chinatown Augmented Reality (AR) Trail which lets you see a different side of bustling Chinatown, explore its hidden gems and discover Chinatown's best foods. You can use the AR function at the Letter Writer Mural, where if you turn up the sound, tap the AR Scan and point your camera at the mural, you can see it come alive!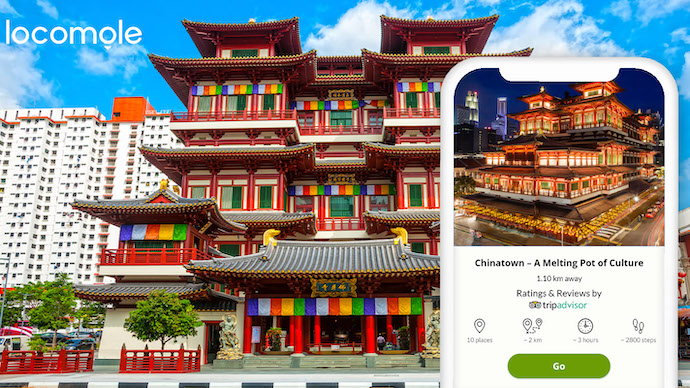 [/vc_column_text][/vc_column][/vc_row]