You know you're in for a dramatic visual treat when you stay in a hotel that bear the creative fingerprints of French designer extraordinaire Philippe Starck.
Designed by Starck for Millenium Hotels & Resorts, M Social Singapore is a stage with a unique story to tell, complete with a hip setting and ambience. Nestled in the laid-back Robertson Quay neighbourhood, the 293-room lifestyle boutique hotel offers guests an exhilarating theatrical experience unlike any other.
Even before you step foot into the hotel lobby, a captivating mural of three macaws and a man, created by Starck, grabs your attention and beckons you to take a pic for the Gram. More photo-ops in the driveway come in the form of two larger-than-life, playful, steel peanut sculptures.
Patterned floor tiles specially flown in from Spain lead you to the reception area which sports a 10m-long high table and three display cabinets emanating a pink-red glow.
As you take the lift up to your room, you'll notice chalk-like drawings of objects, pieces, signs and structures by Spanish artist Luis Urculo lining the walls of the lift shaft. Like a cabinet of curiosities, the drawings, which appear disconnected and fragmented at first glance, invite you to conceive your own interpretation as you ride up and down the lift, enjoying an experience that evokes cinematic travel.
We highlight three ways to live it up at the hotel.
Luxuriate in chic, cosy rooms
In dramatic Starck-style, all guests walk the red carpet to their rooms which sport high ceilings and clever layouts that create roomy spaces.
The chapel-inspired, peak-roofed Alcove Cosy rooms are intimate spaces decked out in calming earth tones and furnished with all the necessary mod-cons. Alcove Terrace rooms open up to a private outdoor terrace for chilling out or quiet contemplations amidst lush creepers and shrubbery.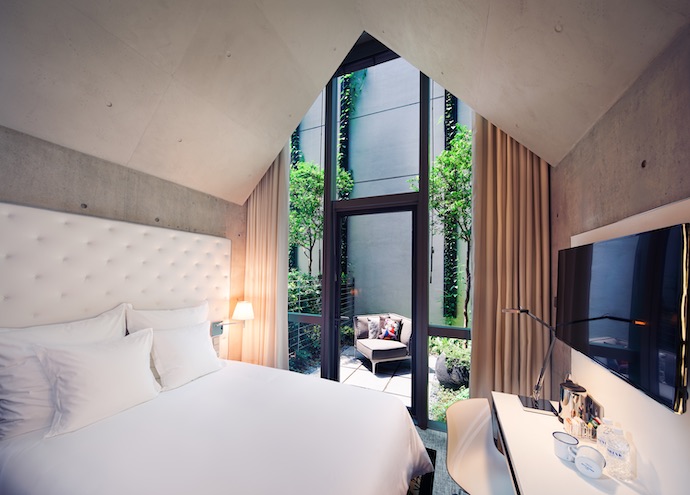 Duplex-style Loft Gallery, Loft Terrace and Loft Premier rooms boast full-height bay windows, an arsenal of mirrors, glass and shiny steel finishes.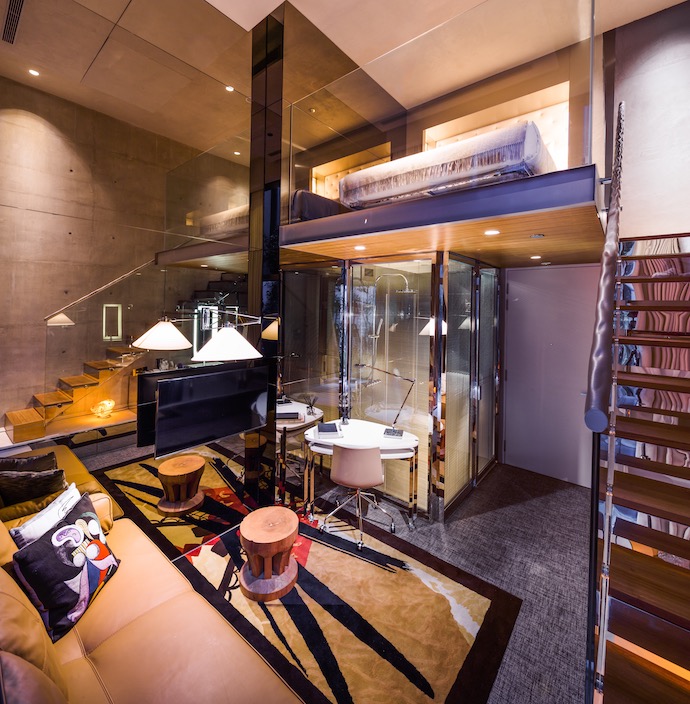 Loft Gallery rooms feature a double bed on the first level and a sofa on the mezzanine level, while Loft Premier rooms have ground floor living area furnished with a desk, sofa, TV, fridge, Nespresso machine and bathroom, and a double bed on the mezzanine level. As the name suggests, Loft Terrace rooms have outdoor terrace gardens or balconies.
Indulge in bold flavours & artisanal cocktails at Beast & Butterflies
Get set for more visual dramas, courtesy of Starck, at restaurant-bar Beast & Butterflies. The visually arresting space is bedecked with a collection of lava lamps, red lamps that double up as book stands, retro-style sofas, chandeliers, black columns with Urculo's drawings and a wall lined with tablets featuring artworks. Check out the 13m-long bar with countertops embedded with TV screens over at the bar.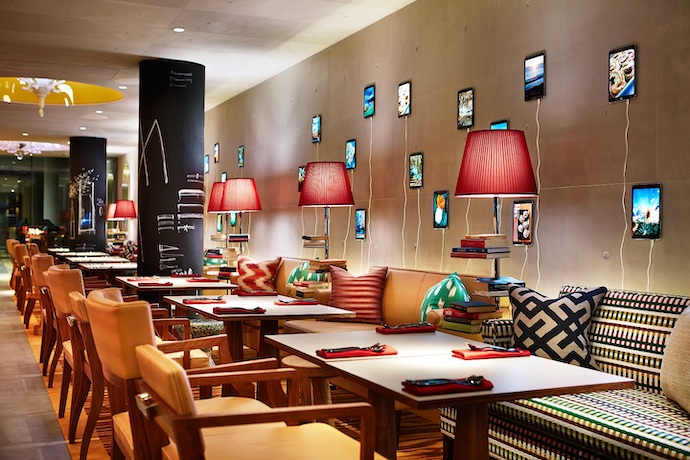 To match the restaurant's whimsical décor, executive chef Bryce Li has crafted an inventive menu where the best of Asian and Western flavours and ingredients are creatively married to satisfy those with beastly appetites as well as those who are happy to nibble from one dish to another.
Pork knuckle fans must order the tender and juicy Crispy Pork Knuckle, served with Asian-flavoured sauerkraut and nam jim sauce. A comforting, yet luxe dish is the Lobster Porridge, a Teochew-style, crab broth porridge studded with lobster, baby abalone, crispy conpoy, bonito flakes, fried shredded ginger and scallion.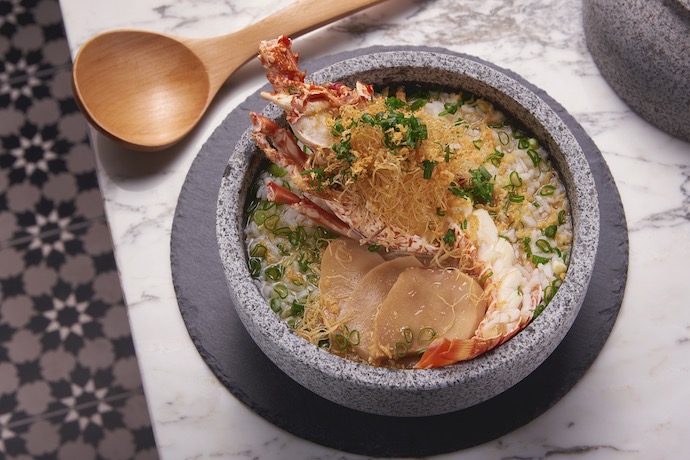 For meat lovers, there are cuts of Rib Eye, Boneless Beef Short Ribs, Tenderloin, Striploin, Babty Back Ribs, Baby Lamb Rack and Kurobuta Pork Chop, all masterfully char-grilled and served with sauces like red wine jus, chimichurri and blue cream cheese, and sides such as onion confit, mushroom fricassee and mashed potatoes.
Be sure to leave room for desserts. The Orh Nee Brulee, a modern spin on the traditional Teochew yam paste dessert, features pumpkin and marmalade, while the Molten Chocolate Cake combines a mini Magnum ice cream with oozy Valrhona Guanaja 70 percent chocolate.
Kick back and enjoy signature artisanal cocktails such as Social #20 (Monkey 47, pink guava, maple, lime, rosemary), Social #1 (Havana Club, Malibu, Curac), Social #15 (Herradura Reposado, Cinzano Rosso, bitters) and Social #8 (Stolichnaya, ginger, mango, chilli, lime).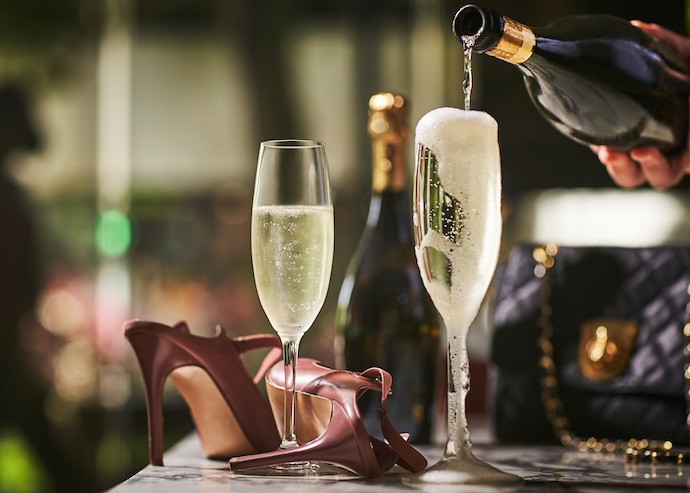 Don't miss Daily Specials like Beastly Monday where a meat platter for two goes for only $38; Super Tuesday featuring one-for-one main course; Wednesday Ladies Night with $6 Prosecco for ladies; Vino Thursday featuring one-for-one selected wines; $1 French oysters on Oyster Fri-yay; and Weekend Cocktail Brunch where you can indulge in free-flow of Mimosa, Aperol Spritz and Sangria for two hours for only $25 with every main course ordered.
Enjoy curated experiences that capture the spirit of adventure
Those who thrive on one-of-a-kind experiences are in for a treat as the hotel offers four unique staycation packages that capture the spirit of adventure. Packages come with breakfast for two.
Uncover the secrets of cocktail-making at the Mix & Stay staycation. Gain a better understanding of the different syrups, tinctures and bitters that blend perfectly with other ingredients used in cocktails. Pick up first-hand tips from the mixologist while creating your own cocktails.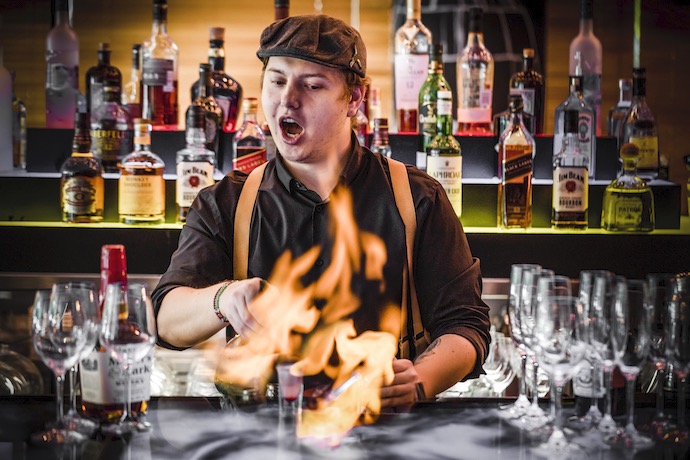 If your idea of a staycation involves keeping fit and sweating it out, the Spin-Cation staycation is for you. Get your adrenaline pumping and tone your muscles in a spin class where you get to groove to the rhythm of high-energy music during an intense, full-body cardio workout on a bike. To work more of your muscles, head for the 30m pool on level 5 for some laps.

Express your creativity and discover your scent personality at the Bottled Up Happiness staycation. Learn how to tailor-make your own signature perfume at a fun workshop conducted by Parisian perfume house Maison 21G Singapore.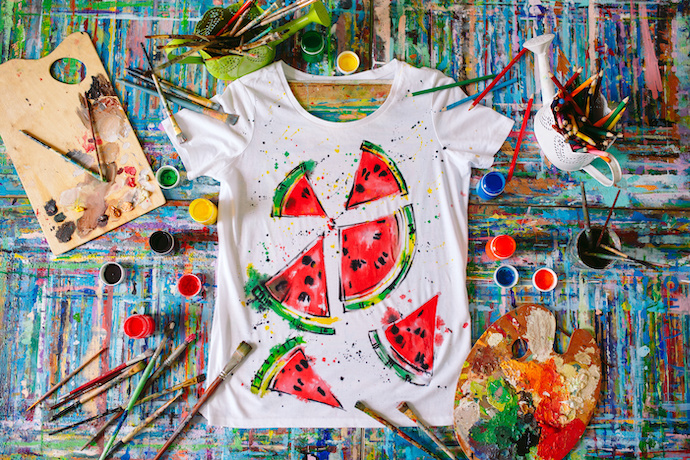 For art enthusiasts, there is the Art Jamming staycation which comes with an Art Jamming class where you can paint a rosy picture of your staycay on a tote bag or a T-shirt using an art kit. The kit has fabric paints, paint brushes, a sketching pen with disappearing ink, a painting palette, plus a T-shirt or tote bag.