Singapore has a thriving street art scene where walls in the city's backstreets and alleys have become canvases for commissioned artists to capture the city's culture, history, heritage, quirks and all.
Here are 12 of the city's most Instagrammable murals to shoot, post and boost your likes.
The Letter Writer
336 Smith Street, New Bridge Centre Side Wall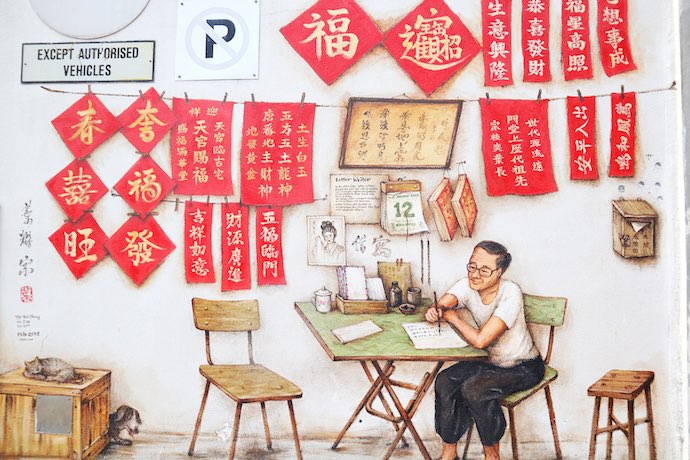 Painted by local street artist Yip Yew Chong, the mural depicts the olden days when letter writers played an important role in helping migrants write letters to their loved ones back in China. Letter writers were a common scene in Chinatown until the 1980s before the big Chinatown cleanup when street markets, hawkers and traditional traders were resettled inside the mammoth Chinatown Complex (completed in 1983).
Fun fact: This the first mural Yip painted with his son and daughter.
Tip: See the Letter Writer Mural come alive! Join the Locomole Chinatown Trail with the Locomole App. Available for free download at the Apple Store or Google Play Store. Unlock hidden augmented reality (AR) fun by scanning the murals to get more information behind the murals and hidden AR objects for fun photo taking!
Peacock
Tiong Bahru Market, 30 Seng Poh Road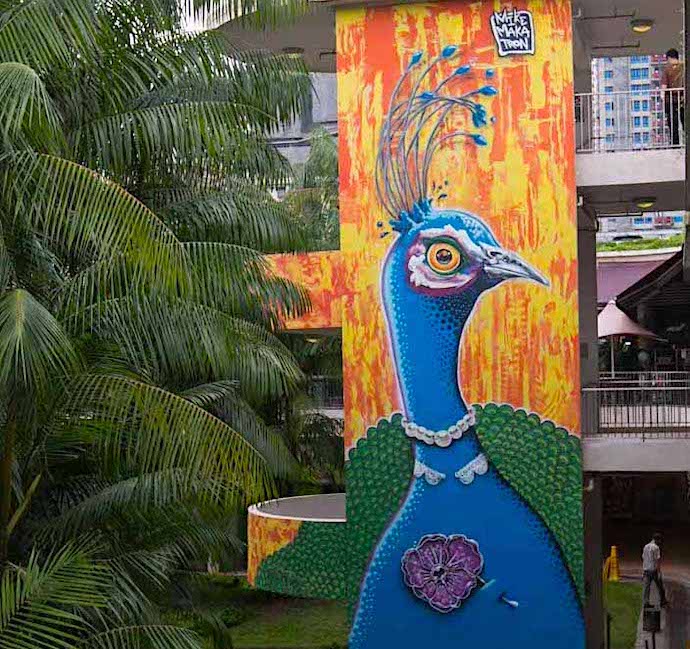 This mural by Australian artist Mike Makatron covers one of the three-storey walls of Tiong Bahru Market. Commissioned by Tiong Bahru Market, it depicts a blue peacock on a bright orange background.
Pasar & The Fortune Teller
Block 73, Eng Watt Street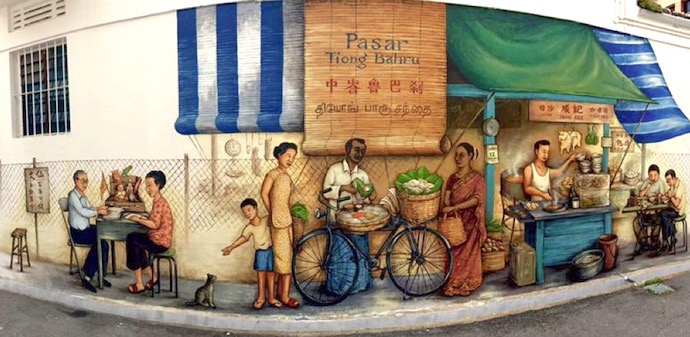 Another mural by Yip Yew Chong, this one captures the bustling activities outside the old Tiong Bahru Market. Created in March 2016, the mural features a putu mayam seller and his customers, a laksa and curry mee seller at his stall with two diners, and a fortune teller predicting the fate of a lady.
Traditional Trades of Little India

8 Belilios Lane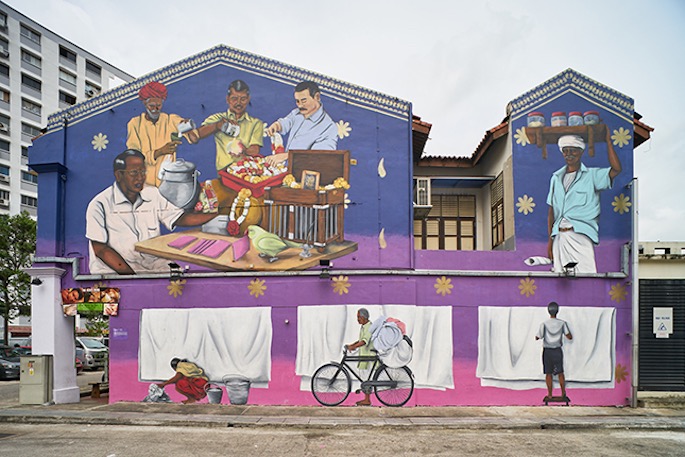 Created for Artwalk Little India 2016, this large mural by local artist Psyfool depicts some of the traditional trades that were commonly practiced by Indians in the Serangoon area. These include garland making, parrot astrology, selling of Indian spices and laundering.

Tip – Download the free Locomole app and explore Little India with Locomole's Little India Trail!

Mama Shop
336 Smith Street, New Bridge Centre Side Wall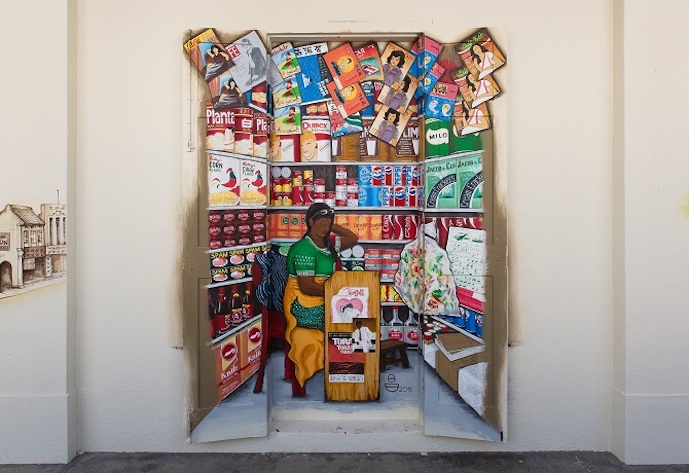 This mural by local artist Yuen Kum Cheong is on one of the walls of the former Catholic High School and was inspired by colourful history of Bras Basah. It was commissioned by 222+51 to mark the 80th anniversary of the buildings located at 222 Queen Street and 51 Waterloo Street which are now home to art and cultural institutes, performing art centres, fitness and wellness studios, and a gem museum.
Kampong Gelam
9A-13 Jalan Pinang, right side of Hotel NuVe doorway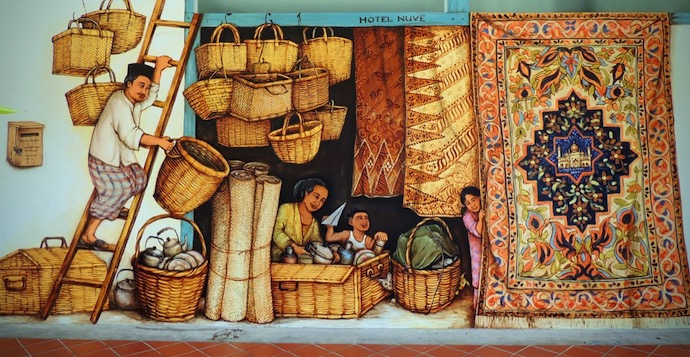 Created in August 2016 by Yip Yew Chong, the mural depicts a shop packing for pilgrims embarking on the Haj. The mural combines a few different elements together, namely the batiks which represent immigrants from the Malay Archipelago; the carpet that represents immigrants from the Middle East; and the ladder which is commonly seen along the five-footways of Kampong Glam.
Tip – Download the free Locomole App and learn more about Kampong Glam with Locomole's Kampong Glam Trail! Unlock hidden augmented reality (AR) fun by scanning the murals to get more information behind the murals and hidden AR objects for fun photo taking!
Piedra Negra
Haji Lane


Created by Colombian graffiti writer and street artist Didier 'Jaba' Mathieu, this striking and colourful artwork is on the façade of Piedra Negra Mexican restaurant. Mathieu's complex and refined style is a synthesis of cubism, futurism and constructivism where planes, angles and colours are pushed to the fore from his travels and experience as a concept artist for Lucasfilm Ltd and as a lecturer for Matte Painting, Environment & Character Design at Nanyang Polytechnic.
Daily Delivery
212 Serangoon Road, alley on the side of A1 Fashion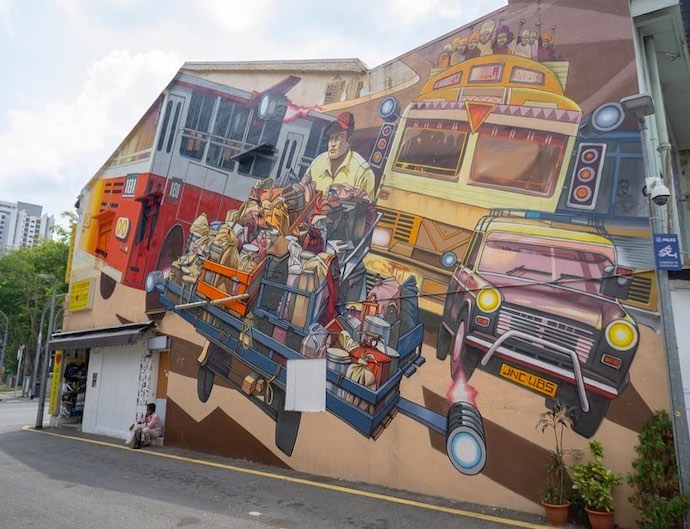 Another creation of Didier 'Jaba' Mathieu, this mural pays homage to Little India's traditional tiffin meal delivery business (dabbawala) which still exists today. Mathieu shows the tiffin man moving together with other vehicles as a juxtaposition of tradition and modernism in Little India.
Layers
240 Serangoon Road, opposite Usman's Restaurant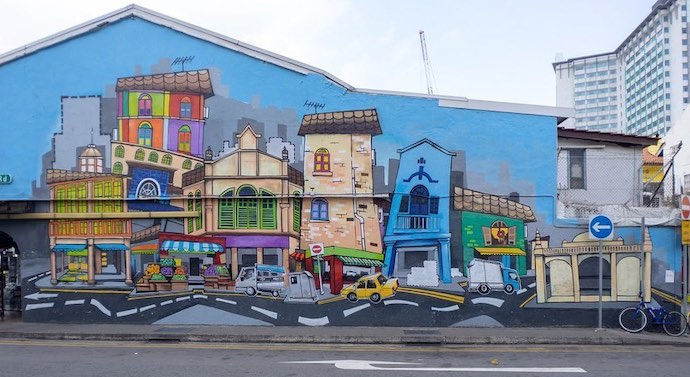 Through his artwork, local artist Shah Rizzal emphasises the need to preserve architecture in the midst of rapid urban redevelopment. He highlights the contribution of brick makers and the shophouses in Little India, both of which are invaluable to Little India's history.
Man With Camera
465 Victoria Street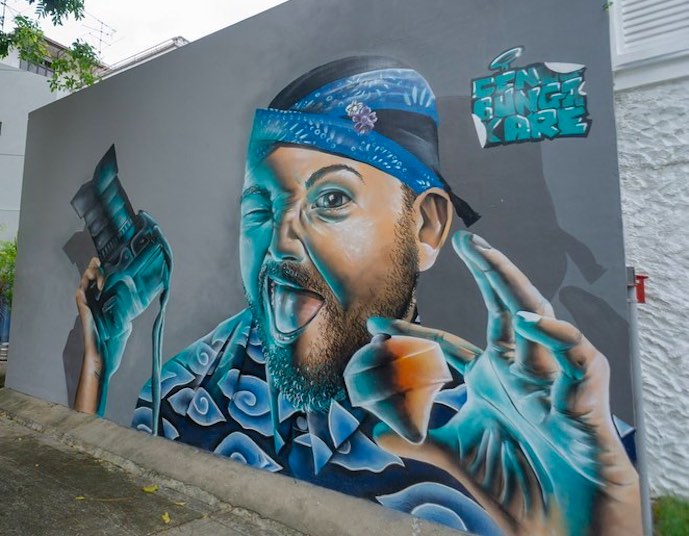 A collaboration between Singaporean graffiti artist CENO2 and Indonesian artists Bunga Fatia and Karina Deagusta, this mural brings together the two cultures of Singapore and Indonesia. Painted on the building of a camera museum, the artwork portrays a close-up face of a man with his camera, wearing a blangkon (traditional Javanese headdress worn by men and made of batik fabric) and a batik shirt.
A Ride Through Race Course Road
Race Course Road, between shophouse No. 48 and No. 50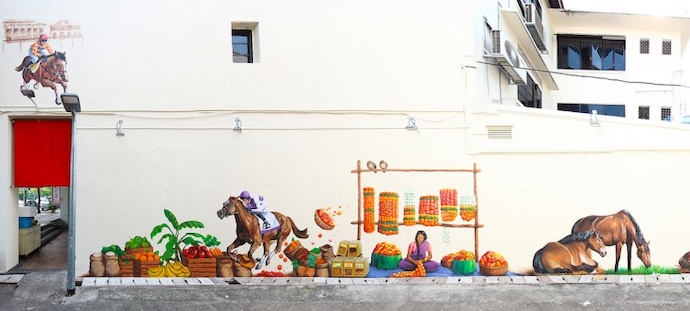 The long mural was created by artist Jaxton Su with the help of teachers and students from Raffles Institution as well as migrant workers staying and working in the area. Completed in 2016, the mural depicts the activities around the former racecourse which include horse racing as well as traditional trades such as garland making.
Thian Hock Keng Temple
Amoy Street, on the back wall of Thian Hock Keng Temple at 158 Telok Ayer Street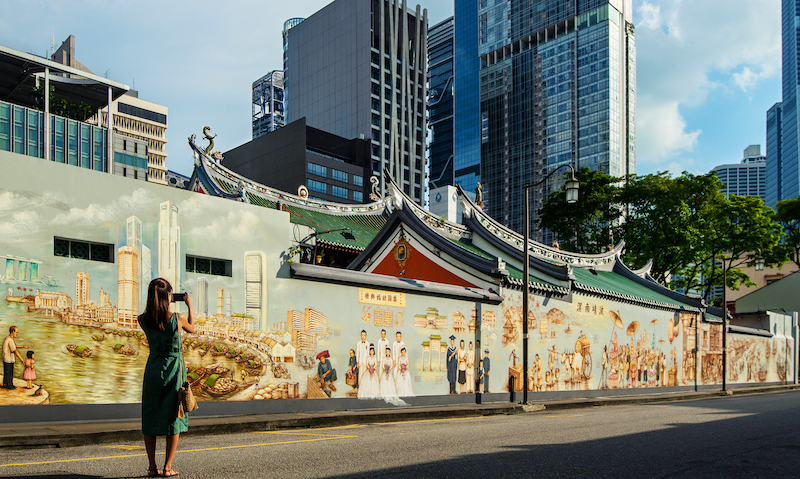 This 40m-long mural by Yip Yew Chong, who specialises in nostalgic heritage scenes, illustrates the migration of Singapore's early Hokkien immigrants from Fujian, their life and culture in Singapore, and their contributions towards Singapore's development. The entire mural tells the story of Singapore's old and new skylines across two centuries worth of hard work, labour, sacrifices and contributions that the country's forefathers have provided.
Parts of the article are adapted from Locomole