Myanmar has plenty of iconic sights, many of which have fascinating histories. Here are some attractions that should not be missed.
Bagan (UNESCO World Heritage Site)
• Ananda Temple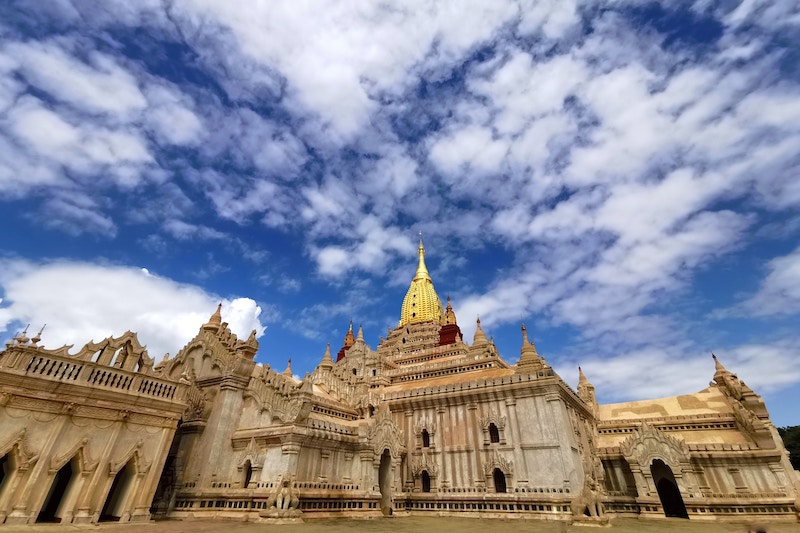 No trip to Bagan is complete without visiting this temple, considered to be one of the city's largest, best preserved and most revered temples. Built during the reign of King Kyanzittha of the Pagan Dynasty in 1105 AD, the temple's architecture features Mon and North Indian influences, designed on a perfectly proportioned Greek cross plan. Its most distinctive feature is its gilded sikhara, the tower-like spire on top of the pagoda.
Legend has it that eight Indian monks visited King Kyanzittha and raved to him about the legendary Nandamula Cave in the Himalayas where they meditated. Impressed, the king decided to replicate the temple in Bagan. After Ananda Temple was built, the king had the monks killed as he didn't want a similar temple to be built elsewhere.
The temple houses four standing Buddhas, each 9.5m high, facing outward from the centre of the temple: Kakusandha (north), Kassapa (south), Konagamana (east) and Gautama (west).

• Bagan Archaeological Museum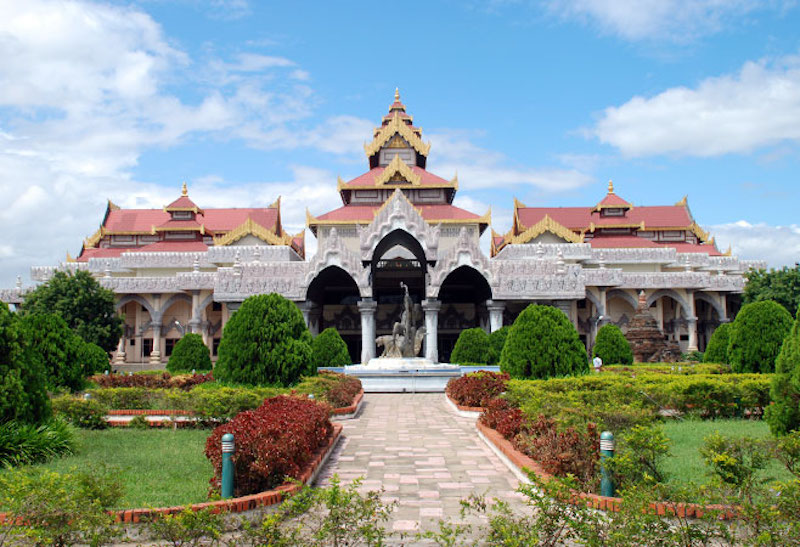 This three-storey museum with an octagonal base houses rare and fine ancient artefacts from and around Bagan including reclining Buddhas, original images, inscribed stones and mural re-creations.
At the museum's portico is a statue of the legendary King Pyusawhti, standing with five animal sculptures – bird, boar, tiger, flying squirrel and wild weed gourd.
As you enter the museum, be greeted by bronze statues of four famous Bagan kings – Anawyahta, Kyansitthar, Alaungsithu and Kyaswa – and a large 3D mural painting of the Bagan archaeological site.
On the ground floor, look out for arts and crafts from the Bagan era, portraits of Bagan society and battlefields, language and literary works, archaeological designs, ancient clothing and statues. On the second floor are portraits of ancient pagodas, ancient wall paintings, artistic designs of Buddha and images of Buddha in different postures. Head up to the top for a panoramic view of Bagan and its pagodas.
• Bagan Golden Palace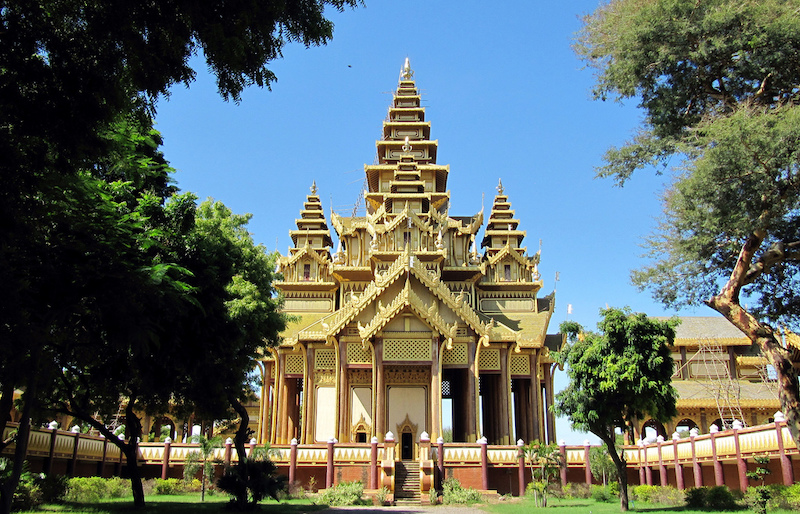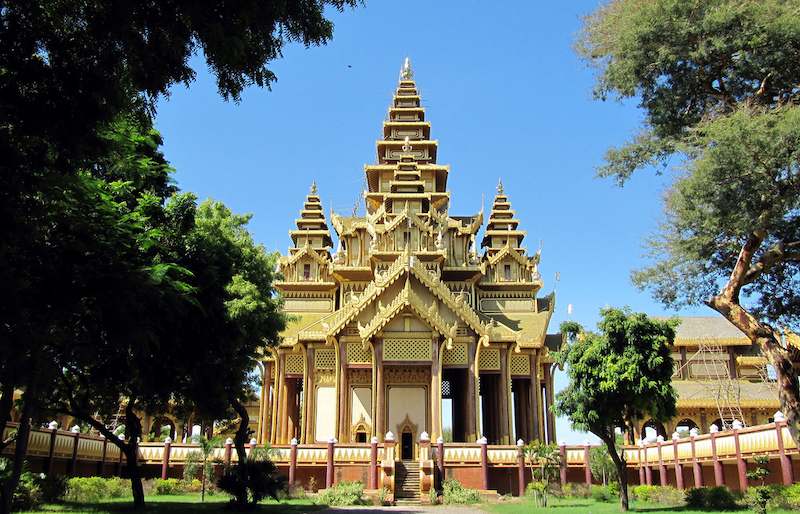 • Bupaya Pagoda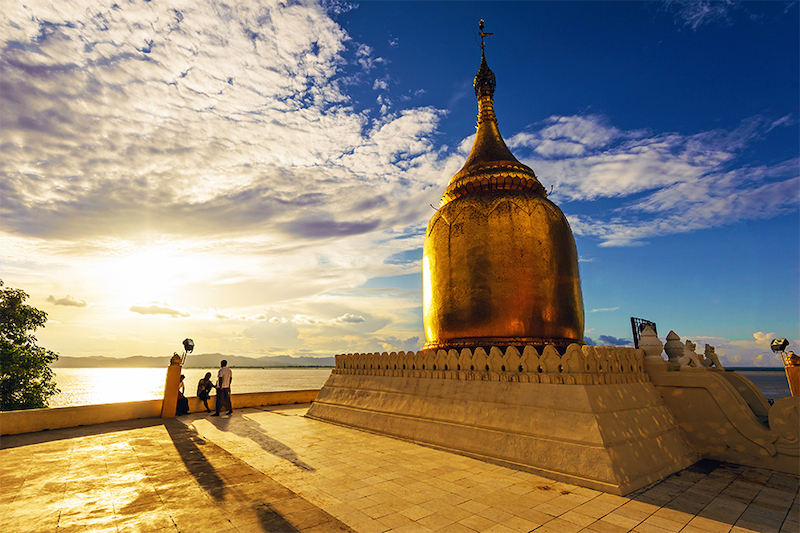 • Dhammayangyi Temple

• Gawdawpalin Temple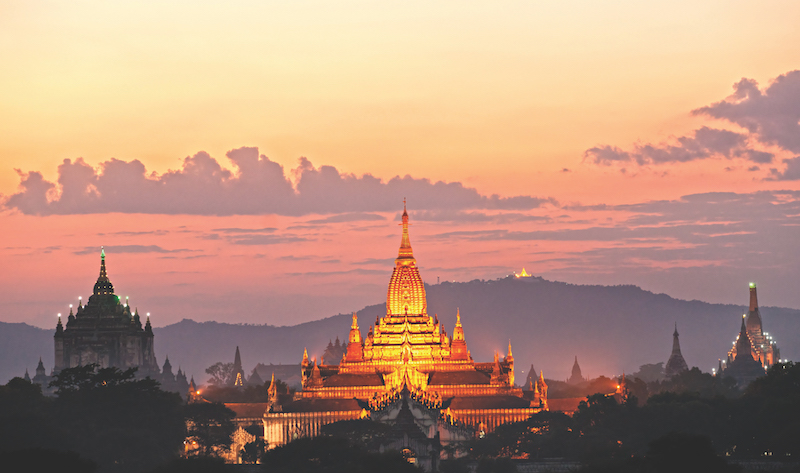 • Htilominlo Temple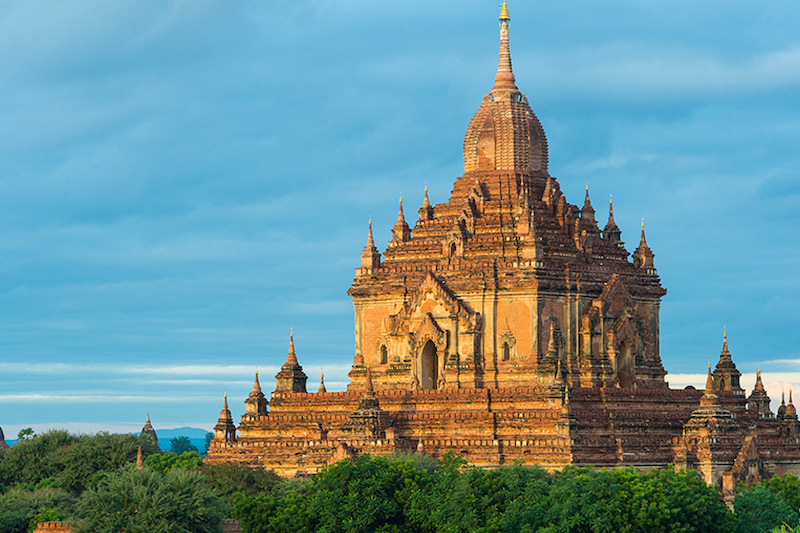 • Lawkaoushaung Temple

• Mani-Sithu Market

• Manuha Temple

• Mount Popa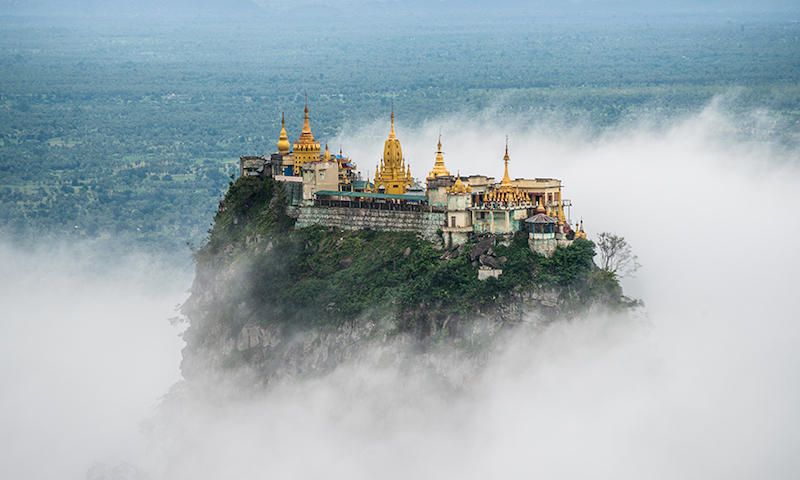 • Pyathadar Temple (Pyathatgyi Temple)

• Sein Nyet Sister Temples

• Shwegugyi Temple

• Shwesandaw Pagoda

• Shwezigon Pagoda

• Sulamani Temple

• Thambula Temple

• Thanakha Gallery

• Thatbyinnyu Temple
Bago
• Hintha Gon Pagoda

• Kanbawzathadi Palace

• Mahazedi Pagoda (Great Stupa)

• Shwemawdaw Pagoda

• Shwethalyaung Buddha
Inle Lake
• Alodaw Pauk Pagoda

• Inle Lake Floating Gardens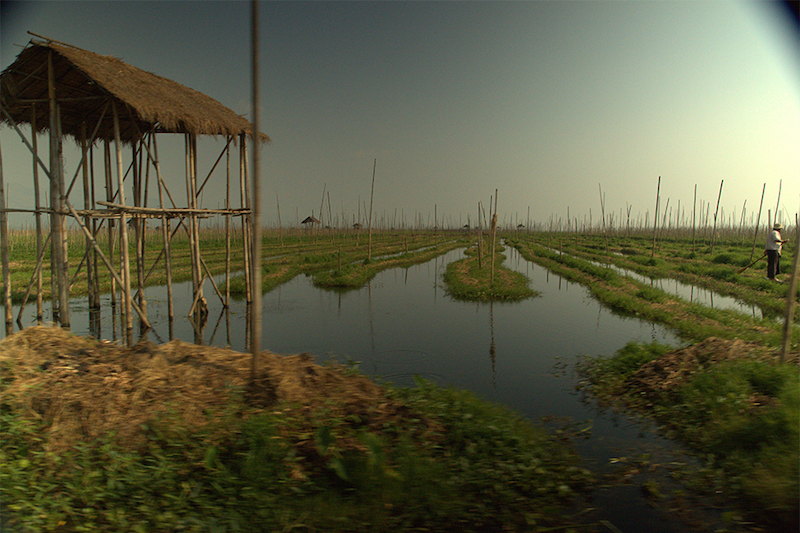 • Nga Phe Kyaung (Jumping Cat Monastery)

• Nyaung Oak Pagodas

• Phaungdawoo Pagoda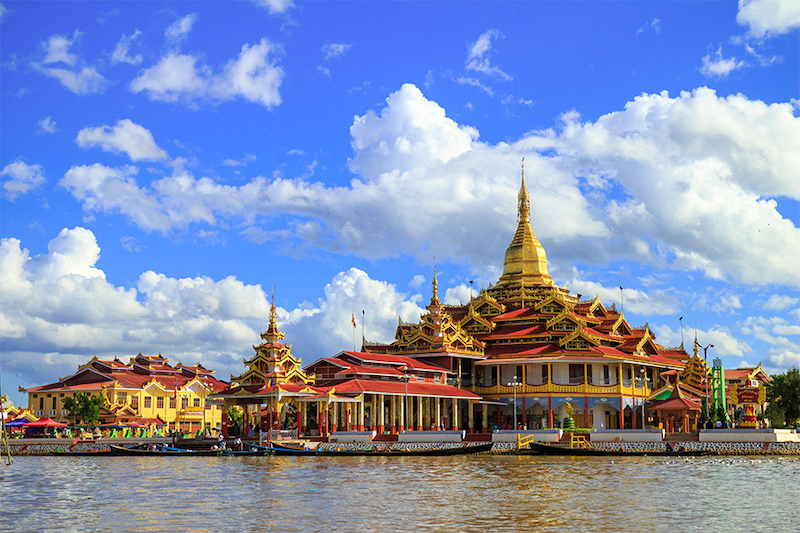 • Shwe Indein Pagoda
Mandalay
• Kaungmudaw Pagoda

• Kuthodaw Pagoda (world's largest book)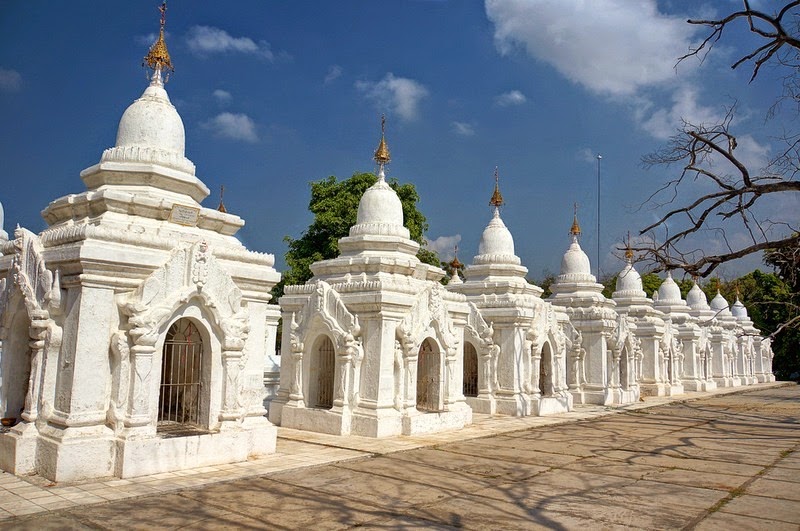 • Kyauktawgyi Pagoda

• Mahamuni Buddha Temple

• Mandalay Cultural Museum

• Mandalay Hill

• Mandalay Palace

• Mingun Bell

• Sandamuni Pagoda (largest iron Buddha image)
• Shwenandaw Kyuang (Golden Palace Monastery)
• Swan Oo Pon Nya Shin Pagoda

• U-Bein Bridge

• U Min Thone Sae Pagoda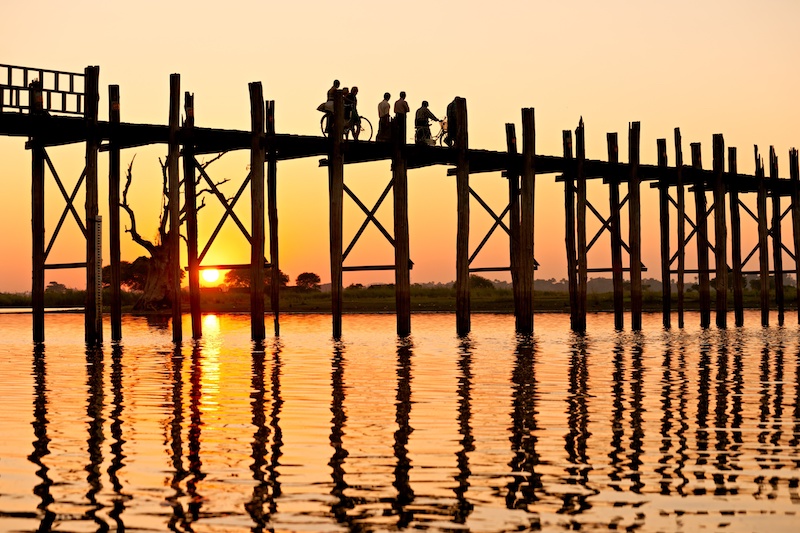 Mawlamyine
• Win Sein Taw Ya
At 180m-long and 30m-high, Win Sein Taw Ya is said to be the the world's largest reclining Buddha statue. Look out for a row of life-size monk statues standing in single file with alms bowl in hand on the side of the road leading to the entrance.
Mon State
• Kyaiktiyo Pagoda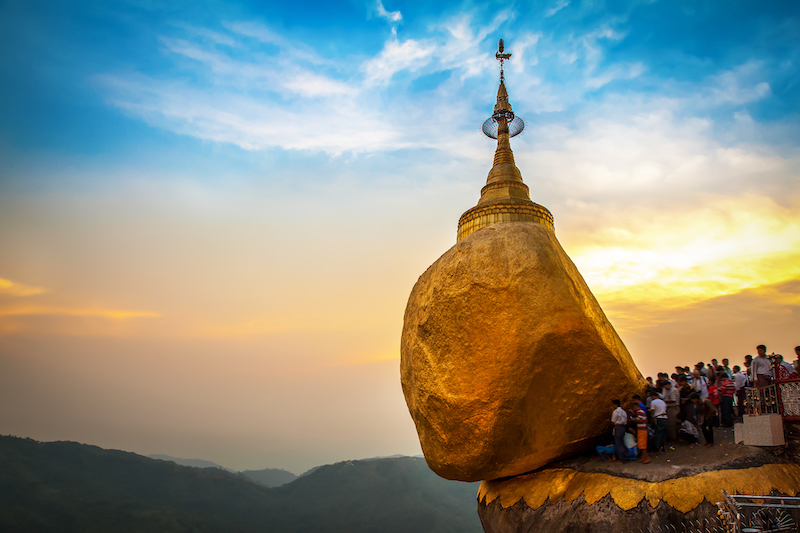 Perched precariously on top of a granite boulder and covered with gold leaves pasted on by devotees, Kyaiktiyo Pagoda is said to be supported by a strand of hair from Buddha. Also known as the Golden Rock, the pagoda is a very popular Buddhist pilgrimage site.
Legend has it that a Buddhist hermit received a strand of hair from Buddha, which he then gave to the king. In return for his gift, the king gave him a boulder that was shaped like his head, and used magical powers to pull the boulder from the sea. The king then built a small pagoda on top of the rock to enshrine the Buddha's hair for all eternity.
Nawnghkio
• Gokteik Viaduct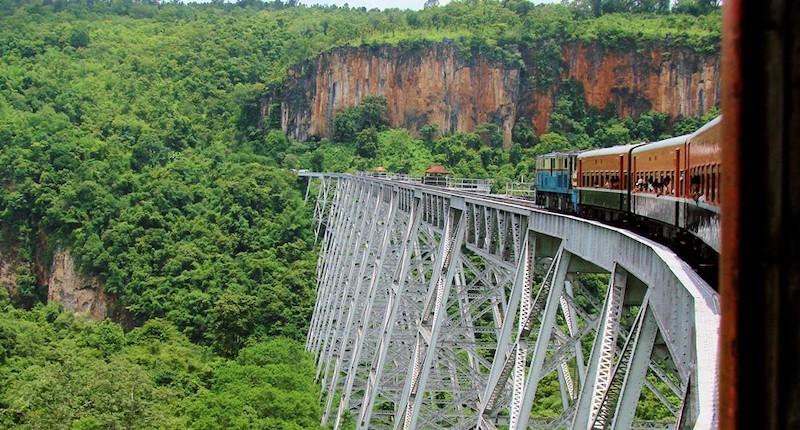 Mrauk U
• Htukkanthein Temple

• Koe-thaung Temple

• Shite-thaung Temple
Yangon
• Aung San Suu Kyi's House

• Bogyoke Aung San Market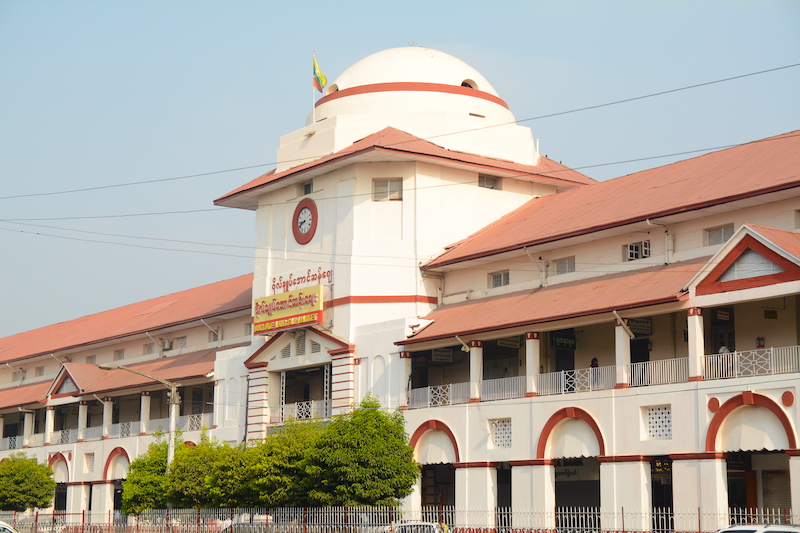 Built in 1926, the market was originally known as Scott Market, named after Mr. C. Scott, the then Municipal Commissioner. It was later renamed Bogyoke Aung San Market in honor of the country's national leader, General Aung San, who was assassinated in 1947.
The market houses over 2,000 stalls selling luxury items, handicrafts, foodstuff, clothing, jewellery, fashion and consumer goods. It is known for its rare antiques, old coins, Burmese jade and black market moneychangers.
The market has one of the largest selections of traditional longyi and gemstones. As sellers consider the first sale of the day to be very auspicious, arrive at the market early to enjoy some of the best prices.
• Bogyoke Aung San Museum

• Botatung Pagoda

• Buangdawgyoke Pagoda

• Chaukhtatgyi Pagoda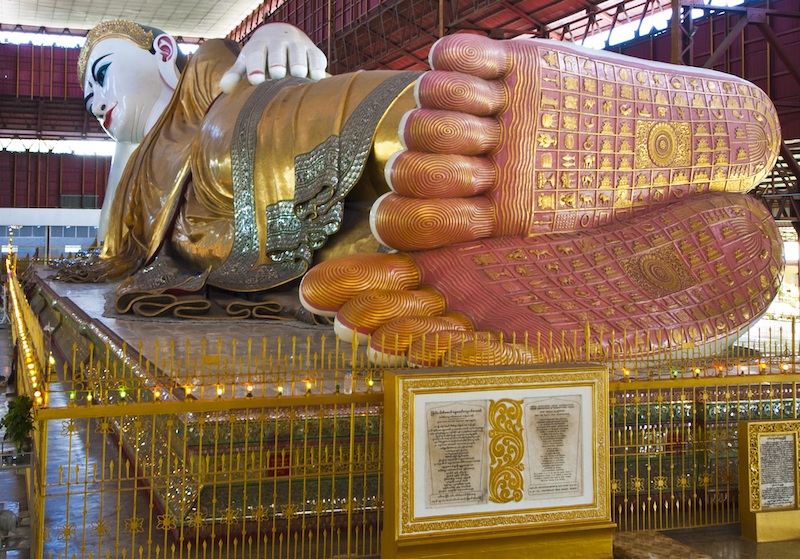 The pagoda is famous for its enormous 65m-long, 16m-high reclining Buddha which is housed in a metal-roofed shed. Clad in a golden robe and adorned with a crown encrusted by diamonds and other precious stones, the Buddha image features a white face, red lips, blue eye shadow and red finger nails. Its eyes are made of glass imported from Japan and its eyelashes are made from the feathers of a peafowl.
Look out for the soles of the Buddha's feet showcase 108 segments in red and gold colours, with images that represent the 108 lakshanas (auspicious characteristics) of Buddha. Close to the Buddha's feet is the small shrine of Ma Thay, a holy man who had the power to stop the rain so that sailors could have a safe journey.
In the vicinity of the pagoda are monasteries that house over 600 monks. See how the monks honour Buddha's teachings and get a glimpse of their monastic lifestyle.
• Chinatown
• Inya Lake

• Kaba Aye Pagoda

• Kalaywa Monastery

• Kandawgyi Lake

• Karaweik Palace

• Maha Bandula Park

• Maha Wizaya Pagoda

• Musmeah Yeshua Synagogue

• Myanmar Gems Museum

• National Museum of Myanmar

• Saint Mary's Cathedral

• Shwedagon Pagoda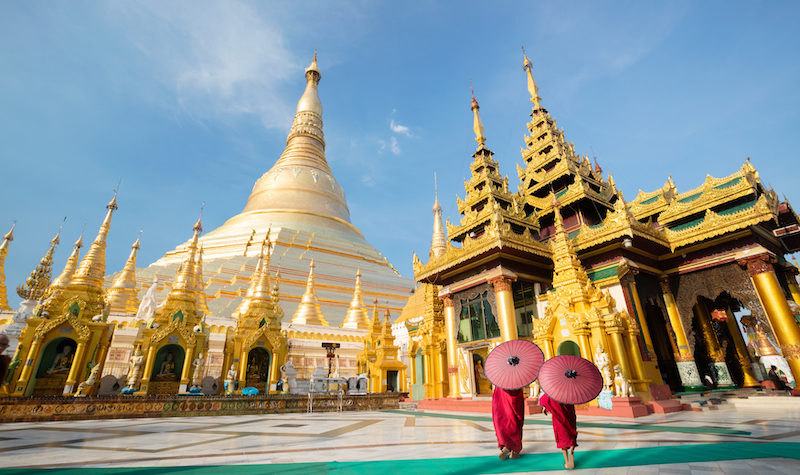 Myanmar's most revered Buddhist pilgrimage site and the nation's most beloved landmark. The pagoda is said to enshrine sacred relics such as eight strands of hair from the head of Gautama Buddha, a piece of the robe believed to have belonged to Kassapa Buddha, a water filter attributed to Konagamana Buddha and the staff of Kakusandha Buddha.
According to archaeologists and historians, the 99m-high pagoda which sits on top of Singuttara Hill, was built by the Mon people, an ethnic group from Myanmar, between the 6th and 10th centuries AD.
Its main gold-plated dome is topped by a stupa that is encrusted with 7,000 diamonds, rubies, topaz and sapphires, offset by a massive emerald that is positioned to reflect the last rays of the setting sun. The tip of the stupa is said to contain a 72-carat diamond.
Sunset is one of the best times to visit the pagoda as you can see the changing hues of the gilded stupa as well as witness monks chanting their evening prayers.
• Sule Pagoda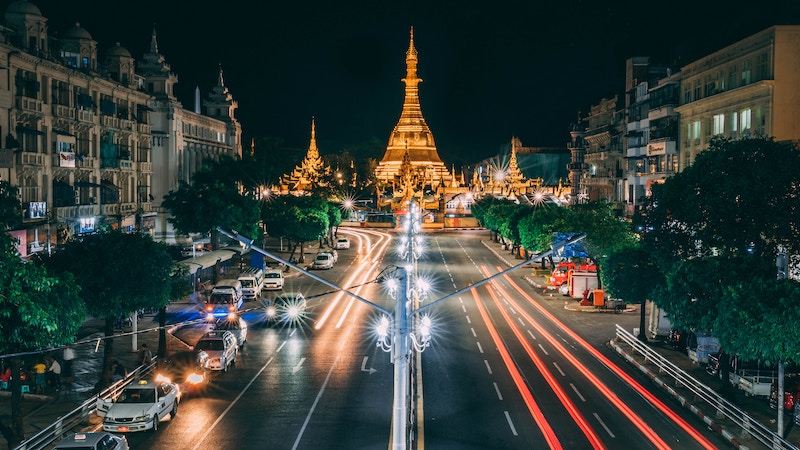 Said to have been built before Shwedagon Pagoda, this Mon-style, octagonal-shaped pagoda sits in the middle of a traffic circle in the heart of Yangon's busy downtown area. Its unique octagonal shape continues right up to its bell and inverted bowl.
Taking its name from a derivative of the Myanmar word "su-way" which means "meeting", the pagoda is highly revered as it is said to enshrine a hair relic of Buddha.
Look out for a small golden karaweik (royal boat designed in the shape of a mythical bird) close to the pagoda's north entrance, where devotees can place their prayer cards and the cards will be sent up to a shrine higher up in the stupa via a wire pulley system.
Around the pagoda are small shops offering astrology and palmistry services.
• Swe Taw Myat Pagoda (Buddha tooth relic pagoda)

• Taukkyan War Cemetery
• Yangon City Hall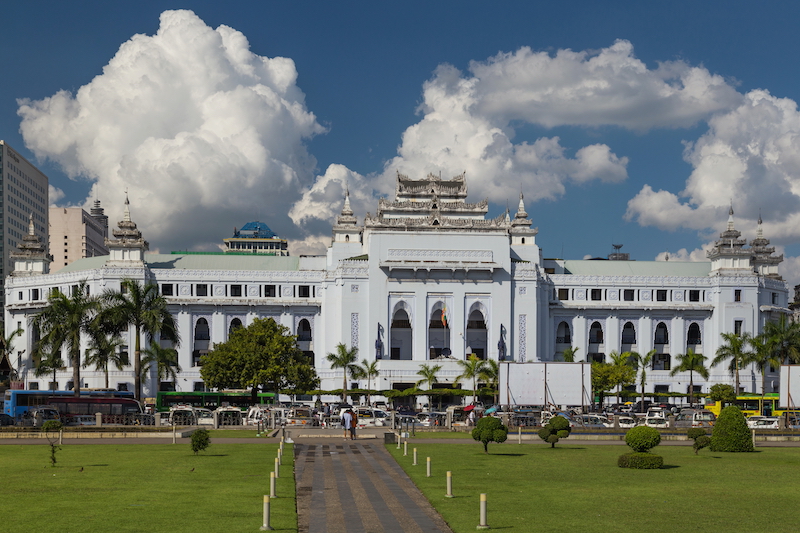 Built between 1925 and 1940, Yangon City Hall is a fine example of British colonial architecture, adorned with Burmese decorative details such as peacocks, nagas (serpents) and pyatthat (traditional tiered roofs).
The City Hall was designed by prominent Burmese architect U Tin who also designed the Yangon Central Railway Station. Today, the building still houses the city's administrative body – Yangon City Development Committee (YCDC).
Check out the traditional Burmese peacock and the Myanmar flag at the main entrance, and see the Municipal Corporation of Rangoon insignia on the iron gates at the back of the building.

• Yangon Zoological Gardens