If you have always longed for a furry companion but not quite ready to be a pawrent, get your therapeutic pet fix at animal petting cafes.
Furry friends, whether dogs or cats, have their derpy ways of lifting our spirits even on the lowest of days. Besides petting the friendly fluff balls, you'll also get to enjoy bakes and drinks at the cafes.
Here are five dog and cat petting cafes that you have to check out.
Bugis+, #07-07
Home to pups of adorable small breeds We Are The Furballs is the first dog-petting cafe to open in Singapore. Get acquainted with its resident dogs which include Bui Bui, a French Bulldog that's apparently the leader of the pack; Mochi, a mini Maltese; Lola, a Pomeranian; and Waffles, a chonky Corgi that's perfectly sized for warm cuddles.
Definitely one of the best dog cafes in Singapore, you'll find ample space for lounging around on the floor as well as benches to sit on if you prefer to observe these adorable canines from a higher view. Dog treats are available too, and they're priced at $3 per packet. Many of the resident dogs are well-deserving of these treats, of course, and they do respond to basic commands such as "sit" or "paw"!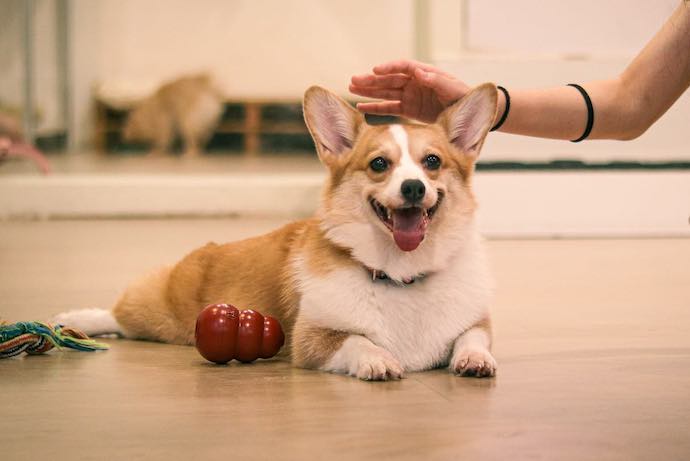 The cafe doesn't offer human food but makes up for it with refreshing artisanal teas like Fruit Splash Tea made with apples, strawberries and elderberries, and Counting Sheep Tea, comprising chamomile flowers, peppermint leaves and lemon balm.
There are also free board games available such as Taboo and Reverse Charades, which are great for unwinding with friends after some wholesome playtime with the dogs.
Entry fee is $10.90 per person from Monday to Thursday, and $12.50 per person on weekends and public holidays for 1.5 hours of playtime, with a standard drink.
432 Race Course Road
At Cookie & Cuddle, you'll find three resident dogs of the Chi-Poo (Chihuahua and Poodle) mixed breed family. The name of the shop takes its name from two of its three dogs – Cookie and Cuddle – who are a pair of adorable siblings with light brown fur and droopy ears. Be sure to get your cameras ready to snap many pictures of them.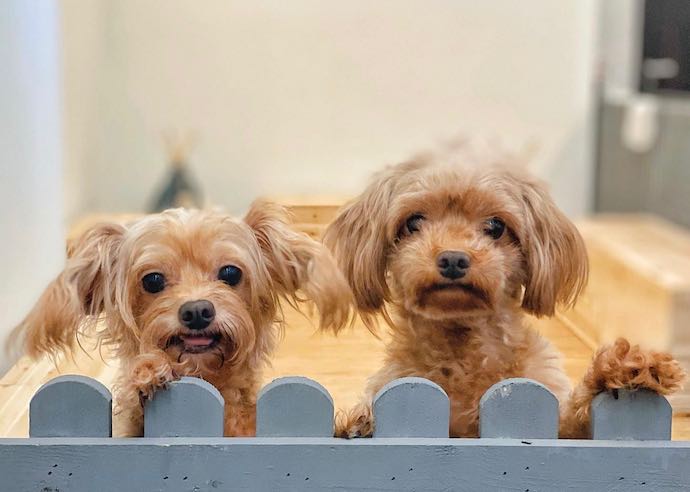 The interior of the cafe is pretty minimal, with its space separated into a playpen where customers can enter to interact with the dogs and a 10-seater dining area. In terms of drinks, there are coffee choices like the usual Espresso ($3), Black ($4.50) or White ($5), made from a two-bean blend from Peru and Honduras.
As for food, the cafe offers light bites such as freshly made brownies ($5.50) and a delicious Doggyaki set which comes with a dog-shaped pancake with red bean or soybean fillings (inspired by the Japanese dorayaki), as well as two scoops of ice cream and a bone-shaped dark chocolate.
80 Haji Lane
Singapore's first and only pug petting cafe, What the Pug is located in a shophouse on Haji Lane. This doggy haven is specially designed for fans of the endearingly wrinkled canine breed.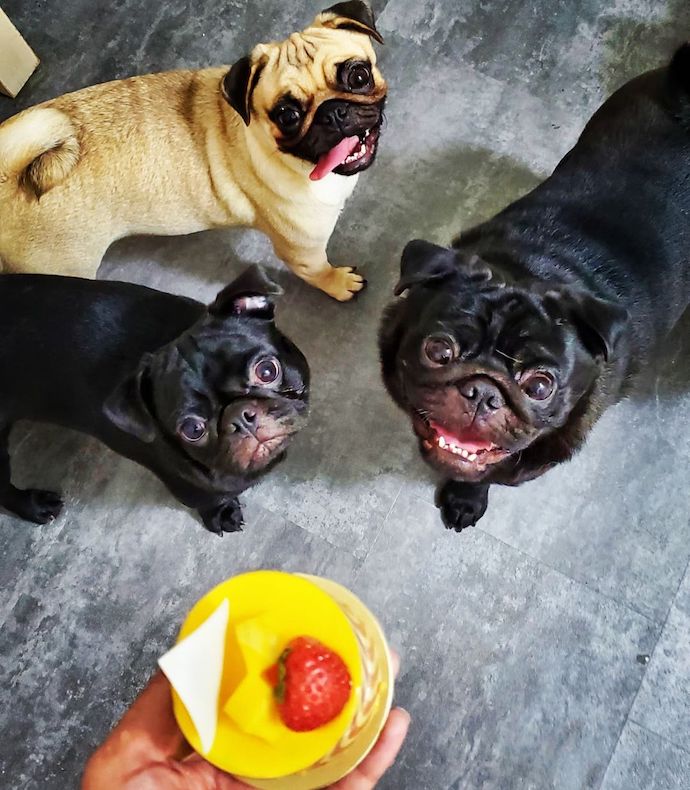 As its name suggests, what you'll find at this dog petting cafe is none other than pudgy pugs of different colours, from light brown to black. Age-wise, you'll find pugs between 1-year-old to 12-year-old (the cafe houses more than eight pugs in total). According to reviews, these are affectionate doggos that would snuggle up to you even without expecting any treats. It's likely that you'll get more than enough time to cuddle up with these chonky creatures.
Admission ticket costs $20 per person and comes with a 45-minute session that includes a complimentary drink and Polaroid photo as a keepsake. Don't leave without checking out the pug-themed merchandise on sale.
331 Joo Chiat Road
Cat lovers on the hunt for that purrfect date spot, make your way to Paws Claws. While concerns regarding the treatment of animals at pet cafes are valid, put your mind at ease for the domesticated kitties at Paws Claws are personal pets of owner Adi Rusydi, a local pet groomer and content creator.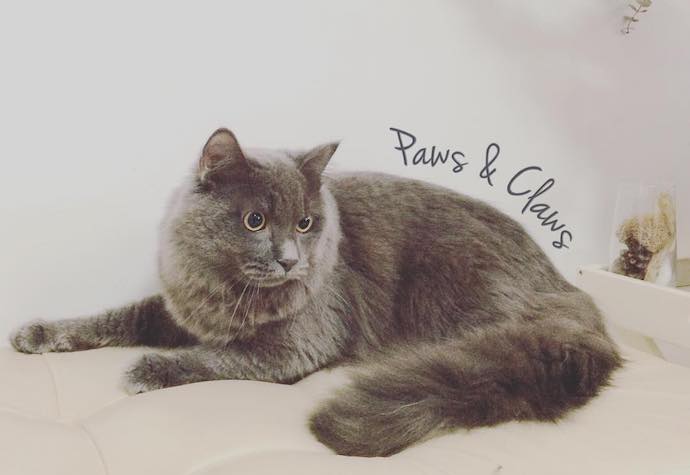 The docile cats here are clearly well-groomed, with each sporting detangled fur and neatly-trimmed nails. The cafe even doubles up as a cat grooming salon, where pawrents can book a personal spa day for their cats with Rusydi himself!
The admission fee is priced at $12 for an hour, with extensions at $5 per person for 30 minutes, or $8 for an additional hour.
241B Victoria Street | 392 Upper Bukit Timah Road
Experience cuddly kitties climbing onto your lap as you bask in the aroma of freshly brewed coffee at The Cat Cafe. Cats and good coffee in one place? Now that's surely the best mash of both worlds. The cafe also serves light meals and pastries such as Muffins ($3.50), Chicken Mushroom Pie ($5.50), Lasagne ($8.90) and Baked Macaroni ($8.90).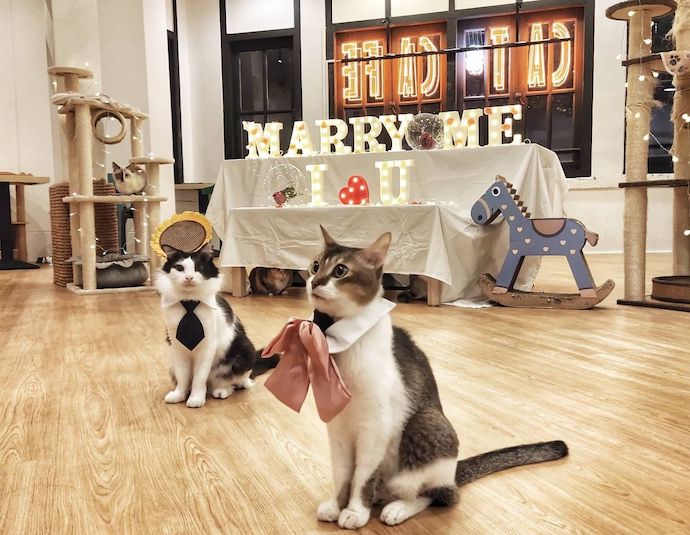 All 29 cats at this cafe were once strays, but have since been rescued and housed at the cafe. Quit staring at cute pictures of the cats online and swing by the cafe to show them some well-deserved love! Not only is the visit perfect for an afternoon chill time with friends, but it's also a great opportunity for families and children to capture some precious memories.
The admission fee is $16 for the first two hours and an additional $4 for every additional 30 minutes.
This article is adapted from Now Boarding by Changi Airport's "5 pawpular dog and cat petting cafes to visit in Singapore"